Capturing Ideas and Design Journeys
iPad: Drafting creativity | Brand Cartography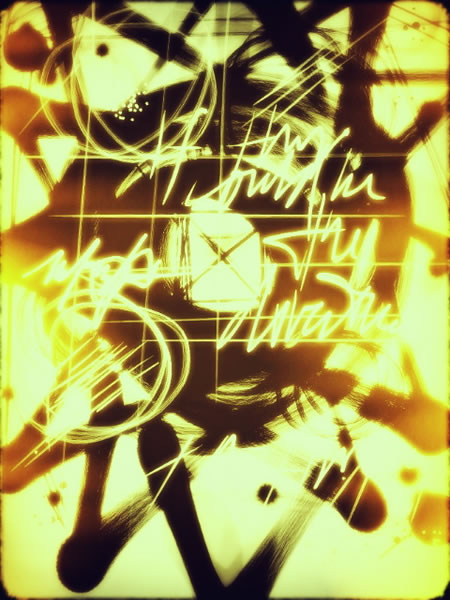 (iPhoneZenBrush)
DIGITAL NOTEMAKING: THE CARTOGRAPHY OF DESIGN THINKING
Doodles, scribbles, mapping and documentation:
Brandquesting®, brand navigation and creative brand business applications for the iPad
People fire brands — brands are created by people for people — and engaging people in the process of understanding brands, building them, expanding their strategies is a foundation for how we work.
That principle isn't uncommon — it's sensible; but it's in the how that can make a difference.
Collaboration counts in the ideation, but it counts more in the utilization and reference to how this is integrated not only for the team building and engagement, but as well in the celebration of final outcomes. Working with people in listening to challenges, formulating paths, exploring the stepping stones of those pathways and building definable and recognizable results is part of how that processing works. The more engagement, the more enchantment will be found in the outcome. Without enchantment — there is rarely engagement.
Working with teams, customers, communities interactively — voices are heard, ideas are explored, inspirations are gathered and advancements are energized.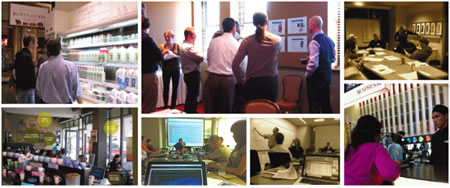 It all comes down to the people — but as well, the documentation of process, gathering and savoring connections between people — learning from relationships, digging into community. Push further. And making choices of path. Brands have to go somewhere, speak a language, reflect a point of view, offer relevance, have a soul — and for the sake of survival, they need to have a sense of direction.
But the realm of the brand surely isn't flat, it's not a piece of paper with principles and guidelines — it's a state of being. And being is a human state, it's the nature of our evolving condition to be perpetually studying the horizon — what lies next, where to go, what will the conditions of that direction be? Brands, people, go together.
To the thinking on the nature of crowdweaving, building and exploring the ideas of teams, crowds of minds, the nature of examination is highly improvisational — it's gestural, it's way-finding, it's guiding and digging in. That process of working with crowds of people — what we've referenced as a kind of cloudmind — presumes a sense of direction, and — pardon, what kind of cloud, size and rain — a breeze that is going in a certain way. While it might be directionally influenced, the nature of flow is changeable — it can go one way, then another — and finally still another. So, clouds go. So, crowds go.
We work as interpreters — but also channelers. To the idea of that channeling — drawing, live, working out ideas, images, maps, summaries is something that needs to happen on the fly. Gathered dynamically, it is more spontaneous and accelerated — and speed counts for everything in the short term. It's not expected — "we are only going here" doesn't work.

(Paper channeling / brand mapping / creative sketchplay)
Brand-Quests, explorations, strategic adventures go where they need to go. They can be surely mapped — but the weather changes. Be prepared for storms and windless seas.
We help the ideation with active engagement — looking at drawings, imagery, words, poetry, storytelling, street talk, safaris, hunts, whatever works in the enculturation of the team. Still, drawing and active translation lies at the center of the work. We draw. And we draw it out.
With the advent of the iPad, the idea of drawing, gathering ideas and assembling them as integrated expressions is becoming an expansion tool, to explore how on the moment experiences can be documented, shared, evolved.
At Design Thinking UnConference, Vancouver — the idea of team sharing, unconference presentations and notations from the experience led to a kind of overlaid note-taking of ideas. What came of that relating — aside from a posting on the conference blog, was the ability to draw and explore live how that could be seen — ultimately, by many.
Scribble. Ideate. Notate. Postulate. Activate.
iPad doodles, notes, photographs, observations, insights >
and outcomes, on the fly — for direction. 
There is no answer.

Sometimes, the most powerful solution is shock(ing)

Please me, as I fall down and fail.

The wound of design thinking. 

If I'd look for anything in design thinking, it would be beauty. 

Tourism, counts. 

Retail audition / on site — what's working, what's not — gathering live, working in the mix of place and message, visual and perception. 

Matrix messaging > building and
drawing, live explorations.
Session explorations —
notations, live sketch. 


(iPhone message mapping)
In the speed of the migrations of thought, the live exploration — the team wandering to the ideal (idea) — charrette leaders, team members need to visualize and capture inspirations — gathered visioning. A crowded mind, a well-minded crowd, a team interpretation, a journey and exploration — the journey, the journal, they intertwine. The mind is a cauldron, there are storms, sparks, lightning strikes, winds and currents and showers of brilliance — whether one, or many — the surge and the whirlwindbut there will need to be the interpreter, the gatherer, the assembler, the draftsman. There will be a point when the brilliance reaches an apex, a fulcrum, some new marvelment.
Drawing that — live — can transform breath, thoughts, surprise into action. One thought, gestured, catalyzes.
TIM
GIRVIN | MEDITATIONS ON INNOVATIONS:
THE STORYTELLING HERITAGE OF STEVE JOBS, GIRVIN & APPLE
DESIGNING IMAGINATION : AND THE TOOLS TO MAKE IT HAPPEN
http://bit.ly/gFldge