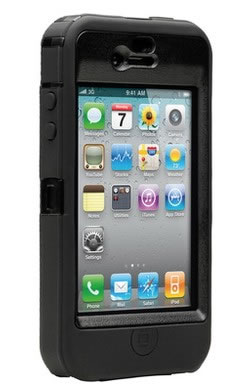 Image: iPhone Defender
As the world gets trickier, let's think about products as self defense strategies. I'd written a while back, only days ago, about the idea of design strategy — DESIGN THINKING AT APPLE.
Actually, I've no clue as to whether the team there "thinks" about design in the manner that I've espoused — that's a recollection about the notion of design / thinking / creative / intelligence. But the precepts of design strategy will likely explicate a methodology that attaches to a practice of managing design strategy and innovation — threading them together. And there is every evidence of that — others tell this story as well. But they charge for it.
Every theory has a counter theory — every theorem offers a contrary countermeasure. Who knows what's right, next? The world is wide open — but setting the meter in play, starting the beat of a new drumming, the potentials need to be defined and clarified. In the market these days, the notion of products continuing to evolve, change is imminent. Rethinking them they could be tougher, less prone to the strategy of built-in obsolescence, hardened, Apple permanent. Lifesaving? iPhone — becoming, perhaps, an item of self defense, is an intriguing sense of relationship. "I need my phone to be bulletproof, just in case."
Apple is exploring just that: "A composite laminate includes a plurality of sheets of prepreg stacked one over another, and a scrim layer provided on an exterior surface of the sheets of prepreg. Each prepreg sheet is formed of fibers preimpregnated with resin. The scrim layer and the sheets of prepreg form a composite laminate whereby the scrim layer constitutes an outer, exposed surface of the composite laminate. The scrim layer may be a nonwoven carbon or glass fiber scrim that has absorbed resin from the sheets of prepreg." Complicated, one might consider. But who really knows where Apple is going — far, we'd proffer.
From the squad at PatentlyApple.com: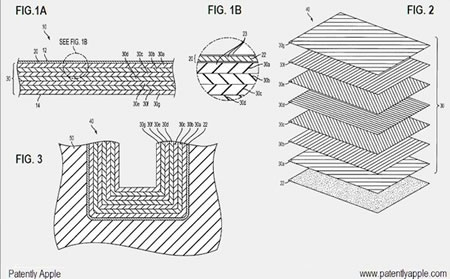 Apple's thought of that — layered, compositing, interweaving, outerspace safe.
And they've continued to the notion of expanding on that front — to the notations of sandwich applications from NASA references, all kinds of added extrapolations would be right in line with their thinking.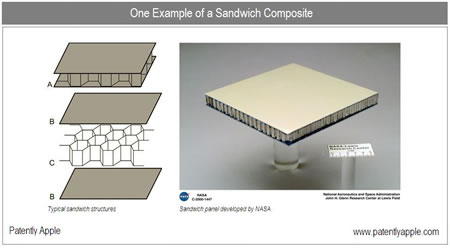 Frankly, I can't offer a paraphrasing that improves on their overview. Could be, what? Something like: "a discussion on carbon fiber composites where they show a method of construction known as the sandwich composite. That page also mentions carbon graphite or aramid fiber, as mentioned in this patent. It also points to sporting applications such as a carbon bike or tennis racket. Another site also confirms that it's also being used for golf clubs and other sporting applications. Of course such examples, gets one thinking about Apple's own extreme sporting patents in respect to future smart snow boards and skis as well as a smart bike. And if Wikipedia is correct, then we could actually all end up with bulletproof portables in the future. Yes, every superhero should have one. Who thunk that? John DiFonzo and Chris Ligtenberg as the inventors of the Granted Patent titled "Composite laminate having an improved cosmetic surface and method of making same," originally filed in Q4 2007.
If you're interested in the idea of watching Apple closely — from the design thinking front, to the human fronts of the selling environment — concept to merchandise — then PatentlyApple is worth exploring; their journeys are revealing:
From interface innovations — a new spiriliform modeling: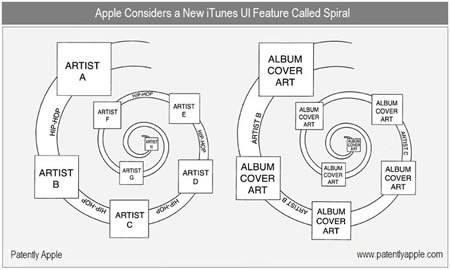 To rethinking how Steve Jobs explores the personal archetype of visioning Apple places — (from cubes) to spiral interfaces: spiral store conceptions. Apple Shanghai, to wit: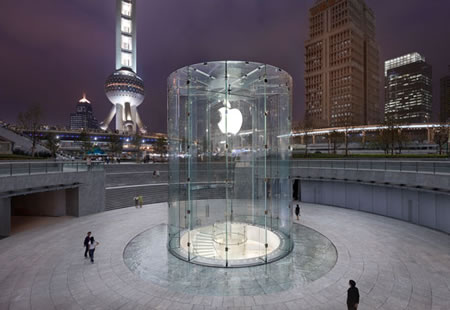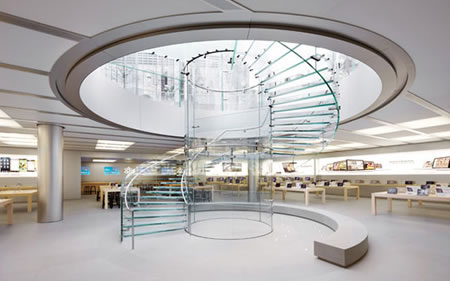 Apple places, and Apple places and ways to party: Ping (noted earlier) and now a patent, on Ping, to build voting tools for party play and music sequencing, that you and your friends can vote on. To the online sociable world of the linked audience, there's: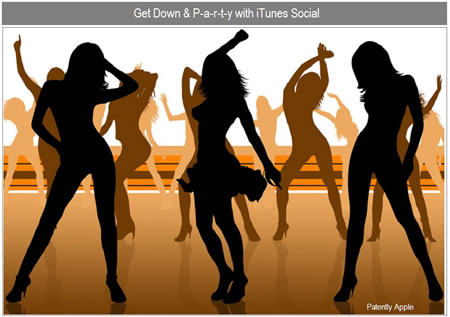 PatentlyApple: "Apple's latest patent applications that they're thinking about the next great thing." The social networking evolution of iTunes, one might consider… "Apple's thinking of a new kind of music service that could work at your own house party or perhaps at your local community hall, bar, restaurant or pub (Cheers!). The system is unique in that it lets your party guests vote on what music that they want to hear and the system tabulates the votes to generate a playlist. You could vote with your iPod touch, iPad, iPhone or any other Apple computer.
Check out PatentlyApple. Smart, openly investigative, thorough – and Apple savants.
We like that.
Tim
––––
GIRVIN ON APPLE
the reels: http://www.youtube.com/user/GIRVIN888
girvin blogs:
http://blog.girvin.com/
http://tim.girvin.com/Entries/index.php
girvin profiles and communities:
TED: http://www.ted.com/index.php/profiles/view/id/825
Behance: http://www.behance.net/GIRVIN-Branding
Flickr: http://www.flickr.com/photos/tgirvin/
Google: http://www.google.com/profiles/timgirvin
LinkedIn: http://www.linkedin.com/in/timgirvin
Facebook: http://www.facebook.com/people/Tim-Girvin/644114347
Facebook Page: http://www.facebook.com/pages/Seattle-WA/GIRVIN/91069489624
Twitter: http://twitter.com/tgirvin