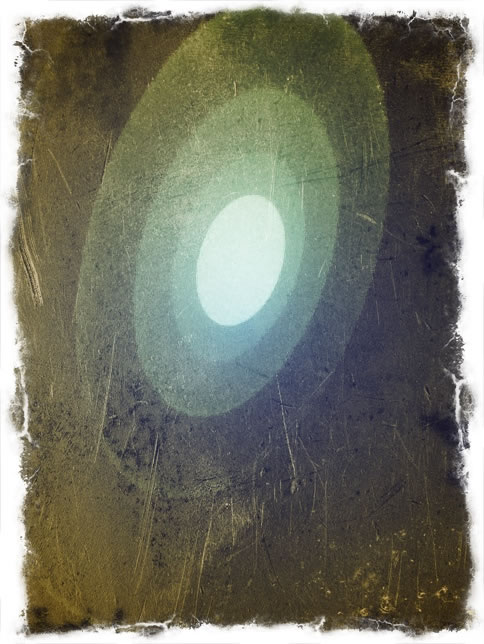 James Turrell, Designer in Light
The Guggenheim | NYC
We have a lot of history with the legacy of Turrell —
and real history, in terms of what we've done for
Seattle in introducing Seattle to his work.
Only about 28 years ago.
Deanna and I were taking a break,
running up
to YCC.
The Yogurt Culture Company
Wednesday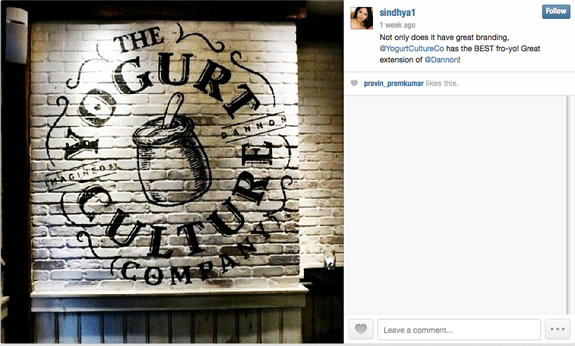 "@Sindhya:
Not only does it have great branding,
@YogurtCultureCo has the BEST fro-yo!
Great extension of dannon! http://t.co/sB2itiW67K"❤
And we talked about Turrell, our storytelling, and
his gigantic transformation of the Guggenheim central atrium.
We spent time shooting up there.
The story about his planning, and installation, is quite fascinating.
Seems simple, but it's not, it's complicated.
Turrell talks about his show, and his work as a light artist — but not, as to some impressions might imply, an artist working with the observations of light, talking about light — but rather, as he puts it "working with light."
His video, just linked in the notes above, references more of his impressions, as well as his Quaker legacy, being in, working around, and creating places of quiet contemplation.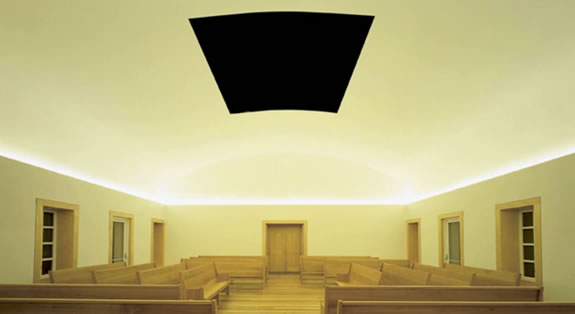 Some imagery from our tour:
Imagine looking up to the rotunda, and seeing elliptical rings of softening light, changing in hue.
Learn more.
Deanna, tripping out, below, shooting skyward.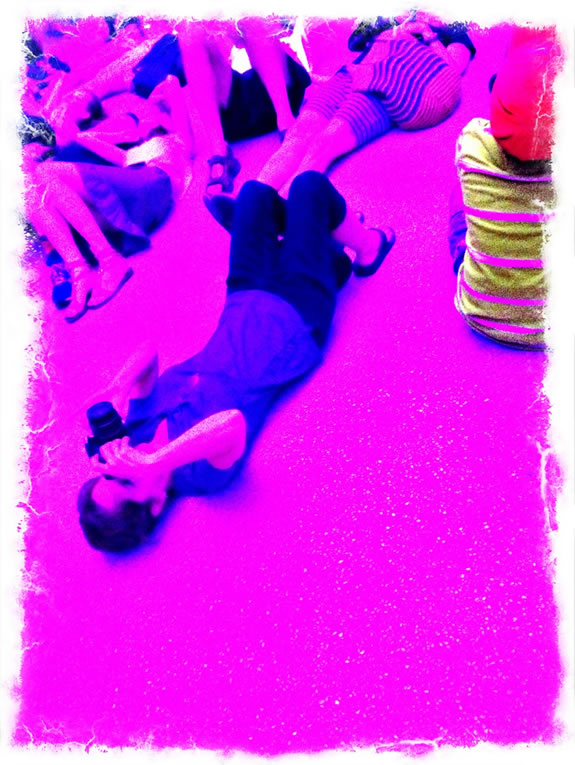 Other tinges,
shot by Deanna and I.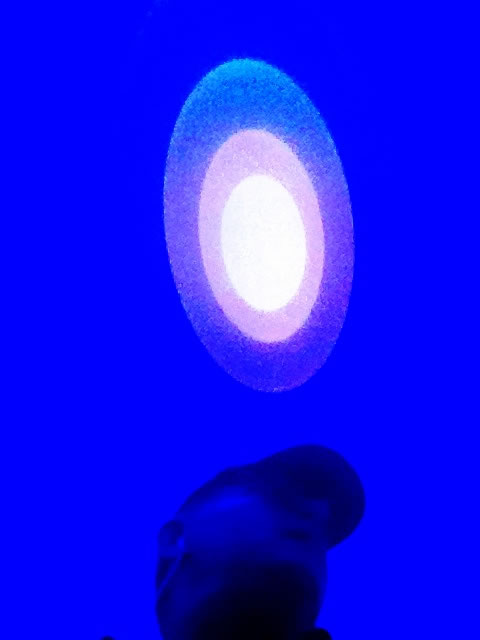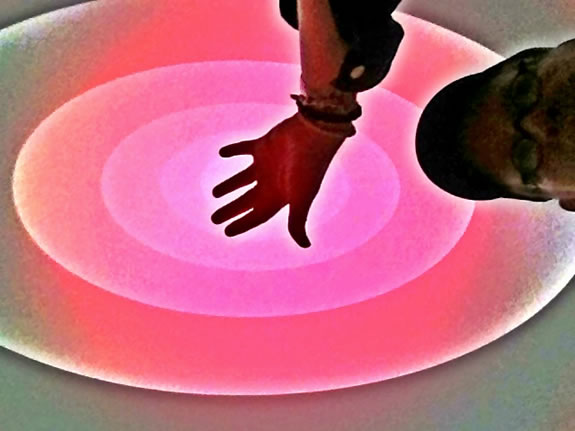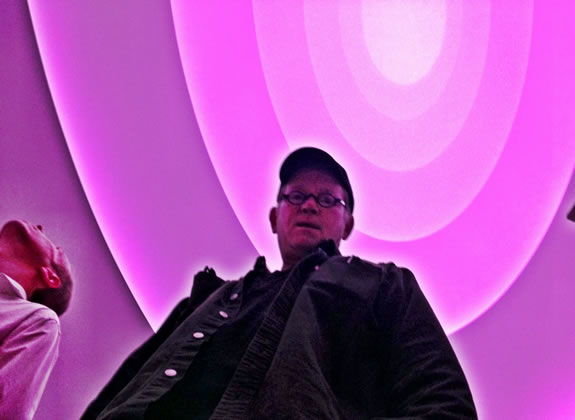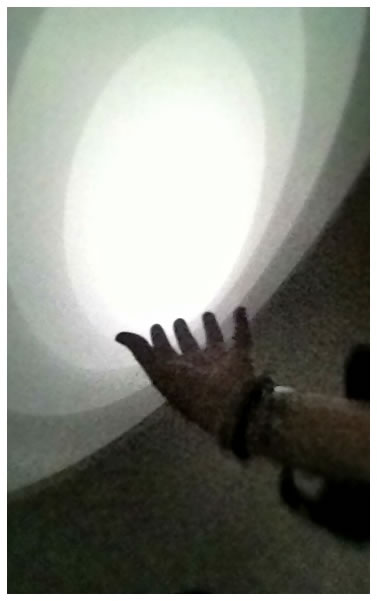 Other luminous illustrations
at Guggenheim.
See too, his studies in Miami, Fontainbleau —
a Miami Beach seaside [swank] resort
with a large consulting design assignment and light-revealing expositions
at this resort.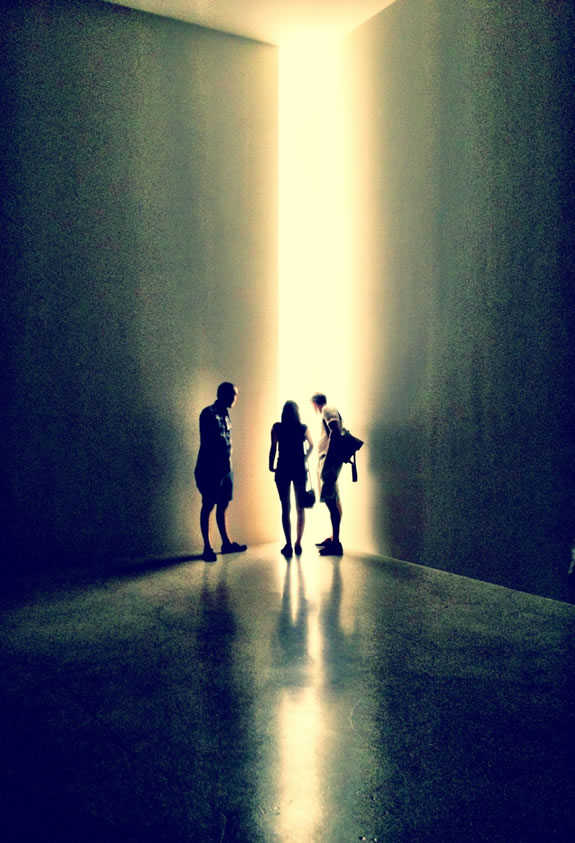 A Guggenheim Gallery of Turrell print studies, all spot lit.
Mysteriously luminous.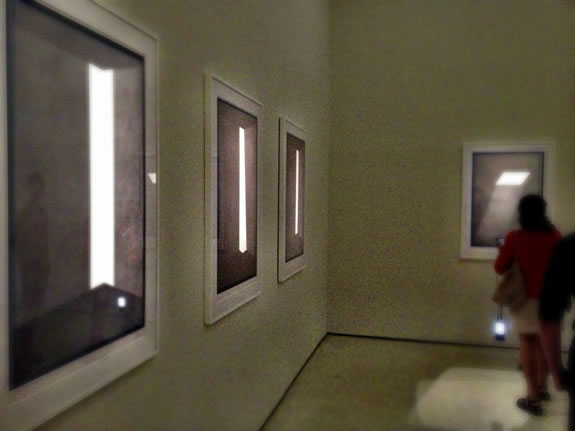 Museum goers photographing their kids —
in the light: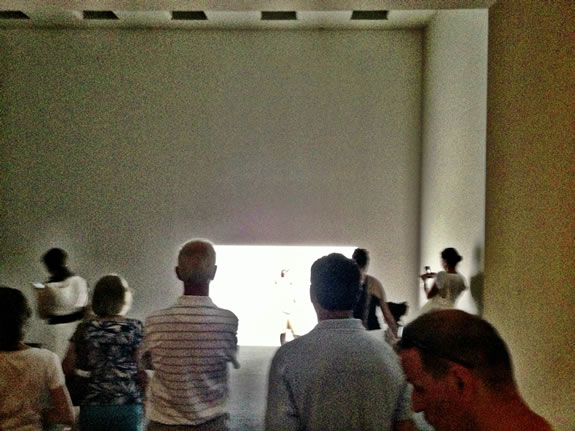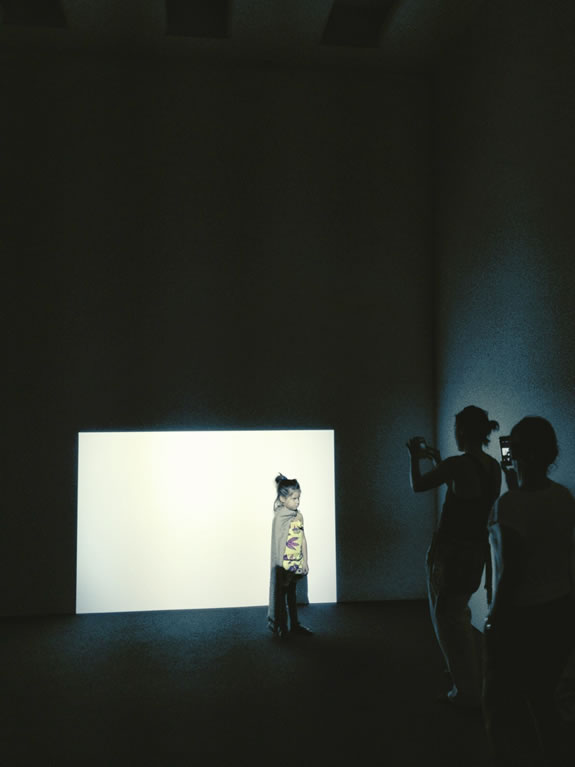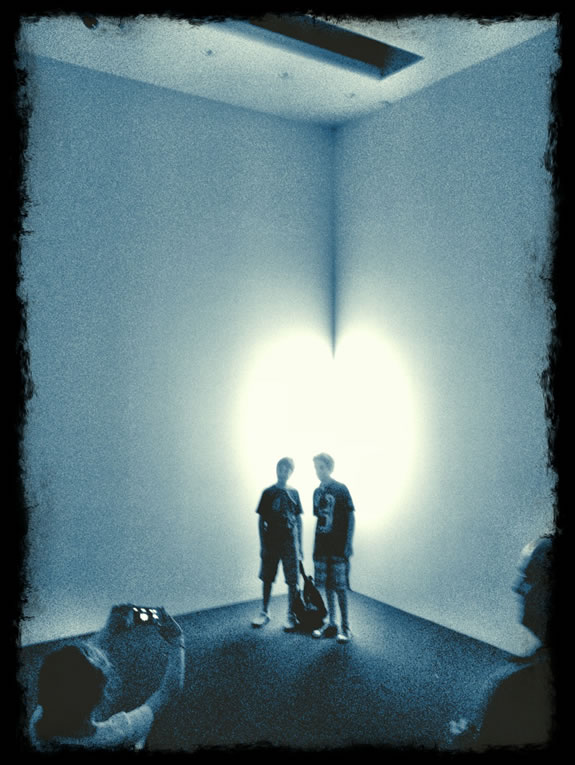 And me, photographing Deanna, as the Girvin kid, in
one of those points of spot-lit luminescence: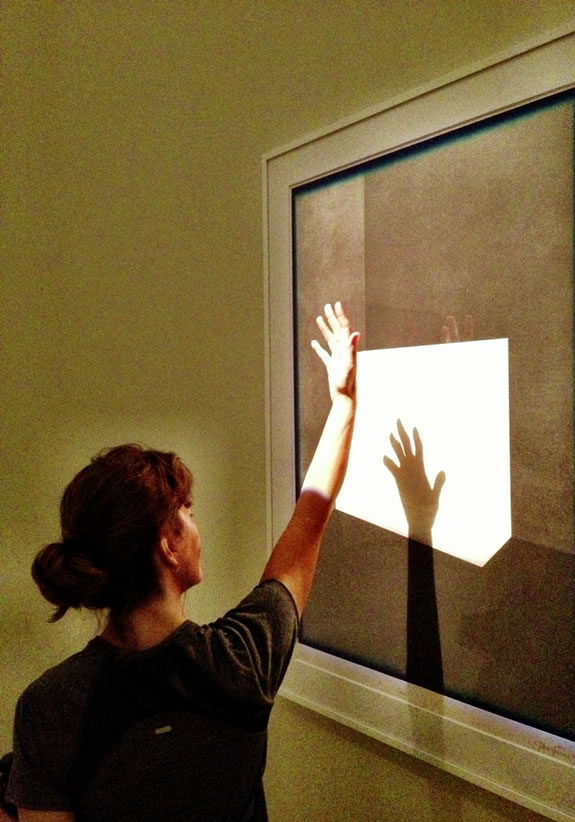 Touching, as usual, what you're not supposed to…

Deanna, near one of the containing Turrell scrims at the Guggenheim: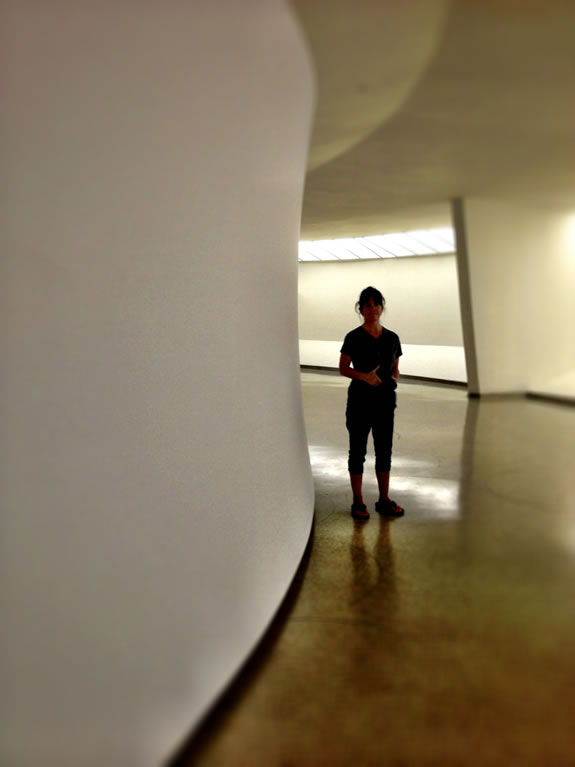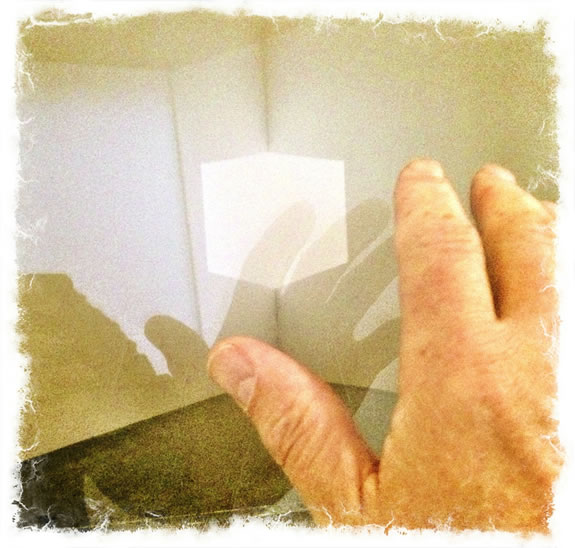 And, in true form, isn't the Museum, as Turrell intones, like that,
a place of contemplative grace?
To LIGHT, much to wonder at, in
spectacle.
Another luminous journey,
Rock Center, the underpass,
away from the heat of the streets.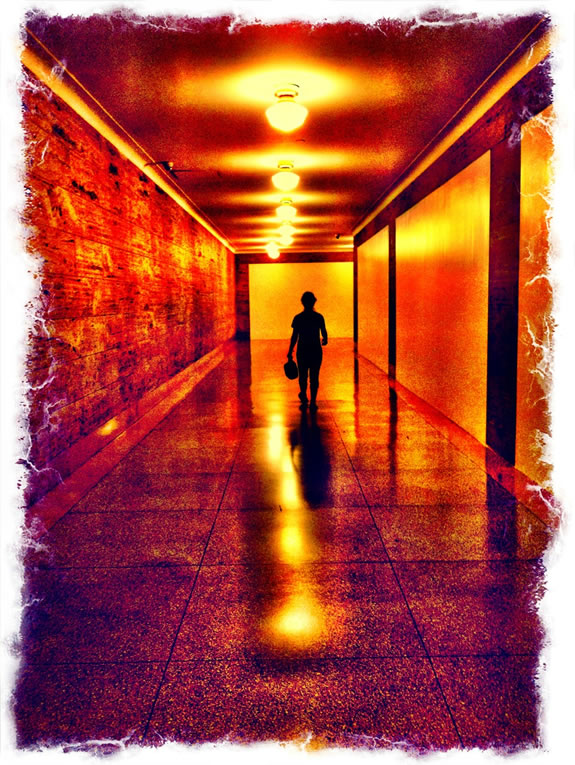 TIM | NYC
…..
G I R V I N | N E W WOWNESS
INNOVATION WORKSHOPS
CREATING STRATEGIES, PRODUCTS,
IDEAS FOR CHANGE.
http://bit.ly/vfzyEU