Exploring layering in brand story — what is the story, the brand, the person, the work?
In Firenze, I had a chance to spend some time with someone that I've admired for a long time — Jon Bresler. Founder of LAFCO.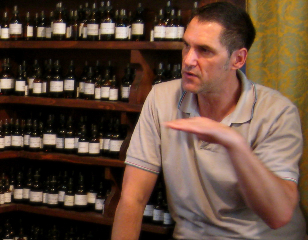 Jon Bresler in the atelier of scentmaster Lorenzo Villoresi, Firenze
Of course, I'd only heard of him, never met him. But I've frequented his shop in NYC for years. Probably somewhere around 8 years, I'm guessing, or as long as he's had it open; LAFCO | NYC (http://www.lafcony.com) is just south of the Puck Building, in SoHo. That's just South of Houston, of course.
What attracted me to that store, LAFCO, was a different story, that I will write about in due time: Officina Profumo Framaceutica di Santa Maria Novella, Firenze.
What I'm looking for, in people, relationships, clients and friends — is passion. And Jon's been ranging the cosmetics- and beauty care- space for somewhere approaching 20 years, since the 80s — and is wildly passionate about the work, the commitment, the connection, the pursuit.
He told me about finding this tube of shaving cream in a bodega in a NYC neighborhood, and that, over time, he walked back deep into the heart of Portugal, to find out who made it. But it wasn't about just doing that once, in a kind of quick gesture, but instead, a range of many times — again and again, to finally make the link to build this concept.
Claus Porto, in the concept of a brand story, is partially invented, but there's a heart beneath, that lies in the inventive mind of Jon Bresler. And his partnership with others.
But what about that — the idea of creating a story that's got a story, in a story, in a story? There's the story of Jon's work, his life — passing from being a litigation attorney and speech writer in Switzerland to stumbling on a chance product that would prove to change his life.
That's one story.
Here's another:
"Claus Porto was founded in 1887 in the city of Porto, Portugal, by two German chemists: Ferdinand Claus and Georges Schwedder. The founders were forced to leave Portugal during WWI and sold the company to Achilles de Brito, who renamed the firm "Ach. Brito Cosmética." Under de Brito's leadership, the company prospered and became known for its luxurious soaps. Today, Claus Porto sells bar and liquid soap, bath foams and salts, body lotions, candles, and a men's fragrance and grooming line under the name Musgo Real."
(as per http://nowsmellthis.blogharbor.com/)
Here's another:
Jon tried numerous times trying to connect with the founding (and creating) family — what might be left of the Brito clan, to allow the brand creation or licensing of Jon's discovered product — the remaining members of the family, that is. And it was finally a factory engineer who was forced, coincidentally by his father in an earlier familial promise to the Brito family, to work (literally for free, given his other professorial responsibility).
After trying again and again to make a connection — it was the engineer who literally engineered the deal to advance the concept of Claus Porto.

Foto from Momentum Grooming
And the revival of propina, the powdered dust applications of a long lost packaging printing method, seen — here:

Foto from Oprah.com
Yes — Oprah. What does she say?
"These all-natural, bath-sized shea butter bars distributed by Lafco New York are a labor of love. They have been created by the Claus Porto's family-run factory in Portugal for the past 117 years. The jumbo-sized soaps appeal to the senses with beautiful wrappers and 17 magnificent scents, from honeysuckle to grapefruit fig. They make great hostess gifts."
Jon's reached deep into the archives at the Brito plant, to create, in a masterly gesture, this sweep of intriguing packaging solutions. They simply couldn't be done in this contemporary frame — they're too, well, charmingly eccentric.
I've found them immediately captivating.
What I'd offer, to Jon's visioning, is passion, commitment, focus, effort — and persistence. Again and again, I've seen that, in exploring the space of scent, of beauty care, of noses, doing that work, making that happen — that magic translation.
Check out Lafco, NYC & LA. And soon — Dallas.
What I'm looking for is passion — finding commitment, focus, attention to detail, consistency — and finding — and making beauty. But what I'm thinking about is the layering of the story — there is a story that is on the surface, there is another story that lies just beneath, and another, that is there just beyond. All of them have relevance — and perhaps, all of them shall be, should be, heard.
Jon's story is a fascinating telling.
Tim Girvin | NYC