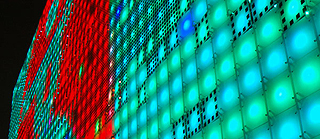 My friend Dawn Clark, AIA LEED®AP, Principal at NBBJ | Design — sent along this story; digging in, I've found more.
I've written a lot about patterning. Actually, I'm captivated by it. Patterning as a kind of subtle substrate brand messaging, patterning in interiors, brand patterning in place making. And how that patterning might be found in nature, evinced in our design. How patterning reaches beneath the mind to influence our psychic center — our balance in our sense of space, time and feeling.
Like here:
http://blog.girvin.com/?p=549
http://blog.girvin.com/?p=575
As well, there's the issue about patterning in light — and the superlative work of James Carpenter, a different kind of layered expressions:
http://blog.girvin.com/?p=324
https://www.girvin.com/blog/modernism-decoration-and-patterning-in-placemaking/
There's another expression that's emerged, just recently – the idea of patterning that shifts, green powered, launched in Beijing:
A company — GreenPix "has created an astounding combination of sustainable technology and digital media virtuosity, dubbed the Zero Energy Media Wall. The system features the world's largest (so they claim) color LED display, powered completely by photovoltaic cells which are integrated into the glass curtain. During the day, the wall — located on the Xicui entertainment complex in Beijing — harvests solar energy, then expends the charge at night in a display of undulating colors.
This huge LED screen displays mesmerizing patterns of light and video to passersby. But the really amazing thing about the enormous wall of light is that it's completely self-sustaining. That is, the light panels themselves harness the energy of the sun during the day to power a colorful light show at night."
This project, and a number of others at the Olympic siting in Beijing, have been coordinated by Arup.
The total cost of the wall is RMB 15,000,000.
The video link is:
http://www.youtube.com/watch?v=NZfOy2fo8E4&eurl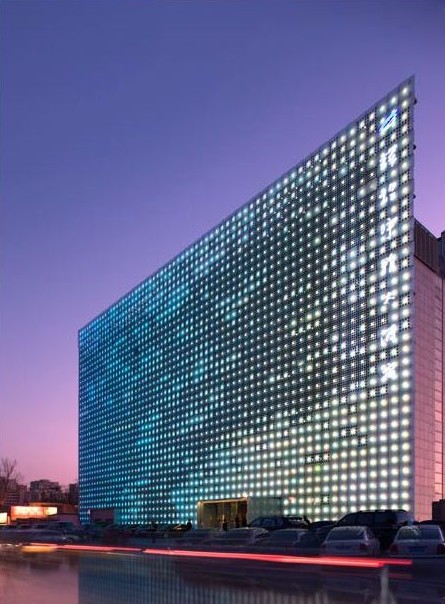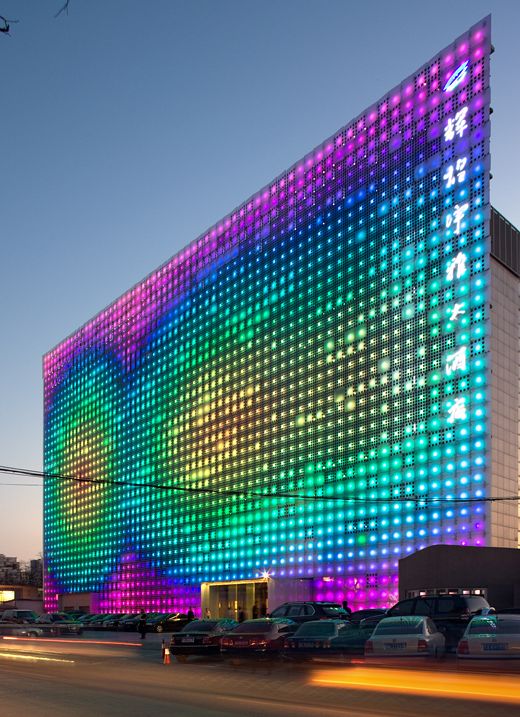 GreenPix – Zero Energy Media Wall uses thousands of solar photovoltaic capture cells linked to a grid of glass panels, each of which conceals an array of computer-controlled LEDs.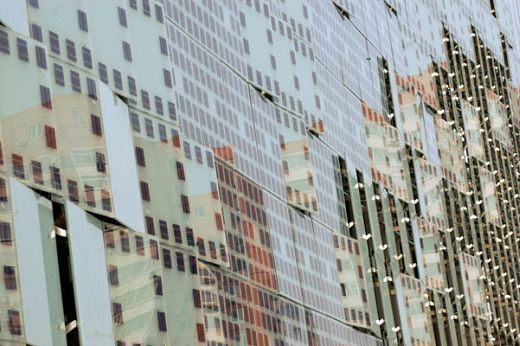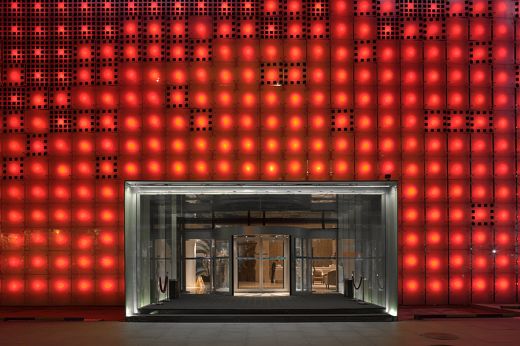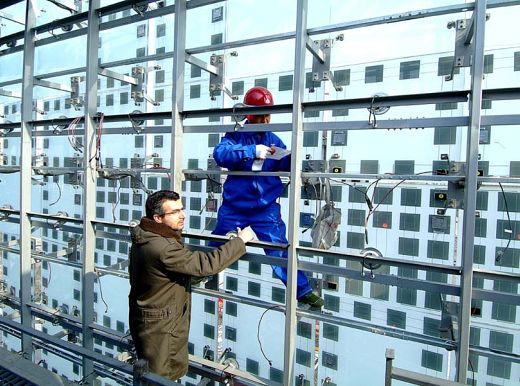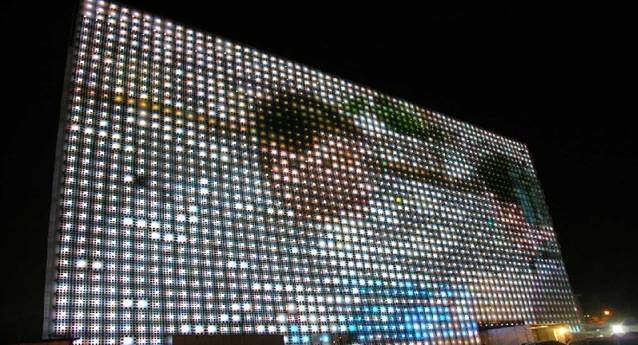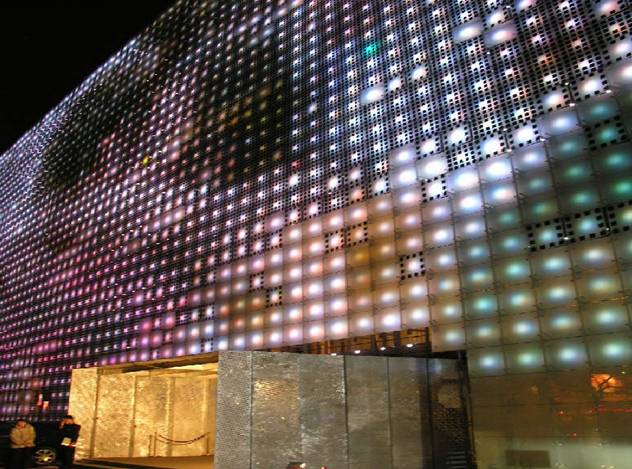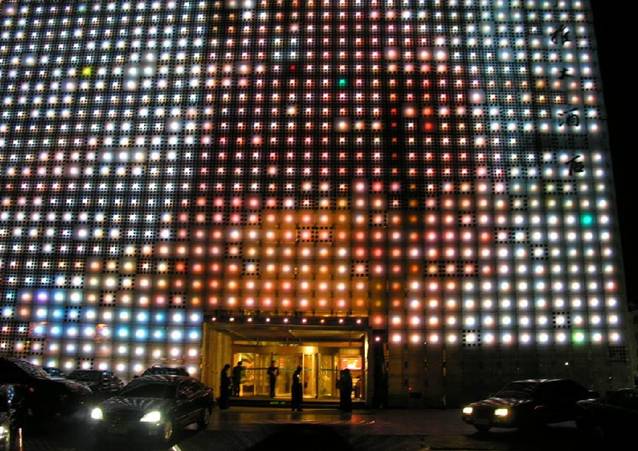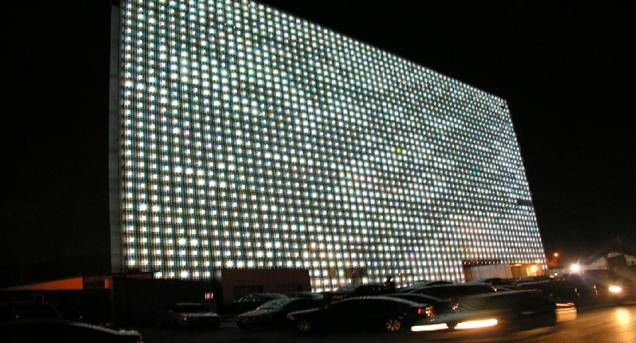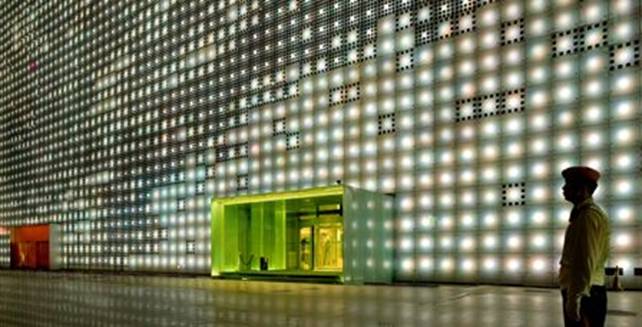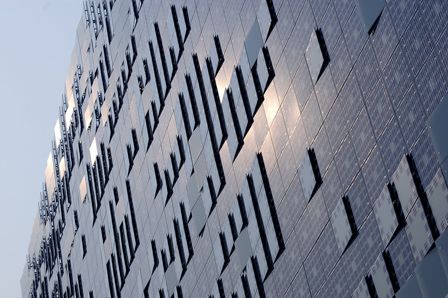 Sponsorship pdf:
www.greenpix.org/press/PDF/GreenPix_sponsorship.pdf
GreenPix | simulation and play:
http://www.greenpix.org/play.php
More information on sustainable design: SIEEB Solar Energy Building | Beijing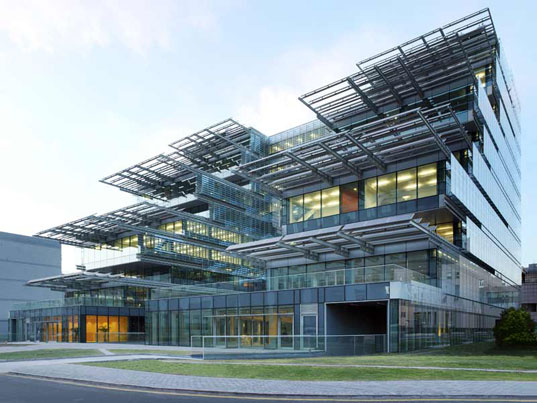 http://www.inhabitat.com/2007/09/27/sino-italian-ecological-and-energy-efficient-building-sieeb/
Herzog+DeMeuron: Bird's Nest structure | PTW Architect's Bubble "Watercube" Building(s):
Speaking of patterning, light, green and sustainability: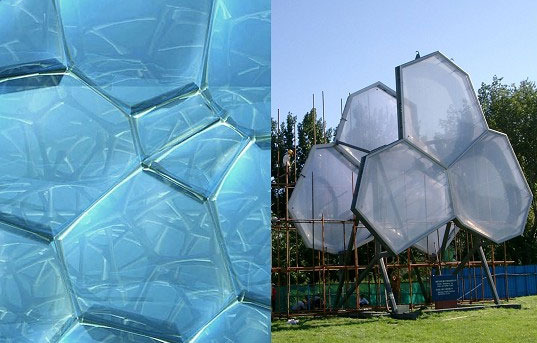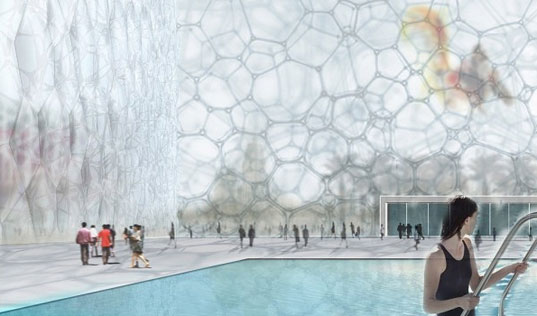 http://www.inhabitat.com/2007/02/27/bubble-building-national-swim-center-in-beijing/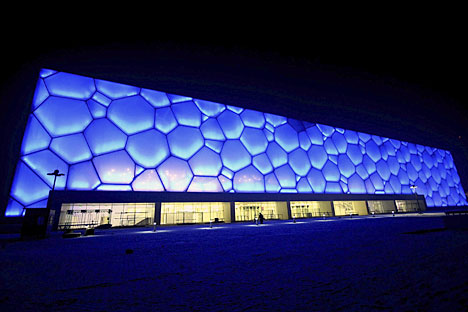 Arup's study: http://www.arup.com/projects/chinese_national_aquatics_center
Watercube video:
http://www.treehugger.com/files/2008/01/the_water_cube.php
http://www.youtube.com/watch?v=–BfA5maXHw
And patterning — light and shadow: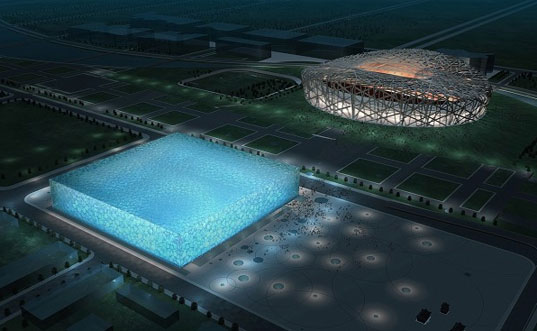 http://www.inhabitat.com/2007/03/07/beijings-olympic-stadium-by-herzog-and-demeuron/
http://www.youtube.com/watch?v=e_F2rnugqq4&feature=related.
What's the conclusion? In pattern, beauty emerges.
What's your take?
Tim Girvin | Decatur Island