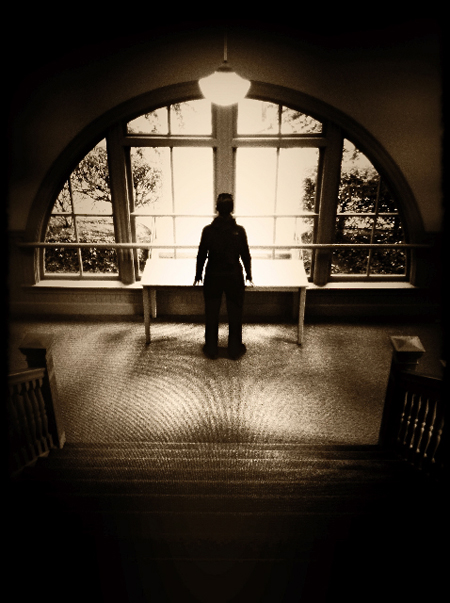 Studying the nature of surveillance | the lookout, the sentinel, the scout (and the brand).
S E N T I N E L  F O R  T H E  B R A N D
Looking out: over the shifting world, there is what is flowing out — the push; and what is flowing in — the pull.
The question might be, do you look out, in the nature of seeing what's happening in the marketplace, and what that might mean in the evolution of strategy? These days, I'm on the road, it feels, more than I'm in Seattle — jumping from project to project, place to place, you see things differently; and when you're traveling, you tend to find yourself more on the lookout; than not following, or focusing on the trend of change. Moving, you are the change.
In the work that we do — we are looking out for our clients — acting as a kind of sentinel in exploring the nature of the circles around them. These days, the examination of brand, and the incipient strategies of direction, will be less about merely watching the competition, but more about what the brand actually stands for. A traditional path might be to position, or lay the groundwork, for a ringed strategy of defense (how do we relate to the competition?) rather — we look out, study the horizon, analyze what's happening and look to the stance of the brand in relationship to its authentic character. What's the truth of the action?
But that process, and meaning, needs to be both a study of the trends that affect a community, and the interlacement of brand, a series of relationships that interweave, and the reality of the truth of the delivery of the brand. Look, true.
For brands to be alive, they have to be active, and activated.  To this conception — action, forward reaching, looking out, they have to be perpetually activating their connection to the utility of their applications.
SEE OUT | SEE IN
One might suggest that the lookout — that patterning — is using that data as a surveillance: both statistical and feeling, a study of what is around, considering the flows and movements, and how to bring those relationships closer to heart.
I see these:

Apple+NIKE (run tech).
BMW (cross manage: networks).
Puma (sustainable cool[ness])

LOOK OUT.
LOOK BACK.
LOOK IN.
tim | santa barbara
INNOVATION TEAM STRATEGIES
Girvin Cloudmind | http://bit.ly/eToSYp
the reels:http://www.youtube.com/user/GIRVIN888
girvin blogs:
https://www.girvin.com/blog
https://tim.girvin.com/index.php
girvin profiles and communities:
TED: http://www.ted.com/index.php/profiles/view/id/825
Behance: http://www.behance.net/GIRVIN-Branding
Flickr: http://www.flickr.com/photos/tgirvin/
Alltop network: http://my.alltop.com/TGirvin
Google: http://www.google.com/profiles/timgirvin
LinkedIn: http://www.linkedin.com/in/timgirvin
Facebook: http://www.facebook.com/tim.girvin
Facebook Page: http://www.facebook.com/girvindesign