Marvin Traub and Bloomingdale's
Girvin's 1985 2-sided shopping bag for Bloomingdale's


The height of retail branding | Girvin, John Jay, the 1980's.
Campaign Theme Design as a Form of Integrated Retail Experience
THE DEATH OF MARVIN TRAUB | 22 YEARS CEO+PRESIDENT OF BLOOMINGDALE'S
A couple of weeks back, the blazing tornado of retail magic, on July 11th, Marvin Traub passed this plane.
It caused me to look back on my life, my earlier connections with Marvin Traub, John Jay, retail inspirations, the 80s — and my involvement with Bloomingdale's. Traub, even in his 80s was a firestorm of retail activity. Marvin Traub's Associate Mortimer Singer once told me that even after a day-long globe-running flight, Marvin would leap off the plane, ready to roll into the action of the day.
GIRVIN GOING BACK, LATE 70s.
In the beginnings, you're looking for work to stay "employed," to survive — in the 70s, for me, just building the beginnings of Girvin, I looked around for job opportunities as a freelancer / designer, lettering illustrator, type design and calligraphy consultant.
Working mostly alone, in the beginning, I carried my own book and built my own "book of business."
I'm still on the hunt, now — nearly 40 years later.
Building the book…means making a book, then carrying a book.
Back then, it was carrying a massive portfolio [the book.]
This box [the first one of them; progressively — there were four, over time, made from aluminum, steel, and the lightest portfolio of cedar] was of double strength thick, glued and laminated black plexiglas, about 24 x 28 x 4.5″ with a piano hinge — customized and ebonized black, it was ran the side door of the folio — which hinged on the side panel, as well as the entire upper casement could be lifted up and removed. I designed a black fabric holding sleeve, with a zippered flap and a side panel shoulder strap. It weighed, all told, full — 60lbs. It was loaded with case studies and posters — big and little art, all laminated and double sealed — that treatment wildly accentuated the color, which burst from the black box like an impossible bouquet of color. I still have it, somewhere.
One of my first clients — long-pitched and hard won [to get in, to show a folio of work,] was Nordstrom — which, back then, was "nordstrom."
What I was fighting for, in the good fight to beauty and experience design, was an idea about rethinking the depth of how a campaign could be integrated — to spread out the theme holistically. The drive for beauty in the details has, since the beginning, been a force of continuing action for me, for Girvin. The idea was — to my dreaming — name a campaign, design the logo, create all the packaging, the shopping bags, the signing and, too, to build out a merchandising and display strategy. That meant knowing and befriending a lot of people — Claudia and Robert Milne, members of the Nordstrom family and leadership teams, Cheryl Zahniser [then Fujii], architect Galen Dolstad and, over time, varying team members from Callison Architecture.
What I pitched and later designed, was a series of campaigns — starting with selling strategy, naming the thematic approach, building this ideation out to a holistic framing of campaign theming that extends to just about everything —
Nordstrom Metropolis campaign [early 80s]
interior and external signing, event banners, skinned pillars — and most importantly, merchandising and display, from the street side windows to internal displays, counters and internal installations.
My goal: design the implementations — and be there when the stores opened to customers.
Watching people taught me a lot about customer perspective — what do they see, what do they get? It turns out a whole lot — customers perceive far more than they let on, as well as interviewing them about effect — the smallest details shine through.
People get and recall holism — a wholly managed integration of experience possibilities.
B L O O M I N G D A L E 'S
Out of the blue, I got a call from John Jay, the early 80s, to work on creating a logo for a big campaign. That was the beginnings of working collaboratively with John for nearly a decade. To this day, we're still connected — he's now global CD at Weiden & Kennedy, Portland Oregon. I also knew, early on, his wife, Janet Jay, then [the 80s] a strategist of color at Diane Von Fürstenberg.
The first campaign, below [Ireland] for Bloomingdale's — what was then one of biggest "fortnight" campaigns originated by Marvin Traub, art directed and orchestrated by John Jay and his team at Bloomingdale's.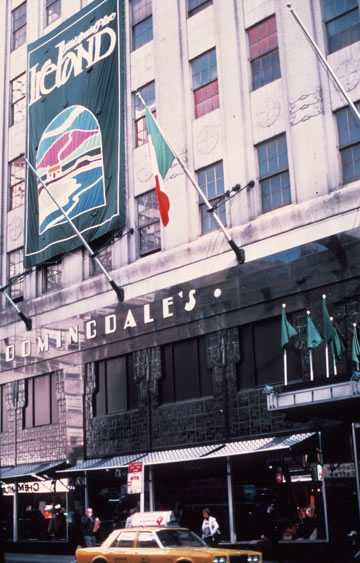 A GALLERY OF CAMPAIGNS | CUSTOMIZED GIRVIN ALPHABETS AND IDENTITIES FOR BLOOMINGDALE'S
FRANCE | 1983

JAPAN

PORTUGAL


SOUTH CHINA SEAS

A VENDOR CAMPAIGN THAT WE ALSO CREATED, FOR
GENERRA, FOR BLOOMINGDALE'S

AND THE MOST RECENT Christmas thematic CAMPAIGN, "Celebrate"
BLOOMINGDALE'S 12/2006

WORKING WITH CURRENT CREATIVE DIRECTOR, AUDREY NIZEN (2006)

Sculptural ornament designs

In the end,
designing for retail is just that,
to celebrate
the art of selling.
Celebrating the legacy of Bloomingdale's shopping bags.
TSG
GIRVIN NYC
…..
G I R V I N | FASHION BRAND STRATEGY
CLOTHING, RETAIL + STORY: THE CARTOGRAPHY OF LOOK
http://bit.ly/szZeT0