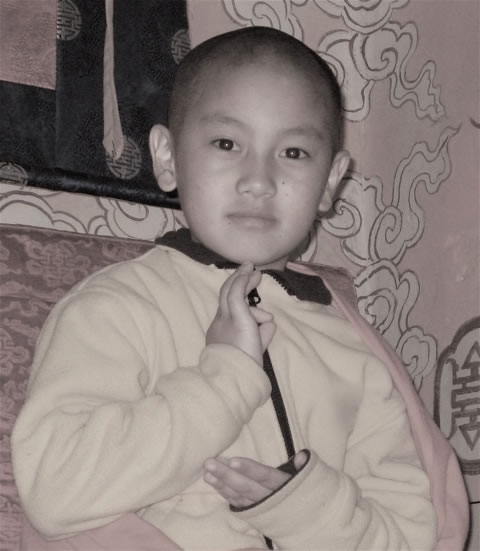 When I was in Bhutan,
high in the misted Himalayan mountains,
I'd spied a remote monastery
and spoke to my guide,
Tsewang Nidup
about "getting up there."
We did get up there, like nearly every other lonely vista we aspired to summit — centuries-old crag-balanced meditation retreats, nunneries, community gathering places — the Dzong, roadside grottos and riverine perpetually spinning prayer wheel ritual sites, and humming, drum-cadenced compounds with rows of meditating monks.
But entering one prayer campus, sanctum sanctorum, later in the evening, for a visit to the Abbot, we were told there was an 8-year-old boy who wished to visit. He was called a tertön, Tibetan:གཏེར་སྟོན or "treasure finder," one who can see into mountains, caves and hidden places to find obscured, unseen treasures, sacred places and concealed sacraments.
What struck in listening to him, this tiny being, was not only his eloquence — but the mature grace of his presence and "manners" — his extraordinarily matured and skilled formalism. He spoke in Bhutanese, a long string of prayers, commentaries and observations, all the while, gesturing in a hand-danced framing of mudra — manual movements that acted as a kind of digit-based, wrist, single and two-handed co-capitalization of every sentence, mapping deeper symbolisms and higher truths in the mysteries of Tibetan Vajrayana Buddhism.
I was struck by his manner.
Formal, he was, for such a young boy.
As I contemplate the nature of our transitioning in the patterning of time, and 12.21.2012, perhaps we can look to a greater gentility, a more care full outreach, connection and intra-active quality in the empathic sharing,
of the link:
one to another.
Feelingness:
Of each other.
I ran into a UK pronouncement by Tom Ford on manners — predominantly fashion, and it set me thinking on manners — which might be evidenced externally in fashion deliberation, but perhaps, like "clothes that make the man" — these textural skins evince the truth of the person, values, attributes in character that could be externally expressed, from
an internal sparking.
What are manners, anyway?
To one:
"Under bad manners, as under graver faults, lies very commonly an overestimate of our special individuality, as distinguished from our generic humanity."
[Oliver W. Holmes,
"The Professor at the Breakfast Table," 1858]
Politeness counts.
And, in a manner, polite character links to complimentary,
which in turn, speaks to
completeness.
In our transitions, perhaps that's it – we can hope for, aspire to, more completeness. A mindful touch of the hand, a grace, a sentiment of gentleness?
TIM | Decatur Island
….
THE STRATEGY OF IMAGINATION +
HOLISTIC WELLNESS = PLACE
DESIGNING ENVIRONMENTS FOR HEALING + HEALTH:
PLACES | RETAIL | RESTAURANTS | SPAS | WELL CENTERS
wellness experience design, storytelling + brand = http://bit.ly/XIQ0vm