BLADERUNNER 2049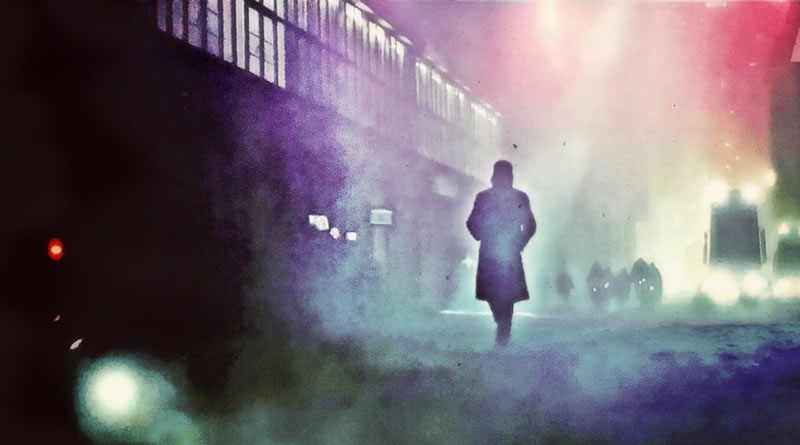 VISUALIZING *EXPERIENTIALITY: LOOKING FOR IRREGULARITY AND DISSOLUTION.
In the world of humanity, the pattering of humankind, people jumbling, engaging in the places that people congregate, there is invariably messiness and chaos. In fractionalizing crowds, groups, gangs and loud and silent individuals, there is a tendency to dust, dirt and dissolution.
It's the way of people to clutter, cluster
and foster degradation.
Why would I say such a thing? Travel, being out there in the places that aren't perpetually tidied by the droids and drones of custodianship. People trample things. Constant passage marks wayfaring routes. Such is the archaeology of presence. People layer themselves onto the places that they live, work, bypass through.
Things get rough, things get distressed, things get dirty.
It's the wabi sabi of life.
I was thinking about my journeys with Sir Scott, which, as some know, would be closest to a string of relational efforts for Tony Scott his brother and business partner. I worked for Tony on his brand, his business collateral, some films — most noteworthy of which was his treatment of Whitley Strieber's "The Hunger." Of course, this is a stylistic journey, a visioning of light and production design, set and construction, mist and art direction—which is the foundational innovation of Bladerunner, then Alien—and, to my thinking, created a structural rendering that deeply influenced the design directions, which are innovative unto themselves. Either, Ridley Scott. Denis Villeneuve—and his expansive interpretations.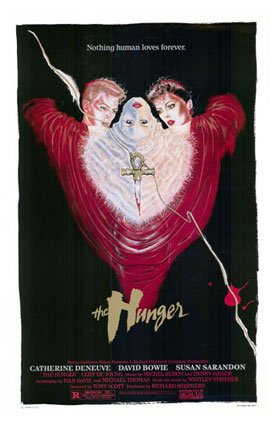 And perhaps less striking, but cultishly favored — his rendering of Shane Black's telling of "The Last Boy Scout."
I designed the identities for these, the titling fonts and some added promotional collateral. All the while, reviewing his sketches on his storyboarding for shooting sequences. I sat with him in the editing booth looking at his filmic trims of Marlboro racing commercials and event documentation, with cigar smoke billowing out in great clouds in the suite.
We talked about a lot of things, and one point of cigar-scented conversation was about the how of being real. Designing real. Making real. Experimenting with real. We talked about the grit of living — "life's like that, it's not easy and it's not clean." I'd referenced the physicality of storytelling—how, in film work, it was possible—to graphically express the grit, the dust, smog and mist of hazy articulation.
That idea crossed in the work of the two of them, Sir Ridley and Tony Scott, both of them shot in that quintessentially misty and hyperreal coloration. But also, in the tension of production design, built sets and atmospheres that were
inherently dark,
funky and distressed.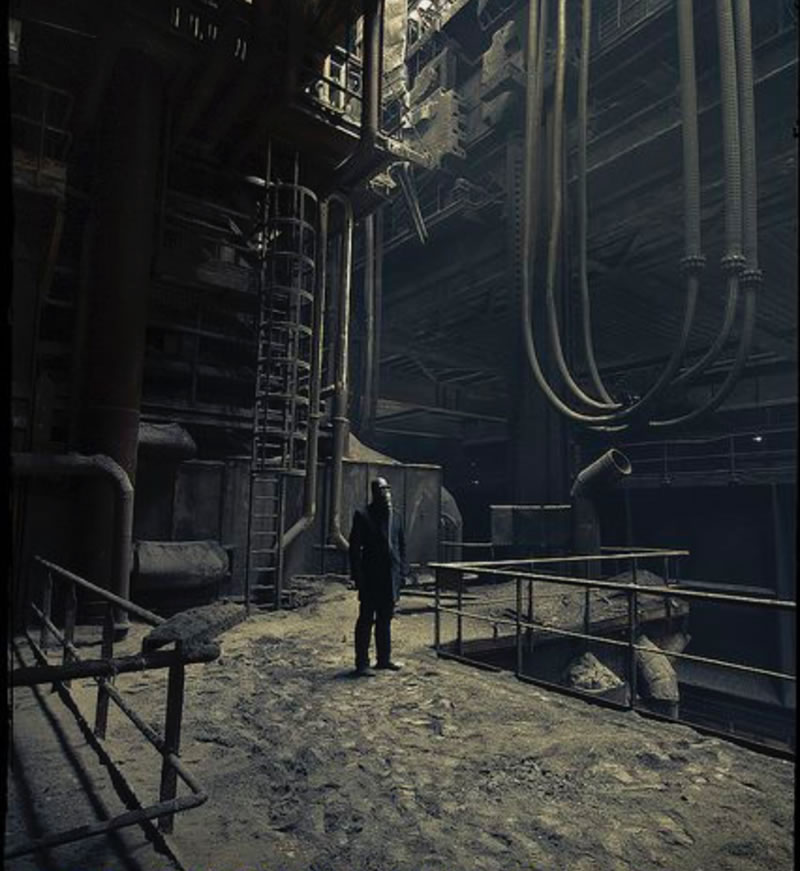 To Sir Scott's work, I recall the distinctly unique and heretofore unseen character of his set stylings of both the Nostromo and its inner workings in the command cockpit, which were fundamentally unkept and workably leisurely,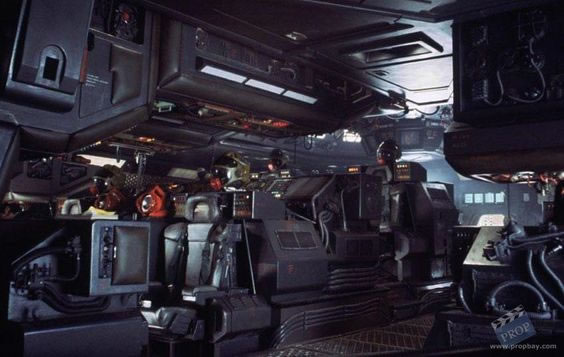 as well as the operation of its cooling towers and working stations that set the scent of the terrorism of the Alien that skulked and hung from within. Most depictions of space craft tended to be cleanly plasticized, curvaceous and industrially clean. But Scott's work idealized a darker and dirtier world, with dripping oil, leaking water and ill-kept machinery. That view spoke to Scott's training as a designer. In a manner, his sensitivity to storytelling comes in this ability to conjure the design of compelling visioning that creates places of mystery and utile wonderment. Things dissipate and dissolve, wear out, but still stand. One might suggest that this wabi sabi approach to designing places rife in story is a genetic selectivity of style — in this instance, Scott's later works production designer, Damien Drew — who is a photographer, artist and stylist who contemplates the dissolution of place in the use of place-making.
As in:
"We do not dislike everything that shines, but we do prefer a pensive lustre to a shallow brilliance, a murky light that, whether in a stone or an artefact, bespeaks a sheen of antiquity. We love things that bear the marks of grime, soot, and weather, and we love the colours and the sheen that call to mind the past that made them." – From Jun'ichirō Tanizaki, 'In Praise of Shadows' 1933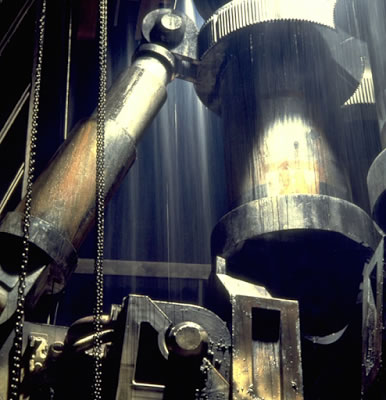 To the Fox executive producers, Sir Scott's take, that idea of water dripping down, the clanking chains were all part of Ridley's fascination with disarray and disruption — as in "things aren't working, there's something wrong, but the crew puts up with it," as most do with the collapse of the heavily used. That distressed thread could be found in the beginning of Scott's legacy and continued in the dirtied visage
of follow-on efforts.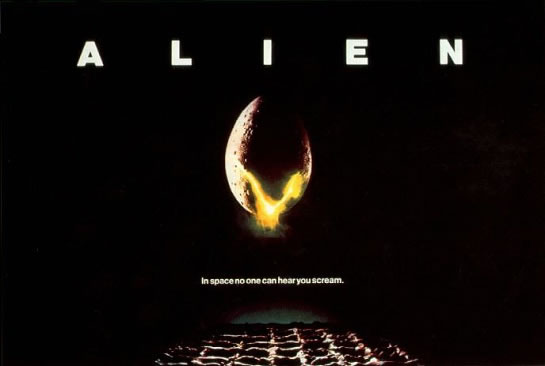 Alien was the beginning. Stylistically directed by Scott and designed with the production leadership of Michael Seymour and conceptual renderings by Ron Cobb and Chris Foss. Still, Scott drove the visioning, the distressed nature of place-making. That stylistic inspiration continues. And earlier, BladeRunner's depiction, Scott's visionary effort has the same ethos of texturally dense visualizations and the dusty detritus of humanity in transit.
For Bladerunner, while many of the production drawings were built by Sir Scott, the credit for the 1982 production credit comes from Lawrence Paull, art-directed by David Snyder with vehicular and architectural prophecies by Syd Mead.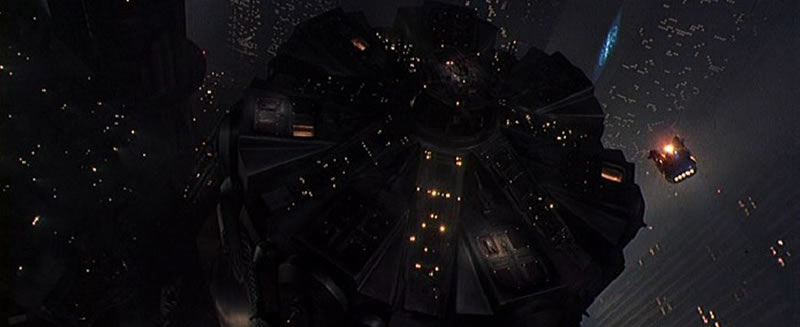 Still,
wabisabi
maintains.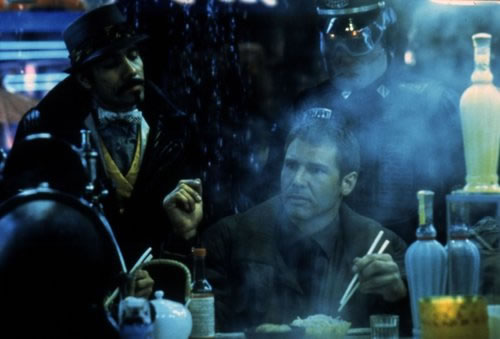 Misted,
fogged, smoke-filled
and
raining
toxic precipitation.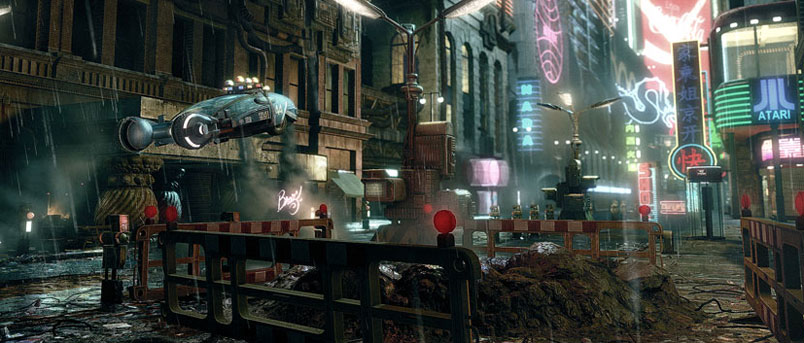 Black Rain, I worked on that film for Paramount, as a logo stylist.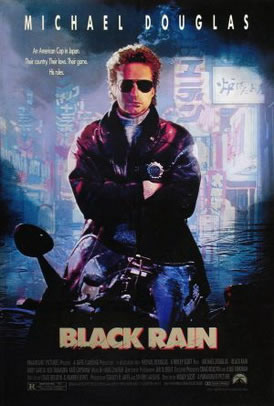 Also dark.
Cluttered, dirty, difficult.
When I'd reached to Sir Scott, earlier in my career, I'd pitched design concepts for his efforts on 1492 — could that design speak, somehow, to the time of its provenance?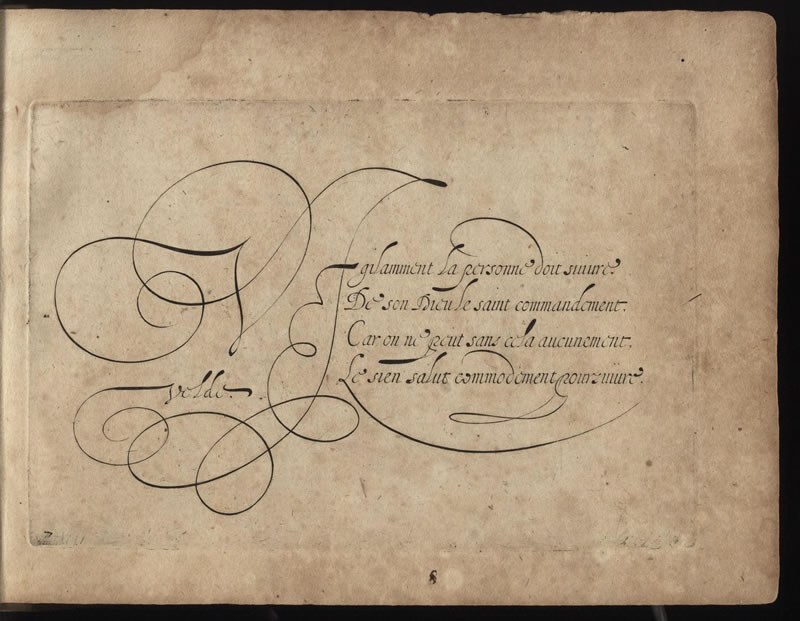 I'd drawn out ideas, pitching some solutions to titling treatments that could be paleographically resonant.
As in the journals of Christopher Columbus: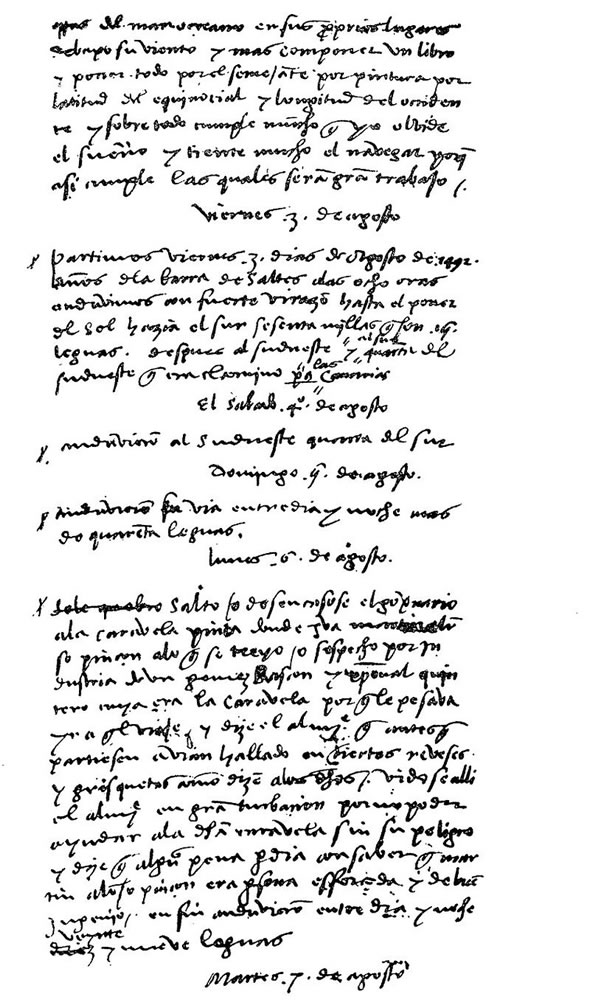 I did the same in my pursuit of supporting the theatrical advertising of Gladiator.
As in my pitches and commentary to
James Cameron on building a custom font for Avatar:
"invent something specific."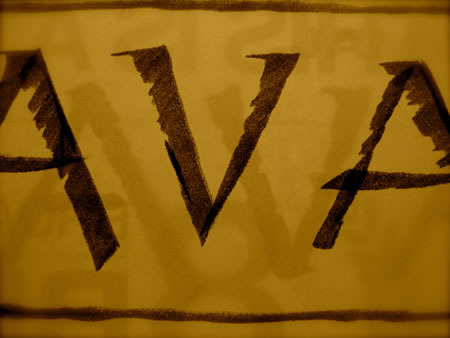 I did the same for Ridley Scott's GLADIATOR.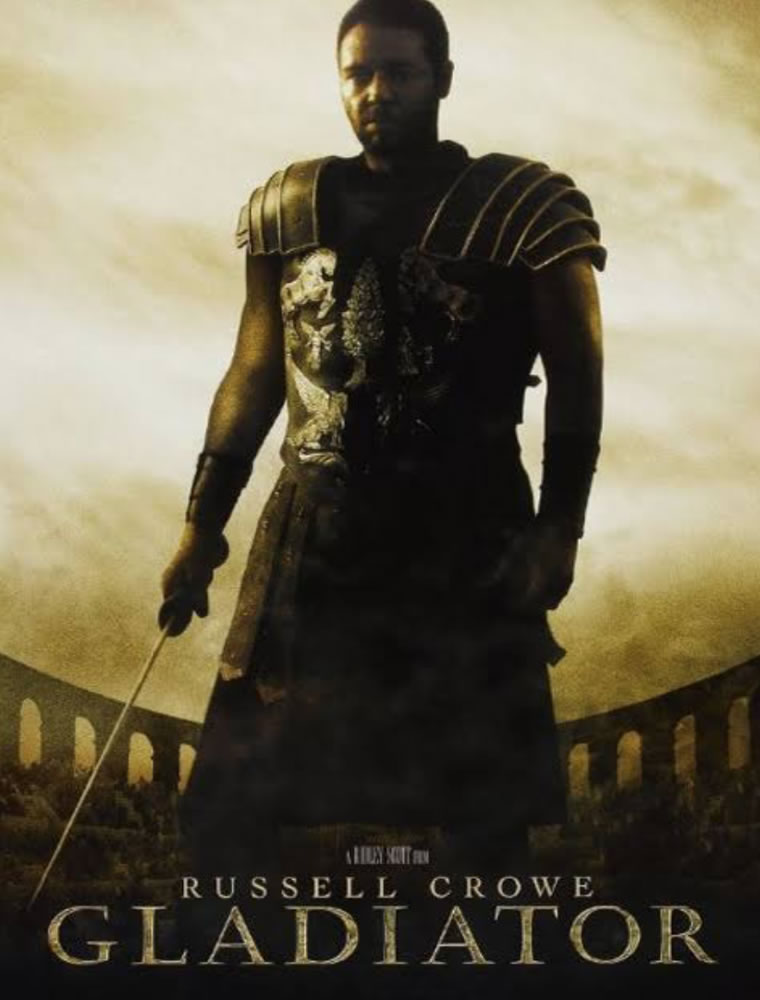 g
I drew up titling treatments that, too, evinced the spirit of the time in paleographical precision. What time?
Roughly 200AD. Roughened, reed drawn, brushed on stone.
So that's what I drew,
the epigraphic lettering of Imperial Rome.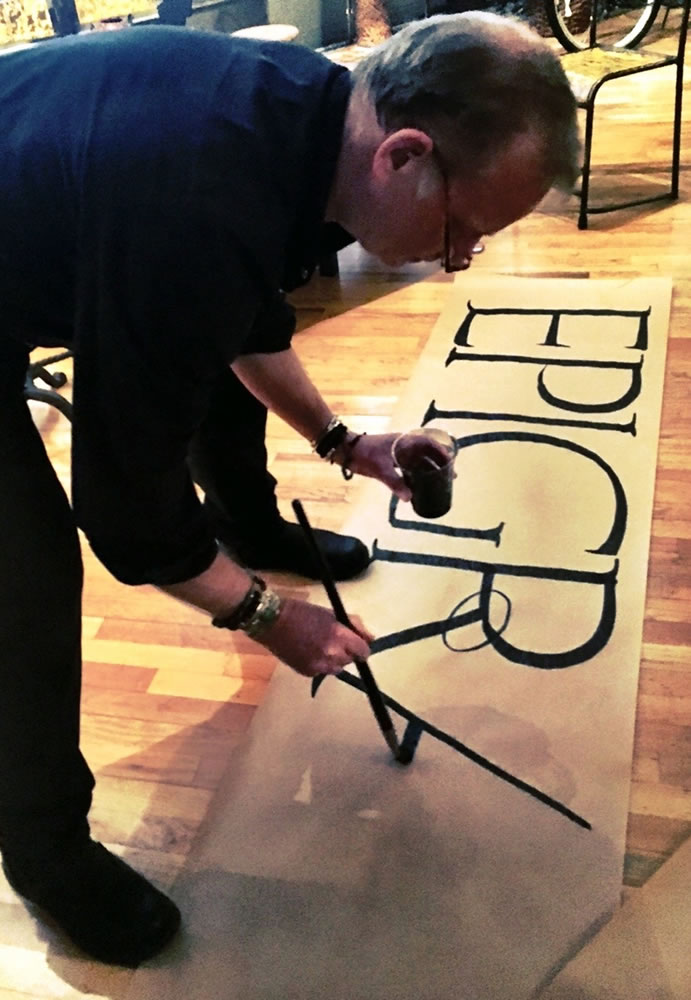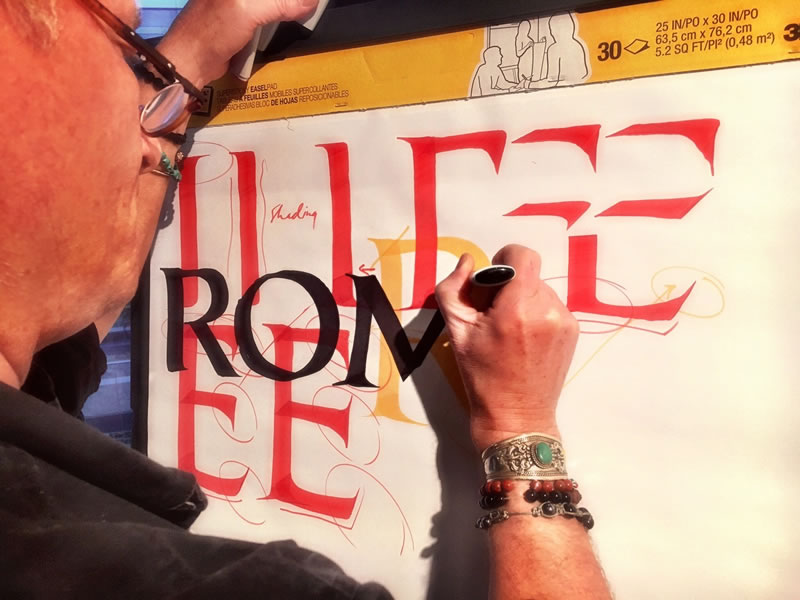 You can only try.
And persist.
And, to persistence, the thread of the dithered, hyperreal and dissolute world, Bladerunner 2049 emerges with similarly densified hues and wracked ruination.
"Blade Runner 2049"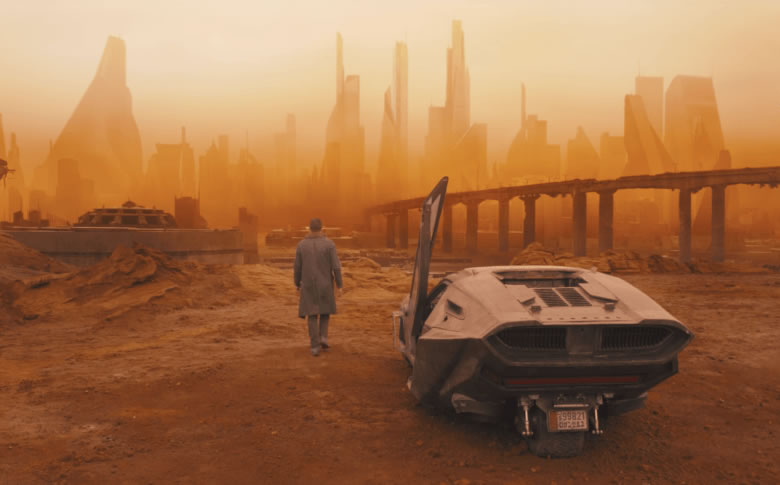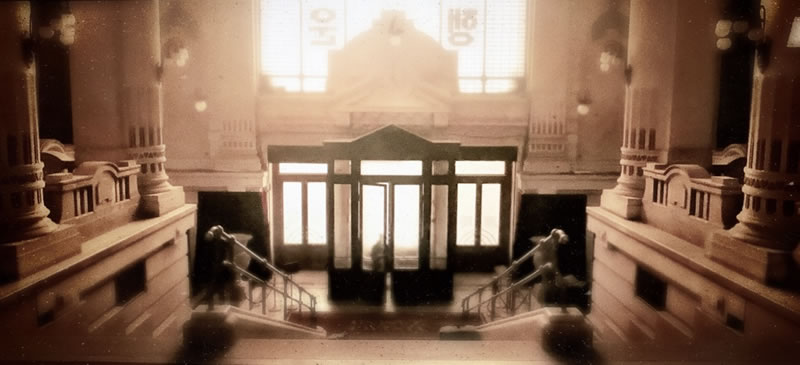 In any film, and any legacy of work, there is perpetually
a consortium of talent that contributes to the making
and the marketing of a filmic presence —
but in a manner, it is
the director that sets
the entire visioning in play.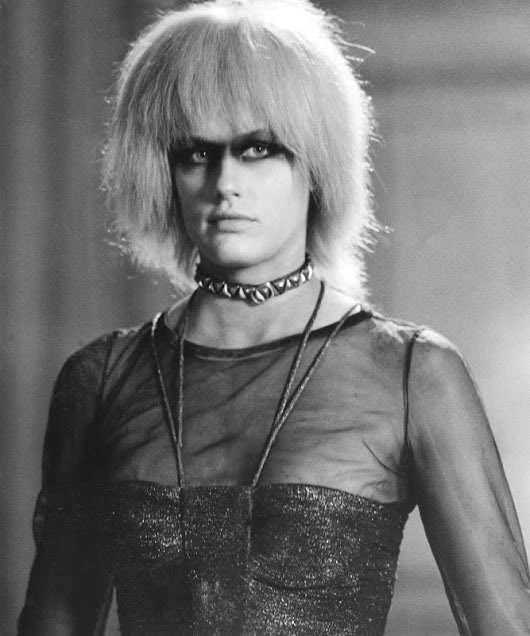 While Daryl Hannah might've invented
her own idea of raccoon makeup for Pris, the PleasureReplicant
or that Syd Mead's drawings of
the things around his cars
would go somewhere — someone has to drive.
Direction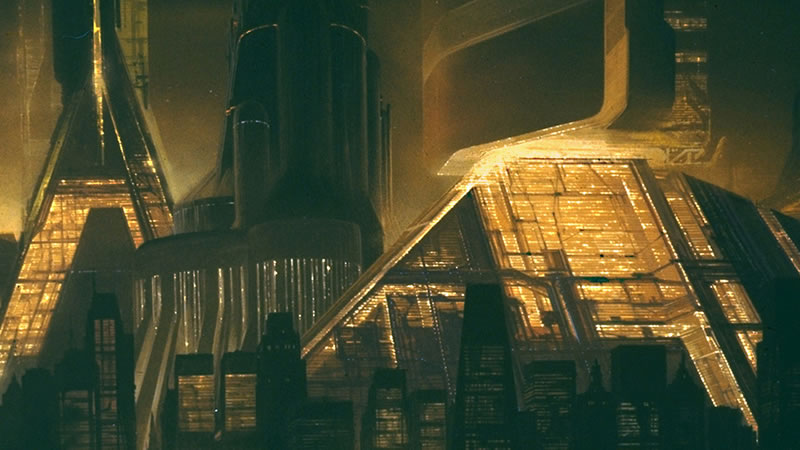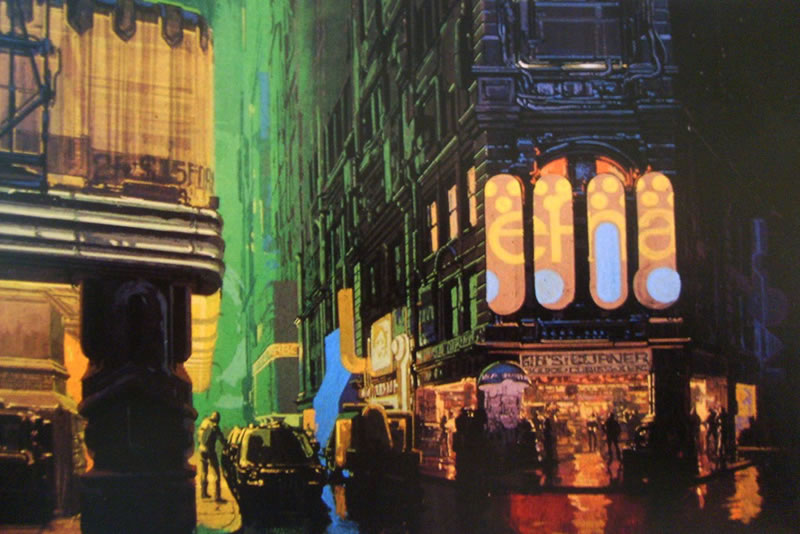 Who would know that the drippage of overpainting would contribute
to the set production of Prometheus?
Everything counts,
But one leader must have the
stamina and persistence to take a film
in a direction, the Director
for a reason.
Zack Snyder:
"The problem sci-fi often has is that it seems impersonal. "The way Ridley does it, you can imagine the gritty reality of those worlds and therefore the events that take place within the film connect with you in this personal way. Even though he creates this epic landscape, he finds a way to make it human."
I offer some other meditations on Sir Scott's legacy, written in earlier notations here:
Innovation Strategies and Cinematic Production Design
Cinematic Production Design and Brand Identity
What it all comes to is that commitment, the persistence of visioning dramatic storytelling.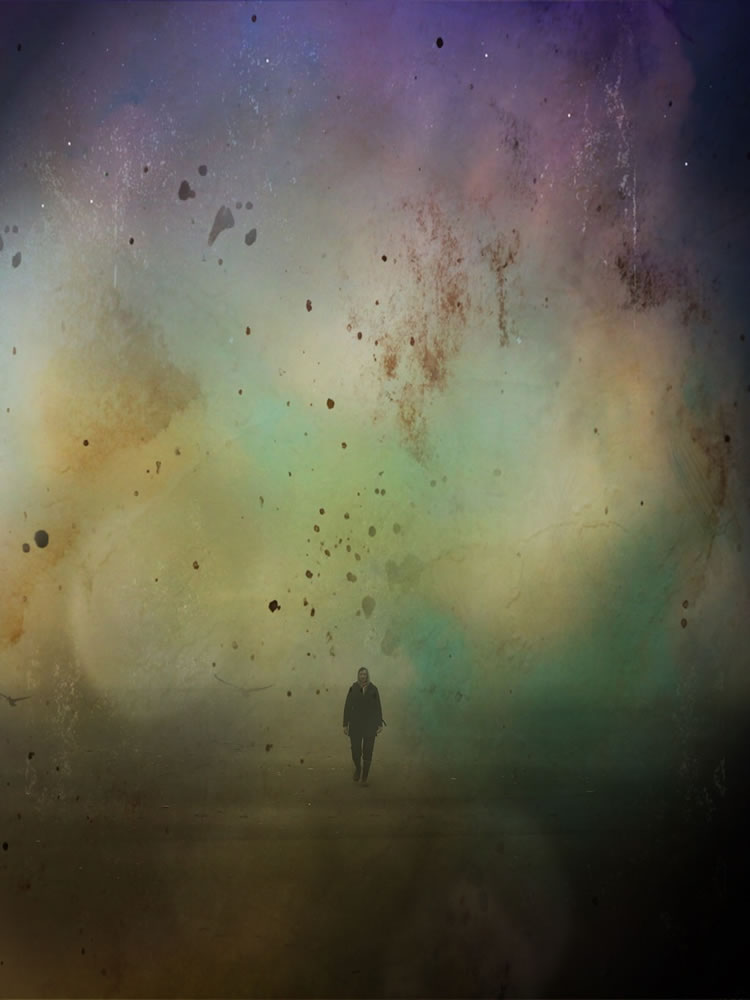 And making places.
For humans, distressed by humans.
And how the storytelling intertwines place-making and context, framing the hyperreal with the narrative arc.
Sir Ridley Scott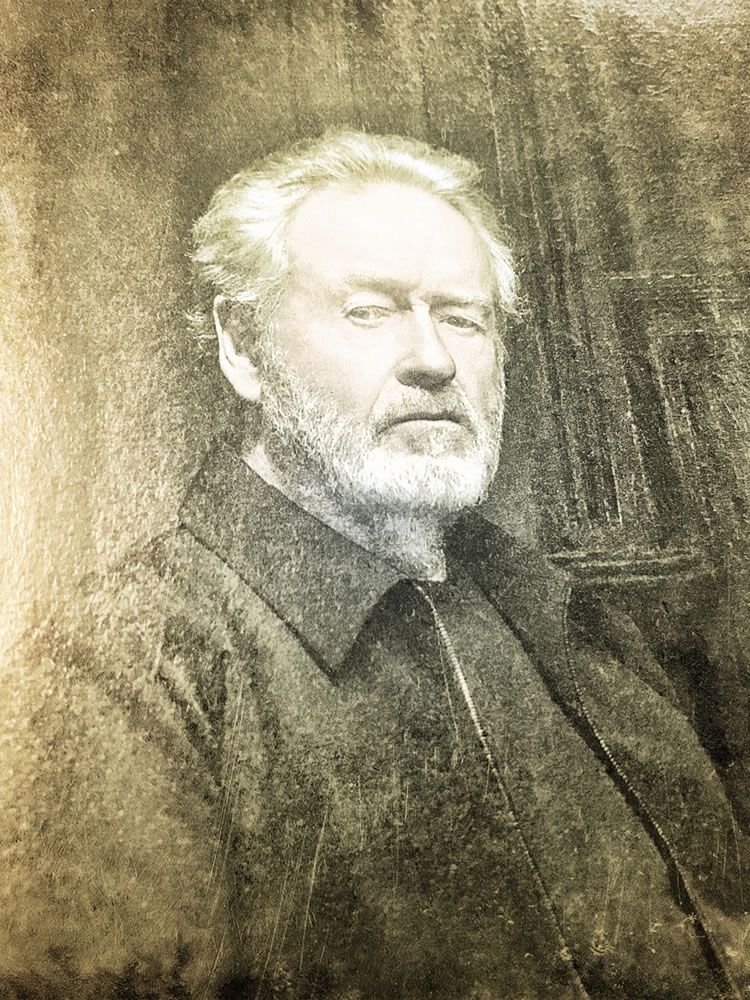 T I M | OSEAN STUDIOS
*Experientiality?
A GIRVIN coinage —
the state of holistic experience design.
…..
G I R V I N | DESIGNING MOVIES
THEATRICAL BRANDING + ENTERTAINMENT
IMAGINATION: AND THE TOOLS TO MAKE IT HAPPEN
goo.gl/BsoZ6y
Movie Storytelling design: goo.gl/XCBQps