OUR NATIONAL ART TREASURES |
LAMENTING THE PASSAGE OF HAROLD BALAZS.


ISN'T IT SO THAT EACH OF US HAS A PERSONAL FLOWERING THAT COULD HAVE SPROUTED FROM A SINGLE LUMINOUS POINT OF INSPIRATION?

JUST THINK OF IT: YOUR LIFE CHANGES, MOMENTS OF IGNITION, ILLUMINATIVE INSTANCES OF MAGICAL TRANSFORMATION:
YOU WERE ONE PERSON BEFORE,
AND AFTER THAT:
NOW
YOU'RE
SOMETHING
NEW?


For me, that index of fiery explication was Harold Balazs.
He took me from looking at the world in one way, and in the next —
to another completely different way of seeing things.
Harold Balazs taught me about the magical mind of implausible and impossible futures — he taught me about the raw visualizing and making of those imaginings.
"You can dream it. Make it. Do it.
But to do that, you'll have to risk everything."
He taught me about the empowerment
of the imaginative memory —
of Borges,
of Koch and Kazantzakis.
He taught me about the strength of the hand; and the handmade, and the making.


He taught me that art — making stuff — the creating of storytelling art, stuff that goes on, around and in buildings, sculpture, signage; he taught me that lettering, calligraphy, drawing, crafting invisible sigils and patterning could all be alive. And that any journey would be of getting beneath the surface and nosing around in the mystical, the unknown, the poetic, the philosophically courageous.
And then, in all seriousness:
laughing all about it.
Art — the making of stuff, the holism of it, the commitment — surviving in it — was hard work. Better still, don't even go there.
Doesn't even try.
It's not easy, it's damnably hard.
And really, I walked around that command, spending time with him — he said, "cut his hands off," when my mother mentioned my interest in an artful career.
Yet none did — both hands here.
And there I went,
And here I am.
What I learned from Harold was — "get curious,
look for answers,
get out there
and find it."
Don't
theorize.
Do.


He taught me about using powdered minerals and glass crystals, drawing with chalks, pencils, scratching baked enamel, carving wood, bending steel. firing kilns, shaving timber.
I have a couple of essays, in memorial, I offer them here.
Just meditate for a moment on those that have forever changed your life.
What you learned, you can't go back to the way you were.
It's human alchemy.
Notes:
SEEKING INSPIRATIONS | CREATIVE MENTORS: HAROLD BALAZS:
THE DEFINITIONS OF DESIGN SPIRIT: A CHILDHOOD, RECALLED
GROWING UP CREATIVE | WHO'S THE TEACHER THAT PLANTS THE SEED?
Creative [V I B E] is juice, it's jazz, it's fire; unquenchable —
it's not dying, it's not going out.

Harold Balazs | Porcelain enamel

Creative comes from family — and what they teach you, what comes of exploration, what comes of gifts, what comes of being in the school of being open, learning more, risking, failing, loving and learning more. Once it starts, like any solid addiction, it doesn't let you go.

Exhibition book jacket
My exposure to the creative place of imagining began at birth — from both my Mother and Father, Lila and George Girvin. While I might've been a handful, as the first born, they let me head out to do what I wanted to do. My Mother is a painter, pianist, champion. My Father is a Surgeon, Lover of trees, gardener, activist.
My early years were fraught with uncertainty — but still imbued with fantastic curiosity and passion about exploration. That might've been science in the beginnings — a love of natural things, the examination of the biological realm — marine biology, comparative physiology, entomology, botany – but I went on from there: journals, drawing, type design, calligraphy, art and architectural history. And how, in all this, does the story unfold — what is the connection of these arts to their respective civilizations — I went there, I wandered, I wondered, and I built the premise of "my design" based on nearly no training as a designer. But thinker, idealist, ideator,, draughtsman, illustrator. Just dreams.

Harold Balazs: patience, passion, persistence
And from there — the Girvin story unfolds; that's been told. I worked early on in the world of the scholarly, the rare and referenced hand-drawn type design, the hand-made paper, the hand-bound book, gilding and glass, carved and blasted stone, the powdered porcelain, the hand cut stencil, the silkwoven serigraph, the etched plate. All special, all artful, and mostly all luxury — made from one — for one. Girvin grew and things changed — more people, more projects, but still — the idea of doing things by hand, beautiful wrought — and a vision of extending, in the european legacy, the realm of design horizontally, unbridled, and enthusiastically explored and experimented. This idea of doing things came in my early connection with an artist from Mead, Washington — just outside of Spokane where I spent part of my childhood.

Gallery space, Spokane's Northwest Museum of Arts and Culture
Harold Balazs was having a show in Spokane at the museum there. Seeing it reminded me of my times there, out at the studio, exploring, experimenting, talking to Harold, learning, opening up and learning to consider the idea that doing something with art is something that can be built upon, extended horizontally. For me, the inspiration was about opening all channels of creativity — not being bound, alone, to one crafted way of expression, but aligning more holistically. If there's an idea to examined, then doing more — spreading out — expanding that creative legacy is another.

Baked porcelain enamel wall treatments: extending the visualization
To offer something of that connection, there's a sequence of inspirational gestures to the work of Mr. Balazs — a inspiration for many, in the collections of hundreds, and more importantly — a man that has continued the work, creatively expanding his efforts with a passionate persistence. The creative essence flows.
Notes on cabbages: drawings, cutting stencils, dusted porcelain applications baked on metal — the sequences of an idea:


Watercolor explorations: a design brand patterning

Harold Balazs steel sculpture: a graphic language, dimensioned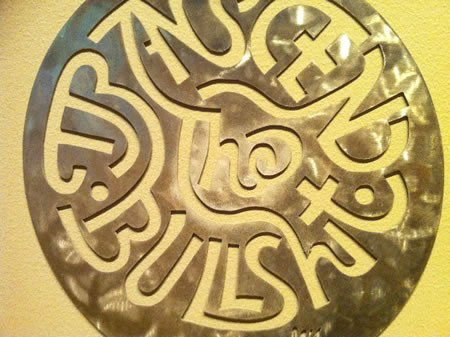 The classic phrasing: freely interweaving graphic expressions

A note: sketches on the symbology of Rudolf Koch

Copper and porcelain badgework: graphics, intertwining ideals

Large drawings: the energy flows

Calligraphic treatments: text, message and meaning
A little note from me, on the studio wall.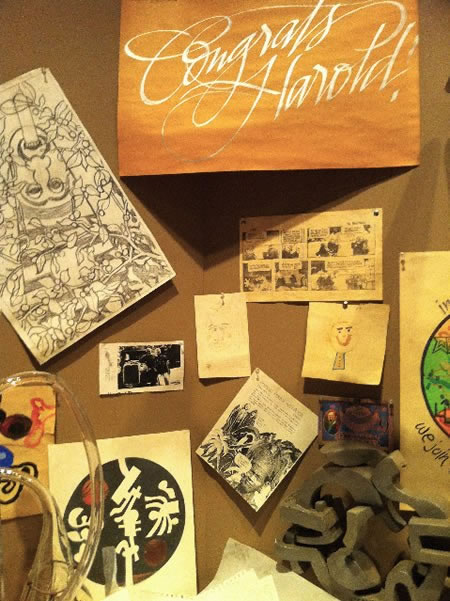 The workshop, an amalgam of many explorations: along with a congratulatory calligraphic note from me
Where does one seek that inspiration — the list goes and goes for me — people that I've connected with, known, been touched by, that breathing in, that beauty is something marvelous to feel, surging through the electricity of memory and the results that find themselves shown in the vocabulary of expression — how lightning fast, that realization, the activation — the flow, renews.

L E S S O N S   L E A R N E D
START WITH THE IMAGINATION,
END WITH THE HANDS
PATIENCE, PASSION, PERSISTENCE
BEGIN WITH ONE INTERPRETATION, DIMENSIONS ADVANCED IN ANOTHER
THINK FIRST, BUILD ON A SEQUENCE OF IDEA(L)S
THE FIRST GESTURE CAN BE BUILT
THE IMAGINARY CAN HAVE A DESIGN LANGUAGE, BUILT IN THE HUMAN BRAND, EXTENDED
A GRAPHICAL VOCABULARY CAN BE THE ARCHITECTURE OF THE MIND, TO HAND
THE ALPHABET IS A WEAVING, LAYERED IN STORY SINCE THE DAWN OF WRITTEN TIME
THE LANGUAGE OF SYMBOLS, PSYCHIC ARCHETYPES AND OTHERWISE, FORM AN UNDERLAY: KNOW THEM FLUENTLY
THE LINE CREATES FORM, YOU DIVINE THE LANGUAGE
ENERGY IS ETERNAL DELIGHT: GO WITH THE FLOW
TEXT, ILLUSTRATION, THE TAPESTRY OF IMAGINATION
DESIGN = AMALGAM
Flow, goes — to the heart of it. Another friend, also from early Spokane years – Tom Kundig, too — influenced by Harold's wizardry, as an apprentice.
Story, to influence, learnings to imagination:

Tim | Osean studios
….

WEAVING BRANDSTORIES
CROWD MIND | EXPERIENCE DESIGN | MEMORY STRATEGY
goo.gl/pNZHfE