Yesterday, I went to the open house of the architectural design group NBBJ.
The point of the practice, rather uniquely — I might offer, is about collaboration and the celebration of ideas. Many practices are of course about doing the fundamental work of defining space, resonance and relevance to context and use. NBBJ, one of the premier architectural groups in the world, based in Seattle, promulgates an attitude that is surely about that – doing that work. But, as well, there's another character that is unusual in an atmosphere of collaborative advancement of those ideas. This was offered as a sentiment repeatedly — working together, no walls, no offices, and an inherent way of exploring pushing things together to push ideals to the further shores of concept. The spaces lustrate that notion. It's wide open.
My personal link there is Scott Wyatt, NBBJ's CEO, who I've known for decades in my experience in the Seattle design and architectural community. Like others, I've known him since my earliest years — now 30 years of exploration of design intention.
Back then, he was the co-founder of the corporate design practice, Wyatt Stapper. And he was successful then, brought the firm to a certain size (about 80 people) then closed the operation. He counseled me, as well, to the idea of the challenges in building the firm to that size. I got there, to that size, and to my own circumstances as well as the shifting vagaries of the market, was forced to downsize. He moved on to his own new alliances with NBBJ. I kept it rolling at Girvin, and continued to downsize while the firm righted itself in marketing and business development explorations. The key challenge is — "what's your role, in leadership?" Are you leading the firm, or are you creating for the firm? And they are not the same. No CEO am I. While having never really been trained as a designer, more a kind of aesthetic historian and scholar in application of ideas and thinking, my exploration at Girvin is wholly about the absolution of curiosity. Why that, then? My interest is rarely about doing the same thing over and over, but more so to incessantly finding things that I don't know how to do. And creating in the context of experience, other forms of expertise in finding, learning quickly and developing solutions. It's about being a pathfinder.
I respect, profoundly, what Scott (and his team) have done. He's surely quelled whatever earlier challenges there might have been in exploring and developing solutions to massing creative talent in vast cadres of collaborative connection. We live around ideas. And do that practice in a smaller way — that, for now — allows me to focus on the active creative, the realized learning, to grow. And to continue that effort over time. Likely, the rest of my life.
Here are some images of the space, located in the south Lake Union area, authored by Paul Allen's Vulcan, Pemco and other alliances to create miniature villages of community.
Breeze — open the windows, when the greenlight is on. That character alone — the sense of freshening air, is remarkable.
A european venting system shifts in the day, evolving the shading, cooling the building. The glass, clear and untinted.
People and environments in context.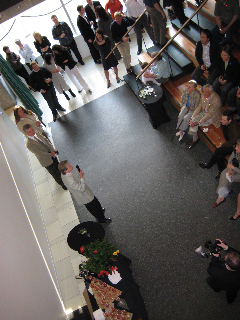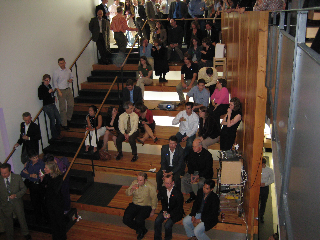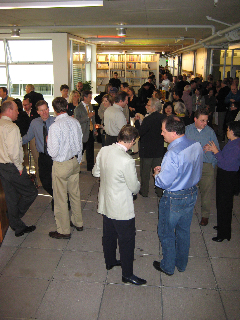 Materials, space, simple, cared for, shared.
—-
Tim Girvin