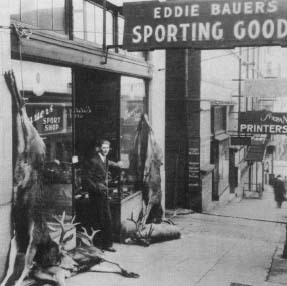 Several years ago, at a WWD | CEO Summit, in Miami, I met Leslie Wexner, the fabled CEO of The Limited Brands. Actually, he was waiting to speak at the event, and I went to him, to ask some questions. One questions burned in my mind. Simple, but compellingly powerful to the propositions of the retelling of retail — what's important? And the questions were simple — I'm wondering, when it comes to retail, what's the most important thing to remember?" His reply to me was that "you've got to love what you're selling — and that love needs to shine. If you have a shopfront, and some windows, put your stuff out there, and watch and see what happens. If people just walk by, you've failed; if people stop, stare, stay, go in — you've won, that's the beginning of a conversation; then you can sell." There's passion in that commitment, but it's interesting to me to note that idea of the simplicity of merchandising effort — you put something out there and people will either relate, or not. And will go in. There are a couple of takes to that proposition.
That, simply, if you're doing a job — it's the most profound if it's close to your heart and your passion. That's a good lesson for merely living. Do what you love — and there are others in the human brand study that similarly exemplify that branding | life strategy.
That selling transaction is about an exchange, in commerce, that relates to your community and your relationships — you sell something that you believe in — and that if you do that, you are creating a statement that will shine for your consumers.
Epiphany is shining — it's literally that, to the nature of the etymology, and true alignment with the power of the relationship is about creating a striking spark of recognition. Any marketer looks for this alignment between product and consumer captivation. That link, to surprise, is the nature of the shopfront, to Wexner's premise. Your shopfront creates attraction, there's a shining moment of surprise and discovery — and your audience is drawn in.
During that same session, along with an array of other luminaries at the event, GIRVIN was a sponsor; and there was another encounter, another presentation by Neil Fiske (Bath & Body Works) — affiliated, as well, with Leslie Wexner's enterprise. Fiske's strategic foundations lend themselves to his extensive consulting leadership at the Boston Consulting Group. I ran into him again, later, as he stepped into tackling the mounting challenges in re-channeling the Eddie Bauer brand. Being one that has worked on the brand in the past, it was an intriguing reconnection. Fiske's strategy in building the brand, as CEO, is about a return to the truth. The truth that lies in the heart of the brand.
Earlier, in GIRVIN BrandQuest® charrettes, leading brand sessions, to newly catalyze the brand, we orchestrated teams from advertising, the consulting agencies, the internal store design and retail groups, as well as the architectural firm, to explore new solutions in getting back to the heart of the brand. Those outcomes, then, looked like this:
Under construction, the positioning spoke first to the outdoors, a layered platform of trees, dimensionally cut.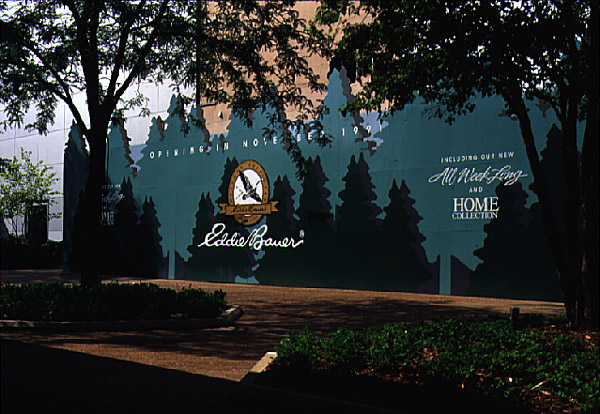 A return to the craftsman ethos — hard-working, honest, wainscotting, Greene & Greene Brothers details. Oak Brook, Illinois, implementations.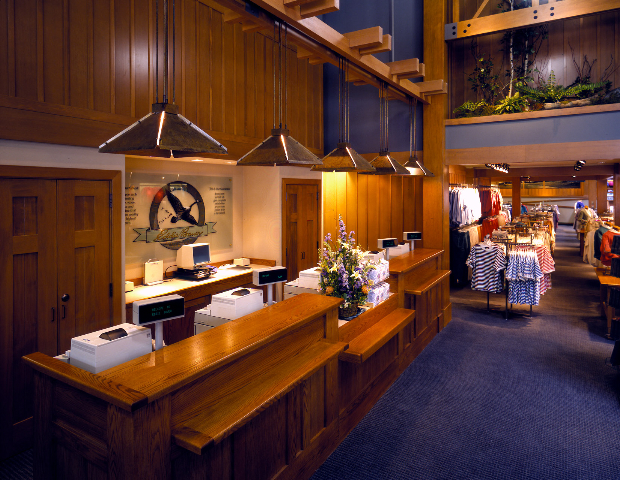 Big merchandising — our sessions looked to the implementation of real gear, done large.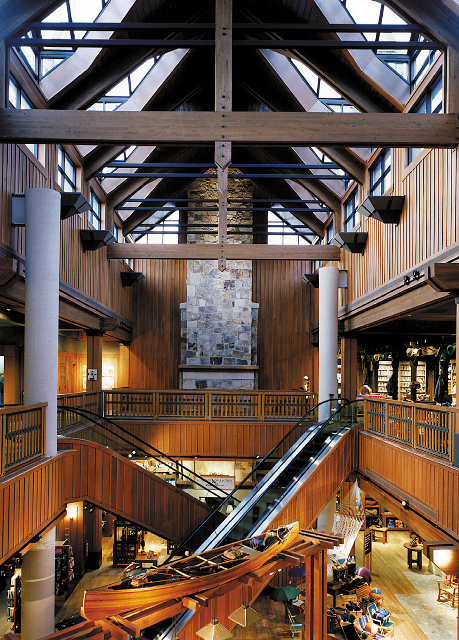 Skins that tell the mountainous opening to adventure — upfront and personal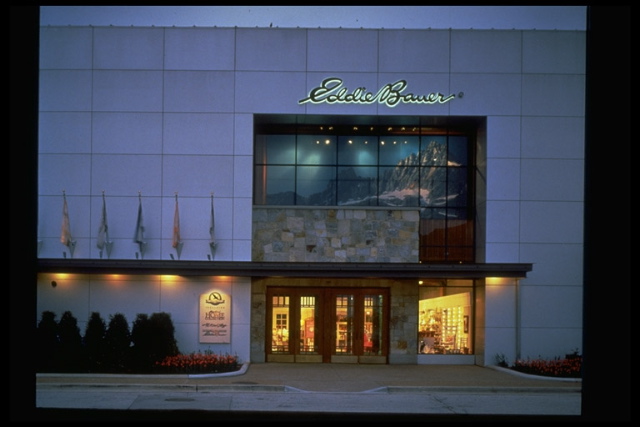 Signage that, strapped and joined, resonates the interiors, layered with a patterned substrate of hand-drawn fly lures — packaging, included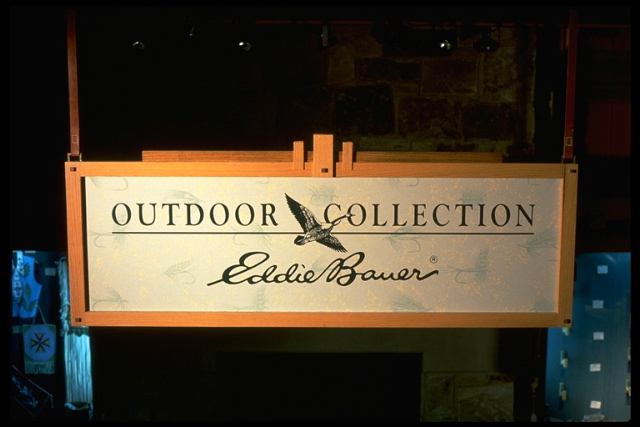 That was then, this is now. Eddie Bauer is in deep trouble — and Fiske, and his team, will be continuing the drive to get back to the heart of the brand. And there are, as ever, stories emerging, that play to that sentience.
Speaking with Neil, on a flight from Seattle to L.A., we talked about his next move. And what he inferred was that he was handling it "internally." Being a consultant, you're looking for relationships to evolve — so it comes up. But what he meant, in the inference of "handling it," was, literally, that Neil was. Neil, personally, was leading the "summit" — a new ascent in brand.
And that strategy needs to turn, as Fiske and leadership team are well aware. Eddie Bauer appears to be emerging from a prolonged slump of mounting losses that have nonetheless left Wall Street fitfully impatient; the present valuation stock trades for less than $1, down from a 2005 high of more than $30 per share. According to Fiske's assessment, "if you look at our performance last year versus retail overall, we outperformed a good part of the market. We had higher EBITDA than in 2007. There aren't a lot of retailers that can say that," referring to earnings before interest, taxes, depreciation and amortization. "Hopefully we'll come out of this recession leaner, very focused and poised for growth."
The company needs to find its niche and stick to it, according to retail analyst Patricia Edwards. "Having a clear solidified position for the future, and having a view of what you want your store to look like and to stand for, is incredibly important, and they haven't had that," said Edwards, owner of Seattle-based Storehouse Partners. And, in the past year — nine months that ended Sept. 27 — Eddie Bauer halved its losses, posting a $38 million loss, compared with an $83 million loss during the same period of 2007.
Later, discussing investment strategies for Northwest stocks, I met with Diane Daggatt — a financial consultant — and her take on Eddie Bauer — new directions in development. Her examination focuses on the emerging strategy, coming from Fiske's returning de-evolution (an evolution back to the heart of the brandstory). And part of that strategy is legendary alignment — find a resonant story that reflects back to the brand heart. And the brand, the heart, is the people that live there. Ed Viesturs, the adventurer mountaineer, has stepped into defining that modeling — the person that could stride into the heart of the brand proposition: "yet again, back to the outdoors, back to personal adventure."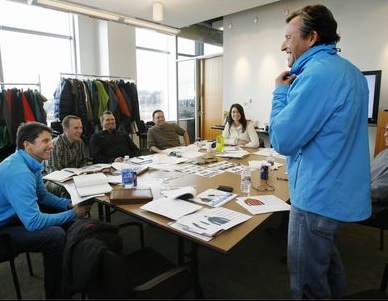 CREDIT: Dan DeLong / Seattle Post-Intelligencer staff photographer
Daggatt: "Viesturs now works in product design for Bauer, but was previously with Columbia Sportwear and had been using COLM's Mountain Hardware line for the majority of his infamous climbs of the 14 highest mountains in the world."

To strategy: "…it appears that EBHI is going after COLM's business directly. Next up, the article mentions, Bauer intends to develop product for the field-and-stream market, which has been very successful for COLM. A separate article in today's WSJ mentions that EBHI will sell its mountaineering product through "stores within stores" — another COLM strategy."
There are details, to expand upon, from a Seattle news review of the brand struggles of Bauer's advancements — working with Viesturs as a product endorser, and putting the gear through the paces in more rigorous exposures, the product will advance in quality and community relationships — presuming, back to our opening review — that the consumer will be galvanized by this appropriation. According to Andrea James, Seattle Post-Intelligencer news reporter, the analysis of product and innovation has been under consideration for more than a year — "an all-star team of mountaineering legends has been secretly developing a new clothing and gear line for Eddie Bauer Inc. They've tested the prototypes on the world's highest peaks and tuned and refined design details within the retailer's headquarters in Bellevue."
"'We're outdoors people. We're climbers, we live in this stuff,' said design team member Ed Viesturs, the only American to summit all 14 of the world's highest peaks without supplemental oxygen (the other design team members, along with Fiske's oversight, are — Peter Whittaker, co-owner of Rainier Mountaineering Inc.; Dave Hahn, whose 10 summits of Mount Everest are the most of any non-Sherpa ascents; and accomplished guides Melissa Arnot, Seth Waterfall and Chad Peele.) 'The consumer's going to get a product that's been already designed and tested and thought out.' And, to Fiske's strategy, this will be the centerpoint of the Bauer return: the innovation offering 'FirstAscent' line marks Eddie Bauer's first milestone in what it bills as its comeback story — a tale with Pacific Northwest heritage sewn into its seams."
As with any brand story, simplicity is key to the telling — people want stories that they can tell; and if they're too complicated, it's harder for the community to bridge and ripple out the telling. But this notion of simplicity extends to the concepts of product development as well. According to Fiske, "The thing I love about these guys is they cut through all the crap in the industry." Peter Whittaker, the legacy son of the Whittaker climbing family clan that literally founded the mountaineering movement in the Pacific Northwest intones, "the designs are simple. People on the mountain do not want to deal with extra straps, unnecessary zippers, pockets, bells and whistles that add weight but little function. You're up at 20,000 feet, you're suffering, your brain is just struggling. We really feel that there's a lot of gear that is being overdesigned," Whittaker said. "I've been involved in every step of this process. We've built over 70 pieces from nothing. I have a direct communication with the leader of this company and that within itself, I think, is somewhat unique."
And part of that concept comes back to the heritage of the story — reaching back, to find that telling anew. Fiske did just that: After coming to Eddie Bauer, he instituted a new motto for the languishing company: "What would Eddie do?"
To build on the brand legitimacy, Fiske reached to the Whittaker faimly for help. In 1963, Jim Whittaker became the first American to summit Mount Everest, and he had worn all-Eddie Bauer gear for the famous ascent. (And, speaking of Eddie Bauer reference and history — Whittaker later sent a personal letter to Bauer, thanking him for the "superb" gear.) Jim's twin brother, Lou Whittaker, is also an accliamed climber who founded Rainier Mountaineering Inc.
We, as well, had the chance to connect with the Whittaker family — supporting climbs, Rainier Mountaineering, even branding summit efforts over the years, marketing their climbing schools. And it was here that the Bauer link concretized again — design team leader Peter Whittaker, son of Lou Whittaker, first met Fiske on a Mount Rainier climb in 2007.
According to Andrea James, "He showed up several weeks after he came in as the new guy at Eddie Bauer," said Peter Whittaker, 50. "We went up and did a four-day climb on rainier and talked an awful lot. When you're up high on the side of a mountain and tied to someone, you get to know him very well." Whittaker was skeptical at first of Fiske's ambitions. In 1975, when Whittaker had begun working as a mountain guide at age 16, the Eddie Bauer brand ruled.
And, in terms of the crucial nature of quality, and the manufacturing lessons that are critical, even to survival — "In the outdoor industry, it was the best gear around," Whittaker said. "I watched Eddie Bauer over the years almost disappear in the outdoor arena…. Suddenly here it was a year and a half ago with Neil at the helm of Eddie Bauer talking about trying to get back to their roots."
Fiske enticed Peter Whittaker to join the design team to build and create perfected — authentically rounded and utile — product, with the assurance that the collaboration would be detailed down to the stitches. Whittaker said, "We are not just influencing the line, I mean, we're building the product; I've worked with several well-known outdoor manufacturers in the past — you'll have an athlete or a climber or someone will come in and it's more in a marketing capacity." Here, they are pushing this proposition further — and the truth shows.
The team expanded — from there, Whittaker brought in Viesturs and Hahn. "This was a very intriguing invitation to start with Eddie Bauer and go from the ground up," Viesturs said. "They truly value when I come into the offices…. We've already had a design meeting for 2010. They're not stopping and that's what's fun — it's not like a one-shot deal, it's going to continue."
There's an interesting cultural character that's been embraced — with the newfound leadership, the renewed passion — and having worked with various teams out at Eddie Bauer, for earlier years of ups and downs, the excitement has spread among Eddie Bauer's 400 employees at the headquarters in Bellevue. There is a renewed embrace by the teams, living the newly defined brand — stair climbing, snowshoeing adventures, outdoor events. And this comes from Fiske's positioning — "What I tried to do is set a tone and a culture that we're an active outdoor company. We should be active, and we should be outside and use our gear." According to the strategic documents, the tactics are literally based on the story — the Eddie Bauer team has mapped out its upcoming development in chapters, and the plot continues, the upcoming chapter will be uplifting the telling of field and stream. "Just as we elevated the expedition heritage, our next step is to go back now and say, 'How do we elevate and bring to life the field and stream heritage?' Eddie was first and foremost a champion fisherman and hunter.'"
That legacy springs back, and advances anew. Like other Northwest stories, this is, perhaps, one to come true yet again. Every brand comes from a human. Every brand, is a human.
tsg