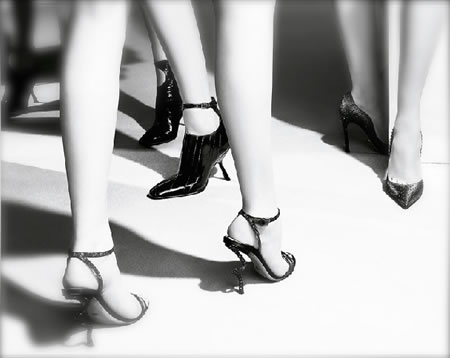 Photo
A indulgent luxury that is flourishing even in recessionary challenges.
It's what we walk on. It's what we walk with. Or what we've got on our feet. And for some of us, the concept of the shoe is just "down there", something to walk, work out in, or shuffle from there to here. But for others, it extends to another level of luxuriant observation.
Brand storytelling, online context of place making, brand culture and the cult of shoes.
Tod's might be considered a kind of shoe making exemplar in the concept of the luxury of foot experience, employing hundreds of craftsmen, trained in the classical traditions of shoe making to purvey legendary quality. This modeling — the conventional bricks and mortar approach to shoe fitting experience — is dissolving, in an evolution of many of the challenges that been experienced by other retail purveyors — in built spaces — over the course of the last decade. And Tod's, like others, are trying to maneuver more aggressively into the space of marketing online. They must. Online shoe marketing is accelerating at an extraordinary rate — and, to the opening — it's one of the few luxuries, in a downturned market, that is growing. I'm using "luxury" here in the context of indulgence. Even down, shoe marketing is up.
Traveling in Italy, off and on, over the course of the last several years, I've moved more deeply into the sense of the luxury market — in multiple tiers of categories.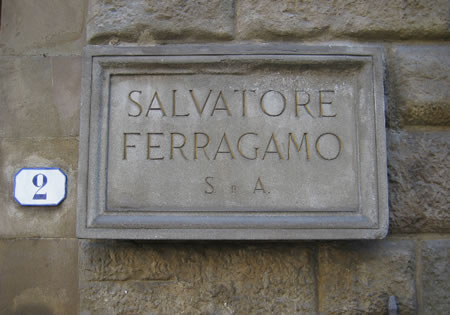 Scent, food, body and skin care, packaging. One, recently, involved an exploration of various houses in Firenze. And one of these is the foundational mansion of Ferragamo, just off the Arno, near the Ponte Vecchio.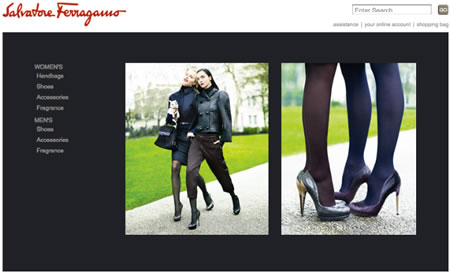 Legendary legacies are about history — human branding stories that move to the rhythm of real people, real founders of shoe-making genius. That might be suggested as well, in another Italian maestro, Salvatore Ferragamo. To the engineering of commerce in an online milieu, Ferragamo's strategy is a link to the Neiman Marcus engine.
There are other models in place that obviously focus exclusively in the online milieu. Of these, Zappo's, Online Shoes, and Endless are but a few. Still, even so, retail is continuing to move product aggressively, one of the few upticks in store merchandising results.
Stephanie Rosenbloom, a commentator on retail in the NYTimes, offers: "Shoes? The American public, it would seem, cannot carry on without new shoes. Boots, booties, sneakers, pumps — for the past few months they have all been selling well as the broader economy struggles toward recovery. Retailing executives and analysts offer varying, occasionally wacky, explanations. The one favored by many of them is that consumers consider shoes more of a necessity than, say, dresses, cuff links or handbags, so people feel less guilt about buying them." While that posits a plus note for the coming season, the bigger winner will be in the place that is made in the internet marketing of shoes.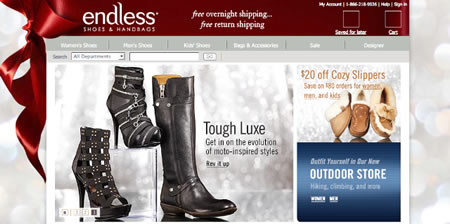 The strategy that shoes are the new edge of online commerce is surely lauded by Jeff Bezos, CEO Amazon, his tactical attempt to build out a competitor (endless.com) to Zappos, but as well the continuing growth of those that continue to compete in that place — Onlineshoes.com.
In giving a presentation on online marketing for shoes, I was asked — what to do? What are some key issues to consider in the development of a site modeling and brand proposition for marketing?
Some thoughts: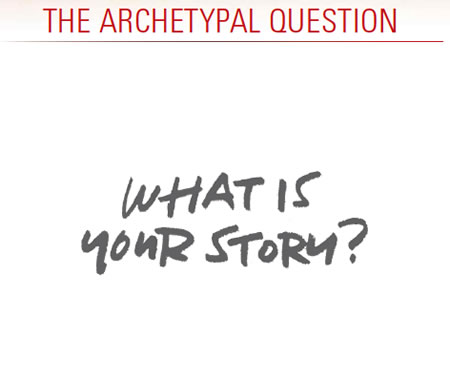 First off, in any branding allegory — the puzzle of how people understand brands — starts with the story. It's been asked, then, is the story supposed to be on the site? The question actually starts earlier — literally: what is the story? What's the proposition being offered? In a manner of speaking, the proposition of values will be about that idea — a proposing, and degrees of valuation.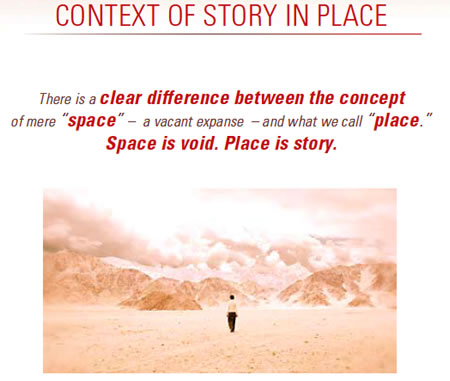 But valuation will be about that — values. And values will be requisite in storytelling — the impression of how a brand culture promulgates virtue and message. Stories live in that level as well as the deeper metaphors of emotional content and connection to feeling. How a brand feels is hard to pinpoint. But thinking about the concept of online marketing, there's got to be a feeling — or there's no sense of place in the brand. The concept of place-making in online experience design needs to be as considered as the notion of building a real environment, constructed of wood, metal and stone. Online brand space is vacuous; place is rife with emotional character and richness.
Zappo's has done that. They've created place — and a relationship for, and to, place: Tony Hsieh. This references another later component of this discussion, the idea of the human character of the brand.
Nearly 1.5 million followers on Twitter. How did that happen? Well, one might propose that it has to do with following more than a half million other tweeters. But it might be that there's a compelling story in the spirit of Tony Hsieh that resonates with others. And that is the foundation of Zappos culture — it's resounding something in the marketplace; it's reflecting and bouncing back ideas that have a familiar and pleasantly relevant "note". It's music. That reflection is sufficient to generate a book.
Cult and culture. This is Zappos book of culture.
That idea finds a place in the online virtue — the creed of place; there's a story there and it deepens the impression of resolution, passion and brilliance; it builds relationships. People buy in.
The key, from that standpoint, is to consider how this relates to other applications of online shoe marketing. What other brand, here — has the potential to tell a story. What about Dan Gerler — onlineshoes.com? He's got one. How could that be built, expanded upon — linked to culture?
In exploring other sites, there's a sense of presence. But who cares about it? What's memorable, what's showing as a presence that offers depth of personality. Or is it more to the notion of commodity? There are some things that might be appropriate to consider in offering the layering of depth in brand culture. I'd proffer some of the following codes.
Defining an ownable visual code; this YSL site builds a distinctive visual language that is perceivable from a distance. And to the spirit of the brand — Yves Saint Laurent — and in Girvin's experience in exploring their retail presence, the code of the brand moves spherically in creating a hybridized place of message in community. Think retail — can you recognize the shopfront from a distance, just like on the street?
Building tools that are distinctly branded to your statement. Is there a code to the site that's yours alone? In this representation, a clothes sorting mix/match tool offered a quality of memorable distinction. To an online expression, what tools — even simple search related components — could be added for consideration?
Striking visualizations as a point of captivation. In studying product presentation and merchandising, in the construct of the online shoe presence, what imaginative considerations are brought to bear in stylizing products — even master merchandise groupings — in a manner that purported a more compelling stance in reaching to relationships?
Theatricality. Working with J.J. Abrams on Star Trek lent an inside glimmer of movie picture site development and progressive marketing. Another recent blog on the Droid technology for Verizon by Motorola suggested, perhaps appropriately, the concept of a more holistically theatrical approach to marketing the Droid product. That can be charming, if appropriately linked to strategy, or — if misaligned — can be merely a distraction. In the 3 seconds of expanding connectivity in a relationship, you've either gained them, or lost them.
Offering module relationships. Is there a relational connection that might lend to building community? From RSS feeds to email signups to other tools to embrace, and link, relationships to database building, any of these reaches can be a beginning of brand storytelling and offering deployment of product potential.
What color are you? Could your online site be motivated by a single memorable color language?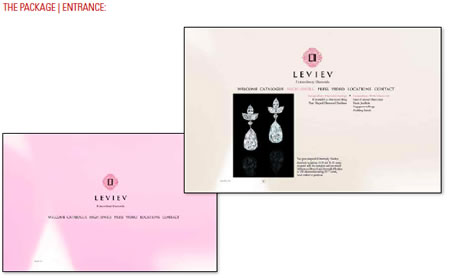 The potential of entrance and procession. Like a built environment — a retail presence — the idea of considering the development of an entry experience can be a two-fold proposition; one, to the concept of a story (Tod's, linked above) which relates to the positioning of a stance and refreshed newness that allows for campaigning presence; alternatively, with market impatience, a long dragging site load can be irksome and disconnecting. And site analytics would reveal whether visitors are willing to wait, or will move onwards.
Every brand presence is built on humans. Where's yours? In our explorations of brands for more than three decades, the idea of the human experience — as designers — is the fundamental root of everything we do. What's your human presence? Is there a person, that tells a story that starts in the center of the brand values?
The real power of a brand comes from the people that lie at the heart of it. The code of leadership spreads outwardly — rippling vision. Speaking with Tom Ford, to one reference — a retailer largely focused solely on creating built retail places — it's the passion, literally the love of the work and creating product to fill market desires, that entirely drives the brand.
There are outcomes in this study that relate to any brand — but offer counsel in exploring the concepts of online shoe marketing. That is holistic positioning and brand integration.
Notes, in conclusion, follow:
FIREBRAND:

BRAND PSYCHOLOGY:

THE ARMAMENT OF TEAMS:

TELLING TALES REFLECTIVELY:

THE SUBSTRATE OF CONSCIOUSNESS IN BRANDING:

CONTAINMENT | COMMUNITY | COMMUNICATION:



COHERENCE | ADHERENCE

IT ALL STARTS WITH ONE:

tsg
….
Exploring the human brand:
https://www.girvin.com/subsites/humanbrands/
the reels: http://www.youtube.com/user/GIRVIN888
girvin blogs:
http://blog.girvin.com/
https://tim.girvin.com/index.php
girvin profiles and communities:
TED: http://www.ted.com/index.php/profiles/view/id/825
Behance: http://www.behance.net/GIRVIN-Branding
Business Profiles: http://bit.ly/MtCTK
Flickr: http://www.flickr.com/photos/tgirvin/
Google: http://www.google.com/profiles/timgirvin
LinkedIn: http://www.linkedin.com/in/timgirvin
Facebook: http://www.facebook.com/people/Tim-Girvin/644114347