Examining space, patterning, experience, design, memory and placemaking.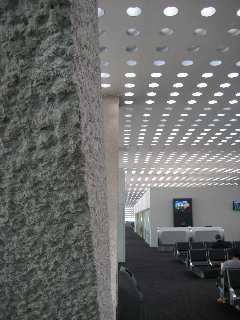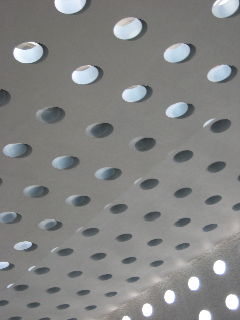 I've been exploring the idea of pattern in space. But more about space, and surprise, and story — in place.
And I continue that exploration. You know that.
What about this?
Space — and the manifestation of place — is about a complex orchestration of elements. But more importantly — it's all about experience. What is that, anyway? I wonder:
knowledge gained from repeated trials — Latin, experentia, from experientem, participle of experiri, "to try, test," from ex- "out of" + peritus, "experienced, tested". The Old French application is from 1377, the concept of testing, trying, a sense of "feeling, to undergo" was first referenced in 1588. But the word root itself is 2,000 years old, at least.
That means something to me. Because experience is based on a sequencing of events, it's about exposure and continued reference to "what's happened". What that is about is the idea of memory in the framing of context. You have one experience, that embeds itself, then you have another.
Surprise comes into play, in new explorations, and reveals new levels of connection. You experience something, you hold it, you are newly framed. Your memory holds that — and you move on.
I keep looking for that. Everywhere.
Every where. That is — every. Where-ness. The power of where.
So that's what I'm looking for. Whereness.
Here's a surprise: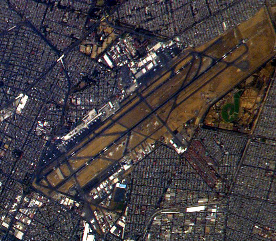 Per Wikipedia: http://en.wikipedia.org/wiki/Mexico_City_International_Airport:
"Mexico City International Airport (Spanish: Aeropuerto Internacional de la Ciudad de México or AICM), also called Benito Juárez International Airport (IATA: MEX, ICAO: MMMX) is a commercial airport that serves Mexico City, the capital of Mexico. It is Mexico's largest, busiest and most important airport. Although this was not its official name for several decades, it was formally named after the 19th century president Benito Juárez in 2006, and is Mexico's main international and domestic gateway. This hot (actually, it was rather cool when I was there) and high airport offers direct flights to more than 100 destinations worldwide. In 2007, the airport served 25.9 million passengers. In optimal conditions, and with the current renovations and expansion projects completed, the airport will be able to handle up to 32 million passengers per year."
Ok. Got that. And that is surely interesting — but what I'm wondering about is the design that's referenced in this space.
The circle. The patterning of the circle: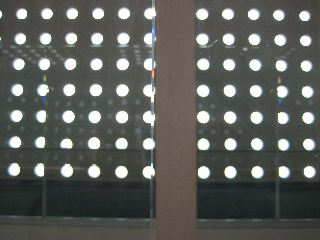 This, in a sense, is what it's all about: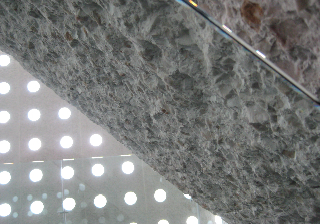 The circle, the circle repeated, the circle: patterned.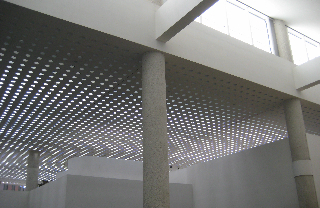 I found this incredibly imaginative. And surprising. The simplistic discipline, manifested like this: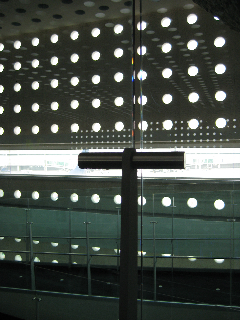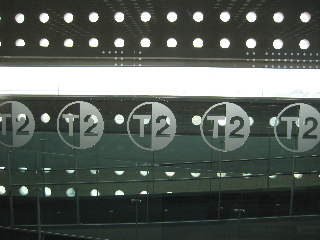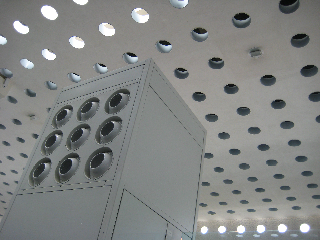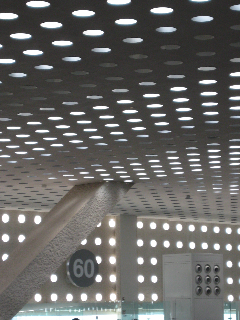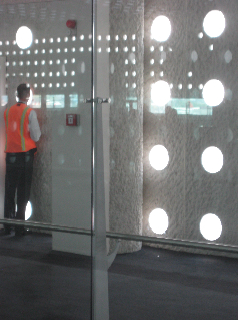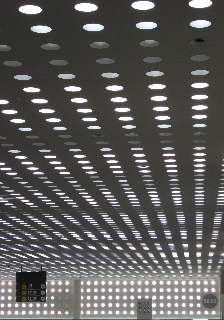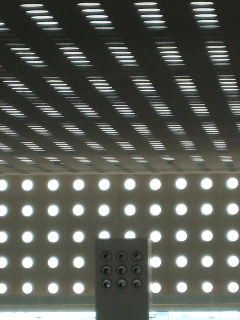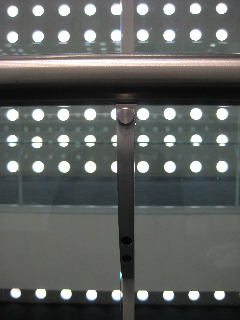 What this patterning, so disciplined and complexly manifested in this space, Terminal 2, at Mexico's City International Airport, is a lattice-like, filtered sense of light. The pattern is everywhere, but somehow, it's no where. I'm sure that there are some that might not even notice it.
I did.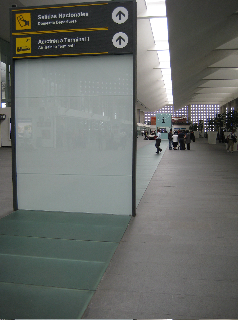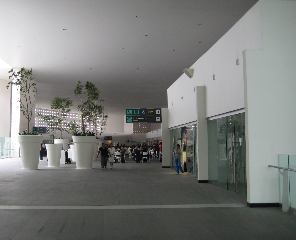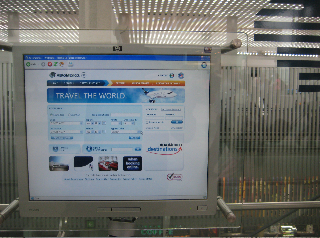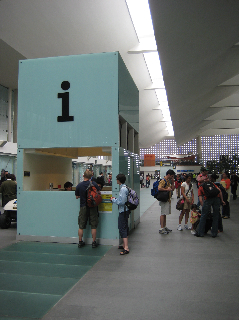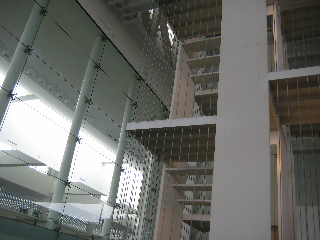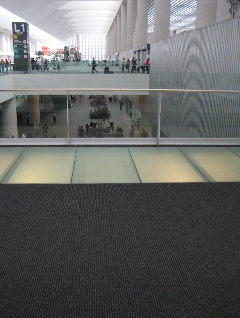 And what I savored is the notion of the brand pattern made real, holistically framed.
What's your take?
tsg | mexico city