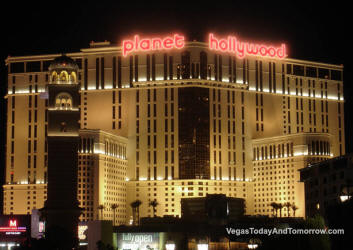 The casino's opened — and Robert Earl is back on the block. While he's lost millions in the final daze of Planet Hollywood, in the earlier entertainment modeling — somehow he's managed to bring back the glamor with a return to (and of) the earlier investors — some of them, at least. Sure, it started as a hot concept — [article link].
The early crowds were there, the celebrities were jacked in as well. Some, I met, like Willis,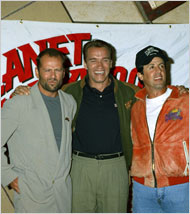 in the beginning days of working on the launch of that concept opening idea – when the restaurant was a little more like a theme park — and, distinctly, the logo was designed like that (like some entertainment theme from another era, The Gotham Tribune, perhaps).
What was that like, working on the earlier renditions? It was a peculiar connection — Keith Barish had connected with me, through Paramount, I believe (one in a long series of strings to the stars — from Sherry Lansing to Bruckheimer and Simpson, from Tony Scott and his brother Ridley, to Sharon Stone and Richard Gere, from Michael Douglas to Steve Reuther, from the Conran family (Kerry, Kevin, Kirsten) to Clint Eastwood to Tom Cruise. And I'm sure there are others in the mix. Kathleen Kennedy and JJ Abrams, the latest. Whatever.
But the whole idea, in the early days, in partnering with Keith Barish and Robert Earl, and the production stylist Anton Furst (Batman 1), was to somehow create an theatrically styled icon for what was to be a global concept. With Anton's passage, David Rockwell built out his early connections to the entertainment and restaurant biz and ignited his career. I look back, now, with amusement, in watching that program come to life, roar like an empowered flame, then burn out.
And now, in Vegas, it's back again. And while I like the idea of the newer treatment, advancing from its earlier conception of retro, I'm not liking this very much. It's like, what? Perky??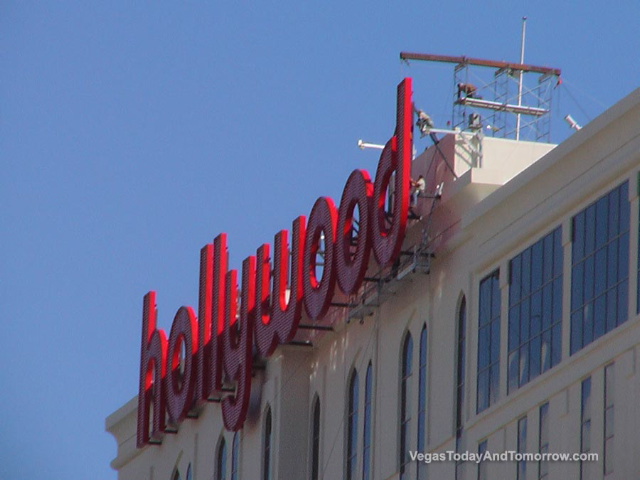 Godspeed, Robert Earl. Wishing every good thing for you and yours. And Keith Barish — what of you? Blue Martini — I'm glad that you at least reached back to me for help. And I'm hoping for all good things rolling forward…
For all.

Other link ups:
http://query.nytimes.com/gst/fullpage.html?res=9D01E5D9133DF936A35751C1A961958260
http://www.variety.com/article/VR1117975068.html?categoryid=16&cs=1
http://www.nytimes.com/2007/09/24/business/24planet.html?pagewanted=2