PUSHING IMAGINATIVE LIMITS: RIDLEY SCOTT: PROMOTIONAL STRATEGIES FOR PROMETHEUS.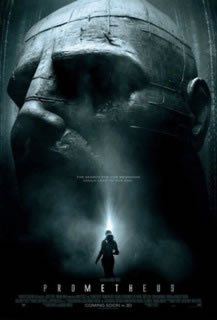 A COUPLE OF WEEKS BACK, WE WROTE A LITTLE OF OUR HISTORY WITH THE SCOTT BROTHERS — RIDLEY AND TONY. THAT HISTORY IS QUIET, MODEST AND LADEN WITH LEARNING. ISN'T IT SO, THAT THE MOST POWERFUL AND UNFORGETTABLE RELATIONSHIPS MIGHT ACCOUNT FOR MERE SECONDS OF CONTACT?
ME, IT'S BEEN THAT WAY. I think about the most amazing and profound people that I've met, and the lightning strikes of learning — which have been momentary and momentous — quick, powerful, like strikes of lightning.
THERE IS A KIND OF CASUAL BANTER, MEETING WITH THEM, THAT SUGGESTS A PROFOUND "CAN DO" KIND OF ETHOS — THAT IS, "IF YOU CAN DREAM IT, YOU CAN DESIGN IT AND SHOOT IT."
AND – SO THEY HAVE.
Sometimes, the big idea seems so outrageously out there, it's like "how can you possibly do that?" Talking with Tony Scott — he said, "it's just a matter of having the right people. Sure, we know how it gets done, but it's not like we're doing it all."
Sometimes, the most profound seeing — insight, that seeing in — isn't about the idea of the granular, it's the bigger visioning, the larger explosive ignition that will set ablaze numerous ground fires and roaring prairie blazes that might forever alter the landscape of designing and thinking about creating meaningful and powerful experiences for others. Thinking bigger and in a more adventuresome manner creates flyover views and alter the ability to see the problem to be solved, in a strikingly new manner. The inspirator isn't digging into the operational how to, but rather visioning the "why not?"
Living in that place will be about fearlessness and courage.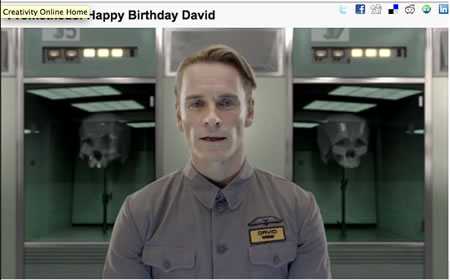 Creativity Online Article and Video
Tim
–––
BUILDING TRUE BRANDS
MONSTER STRATEGY + MASSIVE ENTERTAINMENT =
E N C H A N T M E N T + B R A N D STORYTELLING
http://bit.ly/fJaECg