Exploring unbranded brand storytelling
There's a new concept that's been created by McDonald's, in Tokyo.
No brand, yes brand — scrap brand, new brand.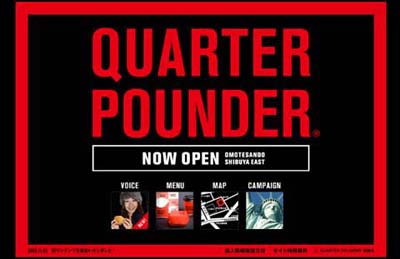 "We want consumers to discover great taste and not care about who produced it."
In this manner, the telling is about beginning, reaching out to new relationships – starting the story equation; but not bothering with the potential prejudicial attributes of corporate branding. Quarter Pounder: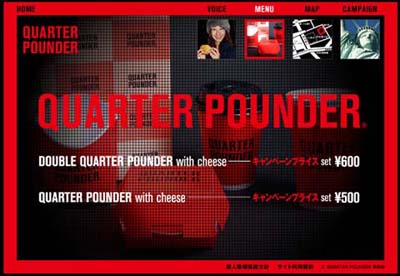 How about telling a brand story that emerges as a new statement, drawing something from the original "spirit", newly defining a signature concept, and pushing that in a wholly new vocabulary to the forefront.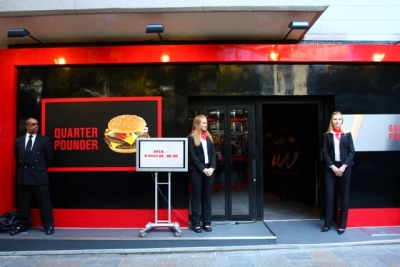 That is — take away the concept of the Golden Arches and simply go for the gusto in redefining a core — and, as yet unexperienced attribute — of gustatorial excellence. And mass. Quarter Pounder.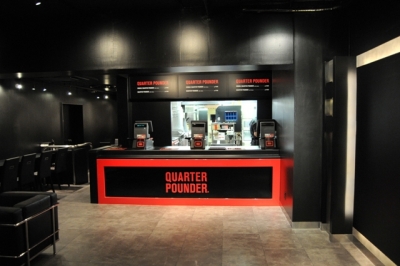 And more importantly, defining a connection to community, in a manner that reflects McDonald's assertions in consumer relationships definition in reflectivity of expression. Come, be here, talk to us. And we'll post it.

Quarter Pounder made its debut in Japan with no corporate evidence of the Golden Arches, bright yellow colored plastic or any element referencing the McDonald brandcode.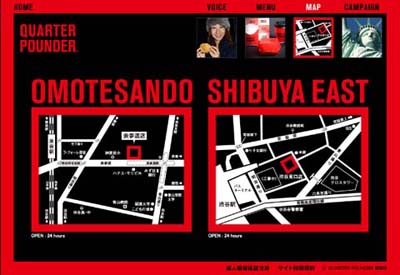 It's part of an assertion, on McD's front, to emerge as a innovator of new offerings — and rethinking what it offers, and how that proposition is told. And sold. That might be, on the one hand, it's new competitive array to beat Starbucks at its own game, selling premium coffee brews, or calorically defining its products and retuning the fat, so to speak.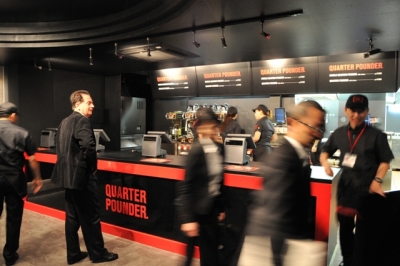 Temporary "pop-up" shops set up to sell the signature sandwich in Tokyo don't exhibit the fast food giant's name, logo or any other McDonald's signifier—so Japanese diners only get beef and no branding. In a manner of speaking, it's a kind of pop-up retail retelling — it's telling the story of McD's in evidence, and less to corporate branding. However the group is offering its power-product as a key mnemonic.
A limited-time promotion, two McDonald's stores in fashionable, upscale Tokyo neighborhoods were closed, remodeled and reopened as a new telling: "unbranded" Quarter Pounder shops on November 1. The minimalist, starkly defined black and red shops, operated by the "Quarter Pounder Secretariat," utilize Le Corbusier sofas in their interiors and only two menu items: meals with the Quarter Pounder with cheese or Double Quarter Pounder with cheese at a little more than $5.00 and $6.00 respectively. Expanding on the design presentation, all food is served in solid red packaging with black block lettering. Simple, bold, unforgettable.
Quarter Pounder, as a concept (boldly big) is new to Japan. The unbranded stores are intended to initiate Japanese consumers in a "blind" yet paying, test of the new burger. Trial, but paying for it. 500 people lined up to explore just that.
According to the McDonald's spokesperson at the site: "Those who think of McDonald's as fast food can just focus on taste and find a premium burger, without prejudice or preconception." To achieve that proposition, the designers created a visualization (black, red, slick) that was wholly distinct — looking more like something that would fit comfortably with the Tokyo fashion districts, Omotesando and Shibuya East, where the shops are located.
References:
http://www.blacktokyo.com/2008/11/11/quarter-pounder-open-for-biz/
http://inventorspot.com/articles/mcdonalds_japan_goes_nobrand_with_quarter_pounder_shops_19505
http://smt.blogs.com/mari_diary/2008/11/quarter-pounder-opened-shops-in-tokyo.html
Some imagery from Creativity http://creativity-online.com/
magazine | Kunur Patel and others as referenced.
Site imagery was scanned from http://www.quarter-pounder.net/main.html
Girvin blogs on restaurants and experience design:
Starbucks / McDonald's & Chipotle / Pearl / Salumeria Rosi / South Gate NYC
tsg | atlanta, georgia