Exploring the branding of hyper-caffeinated power drinks; what image is presented — what story found? And yes, why do I drink them?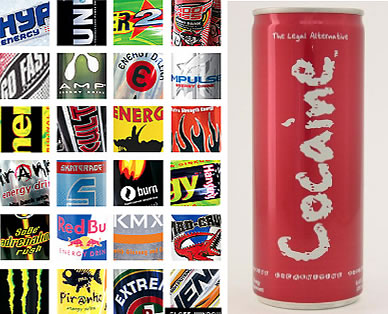 Montages by R.Bird
In the last 20 years, I've had plenty of experience exploring drinking in Asia.From Tokyo to Seoul, from Bangkok to Jakarta, Istanbul to Paro — I've seen the jollity of business men, women, even younger people — getting slammed. Work hard, play at drunkeness. And surely I don't mean that in any demeaning context — work hard, you can play as you choose. Pretty much all of the time in the context of business. But I don't drink any more, sometime back — 1999, so the latter exposures have been, well, sober observations. Amusing (sort of).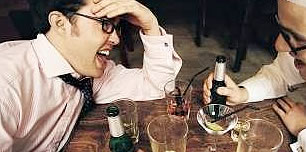 But what's interesting is the particularly Asian idea that somehow, after all that celebrative action, you'll be able to drink some powered-up liquid that will completely take off the toxic aftershock.
The Japanese celebrate the concept of business and drinking heavily; they have their own Nihon-go phrasing for "hangover": "futsukayoi", which means "drunk for two days." For emphasis, the Japanese speaker can exaggerate the level of a hangover by saying "mikkayoi" (drunk for three days) or "yokkayoi" (drunk for four days), etcetera.
There's an expectation to get utterly trashed with the boss on a regular basis, so there are plenty of hangover cures readily available in the shops of Japan. You find them in the subway stations, where — invariably — the sobriety seekingIn a manner, I believe that the concept of hangover drink cures originates in Japan. It all started when Taisho Pharmaceuticals released a drink called Lipovitan-D in 1962. It contained a mix of B1, B2, and B6 vitamins, along with niacin and taurine (bull bile), all of which are metabolic agents intended to boost energy and concentration.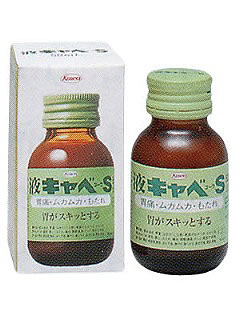 While there are plenty of cures in the West of various concocted treatments, there are not a lot of genki (health) drinks that are specifically formulated for the morning after. There, the packaging, found in subway and train stations, as well as the ubiquitous 7-11, is utterly "medicinal" in character.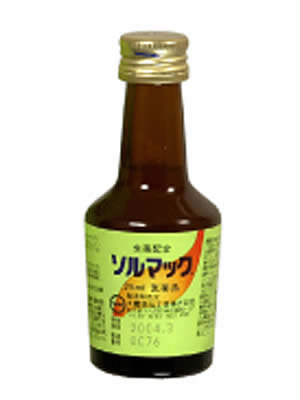 http://whatjapanthinks.com/2006/04/14/hangover-cures-in-japan/
http://gaijintonic.com/2008/03/27/japanese-hangover-cures/
What about how that interpretation evolves — and evolved — from the opening Asian persuasions?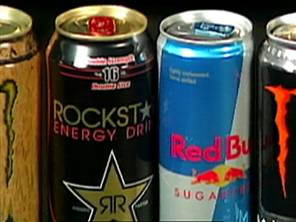 What I'm curious about is the idea that these actually have been, conceptually reinterpreted, translated and repositioned to the West in the form of products that are based on hyper-caffeinated solutions. But we should all bear in mind that the survival rate of heavily caffeinated booster drinks are short-lived, experimental and transitional. Even in the Asian community for post-hangover recovery subway spikers, the brands continue to shift and repackage themselves, audiences of drinkers evolve and it shifts yet again.
There's a legacy there. And where did it come from — what's the sequence? I might be wrong, but historically, there's some evidence.
Did energy drinks really come from, start in, Asia?
There are some sites that defame the caffeinated booster liquids and others that explore this evolving trend, including the ubiquitous Wikipedia — a content mix, to begin:
"energy drinks include methylxanthines (including caffeine), B vitamins, and herbs. Other common ingredients are guarana, which has a high caffeine content, taurine, plus various forms of ginseng, maltodextrin (a sweetening), carbonated water, inositol, carnitine, creatine, glucuronolactone and ginkgo biloba. Some contain high levels of sugar, while most brands also offer an artificially sweetened version. The central ingredient in most energy drinks is caffeine, the same stimulant found in coffee or tea, often in the form of guarana (as in Josta) or yerba mate. The average 237 milliliter (8 fluid ounce) energy drink has about 80 mg of caffeine, with 480 ml (16 fl. oz.) drinks containing around 150 mg, although more recently, drinks containing as much as 400 mg of caffeine (such as Burn) have been marketed."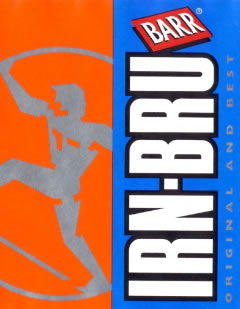 History offers more distant relatives than I'd anticipated. The notion of energy drinks may have come from Scotland in the form of Irn-Bru, first produced in the form of "Iron Brew" in 1901. This is entirely indigenous — never seen, really, beyond the Scottish realm, but it's perhaps the earliest player and contradicts my theories.
In Japan, which is partially the crossover that I'd mentioned, the energy drink dates at least as far back as the early 1960s, with the release of the Lipovitan. As I'd noted, most such products in Japan bear no resemblance to soft drinks, and are sold instead in small brown glass medicine bottles or cans styled to resemble such containers. These have also produced in South Korea, are marketed primarily to the salaryman, heavy drinker-recovery demographic set.


In UK, Lucozade Energy was originally introduced in 1929 as a hospital drink for "aiding the recovery;" in the early 1980s, it was promoted as an energy drink for "replenishing lost energy."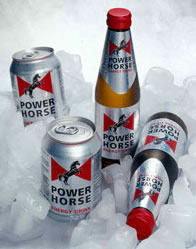 In 1994, The first European energy drink, Power Horse, was launched by Austrian company. It is still sold in many countries, even though it is perhaps overshadowed in most by its more famous Austrian rival,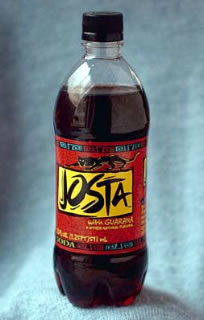 In 1995, PepsiCo launched Josta, the first energy drink introduced by a major US beverage company. It failed, even given relatively inventive marketing conceptions — like Josta Day (right..!)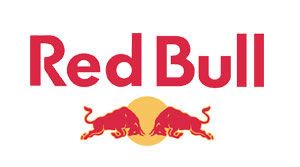 But then came the bad boy marketer and business savvy of Dietrich Mateschitz, an Austrian entrepreneur, working assertively in ensuring his Red Bull product became far better known, and a worldwide best seller.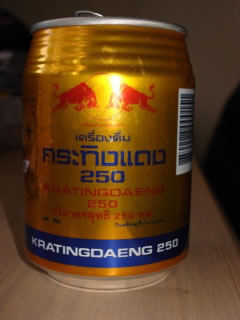 Mateschitz developed Red Bull based on the Thai drink Krating Daeng, itself based on Lipovitan (there's one component of the link!) Red Bull was introduced to the US in 1997 and is the dominant brand there, with a market share of approximately 47%. The history flows like this. In 1982, Dietrich Mateschitz learned about so-called "tonic drinks", rapidly expanding and enjoying wide popularity in Asia. At a bar at the Mandarin Hotel in Hong Kong, he was inspired with the concept of marketing these energizing drinks outside Asia. That, to the notations above, might be the real leap to repositioning energy drinks in a new way. Not an innovation unto itself, but a variation on the Lucozade theme, another earlier, popular energy drink marketed by Smith Kline Beecham. However, Red Bull included other ingredients to achieve a different flavour and a far more aggressive, even divisive strategy.
In 1984, Mateschitz founded the Red Bull GmbH company. He fine-tuned the flavoring of the product and started selling Red Bull Energy Drink on the Austrian market in 1987. Red Bull rapidly gained in popularity. In 1992, Red Bull touched down in its first foreign market, Hungary. Red Bull was then introduced to the US in 1997 and is the dominant brand, again with a market share of approximately 47%. Today, Red Bull is energizing over 100 countries around the globe, many superstores and multiple brands have copied the idea with their own private labeling products.

According to racing insiders, "many people in the industry may hate Red Bull, giving the spectacular success of the product, but without Red Bull there wouldn't even be a market for the other 150+ products currently crowding the shelves. There might be emerging challenges, in their attempts to continuously expand that market share. "First, the product has completely oversaturated the market — Red Bull is in just about anywhere that you can fit a mini-cooler as well as mass merchandisers, bike shops, bars, etc, etc, etc. This could result in Red Bull becoming passe by removing the "cool" factor that made the brand so successful. Second, while other companies are improving formulations, flavors, and packaging, Red Bull stays the same. Will consumers find something that truly works better? Third, from our point of view Red Bull has a less-than-stellar industry reputation — and many people are praying for their demise as a result. Finally, given that Red Bull is a one trick pony (compared to others such as Coke and Pepsi), the party is in serious jeopardy if sales start to slump, a price war starts, or press over energy drink health concerns start to proliferate?"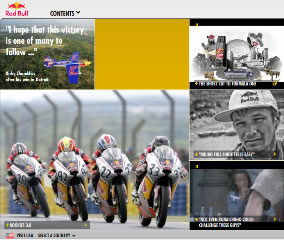 There are other players, but none as successful as Red Bull, and none as substantively complex in their marketing — which touts, on the one hand, an empowered athletic character — and on the other, using Red Bull as an infusion for spiky high proof booze.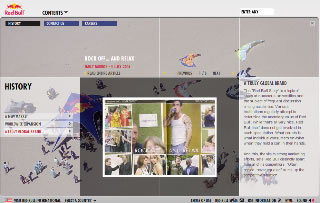 I believe that it's success lies in this kind of "aspirational" bridge. On the edge for youth, and an iconoclastic blaster for young adults.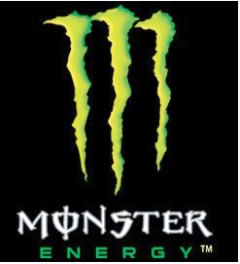 Monster Energy (or simply known as Monster) is an American brand of energy drink manufactured by Monster Beverage Company Inc. of Corona, California, which is owned and operated by Hansen Beverage Company. Though Monster Energy is not widely advertised in the media it receives a large amount of recognition from its sponsorship of various sporting events.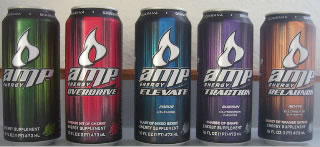 AMP Energy (or simply AMP – formerly Mountain Dew AMP) is an energy drink produced and distributed by PepsiCo under the Mountain Dew soft drink brand.

Bacchus-F (Hangul:박카스-에프) is a non-carbonated Korean energy drink. It is manufactured by the Dong-A Corporation; it is also distributed in the United States under the Dong-A America Corporation in a 3.3 oz glass bottle (approximately 1/3 the size of a Red Bull). Dong-A Pharmaceutical, a branch of the Dong-A Corporation, also manufactures Bacchus-D, one of the three original energy drinks in the world.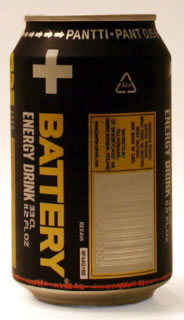 At the beginning of 2006, the new ginger-flavored Battery was introduced, and in the end of year 2006, a sugarfree version, called Stripped. At the end of 2007, Battery Heat was introduced. It has a new cranberry and chili mixed flavour.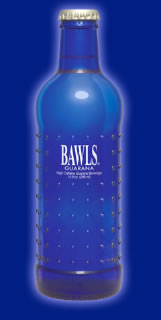 Bawls Guarana, a South American product, Amazonian in is an energy drink containing natural guarana flavor and a relatively large amount of caffeine, among other ingredients.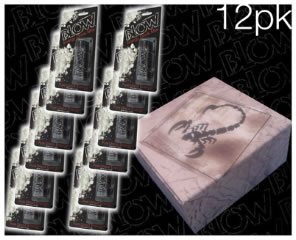 Another group, offering Blow, in the past suggested a complete allegiance to cocaine culture. Rather than a liquid, it's a powder — so it's slightly contrary. But, to marketing energy, it's right in line with that crossover between energy and something closer to energized inebriation.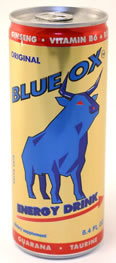 Blue Ox is an energy drink brand that was produced by the Blue Ox Company of Austria. This drink was actually a player before Red Bull — and while indigenously relevant, its reach is minimal.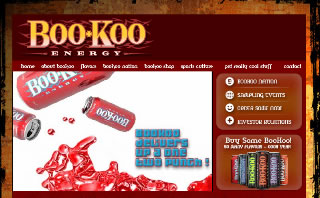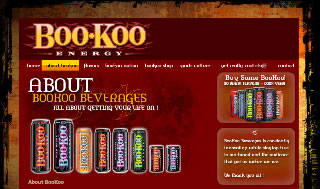 Boo Koo is an energy drink with a very large amount of caffeine, similar to other energy drinks introduced in 2004.
The spread in personality is a common strategy, developing flavor groupings that have limited longevity, snagging what market share they can.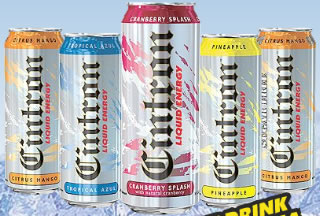 Cintron is an energy drink using caffeine, glucuronolactone and taurine to boost energy. I can't comprehend the earlier marketing and visualized positioning here hence — New Jersey.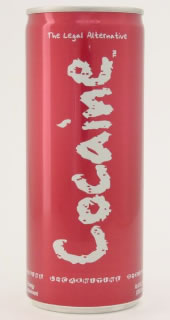 Cocaine (available again in the U.S.) is a highly caffeinated energy drink distributed by Redux Beverages. It contains 350% as much caffeine as the most-popular energy drink, Red Bull.

CRUNK!!! Energy Drink was co-created and launched in 2004 by the late beverage industry legend Sidney Frank, creator of Grey Goose vodka, along with Lil' Jon, the Grammy award-winning artist and producer as Chief Brand Advisor.

Diesel is an energy drink produced by Diesel Beverage Company in La Mesa, California. Diesel, fashion brand, Diesel, energy brew.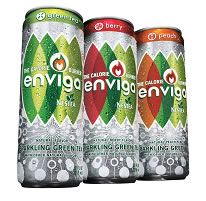 Enviga is a Nestea carbonated canned green-tea drink being jointly marketed by the Coca-Cola Company and Nestle Switzerland.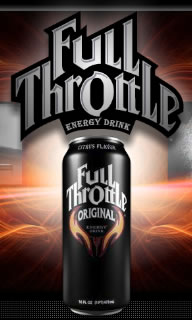 Full Throttle is an energy drink brand produced by the The Coca-Cola Company (among numbers of others). It debuted in late 2004 in North America.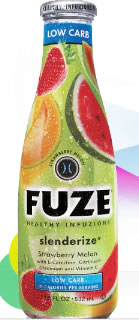 Fuze is a beverage manufactured by Fuze Beverage, LLC, part of the Coca-Cola Company.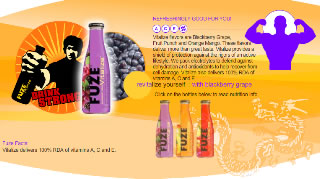 There are a series of infusions in Coke's strategy to spread the mix of flavors, potions, ingredients. And in way, it seems like that — the variations for market capture are about diffusion of skew.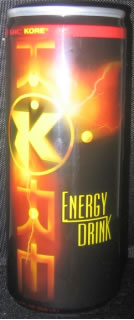 Kore. Another cross-over, from GNC. More of the same — and yet another push to infuse power. Actually, the identity here is rather interesting, there's a lock up in mark, and brandmark, that's rather imaginative.

Mother is an energy drink made by Coca-Cola Amatil for the Australian market to compete. Who, there? With V and Red Bull, who dominate the $151 million industry, including a 94% corner of convenience store energy drink sales — Australia. What I like about this packaging is that it's not so overtly "energized".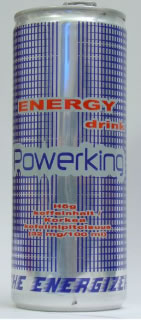 Powerking is an energy drink produced in the Netherlands. I can't say that I'd reference this as packaging but rather a generic skin for a can. It is marketed by Axfood. There are four flavours: original, light, cola and cranberry. Powerking is even called by the youth in certain parts of Sweden for the shortening: "P.K".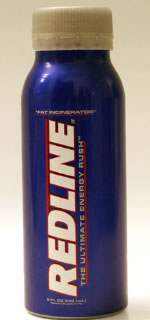 Redline or Redline RTD is the name of a thermogenic (?) energy drink manufactured by VPX (Vital Pharmaceuticals, Inc.). Marketed towards the fitness industry, it is sold as an energy drink in gyms or health food stores — and that, in a way, is about the entire proposition: more energy. The beverage includes anhydrous caffeine, evodiamine, tyrosine, yerba mate extract, green tea extract, 5-HTP, vinpocetine, and Yohimbine.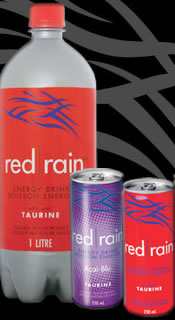 Red Rain is a mixed fruit flavour energy drink brand that is produced by the Cott Company. It was introduced in to compete with Red Bull.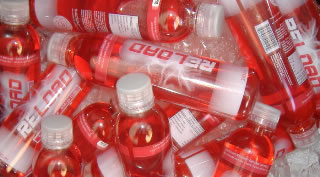 Reload — yet another, Montreal, Canada — 2003, big seller there.

Rockstar. I've seen a lot, here. And I've actually seen people drinking this. Mostly bleary construction workers (what appears to be breakfast), or a younger demo, the street strollin' hipster… But the image, to me, is rather flat.
I'm certain that this study has gone way overboard, by now — and there will be few that have even gone this far.
The rings to more, the ripples of added marketing pursuit? Easy: RipIt; Rushh; Shark Stimulation; SoBe|Adrenaline Rush; SoBe No Fear; Morrison's Energy Source, Sparks; Spike Shooter; Steven Seagal's Lightning Bolt (OMG!), Tab Energy, TEHO; Urge; V; Vault; VitaminEnergy | Glaceau; Von Dutch; Whisbih (with booze, no less); Wired; XS Energy Drink.
The summary point might be, to the explorations above: the market is huge (duh!); but it's rare that there is a striking differentiator — there are so many that there is confusion, let alone positioning and strategic variation that empowers the offering.
RedBull, intriguingly, is perhaps the most interesting crossover story — from a Thai kick boxing, booze recovery and virility booster power drink, an Österreicher rocket juice launcher — to a westernized amalgam, that's half X-treme sports, one-quarter booze spiker, and one-quarter energizer. Besides that, it's the most distinctive visually. It's small, strikingly simple, engineers disciplined branding, has an expert lockup in materials and brand vocabulary, a strong identity with a history and a story, and an exceptionally complex marketing program, from X-sports and athletes, to racing, to traveling promotional events and goof ball tourneys and sexy bar ministrations, like the Jagermeister booster alignments.
Overall, it's that boost-based, living fully and wired conception that reaches aspirationally to the younger mindset (Mom and Dad will surely prohibit the drinking of such a imagined product) that leaps to Xsports and forbidden and very dangerous gaming; and finally to the sexually emergent character of Formula One racing and bar tours with sexy Bull vixens.
Red Bull, conceptually, nails them all — so to speak.
Guess I'll have to try it, for better commitment to concept.
What's your take, what do you drink — and really, what brand speaks your language?
If any.
Tim | Atlanta, GA
F i r e s t a r t e r & A c c e l e r a n t
B R A N D  M Y S T I C I S M | Deep Journeys to Team & Enterprise
D i s c o v e r y: http://goo.gl/DNfwS9
HUMANS, BRANDING + H E A R T
GIRVIN BrandJourneys®
http://goo.gl/iyQIzK