Dream what you Will. Visioning brand futures.
I walk back, and I walk forward — looking at threading and the sutra of brand feelingness and emotionality. A brand gets to a point because it's dreamed — there is a passioned promise state of premise and being — like with Ralph: exploring the story, the man, the brand, Ralph Lauren.
I've met Ralph Lauren, but hardly to any degree that he'd recall, I'd imagine — a fashion event, some chatter, a hello. But I did have a another connection with him, decades ago. Brief. And unforgettable, for me. Like, back then: "who is this guy?" I had a little sense about him, but what was driving him? And me, likely completely unknown to him.
What I got from Ralph was crazy, fabulously focused and driven commitment and passion — and a premise: "I built this design because I like the way it is for me." Why? Designing interiorly is mostly the way that many of us know, how we design, in the sphere of our own resources, our personal psychic space of likes and attractions — we design things the way that we'd like them to be.
I'd pitched his group on creating a line of emblems for racquets and tennis — court sports — specifically for squash — one of the sports that I love.
That was a catalyst to continuing a watchful surveillance over the last decades. What I'd offer is that the quintessential storytelling in the context of product development and brand expression is well exemplified in the overarching character of Ralph Lauren, the man, and in Ralph Lauren, the brand. There is a dream, a visioning of a way of doing things that has allowed a continuing expansion of products that sync back to the dream — an adventurer, a traveler, the western rancher, cowboy savant, old-school, bespoke tailoring-inspired, ivy-leaguer sports and elite-classism.

Ralph Lauren by Ralph Lauren
I'd been asked, at the International Retail Design conference held several years back in Seattle, as a keynote speaker, what stories were the most compelling to the conceptions of store, of story, of brand.
Our work is inherently all about story — everything we do from motion picture design, to real estate, to entertainment brand development in hospitality; it's all about telling tales, gathering an audience,
holding them close —
and captivating their attention.
So any story is worthy of exploration — examination — explication — explanation. Find, study, unfold, explain.
My references at the talk spoke of my work with Yves Saint Laurent, with the Nordstrom clan, with Apple and Steve Jobs.

Ralph Lauren at a collection planning meeting
But when it comes to story, and brand, there is one American brand that has been consistent in the evocation of imagination in a comprehensive, integrated and hybrid media expression. Ralph Lauren.

The Lauren family at the Double RL Ranch
The story of the Ralph Lauren brand proposition isn't so much about the product, but it's about the man. And while this might be seen as something — the brand, the person, the legacy — that is characteristic of fashion-related branding there's a critical context to truth.
There can be an outrageously talented designer at the helm of the brand, but the point would be is where is the truth to that actionable telling?
Think of it, power fashion brands — and their leadership — fabulous talent and there needs to be some truth to the life that they lead and the modeling they explicate — the story unfolds as a set of design and clothing solutions that relate to a proposition of philosophical expectation that leads to the offerings to a brand's community — a life well-lived.
While some brands have tried to "invent" themselves, others replicate, and still others are simply counterfeiting; Ralph is a truly inspired — and continuously aspiring — designer.
He builds a story that is his story that others can emulate and integrate. He is the very character of aligning personal sensibilities and sentiment to the creation of visioned product. And, all along, we've followed him, in his life and how that experience has lent itself to his gallery of offerings.

The Polo brand legacy
Chicago writer, Elizabeth Blackwell assesses "Whether you've ever worn a shirt stitched with that iconic polo-player logo, you can't deny the lure of the Polo Ralph Lauren image. Think of those ads, filled with elegant models lounging around the pool in the Hamptons, or arrayed on a stylish plaid picnic blanket with mountains rising in the distance. These idealized images may not reflect the life of the average American, but they're powerful enough to resonate all over the world."
Her positioning of the Ralph Lauren brand is that the story is what is truly being sold, "as much as it sells clothing and home accessories; the mythology is a key to the company's success." And that if it's possible for a group product positioning to "find the right story…" it can effectively "compete in the global marketplace."
Even while these are inordinately challenging times for retail, with sales falling off, and a multiplicity of retail group stores that are struggling to meet their numbers — month on month challenges — RL is holding its own, albeit with closures and cutbacks in underperforming stores and employee over-scale.
Still, beating expectations as of May 2016.
The company admitted sales of men's and women's clothing in the U.S. had fallen, that drop was offset by sustained growth in Europe. "The global appeal of our iconic products continues to expand," according to Lauren statements. TV, no less.

Video style guides at ralphlauren.com
That celebration and success is about Ralph's legitimacy of story and the very character of its implied authenticity.
That lends itself to absorption — it's embraced — by global audiences. Ralph's history is appealing and implies dreams that viewers that many can identify with: born Ralph Lifshitz in the Bronx, he now "lives a jet-set existence right out of one of his ads, with homes in Manhattan, the Hamptons, Jamaica and a ranch in Colorado. You don't have to be an American to envy him — or to try to emulate his life."

Brand legacy storytelling: Land Rover in Ralph Lauren Magazine
(print and online)
And the potential of participating in brand visioning is about the concept of gathering in, being attuned to the story and how that can be personally shared.

Brand conceptualizations in lifestyle merchandising
Even gangs celebrate the "LO" life — as intoned in this NYTimes article.
They note:
"Ever since the mid-1980s, Thirstin Howl the 3rd had been saving everything: every photo of him and his friends, dressed in head-to-toe Polo; every last mention of his gang, the Lo Lifes, in a media publication, large or small. The clothes, the accessories, the ephemera. Over the years, his life became a museum.
"I've been documenting this story without even knowing I was documenting," he said recently, discussing the impending release of "Bury Me With the Lo On," a thick, ostentatious and loving coffee-table book that captures the history of a certain subculture of Polo obsession, beginning with the Lo Lifes, the Brooklyn gang that he helped found that terrorized department stores from the mid-1980s to the early 1990s.
That sharing lends itself to expanding — one story becomes another. And that story is personally held — by yet another. And, to a viral expansion, it spreads exponentially.

Fragrance merchandising in scent branding
But fashion implies a kind of responsiveness to trend. And while some designers evoke the outrageous, the mainstream story is how Lauren continuously innovates.

Merchandising brand experience in lifestyle alignments
But in a manner, Ralph's work creates its own grouping of micro-trends that are less about spectacle and sensationalism and more, as well, about evolving classical thematic styling.

Differentiating brand strategy in layered product offerings (and stories)
It "sells itself as a brand that's not swayed by trends, company's designer collections cater to current styles when it comes to skirt lengths and the width of suit lapels." The focus is timelessness — and resonance in wearing "sustainability" — focusing on classic looks.

Men's branding folios for layered offerings
The company can sell in France as easily as in Japan, all while staying true to its overtly American image.

Madison Avenue RL flagship for Men
Photo by Propertyshark
The styling of Ralph's retail is exemplified, as well, in the storytelling that infiltrates their stores — 80 around the world, and they all sell the same glamorous-yet-restrained lifestyle. They imply the look of a Fifth Avenue mansion laden with the merchandising styling of the antique furniture that embodies the spirit of the brand.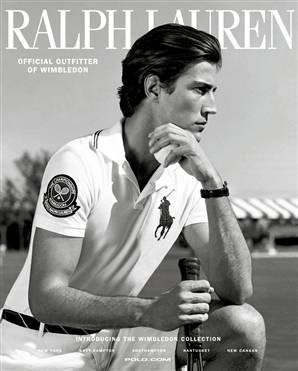 Wimbledon Tennis Collection brand extension
The company has also been smart when it comes to marketing, aligning itself with events that attract an international audience. It seeks to create alignments that are brand relevant and audience resonant. For example, speaking of classic sporting, Polo Ralph Lauren provided the uniforms for Wimbledon tennis tournament officials. This past month, as an official outfitter of the U.S. Olympic team, Ralph Lauren garnered worldwide coverage at the Olympics in Beijing.


New brand development expanding demographic framing: Rugby
What relation is there to storytelling in the context of branding? Elizabeth Blackwell references, "it's all about having a story, one that explains who you are and what your company stands for.

Brand storytelling in collection development
It could be your company's multi-generational family history." It could be the spirit of innovation and invention — consider the tale of how a product was created in a basement or garage (see Hewlett-Packard). "A good story crosses regional and even national boundaries. Ralph Lauren is a quintessentially American brand, yet it's selling well in Europe. Why? Because that wealthy, relaxed, life-of-leisure image represents an easy-to-understand version of the American dream."
What's your story to tell, what truth might there be in the telling and finally, who cares? The point is the authenticity of the offerings, the depth of the layering of the brand — the deepening of the contact to the psyche of the receiver — the listener — and finally, that it offers resonation to captivate attention. In a conversation with Tom Ford, I learned that his driving passionate focus is — as well — designing a vision that is personally magnetizing. Design a world that's the way you want it to be.
As a person, you have a story. As any brand is fundamentally human, speaking to humans, the psychic link is profound, memorable and unmistakable.
Tim Girvin | OseanStudios
…..
G I R V I N | FASHION BRAND STRATEGY
CLOTHING, RETAIL + STORY: THE CARTOGRAPHY OF LOOK
http://goo.gl/aXDhBO