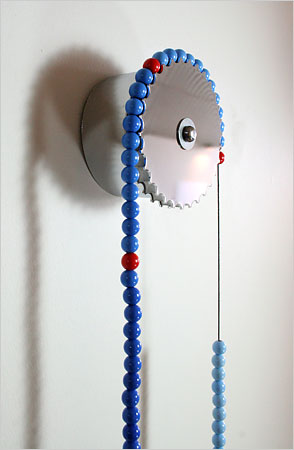 Slow time design by Thorunn Arndottir (Iceland) –
clock bead dropping for time measurement (NYTimes)
Real Slow | Seeking truth in moving slower
I, for one, would comment that my life's overwhelmed with speed. Getting projects, getting them done quickly, moving to the next pitch, getting that work, getting that done, then writing about it all quickly enough that I've not left it too far behind. It's all about speed. Like it or not, it's there in your face, every moment. How quickly can you get something reviewed, organized, processed, done? And without overdoing it all, in the interest of not wasting your time, and knowing, as well, that you are certainly conscious about the concept of slowness in other things, like food – what about other senses of things that are slowed down? Slow food, the movement is 30 years old.
What about slow design? According to Penelope Green, the idea of the initiation of a slow design movement is just beginning. Already, there are proselytizers of the stake to slow things down. Her gatherings show:
"John Brown, an architect in Calgary, Alberta, whose year-old Web site, slowhomestudio.com, urges consumers to say no to "fast-food architecture," and Geir Berthelsen, a Norwegian motivational speaker whose Web site slowplanet.com, which is to go online in mid-March, has as its goal to be a hub for all things slow, from slow travel to slow shopping to slow design, he said. Ms. Chanin, meanwhile, has a book, "Alabama Stitch Book: Projects and Stories Celebrating Hand-Sewing, Quilting, and Embroidery for Contemporary Sustainable Design" (Stewart, Tabori & Chang) due out in March. It gives instructions on how to make her stenciled, poetry-embellished sheets and teaches her Slow credo, which is to use discarded materials to make something new — and to take as long as necessary doing it." Others are picking up the pace, pardon the pun – Carolyn Strauss, pushes the envelope slower – she's "a designer, curator and the founder of SlowLab, a three-year-old design think tank with offices in Manhattan and Amsterdam that's devoted to searching out the slow in cutting-edge design."
She's here. Interesting explorations. http://slowlab.net/
How does this relate to truth? Well, I'm thinking that if I keep writing about it, I'll find it.
Right?
• How things are made is either hurried, or slow, to craft.
• Savoring the beauty of something made in truth is something different than an object that is merely processed.
• Care is about care fullness – something that is thoughtfully made, by a person, that is, in that, known and acknowledged.
• Knowing the human connection is tantamount to understanding how brands work – something made by a human, for a human, is fundamental to our existence on the planet.
• And how care full we are in our experience – with each other – and the planet.
That's my take. What's yours?
tsg