Examining the line between design, fragrance and the mystery of making.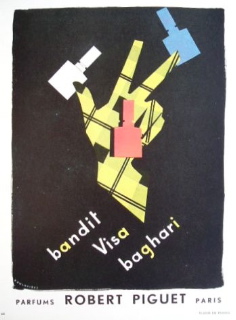 There's a mystery between the concept of design, creativity and the magic of concocting and sequencing outcomes, whether in the visualization of clothing, style, or in the mystery of scentmaking.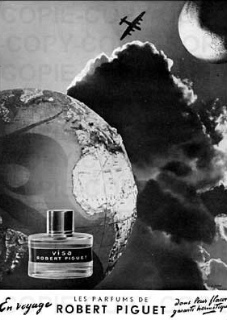 Some reference, to personal storytelling:
Just last week, I was working with some clients on a massive project — defining the spirit of a place, a building development, a community — sited on the edge of nature — a new gateway to a string of mountainous experiences that range into the hills of the Cascade Range, running the Eastern spine of Washington state. Whenever we [https://www.girvin.com] consider a brand, we reflect on scent [hhttps://www.girvin.com/blog/exploring-the-community-of-scent-sniffapalooza/]. And in creating brand development workshops [https://www.girvin.com/work], we explore the nature of scent creation — gathering elements that will make some symbolic gesture to the idea of fragrance making.
In this workshop, we explored an old herb and essence collection in the Pike Place Market, just a block from my offices. And what of it — to nature | scent building? Lavender from Whidbey Island, Oak Moss from the rain forests, Cedar from the deep mountains — and this conglomerate, to our explorations, was a perfected solution in visualizing — then scenting — the proposed experience. But this mere gathering is just the opening to a very superficial reflection of scent, in mind, in memory, in hand — in experience. It is only symbolic.
Still, the fragrance powerfully resonated with many at the session.
And that, in the beginning, is how it works. Fragrance elements are gathered that are meaningful, evocative — then their essences are gathered together in what might be a sequence of fragranced notes that will reflect the scentmaker's visioning.
Nay, their dream.
That's how it happens. There is a dream, a memory — and the maker will dream that dream, and make that mystery happen — concreted in ingredients, spread in fumes. And we will either be, literally, blown away by the gathering, or it will be less than meaning full; there will be no connection.
I was thinking about this word, nostalgia, and the meaning of it. What, is there? Nostalgia is literally the pain of coming home — it's the poignant character that is about making the connection with a memory. Scent works in this way — you come home to it, you are gathered in by it. Or you miss it. It is smoke, fume…(per fume) — and it passes you by.
So there is a great deal of risk, in proposing scent to the masses. Some will connect, relate — others will not. And success presumes, through empowered marketing and resonant strategy, that the scent story will be compelling enough that people connect, they arrive in the same place as the visioning of the scent-designer…and how that sequence of designed notes links with their nose. And ultimately, their memory.
Robert Piguet was a man of profound risk. Venture and adventure ring round, clear and true in the evocation of his design history. And the making of his scents. Today, this enterprise, the remaining vestiges of his spirit, are evoked in the fumes of his, in some instances, redesigned collection of perfumes — http://www.robertpiguetparfums.com. More history, and a site link here —
http://www.robertpiguetparfums.com/about.php.
A brief recounting: his design experiences would suggest that Robert Piguet was extraordinarily well trained, as well as a profoundly influential mentor to some of the most powerful figures in the legend galleries of haute couture.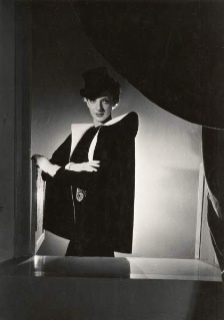 Piguet by Horst | 1936
Joseph Garces tells the story:
"Piguet was born in Yverdon, Switzerland in 1901. After his early training as a banker, Piguet went to Paris in 1918, where he worked with Redfern and Poiret, one of the great founding couturiers of Paris in the 20th century. Piguet then founded his own salon in 1933. His studio hired or evolved the designs by many famous designers, as well as using his own creative evolutions."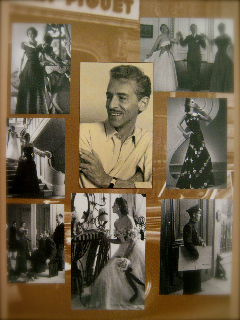 Here's a litany: The studio references that Antonio Castillo worked with Piguet from 1936 to 1944, Christian Dior designed with Piguet from 1938 to 1942, James Galanos was designer from 1947 to 1948, and Marc Bohan worked under Piguet in the 50's. Even Hubert Givenchy and Pierre Balmain were also Piguet designers. There was a string of extraordinary offerings over the course of his fabulous career — envisioned by Piguet, and bolstered by his varying team of talented designers. His design influences explored the instigation of dramatic gowns in a romantic style, costumes for the theatre, as well as precisely tailored, formalistic suits and softly detailed dresses. His design developments were admired for an uncluttered character and shape, yet silhouettes characterized by flamboyant strokes of invention. He retired in 1951 and died in 1953 — the year I was born, coincidentally.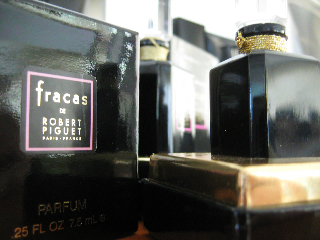 Mssr. Garces, during a recent encounter in Firenze, offered members of our Sniffapalooza tour [http://www.sniffapalooza.com] the chance to explore the Robert Piguet fragrances by selecting one for shipment — to each member's home. I selected Bandit, for a couple of reasons – but mostly because I heard it was rather…dirty in its character.
My scent space lies in the earthier melange of fragrance — honest brutality, animalistic and feral, tinged with chypre [http://en.wikipedia.org/wiki/Chypre], incense, vetiver and denser, deeper notes. Simply, since my earliest days as a child, I found myself savoring scents with this character. Bandit has been described consistently as lying in this fragrance realm of imagination and memory. I wanted that.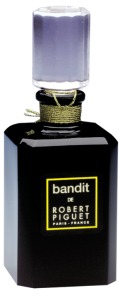 Here are some references, to other interpretations:
From The Scented Salamander comes this poetic refrain: "Since the Robert Piguet label was bought by Fashion Fragrances and Cosmetics Ltd., the company has re-introduced several perfumes from the former Parisian couture house's catalog, including two of their most famous creations, Bandit and Fracas, which have enjoyed classical status in 20th century perfume history. If you like leather perfumes and chypres, you would have to be able to speak first-hand of the rubber-boot and ashtray nuances of Bandit, even if you do not personally appreciate the perfume or it does not agree with you."
Others, http://nowsmellthis.blogharbor.com, equally matched to the character of the scent — and its darker, sexier styling offering:
"Bandit was the first fragrance release from Parisian fashion designer Robert Piguet. The leather chypre was created by perfumer Germaine Cellier, a classically french biography, from The Society of French Perfumers: http://www.parfumeur-createur.com/article.php3?id_article=39 and http://www.perfumeprojects.com/museum/perfumers/Germaine_Cellier.php.
Bandit was launched on "the couture runway in 1944 with models sporting villain masks, brandishing toy revolvers and knives" (via Fashion Fragrances and Cosmetics). Bandit was eventually discontinued, then was re-launched in 1999 in a new formulation created by perfumer Delphine Lebeau [http://www.fragrantica.com/Lebeau] of Givaudan. The notes include neroli, orange, ylang ylang, galbanum, jasmine, tuberose, rose, carnation, leather, vetiver, oakmoss, patchouli and musk.
Guy Robert, fragrance master, (author–Les Sens du Parfum, a former president of the French Society of Perfumers and designer of: Amouage Amouage (1983), Christian Dior Dioressence (1979), Gucci No. 1 (1972), Hermes Caleche (1961), Hermes Equipage (1970), La Prairie One Perfect Rose (1990), Mary Quant Havoc (1974), Pink Room Parfum no. 1 (1999), Rochas Madame Rochas (original version, 1960), Rochas Monsieur Rochas, 1969) called Bandit:
"a beautiful but brutal perfume", and that is as apt a description as any: Bandit is not a fragrance for the timid. It starts with heavy green notes, and moves slowly into a lovely floral blend with hints of spice, but the leather is apparent from the onset, and as it dries down, it is joined by an earthy-mossy accord that vaguely recalls a full ashtray. There is the slightest hint of powder, but it adds nothing of delicacy or girliness, and while Bandit stops short of being feral, the far dry down can only be described as decidedly animalic.
I first tried Bandit some years ago, shortly after I fell in love with Fracas (Fracas being another Piguet-Germaine Cellier composition). Like Fracas, Bandit is in-your-face sexy, but it is the dark, rebellious side of sexy — the bad girl, if you will. It is a sophisticated fragrance, mind you, but in spirit it is younger than Fracas, and it has more energy. Bandit is drinking and smoking and leather jackets, and running around at all hours getting into all sorts of mischief. I've been trying to think of what would be the modern version of such a fragrance, and nothing comes to mind: perhaps there is no such thing?"
Joe Garces asked me what I thought of the fragrance, Bandit. One sentence. I had a recollection. Here it was:
"I can recall a woman that I met in Paris; she was the foundress of her own PR group; she was a smoker, a hard drinker, yet a sensualist — she lived a luxurious, but heavy, though heartful and inspired existence; she was passionate about experience, sexually expansive, her apartment full of art, costly drapery, fabulous furnishings — but not fresh, her environment in a way, sealed in from the noise of the outside world — the Parisien streets below; her place smelled of leather, tobacco, incense — and in a way, she was the epitome of Bandit; deep, dark, animal, sexual". Instantly, in scenting that fragrance, I recalled her.

What's your take on the scents of Robert Piguet? What recollections, stirred?
Tim Girvin | Decatur Island
(Images are from the Horst estate, Fashion & Fragrance Collections, Vintage Fashion Publications and Okadi — all holders of copyright, 2008)