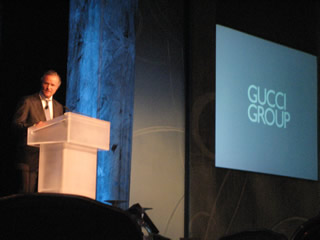 I've been walking around the edge of this luxury brand, and its leadership — CEO | Robert Polet for the last several years.
I'd reached here to Gucci headquarters in Paris and London, exploring the dimensions of the brand. I worked with the leadership in NYC, Yves Saint Laurent North America President Laura Lendrum, along with retail strategist Claudia Cividino for evolving retail visualizations. I'd met to learn more of Gucci retail with Sharon Frederick, Global Retail Design Director. I'd linked with James McArthur, mergers and acquistions, Gucci Group, London. Daniela Ott, Paris. And a host of others. And then I had a chance to share stories with Robert.
And that was the point of it, and it's the point of all of it — the real work of marketing. It's about how to tell a story in a way that's meaningful. But the link extends beyond that. It's not only about the story, what makes is holistically compelling — but it's about creating and defining need as an outcome of the story.
Yes, some might say that the need of luxury is outlandishly wasteful. But the need of luxury is less about being wasteful, and perhaps more about doing something that in its very nature is made differently, made better, made of more valuable materials — and presumably, being linked to a greater tradition of knowing. That is, making something that speaks of a generational skill in production. Something — some thing that is so about a level of quality and care that it's to be lusted after. And luxury is about lust. In fact, they are part of the same etymological root. But it's about an object that has such character that it's not easily duplicated. It's one of a kind in the hand of the holder; and it's worth paying the price for — it's some thing needed.
So in a manner, while the story reaches, it's holding the edge of the brand like a enwrapping sphere and the product is within, like some rarefied object in the exquisitely packaged. But the point is the bridge between the story, the link to the heritage or the implied implications of the lineage of skill and material, and finally — the need full. The key is the link between these elements; the strategy of the brand, the story and the legacy, the character of the product itself, and finally — the packaging and how this relates to need.
At the Luxury Summit, produced by American Express Publishing in Palm Beach, this was a potent characteristic closing. There's a reference to story, to establishing relationships, to creating need and endlessly evolving improvements and thoughtfully conceived, resonant innovation.