IN THE SHADOW OF THE WIND, SCENT EVOKED, PERFUME DESIGNED ON THE BREEZE OF CONSCIOUSNESS
IN THE BOOK, The Shadow of the Wind, written by Carlos Ruiz Zafón, there is a story, wrapped a story, hidden in a story — a book, among many books, hidden in a mythical library, that is a textual mystery –journey, an adventure, unto itself. The telling concerns, in old Barcelona, the legend of a bookseller offering to his son the choice of a single book — from a vast, collective repository of the guild of rare book sellers — a labyrinthine gallery of books called The Cemetery of Forgotten Books. This book, by the mysterious Julián Carax, is called "The Shadow of the Wind." As a gift for his son, the book dealer unknowingly sends his son on a personal quest — from his own unbridled curiosity, to explore the rest of the collection of Carax's essential and entirely vanished works. And from there, his path takes him to a stumbling journey into the heart of madness, murder, magic, unrequited love and the darker secrets in the old corridors and alleys of Barcelona. This telling balances the nature of an old city, an impassioned and intensely creative — and celebratory — people, and corridors of artful majesty. And this mystery, too, is where Carner lives — as a perfume, as a story, as a heritage of the spirit of a woman and Barcelona.
Spending time there, journeying those selfsame darkened byways, old cathedrals and architectural curiosities, the scent rises from the streets, wafts the boulevards, the sparkling and brilliantly colorful food markets, of old cafés and coffee shops, to spill into the mind and the imagination and the sensations of the perfume of living.
I met Sara Carner, the scent art directrix and founder of Carner Barcelona. Charming, strikingly beautiful and assured, gracefully articulate and entirely committed to the structuring of every detail of her products, a grouping of scents that she has envisioned for the last several years, beginning in 2009.
But her scented styling is distinctly aligned to the character of the city — while her packaging speaks of the international trade of disciplined luxury, spare and elegant, there is a filigreed embossment that gestures to the old gates of the city. Iron work scrollwork abounds in Barcelona, indeed all of Spain. Hammered and forged in heated farrier's anvils, curling sinews of iron are to be seen everywhere — and delicately arranged in homage to the city's legacy and artisanal spirit. And her familial heritage ranges back into the spirit of craftsmanship — and the handmade — that lies in the heart, and art, of the city Barcelona.
Sara Carner is part of Barcelona. As her site notes,
"Working alongside world renowned perfumers, she poured parts of herself, her experiences, her thoughts and dreams one droplet at a time, creating unique fragrances that she can now share with others. Coming from a long line of Spanish leather artisans, Sara Carner has infused Carner Barcelona with the culture of Spanish workmanship collaborating with the best local designers and suppliers in the creation of the brand and its perfumes."
I asked a string of questions, to learn more of her thinking — the range of her offerings, and the legacy of her strategy.
Transcribed, here:
• In spending time together, one impression is of your memory of place and experience. You talk about fragrances and storytelling — things that are distinct to environment and scent. Can you talk more about your personal experiences — each of your scents, and the stories of them?
"I have always been amazed on how perfumes impact our experiences and memories, perfumes and life are two things that go together. When creating my line of perfumes I wanted to recreate those scents that have impacted my life and thus, that are very important in my memories."
"The first perfume I developed is TARDES http://www.carnerbarcelona.com/tardes. With this perfume I tried to capture my favourite scents as a child during summer time. I grew up in a house ouside Barcelona, in the catalan country side and I have a clear memory of those summer evenings playing around surrounded by almond trees, wild roses, geraniums, and the woody smell of forests…it's very warm perfume, powdery, enveloping…just like those summer afternoons…"

"With D600 http://www.carnerbarcelona.com/d600 I wanted to reproduce the smells in my loved Barcelona, from the early morning to the late night… "The early buzz of the city mixes with a gust of fresh morning air streaming through an open window. Las Ramblas and La Boqueria slowly fill with the sound of daily activity, as fresh-picked bouquets, ripe fruits and spices are unveiled releasing an exotic mixture of aromas. As the streets come alive and the Mediterranean sun warms the day, beams of light cast shadows that dance in city plazas and parks. All senses are captivated by the dynamism of Avenida Diagonal, the grandeur of Paseo de Gracia…A seamless blending of old and new. At night, the pulse deepens and darkens as the city reveals its mysterious and most sensual side."
"With CUIRS, http://www.carnerbarcelona.com/cuirs , the last one of my creations, I wanted to connect with the old artisan world of leather making, where the mix of tobacco, woods and leathers where fused together. My family has worked in the leather business for generations and I grew up surrounded by the smells of leather and tobacco…with this perfume, I just feel home!"
• You've chosen different noses to build your scents — can you talk about that process, how you made these decisions?
"I wanted to create a very high quality line of perfumes, for that I needed to work with the best perfumers of the world. I partnered with Givaudan and worked with Cristophe Raynaud, Daniela Andrier and Sonia Constant for the development of the perfumes. In the process of perfume making what is key is transmitting to the noses a clear concept of the new perfume and the scents that need to predominate in each one….then they explore different options, work with different materials and we work back and forth until finding the one smell that really fits what I wanted to convey."
• We talked a little about your experiences in NYC, working with Shiseido — can you talk about how that influenced your expertise and choice of path, to the development of perfumes?
"Since I was a little girl I was fascinated with perfumes, the idea of creating my own line started very soon but with the years and experience it gain weight and shape. After working at Shiseido in its BPI division I gained the expertise and the strength that I needed to launch my own collection. Also, during my MBA at Columbia Business School I caught the entrepreneurial spirit that would later help me materialize my love for fine perfumery."
• Your scents are more unisexual, to character — it might be said that this strategy is a double-edged sword: to one, the unified sexuality of the audience might suggest more people that would embrace these expressions; while others might think that the notion of a unisexual platform won't connect with larger audiences — women that celebrate entirely feminine scents, and men that embrace masculine notations. What's your strategy?
"More than a strategy, it's a matter of following my values. I think that each person should be the ONE to decide if a perfume is for him/her. When naming a perfume For Her or For Him, you are making the decision for the customer; you are not giving him/her the power to decide for himself. I am a type of customer that loves masculine scents (leathery, smoky, woody) and I find myself buying men perfumes all the time…
I know that by creating unisex perfumes I might be getting away from these larger audiences that you talk about, but it wouldn't be consistent with my thoughts."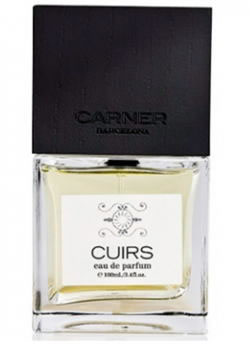 For me, I dig in here — while all three of her scents are strikingly visual; I get the sense about them — scenting them, I see their place. But for me, the most compelling space lies in Cuirs. Like Carner, I embrace leather, smoke, woods — my childhood wraps around these fume mists. Layered by Sonia Constant.
What, to structure? Her notations show:
top:
Cumin + Saffron
mid:
Violet + Australian Sandal Wood + Texas Cedar + Paraguayan Guaiacum Wood + Indonesian Patchouli
base:
Venezuelan Tonka Bean + Cistus Absolute + Musk + Oud Wood + Indian Nagarmotha + Dominican Republic Amyris + Dry Amber + Leather Accord
Sara scents beauty [and Barcelona].
Tim | BARCELONA
–––
STRATEGY + ENTERTAINMENT =
ENGAGEMENT: BRAND STORYTELLING
http://bit.ly/fJaECg