Exploring spirit and transition | the legacy of the Human Brand in passage
Several years ago, Chie Masuyama and I were in Japan together, exploring brand development in that market, as well as meeting and presenting with Pierre Dinand, my partner in an alliance for design for the fragrance industry. We gave a talk together, at a global forum on Perfurme, Packaging and Beauty. BeautyWorld.
One of the highlights was connecting, live, with Shu Uemura. Calm, personable, friendly, generous with his time, it was an honor to meet him, and to talk about his history.
But in giving him a spirit leaf, a hand-drawn calligraphic rendering of the word "spirit" on a specially-created leaf, he commented — "this is true, this is where the spirit is — that every company, every fragrance, it must have this spirit. With this, it will grow stronger…. Without spirit, that company will be nothing." In the image above, you can see the leaf. And you can it — in another variation — here, as well: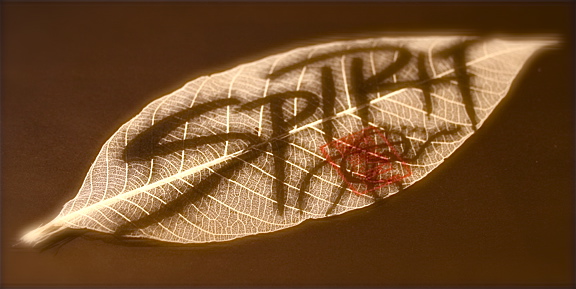 But in contemplating the concept of the Human Brand, the emotional connection that leadership has with the character of the brands that they build, Sensei Uemura has created a legacy that I celebrate, today — just one year after his passage.
More, to the point of his representation of brand spirit, in the emblem of the leaf, I visualize that sense of script — vital, alive, overlaid on a network of structure, a tapestry of veins that support the sense of vitality that is about everything that we do. Finding heart, finding soul, finding beauty.
The legacy of the Human Brand, Shu Uemura, in recollection — one year later. Bethan Cole, an launch event attendee offers, this overview:
"High up on the 52nd floor of the Mori Arts Tower, in Roppongi Hills, Tokyo, members of the world's press are assembled to view the future of make-up. It is 9pm one late-June evening and up here in the sky it's pitch-black. The cityscape is spread out below us, a carpet of silhouetted skyscrapers and twinkling, electric light. On a stage in front of us, three of Shu Uemura's artistic directors are setting out their visions of how cosmetics will evolve. Yuji Asano, Shu Uemura's Atelier International make-up artist, pats a chartreuse-green hue on to a model's eyes, her face ashimmer with Klimt-esque squares of silver and gold. Gina Brooke, Shu's US artistic director, strokes blusher on to a model who has carmine-red prosthetic petal and feather eyelashes protruding from one asymmetric eye. And Kakuyasu Uchiide, the brand's overall international artistic director, painstakingly brushes charcoal-black glitter powder on to another model's eyelids, blocks of multicoloured eyeshadow splaying out from her eyes like a sunrise."
It's been more than twelve months since the founder of the eponymous beauty brand died, aged 79 — the death of a founding legacy can be devastating for a beauty or fashion house. Surely, Jo Malone and Aveda — and many others — have struggled to maintain a credible direction since their respective founders, Malone herself and Horst Rechelbacher, have left. In speaking with Rechelbacher, he referenced his disconnection — "that was old, my beginnings — I'm past that now; I'm creating new concepts and I don't pay any attention to Aveda." The sense, then, is discontinuity; the thread is broken….
This absence of the leadership — the foundational brand genetics, the original DNA — can be an extraordinary, if not disabling, swerve from the channeling guidance of leadership visioning. However, Shu Uemura is stronger than ever. The Mori Arts Centre played host to a massive Shu Uemura retrospective and it's probably the first time eyelash curlers, on an art-gallery plinth, were presented as exemplars of design and creativity. Uemura's group, in 2008, celebrated 25 years since the opening of its first boutique in Tokyo's Omotesando district and sparkled after 40 years in the passage of time since the birth of its fabulously imaginative spectrum of make-up ranges. The spirit of Shu Uemura represents the inspiration of a beauty phenomenon that cannot be stopped.
Shu Uemura could be likened to the Comme des Garçons of beauty brands. It is Japanese, and it has blazed a comet streak of innovation in make-up and skincare; and resembling other Japanese innovation beauty groups, Rei Kawakubo and Comme, the group's leadership has been consistently way ahead of its time.
The story:
1928 — the birth of Shu Uemura. As a child, he nurtured dreams of becoming an actor – but the aspirations were relinquished in his teens when he was bed-ridden with a crippling illness. Captivated by the realm of beauty care aesthetics, he decided to become a make-up stylist. He enrolled at the Tokyo Beauty Academy, the only man in a 130-person class. His first exposure into the larger market came in 1955 when a make-up artist from the set of "Joe Butterfly," a Hollywood movie being shot in Tokyo, arrived at the school, looking for an on-site assistant.
Uemura assisted on the film's make up styling efforts and relocated soon after to Hollywood. Celebrity emerged — his design career as a film and celebrity make-up artist was aloft. Uemura ignited added fame working on the 1962 film "My Geisha," where he transformed Shirley MacLaine into a geisha. He befriended the actors Edward G Robinson, Lucille Ball and Frank Sinatra. Filming "None but the Brave," Sinatra gave him a make-up box as a birthday gift.
In 1965, Uemura returned to Japan; he founded the Shu Uemura Make-up Institute, the first in Japan — a Hollywood-style make-up studio. In 1967, he started his Japan Make-up, Inc., a distribution group that imported American beauty products. And, in 1968, he catapulted his own Mode make-up product offering — a vision to create a wide-ranging collection of color, literally an artist's palette, to the Japanese market. He kept moving — creating his skincare line in 1971.
In the groundbreaking year of 1983 he opened his first boutique – a landmark brand opening; one of the first concept shops in the world, focusing only on beauty. This is founded on a cultural legacy: Japan has a beauty culture that is far more advanced than the rest of the world. According to Beth's review, "Japanese women have an average of five products in their skincare ritual – a cleanser, a lotion, an emulsion, an essence and a cream. In some Asian countries women use up to 14 facial unguents. Japanese women have a consistent attraction to products with lighter textures than in the West. Shu Uemura has created two product groupings in Japan; there's the regular line that is available internationally — and there is Atelier Made, a skin and make-up brand specially retailed in hair salons.
Shu Uemura, by the year 2000, after arriving in Europe and the UK in the '90s, was the foremost leadership of the largest, independent beauty brand groups in the world. The products, with their Japanese legacy, futurist design styling, the extraordinary array of colors was celebrated by cosmetic stylists — and this reverie likely paved the way for other cult brands such as MAC, also offering a complexly broad spectrum of color along with modernist design aesthetics.
In 2000, L'Oréal formed an alliance with the brand and purchased a majority corporate stake in 2004.
The concepts of nearly an artistic focus of innovation are deeply embedded — based on the legacy of their founder, whose principles live on in the continuing design direction of its practiced (and inculcated) leadership: "Shu Uemura was the first make-up brand to do testers of all its products," says the artistic director Kakuyasu Uchiide of its many innovations. "And Shu was the first brand to have so many colors. You become like a painter with many colors in your palette when you use it." Karl Lagerfeld, expanding on make-up and art, employs the Uemura palette board to paint his fashion drawings. The current master of the design of the twice-yearly mode make-up collections, Uchiide, is a formidable creative in his own right. He began working for the company 20 years ago and has since honed a conceptual style that fuses art with make-up. Still, he looks back to his legacy: "I had such a big shock when Mr. Uemura died," he relates of losing his mentor. "He was like a second father to me." His design continues the tradition of surprise and modernism: gently diffuse pastel sports of color for the eye, with a spectrum of bright technicolor: cerulean blue, mint green, egg yellow and flame orange blended from lash to brow.
The company, following in the footsteps of the master, continues to their feverish cycles of innovation — three limited-edition false eyelashes, extraordinary in their theatrical drama, created by Viktor and Rolf (above).
For the Christmas season in 2008, they launched a sub-branded collection envisioned by the cult Japanese photographer — saturated, wildly exaggerated colorist, Ninagawa Mika.
Shu Uemura still links to Hollywood. Madonna's stylist, Gina Brooke, joined Shu Uemura in 2005. She'd already designed, with the product development team at uemura, to innovate customized mink false eyelashes, studded with diamonds, for Madonna in 2004. She, as well, engineered a make-over for Madonna's make-up look from dark, austere and overdone to light, glowing and golden. Brooke functions as the artistic director of the brand in the States.
All stylists under Uemura's wing espouse the principle: "beautiful make-up starts with beautiful skin." That began decades ago with his cult cleansing oil in 1967, a bestseller in Japan. The principle of cleansing with oil, in Japan, as opposed to the bars, gels and lotions utilized in the West, was — and is — a cultural ritual.
Another recent innovation was the use of "Depsea Water," a mineral-rich liquid sourced from 300m deep in the ocean off the coast of Cape Muroto in southern Japan. In 2006, expanding on these principles, the company opened the Utoco Spa, near Cape Muroto on the island of Shikoku, to utilizing Depsea Water in therapeutic treatments. Sited on a tranquil stretch of Shikoku's coastline sharpened with jet-black rock, the spa is a single-storey, curvilinear, pristeen-white building with porthole-round windows. There are 17 clean, white minimal guest rooms with a spa therapy center arranged around a Depsea Water hydrotherapy pool. The spa treatments are based on thalassotherapy — a sparse establishment, Uemura's vision was a holistic one, viewing skin health as a primary focus because, as a make-up artist, the skin was his canvas. He went there, to this boutique hotel and spa, himself.
To the brand character — and the spirit of Uemura Shu, as he is formally called, in Japan — it's a combination of the discipline of the Japanese cultural ethos, married to a wild sense of improvisational artistry, innovation and experiment, in consistently generating extraordinary outcomes that is the human brand spirit. Spirit, in person, in personality, in the personal — that touched everything that he did — and that his heritage continues to offer now.
"Mr. Uemura taught me that creativity should be based on simplicity," says Uchiide. "He didn't like complicated things."
tsg | decatur island