Drawn from the heart: simple design prototypes from the 30s: design strategy and clarity of intention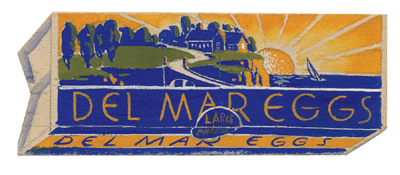 The heart of creative: drawing, sketching, roughs, comprehensives made by hand, brush and simplistic inspiration.
A friend of mine in Santa Monica, composer Stuart Balcomb, is a ever-roving explorer of all things creative, offered the rendition of two stories that are intertwining — going back to the heart of the creative effort. Where did you start, and why?
From the LATimes: their 50 series.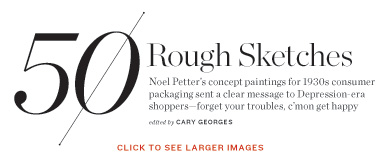 One, a grouping of  gouache sketches painted in the 1930s, by Noel Petter, that supports an earlier proposition of offering packaging design concepts in painted color. This technique of layered and relatively "opaque" painting reaches to showcards, posters and instore retailing — grocery stores and even larger retailers used to have "letterers" that could quickly render offerings and sales merchandising placards and art. Look, go back, where did that creative instinct fire up — in you?
That's a technique, interestingly enough, that we're still using — not washing color with tubed pigments, but drawing and organizing imagery in this manner: drawing it — it's a start that immediately turns digital, but it's more "conversational" — iterative, looser as an opening gathering of concept that then moves progressively tighter, but these treatments are amazingly fresh.
Petter's work was remarkably fast, I'd imagine — it's simple, direct, honest, even slightly primitive. That naivety is something that suggests that sense of authentic interpretation (nothing fancy, it just tells the story) — a story that is told and reflected in the opening ideations of happier engagement. For any of us in the creative brand space, the idea of going back to the heart is something that we should all examine. What's the heart of the work, the path that we've crossed, where we began, and what drives the passion to commitment.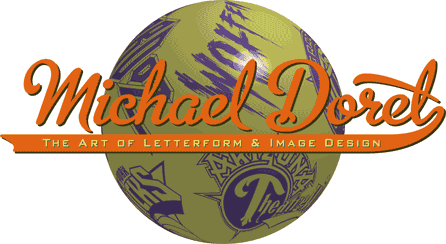 That idea of passion is something that Stuart (and in his magazine) brought up in another story, that of another friend, Michael Doret. I've known Michael for years, since our earlier days together as co-speakers at Envision, a yearly conference on design (ADAC) in Sacramento, California. In this telling, Michael recounts, for the AIGA | LA, how he's recreated a typeface based on a classic emporium in Los Angeles. Some imagery from his explorations and the outcomes — the story is online at AIGA/LA Features. As he offers, in "Art Imitating Life, Imitating Art," it all began in "the fall of 2008, I had four font designs under my vest, and I was ready to embark on a fifth. But I was beset with a case of "writer's block", and was in need of some small seed of inspiration to help me past it. One day, while driving north on Fairfax, I happened to glance over at one of LA's landmark eating establishments—Canter's Delicatessen. You really can't miss it. Canter's is one of those places that has not one, not two, but three competing neon signs, each in a different style, and each probably added at different times."
Some imagery, created by Doret, from the online article, overviews the sequence of his studies, noted below:
For me, any of these studies are about the thread of the beginning — where, when, how did you start, what's the mystery of the origination of connection, the opening fire and how to build on, fuel that — consider that, the beginnings, the first spark. What tracing would you consider in finding that line, the map, back to the beginning — till now! What about for you?
Finding the heart of anything — and everything — in the practice of the work, whatever form of creativity you are exploring. Go there, come back.
Tim Girvin | Richland, Washington
Exploring brands, personality, and the heart of creative connections
Exploring the heart of human experience.
And telling the stories of their revelation: | https://www.girvin.com/blog/?tag=storytelling
the reels: http://www.youtube.com/user/GIRVIN888
girvin blogs:
http://blog.girvin.com/
http://tim.girvin.com/Entries/index.php
girvin profiles and communities:
TED: http://www.ted.com/index.php/profiles/view/id/825
Behance: http://www.behance.net/GIRVIN-Branding
Flickr: http://www.flickr.com/photos/tgirvin/
Google: http://www.google.com/profiles/timgirvin
LinkedIn: http://www.linkedin.com/in/timgirvin
Facebook: http://www.facebook.com/people/Tim-Girvin/644114347
Facebook Page: http://www.facebook.com/pages/Seattle-WA/GIRVIN/91069489624
Twitter: http://twitter.com/tgirvin