The quest for deep storytelling, brand narratives and customer relationships.
For about 50 years since—and during—my college and early working days, I've given talks, workshops, team presentations to explore some lines of thinking around what we think about brands, their founders and teams, and of course, how customers relate to them. This is a talk that I've edited for presentations around the world.
What's your name? What's your story?
Of course, anytime you meet someone, you might be thinking of a question:
"hey, who are you, what's your name? And "what's your story?"
As we've persistently discussed, naming is a powerful initiation into a person,
the name creates a sense of placement and proposition.
So a name starts that reach into storytelling.
That speaks, too, towards enterprise and brand.
For example, GIRVIN's names for brands try
to capture a storytelling and marketing proposition.
And that's the question—"you, what's your name?"

Tremor™, for P&G,
was named by GIRVIN in support of a teenager and tween investigative, by invitation community insights and brand development tool—in 2002. For P&G, it was built as a direct reach into that audience, as a riled-up, groundswell sensor
as well as disruptive strategy and tactical engagement.

O for Bellagio
was named by GIRVIN,
in support of a definitive entertainment strategy—
the tactical disposition of the performance.

Viathon Bicycles
was named by GIRVIN in a brand invention
for a brand development team at Walmart.com.


Zella was named for Nordstrom by GIRVIN in support
of a private label sportswear line, exclusive to this retail group.
The point is to learn more about a person, or a brand enterprise,
the name is the tipoff to the narrative, it's the beginning of the story, and thence, the relationship—which, as we've intoned,
a deeper link to the story carried forward.
What is the one story about you that's unforgettable?
Is that an origin story, how you came to be, a journey, an accomplishment?
That becomes your key narrative capstone—it's the you of you.
Apply that to a business modeling—what is the point of brand distinction in you that no one else has?

This notion of inspiration, the name, the story reaches back precisely to where we began— "what's your name, and–who are you, too, what's your story?" This has led to your ideation, the making of your offering—your story, its story, how they are told, intertwined and visualized. Then the world learns.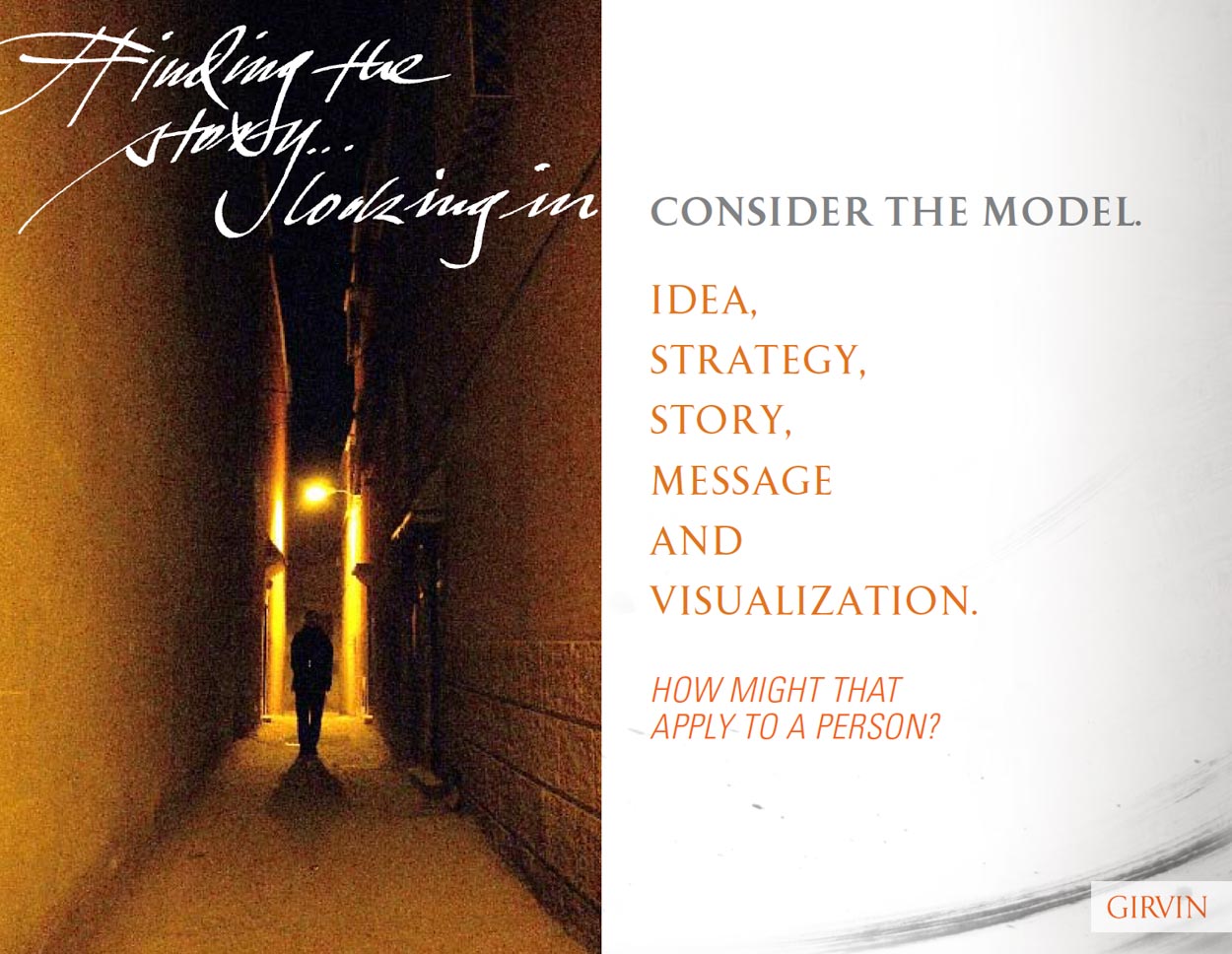 What you make is you. Which comes from your intention, your attention to its expression, and again, how others understand your story.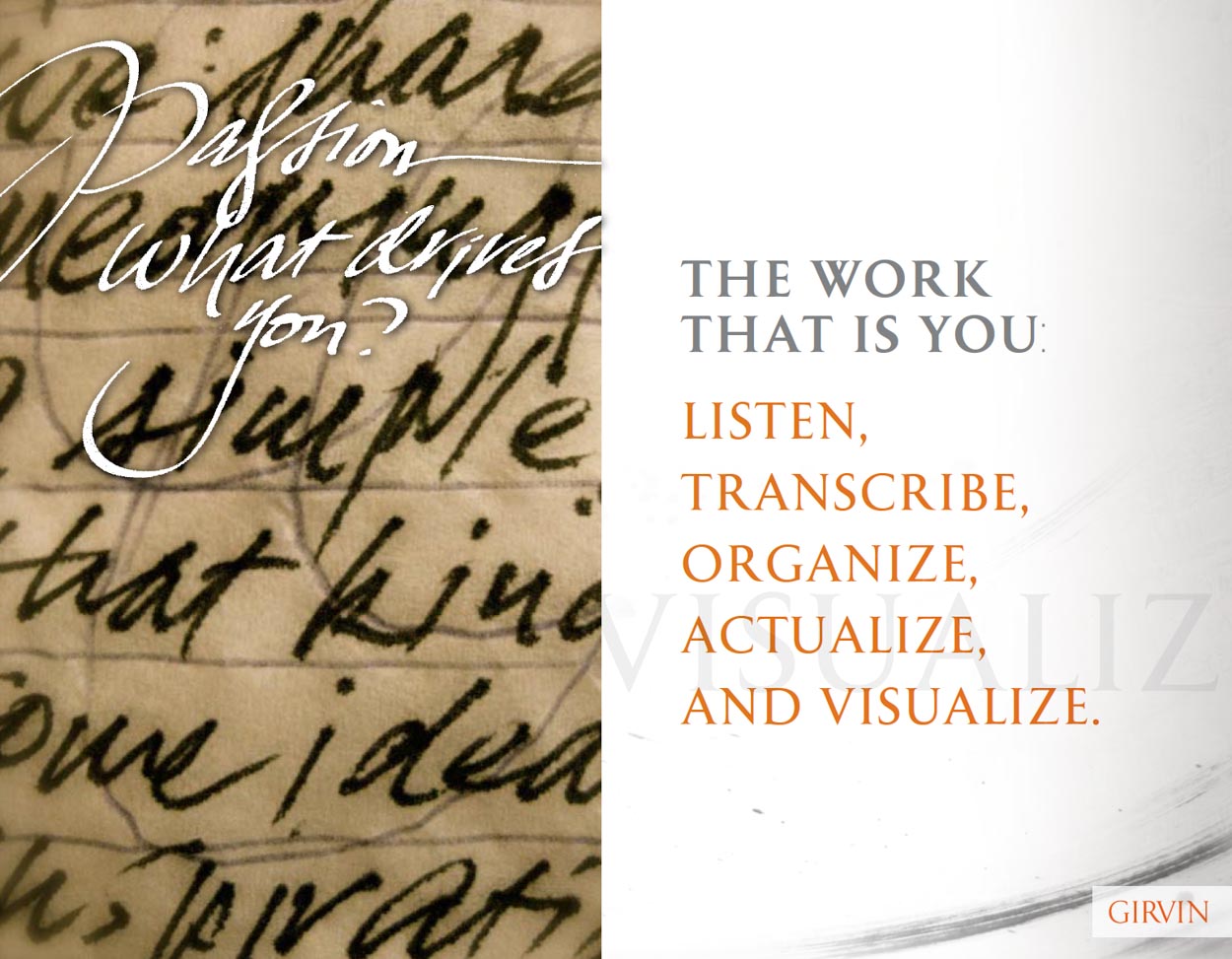 And how passionately you are willing to tell it.
In the premise of experience strategy for the meaningfulness of brand, personality and stance, it comes to the question of what you mean—as a person, a founder, the work of your creation—and how that magical outreach captivates participants, their willingness to engage and embrace your visioning.
That asks—in the alignment with you—the making of your dream—how your own personality coalesces the DNA of your experience.
You. Your dream. The brand that you are, and the brand of your making. Screen Shot 2023-08-26 at 1.44.39 PM.png
I'll continue this exploration next week.
Would you like to have this presentation offered to you and your team?
Let us know. info@girvin.com
–––––––
GIRVIN does
projects in strategy | story | naming | messaging | print |
identity | built environments | packaging |
social media | websites | interactive
––––––––––––––––––––
Tim | GIRVIN | Strategic Brands
digital | built environments by Osean | theatrical branding
waves | art | talismanika™
Notes on GIRVIN's presentations
Tim Girvin has been giving motivational speaking presentations for decades—artistically created from his own design journals, global travels and projects in North America other countries, client brand development and personal, even spiritual explorations. Every presentation that he offers is customized for his audiences and the character of his work continues to evolve to trending relevance.
He has delivered his brand of creativity, storytelling, strategy, design theory to wide varieties of groups, from small teams to conferences and events, larger companies to global corporations—from team chats for a few employees to professional organizations with thousands of members.
A few of the companies and orginizations Tim has helped are AIGA, American Association For The Marketing Of Professional Services, American Institute Of Architects , American Marketing Association, CallisonRTKL Architecture, Dallas Society Of Visual Communications, Dentsu Ginza Gallery, Designer's Roundtable, Envision | Sacramento, Essec Luxury (Paris), IBM , Industrial Design Society Of America, INSEAD (Paris) , JAGDA (Tokyo+Sapporo) , Japan Typography Association, Johnson & Johnson, LA Advertising Council, Luxury Marketing Council, Meisenbach Leadership Forum, Microsoft, MG2 | Architecture, Minnesota Advertising & Design Association, NBBJ Design, Neiman Marcus | Dallas, Nintendo, NYC Art Directors Club, Oklahoma Visual Arts Coalition, Pacific Markets International, Procter & Gamble, Seattle Rotary, San Francisco Art Institute, Seattle Advertising Association, Salt Lake City Advertising Federation, Type Director's Club Of NYC, United Jewish Appeal Federation, University Of Washington , Walt Disney Company, Wharton School (Paris), and WATG | Architects And Designers.