THE EXAMINATION OF SENSE: BRAND SOUL, VISUALIZATIONS, INSPIRATIONS
There are characters in Japanese aesthetics that most people know — to the concept of objects that are beautifully aged, the character implicit in use, authentic decay, honored "wearing out," rustic simplicity and things that are made better, richer, and filled with more character as they "wrinkle" in their time.
I've written about this a little, in the work of those that reach to that space. But a friend pointed out the beauty that can be found — with the right eye — in the squalor of dissolution. Not so much the arrogant idea of beauty in the tragedy of loss, but more so the transitions of "what happens." Traveling in India, or other evolving environments — transitioning from ancient worlds to more modern ones – there are those parts that are "left behind." They have the ancient tenor that captivates with the touch of ten million fingers, placed there, over one thousand years.
Things change time, light burns, waters rise, moisture impedes, mould congregates in — perhaps — those places that it was not meant to. So in further reflection, I find these meditations of interest. How might that be emblematically experienced in the visualization of an enterprise. Brands that are old. Brands that have the touch of one million hands? Brands that are not brand new.
I look for symbolic experiences — stories that are told, touches that are warming, human connections that celebrate, potential contacts that suggest more "encountered" connection. Brands, like art, could be seen in that way.
One, the wanderings of Michael Eastman — looking to the beauty of what was once richly displayed, then dissolved — yet still loved?
Can a brand have a patina of beautiful evolution, reaching into the soul of experience and freshly redefining its legacy, newly considered? Heritage brands can have that character.
Visually, perhaps to applications, these, his groupings from La Habana, his large scale C-print that you can find at Claire Oliver on 26th, in Chelsea | NYC. Nice person, Claire is. Everytime I go there, she's got something to say, to share. I like her for that. And Michael Eastman's work explores that sense of environmental wabi sabi.
I believe that you have to believe, to know it. You have to accept it, to understand it; you have to sense it, to hold its beauty.
Beautiful degradations — and, in that, the utile aged, the rusticated elegance:wabi sabi?
THE WORK OF MICHAEL EASTMAN: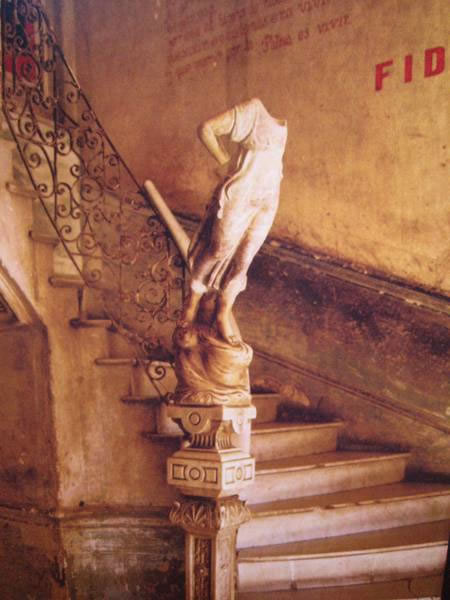 What then of the other forms of dissolutions — and evidenced in the work of Chris Jordan? http://www.chrisjordan.com/
I was sent a link to his work and that was the first thing that I was struck by. What happens in objects that age, but are aging in another, perhaps more perverse, way. They aren't supposed to fold their time in that way, but instead, they follow a different archaeology. The concretions, the layering of their experience is hastened. I know some people like that. Experience has layered them more quickly, and they dissolve. Chris seems to live in the space of exploring the potency of these calamitous circumstantial change. And I mean nothing, hold anything, but admiration to the character of his seeing. And what stories are told. And what beauty — even in this — might be discovered.
The sense of the age, the patina of time in passage — merely acknowledges that sense of experience — potentially now, the polish of the steel, and perhaps tomorrow, the beginnings of that dissolution.
I reached to John Grade, just before his run to France. Another artist in the working character of the dissolved, the wear, the things that are old — but in the context of the real, not the made — a kind of dissolving intentionality. The image above, and below, are emplacements that speak to his examinations. Object, born in the context of naturality, then placed in environments to be seen in dissolving, rustic utility of the wabi sabi and finally, returning elementally into what was before, tinted in the principle of what was made and then gone. See, to more stories.
There are those that design these experiences into the work that they make — like these strategists and designers from Madrid, in an abandoned garage — (CH+QS) just featured here.

FastCo
I'm working on something — a retail concept — that is new, but it should be old; I'm working on something old — rethinking a retail concept, that would be new. The idea is that in the intermixture of old, and new, there is something in the twining of time — the rustic beauty of a retail concept that is imagining old but is freshly imprinted in the imagination.
Tim | GIRVIN NYC
–––
INNOVATION TEAM STRATEGIES
Girvin Cloudmind | http://bit.ly/eToSYp
the reels:http://www.youtube.com/user/GIRVIN888
girvin blogs:
http://blog.girvin.com/
https://tim.girvin.com/index.php
girvin profiles and communities:
TED: http://www.ted.com/index.php/profiles/view/id/825
Behance: http://www.behance.net/GIRVIN-Branding
Flickr: http://www.flickr.com/photos/tgirvin/
Alltop network: http://my.alltop.com/TGirvin
Google: http://www.google.com/profiles/timgirvin
LinkedIn: http://www.linkedin.com/in/timgirvin
Facebook: http://www.facebook.com/tim.girvin
Facebook Page: http://www.facebook.com/girvindesign