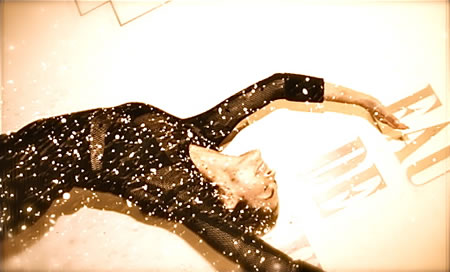 The smells of stone, fire, snow and the sea — the perfume of Iceland: I walk the fragranced way. Every corridor, is a sequencing of scent. Every road, an avenue of smell. Each pathway, the censed notation. I do dream about the crossing guard of the sensations of the environments of the forest, the moss, the sea and the tincture of frost, the dropping of the chill, the salted dusting of snow. Looking into the patterning of the flake, I see the fractal sensations of imprint on filigreed print, the curving turns of the crystalline leaves that fold on each other.
In a way, that patterning is the nature of the layering of fragrance — there is one great opening waft, the drift, the touch of the first note of scented experience; then like the sound and song of other sequences.
As I walk anywhere, there are notes of fragrance, the scenting that drift into the edge of my mind and attention. That is it, the linking of that string of sensations — one note, another, one note, another. They crowd the mind and memory in redolence.
Walking the graveled beach, in the height of winter, as I stride into, and onto, the pebbles — salt, and the smell of crushed seaweed, there is a hint of green rot, and a touch of other putrescence — but a glint of sun warms that note to something slightly brighter, a sachet of aged things, changing in the de-composition of time. Things break up — and ice on driftwood, crystalline hoarfrost — an attar of deep winter. There is a pulvil of salt – pitch and creosote — old woods that worked in one life, and floated on the sea, to another.
Arranging them, as a stack of whitened woods, they form a patterning like the stellar branching of the snowflake. That idea of the sequencing of place in experience is something speaks to the depth of how fragrance, can be designed. It is part inspirational, it is part interpretation, it is part science, and it is part magical art. The lilting molecules string together like the weaving of globes of gaseous light — but each, coming from minerals, plants, woods and animals.
Thinking about ice, the winter, stone and sea, I contemplate Iceland.
LuckyScent dropped me a note about Andrea Maack — their intimation: she is "a visual artist from Reykjavik, Iceland. Her work explores the line between art and fashion, using pencil line drawings as the basis of her process to create one-of-a-kind pieces of wearable art. In the last few years, she has expanded her exploration into the world of scent, working with French perfumery Apf to create fragrance pieces to complement her art installations. This led to Andrea Maack Parfums – a small collection of distinctive fragrances based on her art works.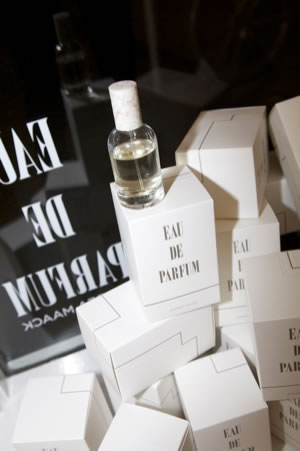 Andrea Maack

An installation, the scent: Sharp

LuckyScent continues: "We know you have questions. How do you turn a drawing into a fragrance? It is a mysterious process, by all accounts. Do fragrances have colors? Andrea Maack says they do. Can a fragrance designed to complement a specific artwork stand on its own as a composition? We think these fragrances do just that. Even without seeing the artwork, these are complex, well-made scents that tell a story. The packaging is clean and minimalist, and the concept is highly intriguing, but it's the scents themselves that we love most about this unusual project."
What I'd offer is the bridging between layers of creativity: drawing, fashion, scent — in generating "projects." These days, everyone has a project, it's a hip way of saying "this is what I'm working on." It's not merely a design challenge, or a creative inspiration, or an exploration — it's got to be coalesced in a manner: it's a project. But the character is even more interesting than the nomenclature, it's the nature of moving from levels of thinking — from one space to another, exploring ideas and dreamy investigations. I applaud that notion. Andrea Maack is mixing the creative metaphors in a way that is similar to others in the realm of design — but, this is different; it's not starting out as a fashion designer, building a brand — then creating a licensed fragrance as a path to build on that brand. She has begun in art, sculpture, drawing, ridged the line to fashion, installations and scent storytelling, and leveraged the amalgam to a new alchemy.
Some poetry on the scents; the three of Andrea Maack — unusual alignments of the synthetic and the natural; phrasing as:

SMART
Eau de Parfum
The violet leaf gives a soft yet spicy violet green feeling to the scent and the jasmine is soft and gentle but very present. The note of buckskin is fascinating, smells like rubber sometimes and also like soft skin. Smart is a wet scent, wet and shiny, but also soft, natural and wild, a scent with antagonism between the artificial (the fake skin/rubbery notes) and the natural consisting of violets, jasmine and vanilla.
Smart Notes
Violet leaf, jasmine, sandalwood, vanilla, white musk, buckskin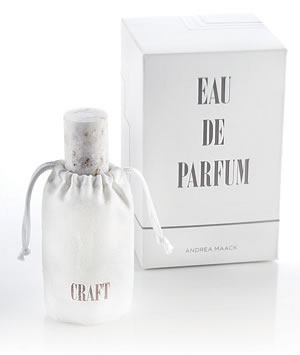 CRAFT
Eau de Parfum
With the aldehyde opening notes, it is like being greeted by a steamy cloud with a tart metallic scent. Like being lost in a foggy forest with metallic trees and citrus fruits hanging from the metallic branches. At first Craft is cold, wet, tart and extremely strange, but also interesting, exciting, unique, but most important, wearable. Craft has huge silage, especially at first when a humid cloud smelling of citrus and metal surrounds you. Craft works really well on men too.
Craft Notes
Aldehydes, elemi, cold metal, ice, cedar wood, patchouli

SHARP
Eau de Parfum
Sharp is a scent that holds a story, a multifaceted fairytale. The different notes are piled in layers, and each one is only briefly exposed. Flower petals resting on matt, white paper, on skin as pale as snow, a note of something medical, sharp, poisonous, narcotic. The "poison" note is very subtle, and gives Sharp an un-expected character and makes it very unlike most scents. Sharp is in a way beyond comfort, softness and smooth vanilla, but a scent that demands attention while wearing it.
Sharp Notes
Orange blossom, angel skin, sweet vanilla, white musk, soothing softness
As with most perfumes, I'm compelled by the perfumer; parfum is design; it happens in the rare memory of recalled and explored place. Perfumers are designers; the design of perfume is the scribing of sequence of flavored mist — I need to know more of them — and you too, your exploration. Links, above, will pull you there. In the meantime, I need to get to Iceland — to connect with newfound friends, and ring in the rippling notes of Andrea Maack — that resonance she's running out to tiers of creative expression. More, to be found. And scented.
Tim | NYC
–––
THE DESIGN OF SCENT: SCRIBING THE LINE OF FRAGRANCE
the reels:http://www.youtube.com/user/GIRVIN888
girvin blogs:
http://blog.girvin.com/
https://tim.girvin.com/index.php
girvin profiles and communities:
TED: http://www.ted.com/index.php/profiles/view/id/825
Behance: http://www.behance.net/GIRVIN-Branding
Flickr: http://www.flickr.com/photos/tgirvin/
Google: http://www.google.com/profiles/timgirvin
LinkedIn: http://www.linkedin.com/in/timgirvin
Facebook: http://www.facebook.com/people/Tim-Girvin/644114347
Facebook Page: http://www.facebook.com/pages/Seattle-WA/GIRVIN/91069489624
Twitter: http://twitter.com/tgirvin