THE *EXPERIENTIALITY OF SENSATION IN
THE AESTHETICS OF AGING AND BEAUTY
When I was younger, I had a proclivity for rust.
I liked walking on rough, more than smooth.
I liked floors that were worn-down
and made of aggregated materials.
I admired sand-blasted things.
I loved old buildings with battered walls, tilting doorways, cracked concrete and imperfect fits. It was more real, somehow, that way.
I liked old tools, old wooden handles, oak barrels, galvanized buckets, aged, beaten metals, rough-sawn timber, iron-cleaved stone. I savored the ghostly: old signage, distressed bricks, buzzed aluminum and salt-bit-steel; I loved weather-beaten barns—and everything inside them.
Rough asphalt, green-struck, root-cracked
and imperfect streets and roads; yes, loved them.
Love them.
Still.
Why is it that we're fascinated by the dissolute?
Why would you think? You might dislike the weathered, imperfect and distressed.
Or:
is it an interest of any kind—collecting antiques,
the pleasure of ruins:
savoring old things,
visiting abandoned sites?
There is an entire Japanese aesthetic that suggests: "nothing is forever, nothing is ever finished, and nothing is perfect." Wabi-sabi admires the lonely, the abandoned, imperfection and transitory, those objects that, in Western tradition might be described as those "left-out-in-the-rain" and, to some Western sentiments, damaged and ruined.
More specifically—the legacy of wabi-sabi tied to two precepts of beauty—those objects mellowed by age,
and objects of rustic utility.
That, sabi, could be translated as: in the loneliness of solitary meditation and presence in the things that surround us—simpler is better, there is a lean perfection in no perfection, as all things are transitory—in the journey of living, no-thing will ever be completed, nothing is finished, it's in transit to the no-thingness of perfection.
And wabi has the character of design—it lies in the tools and objects that function, simply and beautifully, in the sense of rusticity.
That's the handmade hammer.
The semi-toothed saw.
The battered maul
and the rusted awl.
There are some attractive writings, as Western interpretations, that can be enlightening to review, if you're unfamiliar with the highlights of Asian aesthetic ideals.
According to Leonard Koren, [Wabi-Sabi for Artists, Designers, Poets and Philosophers.] wabi-sabi can be defined as "the most conspicuous and characteristic feature of traditional Japanese beauty and it occupies roughly the same position in the Japanese pantheon of aesthetic values as do the Greek ideals of beauty and perfection in the West."
And according to Andrew Juniper, [Wabi Sabi: The Japanese Art of Impermanence.]he notes that "If an object or expression can bring about, within us, a sense of serene melancholy and a spiritual longing, then that object could be said to be wabi-sabi."
For Richard Powell, [Wabi Sabi Simple.] "Wabi-sabi nurtures all that is authentic by acknowledging three simple realities: nothing lasts, nothing is finished, and nothing is perfect."
W notes, "The words wabi and sabi do not translate easily. Wabi originally referred to the loneliness of living in nature, remote from society; sabi meant "chill", "lean" or "withered". Around the 14th century these meanings began to change, taking on more positive connotations. Wabi now connotes rustic simplicity, freshness or quietness, and can be applied to both natural and human-made objects, or understated elegance. It can also refer to quirks and anomalies arising from the process of construction, which add uniqueness and elegance to the object. Sabi is beauty or serenity that comes with age, when the life of the object and its impermanence are evidenced in its patina and wear, or in any visible repairs."
Working in the wet and storm-cast woods, I find it fascinating to study sites of domestic and industrial abandonments.
I've done that all over the world.
Mining outfits, quarry shafts, lumber camps and mills,
factories of countless types.
So here then, an abandoned lumber site,
Western Washington.
I walk this looking for material presence, a meditation on dissolution, things done and gone — to another form.
They're still valuable; they're just different.
Touch as you go.
Sense as you stride.
Scent as you stroll.
What comes of it?
Look down to what you're walking on.
Look to what's above.
Touch as you go.
Tools that were. Are.

Buildings that were.
Are.

There is beauty in the dissolvent.

Moss and iron.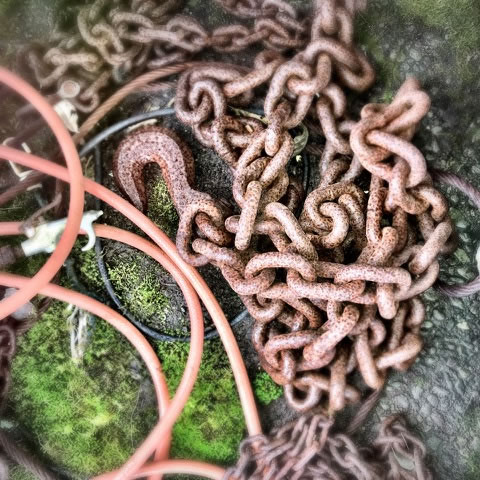 The bridge still works, newly planted.

Toggles: tooled in rust.

Moss in contrast.

Sabi:
textured.

Perfected imperfection.

It's been suggested, that for children, taking them to abandoned factories could be as powerful as a meaningful learning experience as an abandoned factory.
You might note other experiences and excursions you've personally taken — what could you share? Turns out, you're not alone. And of course, there is a topic, ruin-porn, for those that relish the deeper overexposure to the dissolution of places once made.
And the USNational Park System has
a whole set of locations for Ruin Exploration.
T R A V E L
Factory stories | America's industrial past draws tourists in increasing numbers
BY REBECCA POWERS
Washington Post
Seattle's Gas Works Park is just a short
sidetrip from the Burke-Gilman Trail.

BRYAN MITCHELL Bloomberg
Six decades after shutting down, Detroit's Packard Plant – shown here in its abandoned state in 2015 – is being revived with tours of the former auto facility and new tenants. Plans for a brewery and a restaurant are also in the works.

The old No. 2 Hoist House is the focal point of the old Quincy Mine national
historic district on the Keweenaw Peninsula in Hancock, Michigan.
BOB DOWNING Akron Beacon Journal
National Heritage Areas | The National Park Service.
"We're finding a hunger," says Michael Boettcher, an urban planner and industrial-history buff. "Everyone has been to Disney World, and it's like, what else you got?"
In Japan, it's popular to take nighttime boat cruises past glittering industrial superstructures. In Germany's Ruhr industrial powerhouse region, bicyclists meander a landscape that has turned recreational. And in Canada, 1920s wooden grain elevators, dubbed the Five Prairie Giants, draw sightseers to the Manitoba plains.
The appeal? "It gives you a sense of where we've been and how that has made us who we are," Boettcher says.
On a gray November Sunday in Detroit, I joined an assembled group of about 30 people clustered in white hard hats as they awaited a tour of the city's vacant Packard auto plant. Pure Detroit, a Motor City-centric retailer and advocate, offers the excursions; Boettcher was the guide. At the sign-in booth, souvenir Packard Plant Tigers T-shirts were on display, the logo referring to the time a tiger got loose inside the abandoned plant during an ill-advised photo shoot.
FOR FAMILIES WITH CHILDREN GROWING UP IN AN ERA OF 3-D PRINTING PRODUCTION AND WORKING REMOTELY FROM THE COMFORT OF A SOFA, TOURING MANUFACTURING SITES MIGHT BE AS IMPORTANT AS TAKING WILDLIFE WALKS.
For $40, visitors can walk the 1903 structures where workers once punched a time clock and produced voluptuous luxury cars. In its day, it was considered one of the most modern car plants in the world. Now, its oxidized, eerie beauty attracts explorers from distant points, including two from France on the day I ventured inside.
Packard tourists are getting a pre-redevelopment glimpse of the vast complex, which is now owned by international developer Fernando Palazuelo. His company, Arte Express Detroit, plans to invest $350 million into a proposed dramatic transformation, which is in progress.
For now, the sprawling space feels raw and unmanaged, a stark contrast to styled, branded tourist destinations.
The United States is dotted with industrial remains dating back centuries. In Massachusetts, the circa-1600s Saugus Iron Works, called the birthplace of the American iron and steel industry, is a National Historic Site. Alabama's Sloss Furnaces National Historic Landmark, which produced pig iron beginning in 1882, is described as a web of pipes and towering stoves that stand as a "monument to the Industrial Revolution." Among its other current uses, metal arts classes are offered there. And in Seattle's Gas Works Park, a major, creative overhaul included converting a former boiler house into a picnic shelter.
Detroit's Packard Plant, visitors learn, was built in a cow pasture and became a mass-production operation, with 40,000 employees by 1940. Now, six decades after Packard shut down, it's slated for a new generation of mixed-use tenants, including an architectural firm, a public relations company and a barbershop. A brewery and restaurant is planned for one of the smaller buildings. The reinvention is expected to take 10 to 15 years, with the first phase alone requiring 260 new windows, Boettcher says.
As he speaks, his audience fans out in silent awe, snapping photos of crumbling concrete and graffiti that seems to be an effort to rewrite history, a story that includes cars that once attracted the eye of mobster Bugsy Siegel, who owned a 1933 Packard limousine. Packard cars are now museum pieces; five are on display across town at the Henry Ford collection in suburban Dearborn.
In the plant's administration building, arched doorways, dentil molding and detailing in the classic egg-and-dart motif remain. The lobby recalled my own experience as a reporter in an early 1900s-era building — one created by architect Albert Kahn, whose long list of Detroit designs includes the Packard Plant. The stone stairs I raced up and down on deadline were worn down by the feet of generations of newspaper people before me — physical evidence of time, place and work.
The decrepit structures are called "ruin porn" by industrial tourism's detractors. "I have a hard time hating the term," Boettcher says. "It's pithy. But there's so much to know. What's behind it. What made it that way."
Steven A. Walton, executive secretary of the Society for Industrial Archaeology (SIA), an organization that seeks to preserve the nation's industrial heritage, says sanctioned and preserved manufacturing sites tell us the "stories of our own mothers and fathers and grandmothers and grandfathers."
Walton, an engineer and professor of history at Michigan Technological University in Houghton, Michigan, says such places also provide an understanding of production. "Even in a gutted factory," he says, "bolts and stains and tracks on the floor, overhead cranes" show the division of labor, of "thousands of people working in a coordinated symphony."
Many such sites are being preserved to illustrate the former manufacturing way of life.
In the 1990s, the Rivers of Steel National Heritage Area was created in eight counties in Southwestern Pennsylvania around Pittsburgh. Last year, a record number of people toured the area's four industrial sites, a spokesperson told me via email. The Rivers experience highlights the steel industry and also showcases historic graffiti and the work of guerrilla artists, who built sculptures in the abandoned structures during the era of abandonment. The impact of industry on the environment is also a focus.
In Dayton, Ohio, the Wright Co. airplane factory, built in 1910 for flight pioneers Wilbur and Orville Wright, is now part of the National Aviation Heritage Area. Monthly tours are offered while the property remains under negotiation and restoration.
The Aviation Area's website includes a video statement from David McCullough, the Pulitzer Prize-winning historian and author of "The Wright Brothers." In the video, McCullough describes the importance of preserving manufacturing history.
"I'd like to be able to walk in here and see their airplanes being built in various stages," he says. "I'd like to see the tools that were used. The saws, the lathes and that sort of thing. I'd like to see where they had lunch. I'd like to see the whole world, the whole reality, the community at work."
McCullough says early airplane production was one of the most important developments of all time, one that changed the world. "Structures contain a story of importance to the country and the world," he says.
They also tell the story of our consumption.
As Canadian photographer Edward Burtynsky, a 2005 TED Prize winner whose work has focused on industry, said in his TED speech, seeing factories prompts us to consider "the collective appetite for our lifestyle and what we're doing to the landscape."
For families with children growing up in an era of 3-D printing production and working remotely from the comfort of a sofa, touring manufacturing sites might be as important as taking wildlife walks.
In another kind of environment — a man-made one that generated a soundtrack of clangs, hisses, grinding, knocks and roars — they'll hear the lingering silence of what once was.
Working vacations
Industrial structures are being reimagined as art galleries, event spaces, museums and parks. They're also being preserved as tourism sites that highlight early manufacturing. Here are some to consider.
You might wonder, what's the threading between the opening wabi-sabi discussion and American factories?
What I offer is that the whole premise of elegant restraint, subtle understatement, mellowing of objects in age and rustic utility are esoteric Asian disciplines of aesthetic thinking.
How could that be applied elsewhere?
Just look and seek what you can find.
Tim | GIRVINSTUDIOS | TACOMA, WA
––––
Rethinking Beauty:
Brand Strategy & Visualization
Girvin BrandJourneys® http://bit.ly/1sSgbOB
*Think of experientiality as a state of holistic experience. Experiential is a patterned word, founded on the same premise as "inferential."
Experientiality, while it might be presumed by some as a fabrication, is a studied condition.