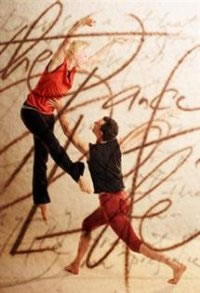 Creativity, Dance, Business and You
An event, benefiting the Seattle Dance Project Group, The Ruins, Seattle. 9/27/09 1.00pm-4.00pm.
There's a distinct alignment between the spiritual principles of dance and the living life of brand development. If we quickly shift the metaphor of brand from one modeling to another — from overused marketing gook to a form of messaging that's literally thousands of years old — we can slide the metaphorical imagining of brandstory to a new tier of expression. It's less about marketing and strategic underpinnings, and more about the idea that brand, spirit, persona and the human components of experience are attributes of definition, resonance and relevance.
Pretty simple, really.
But, like dance, it's something deeper than merely being about commerce and enterprise alone. It's further into the psychic landscape of humanity. Being a brand, or working on the development of one, requires that you must realize that the action lies not on what is obviously on the surface, but what lies beneath.
• The brand is about fire – it's the firing telling that brings people together.
• People like stories, it's how they think and how they relate their own life experiences. Sharing happens that way.
• Humans are looking for things to love — yes: people, yes: other things that people make.
• When a person tells a story to one person, or learns a story — there's a reflective sharing — what goes around comes around.
• Communities are initiated by one person, then two, then more. Communities grow in communication — as a commune, they hold a common belief.
• There are brands that have ringleaders, they start the story, ignite the fire, build the brand, expand the circle of the legend.
• Brands can't survive without communities. It's the cumular connectivity of mind, sharing, exploration and experience. It's there that the unforgettable happens. People remember.
Allegorically, the notion of dance — and brand — is about movement, beauty, the scripted signature of bodily calligraphy, arching through space in the synaesthetic experience of holistic expansion of sense in absorption. And, more, fascination. Metaphor. Beauty. Myth. Symbolism. Archetype. Dimension. And the cumularity of mind, gathered around the proposition.
All of this to be explored, one week from today.
And more.
Join us.
tsg
….
Brands | love | humans:
work: https://www.girvin.com
truth: http://www.tim.girvin.com/
reel: http://www.youtube.com/user/GIRVIN888
blogs:
http://blog.girvin.com/
https://tim.girvin.com/index.php
communities:
TED community: http://www.ted.com/index.php/profiles/view/id/825
LinkedIn: http://www.linkedin.com/in/timgirvin
Facebook: http://www.facebook.com/people/Tim-Girvin/644114347
Twitter: http://twitter.com/tgirvin
Tim Girvin | GIRVIN | girvin@girvin.com
c. 206.890.0621
New York City + Seattle | Tokyo