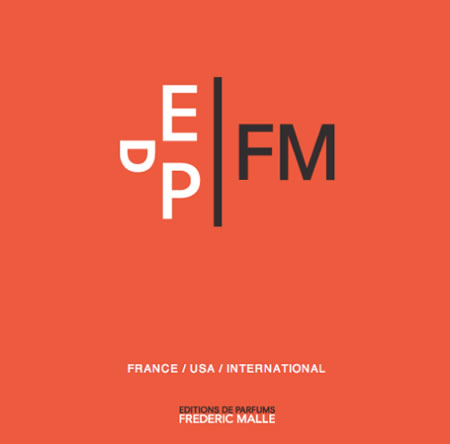 Frédéric Malle's Editions De Parfums | Perfumed Environments: The Design of the Fragranced Retail Experiences
There is an emergent strain — a marketing movement — that speaks to the spirit of the celebrity of perfume, the designers of the architecture of fragrance. A recent notation in Forbes, by Hannah Elliott, "The Nose Knows" opens with the declaration of Yann Vasnier, and his exudation of French cool, "A taciturn Breton partial to Givenchy suits and vacations in St. Martin, he frequents such à la mode nightspots as Manhattan's Boom Boom Room and Parisian cult favorite Derrière."
But the spirit of celebrity scent design strategy needs to be more, as Hannah notes, "The man's got talent, too: His 11th floor office in midtown Manhattan holds hundreds of bottles of perfume components that Vasnier will alchemize into scents for Givaudan, the world's largest fragrance and flavoring company. It's a high-profile job, at least among a certain elite: Vasnier's latest creation, Marc Jacobs Bang, was advertised by Jacobs himself, lounging nude on a Mylar bed strategically holding a giant bottle of the juice on his lap."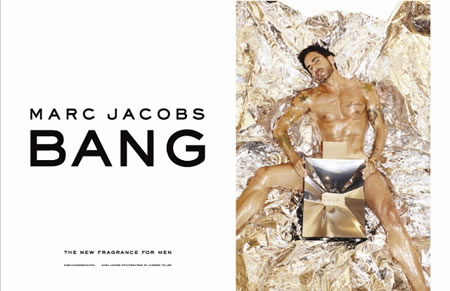 Still, this tradition of building some of the most profitable attributes of brand offerings are oftentimes shadowy and mysterious. It's rare, even, for brands to announce who designed their fragrances. But that is changing — there is a distinct and long running art to the assembly of the notes of inspiration in the building of a scented masterpiece. Like the architect of a structure — there is an entrance, a walking in, a scent of the larger "place" — and then, as the day turns, textural notes and light, turn the house to another sense of transition and illumination. The scent stays, flows out into the heat of the body and the movement of time — the scent fills out, the day moves on, and the poetry diminishes into memory. Perfume, like architecture, has staying power — but it, too, shall dissolve.
But as Hannah Elliott notes, "the days of sniffing in obscurity are a thing of the past. Like couturiers and chefs before them, perfumers are stepping out from behind the brand names and becoming status symbols– and selling points–themselves. Some luxury labels hope that connecting the artisan to the aroma will sate buyers' desires for the authentic, the handcrafted, the auteur-guided."
This idea of building brands on the legacy of scent designers — their especial skill — is something that is epitomized in the strategies of Frédéric Malle. But the real character of Malle's work relates more to his holistic thinking about design — designation of scent as a curated strategy of business building. As a designer, studying Malle, the observer has to sense that the spirit of designed thinking needs to be the underpinning for everything that he does. It's this compositing that I find the most celebrated in the holistic sense of the Malle collections. Malle, as a designer of thinking tactics in telling fragrance stories has gathered this sequencing, referenced in this collection — gathered by Fragrantica:
The blog notes that "Frédéric Malle fragrances were made in collaboration with perfumers Jean-Claude Ellena, Dominique Ropion, Maurice Roucel, Olivia Giacobetti, Pierre Bourdon, Edmond Roudnitska, Ralf Schwieger, Edouard Flechier, Michel Roudnitska and Sophia Grojsman." But in each, the supreme art director, architectural commentator, editorial expert was Frédéric Malle — who has not only envisioned the sequencing of his evolving collection, but as well, the artists of their design.
Fragrantica overview:
Angéliques Sous La Pluie
for women and men
2000
Bigarade concentree
for women and men
2002
Carnal Flower
for women and men
2005
Cologne Bigarade
for women and men
2001
Dans Tes Bras
for women and men
2008
En Passant
for women
2000
French Lover
for men
2007
Geranium Pour Monsieur
for men
2009
Iris Poudre
for women
2000
L'Eau d'Hiver
for women and men
2003
Le Parfum de Therese
for women and men
2000
Lipstick Rose
for women
2000
Lys Mediterranee
for women and men
2000
Musc Ravageur
for women and men
2000
Noir Epices
for women and men
2000
Outrageous!
for women
2007
Portrait of a Lady
for women
2010
Une Fleur de Cassie
for women
2000
Une Rose
for women
2003
Vetiver Extraordinaire
for men
2002
See Fragrantica, the blog, for added explorations
This is just the beginning, in speaking with Margaret Magnuson, an enthusiastic and articulate sales colleague at Malle's Madison Avenue shop — he's expanded his line and offerings continuously and more can be found here at his site.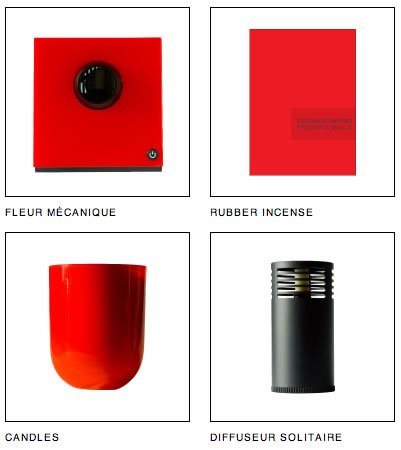 In contemplating the nature of design, in place-making, and the nature of experience development, Malle's strategies of aligning his brand sensibilities are perhaps unrivaled. His modeling, aside from the earlier allegory of fragrance and the architectural design of "the place of perfume" has an editorial cant — he notes, at the site, ""When I came up with the term 'Editeur de Parfums' ten years ago I was determined to liberate perfumers from the kinds of restraints often imposed by marketers and focus groups.
I work as an editor works with writers. I give these 'fragrance authors' complete freedom to explore and express their ideas. Each perfumer is free to use the most innovative technologies and the rarest raw materials the industry offers. This freedom drives the artist to construct a scent without conventional boundaries and to refine his or her idea and formula to the most precise detail. When it is achieved, I publish it at "Editions de Parfums Frédéric Malle."
Malle's spirit — the quality of his thinking and contemplations of a new modeling for editorial design of books of scent might be evinced in the exposures of his childhood — which venture to both the side of perfume, as well as the artful and literary, as his site notes — "raised amongst the stylish and intellectual Parisian society of the 60s and 70s, Frédéric Malle" later gathered influential experiences and "further dimension to his understanding of aesthetics, architecture, and modern design by undertaking an Art History degree from New York University and the Sotheby's Works of Art Course." But it was his youth in Paris that perhaps defined channeled course to envisioning scent, it was in the family — Malle's maternal grandfather was the beginning — "Serge Heftler, founded Christian Dior Parfums, where he promoted a sense of chic with the opulent Miss Dior and the minimalist Diorissimo. Frédéric Malle's mother also worked in the industry. She was the Art Director of Christian Dior Parfums where she collaborated with perfumer Edmond Roudnitska, on the ultramodern Eau Sauvage. Later in 1985, she was instrumental in the creation of Poison with perfumer Edouard Fléchier." From the age of five Frédéric Malle accompanied his mother on Thursday afternoons to her office at the Dior factory where he was exposed to the production of perfume. From these early awakenings, he saw the creative direction from start to finish. The story continues.
His experiences and explorations – and relatively classical fragrance training led to the foundational principles of his retail development. In an interview, to the nature of his collaborative vision, his curation of masters performing masterworks, belies a kind of modesty.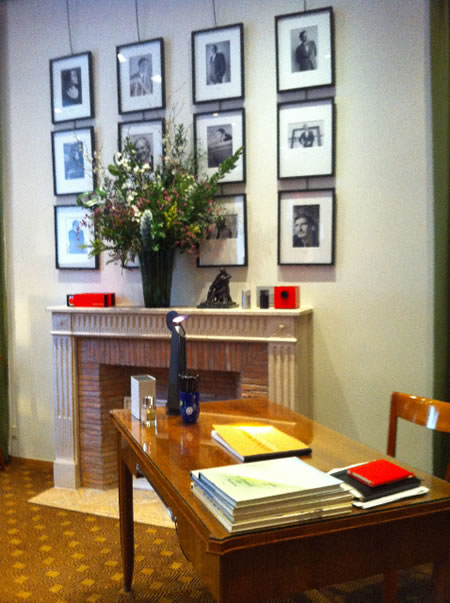 "I work for the guys on that wall; they don't work for me," pointing to a constellation of black-and-white portraits hanging over the mantel. According to Michael Slenske, "the photos put a face and name to 11 of the greatest perfumers in history — from Jean-Claude Ellena (now the in-house nose for Hermès) to the late godfather of modern fragrance Edmond Roudnitska — nine of whom helped Malle launch his industry-changing brand, Editions de Parfums."
To the links of design, and place making, the alignment is perhaps exemplified in Malle's strategies of his salons. Designing environments for perfume is complex — being born on the movement of air, the very nature of their presentation is vaporous — scent on scent, it can become indistinguishable to any visitor. Malle's designed his environments to be receptacles of experience — there are smelling stations, futuristically designed tubular stations, with beautifully executed details, to allow for the careful consideration of fragrances. And it is in the design and disposition of these elements that Malle invested his financial resources — as well as the integrity of the materials of his products. Malle references that "he certainly didn't have the unlimited budgets for multinational ad campaigns and A-list celebrities like the fashion houses did. So he leveraged the one asset he had in spades: unrivaled connections."
"Connections are huge," Malle admits in an article in American Way. "All of these people are my friends. Most of them come from the same lab. The idea for Editions de Parfums came from me, yes, but it also came from all these perfumers telling me they were bored of doing the same thing over and over and over again."
The branded concept, Nouvelles Éditions de Films, also had a familial legacy — the production company created by his uncle, the award-winning director Louis Malle. And that inspiration was simple but profound: "Allow perfumers to approach their creations as if they were writing a novel or crafting a piece of art, with Editions serving as the publishing house/gallery. Money would be no object: They'd work with only the finest raw materials, and they wouldn't stop until real art was achieved."
My firsthand contact in fragrance design experiences in Paris was at Creative Fragrances, and the offices of Pierre Bourdon, who had created the iconic Cool Water for Davidoff. It might be said that the marine waft — that scent notation — was innovated by Bourdon's scenting genius, a legacy of expertise, like Malle, who also worked at Roure in the '80s. "Malle gave him one caveat. 'I said, 'Let's find a way not to be copied. The people who others copy go cheap.'  "
The opening offering was the butter-like, musky, modernist floral aldehydic named Iris Poudre. Malle says this perfume "set a precedent for all the perfumers who work for me." Malle birthed the fragrance at the opening of his perfume boutique on Paris' Rue de Grenelle on June 6, 2000, along with eight other highly crafted and edited unisexual fragrances. The revolution begins.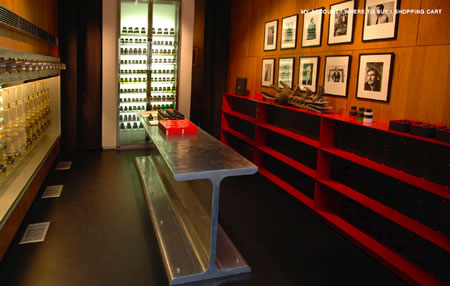 To examine the idea of scent design and architecture, beyond the earlier allegory of the patterning of perfume, there are expressions in Malle's design strategy that are worth studying. Presently, Malle has three stores in Paris, a new space (where these images are from, shot several months back) on Madison Avenue in New York that opened last October to rabid commentary, and has expanded with more than 50 miniaturized shop in shop versions around the globe in premium department stores. These include Liberty of London, Holt Renfrew and Barneys New York, which maintains an exclusive U.S. Editions since 2002 — with new mini stores in each of its locations echoing Malle's boutiques, fitted out with photography of the master noses, color and material treatments, scenting chambers and Bauhaus furniture.
The visual story unfolds:
The patented scenting chambers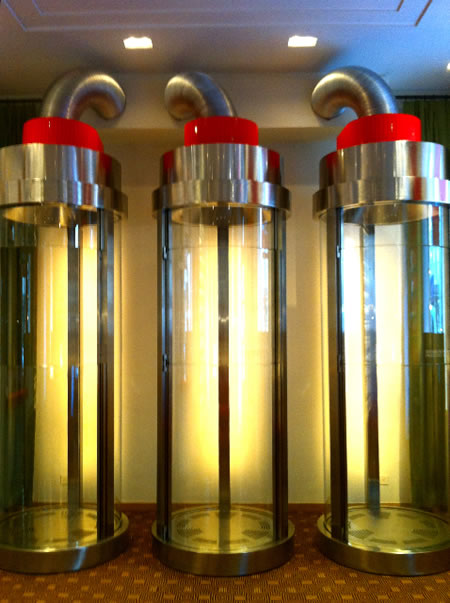 Refrigerated fragrance cabinetry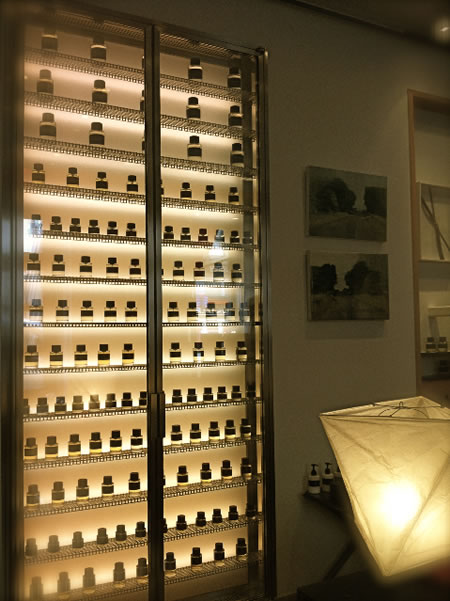 Artifacts and bottled sampling with vented substrate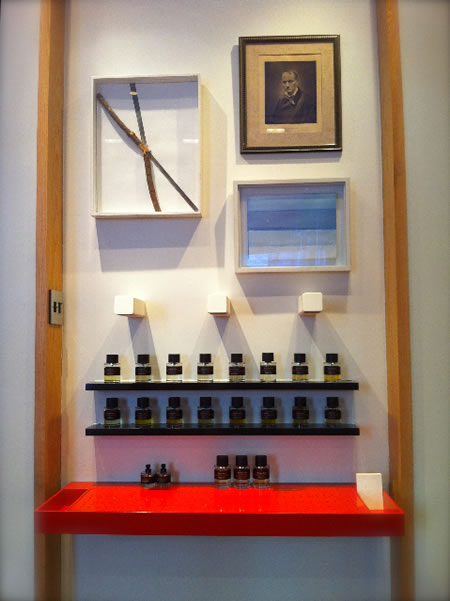 Scented lotions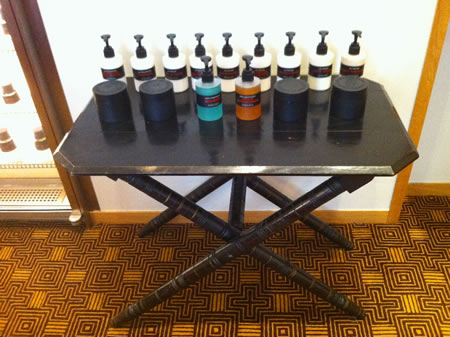 Glassed candles (for scent containment and sampling)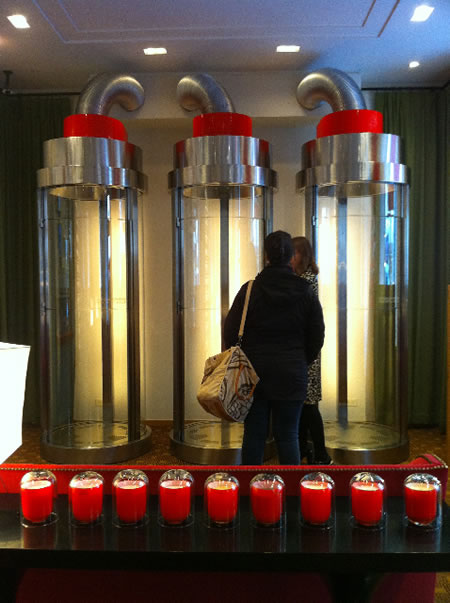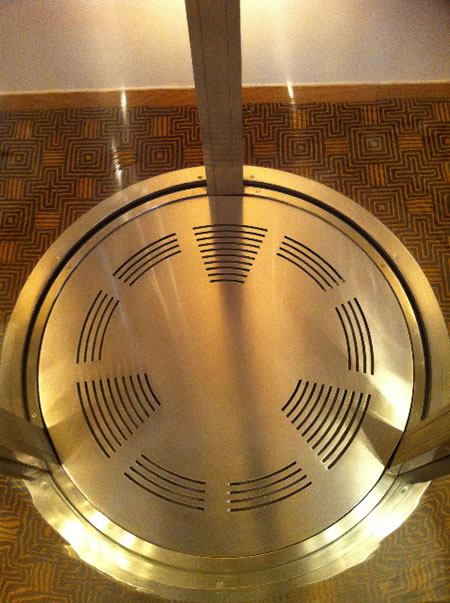 Editions overview and booklet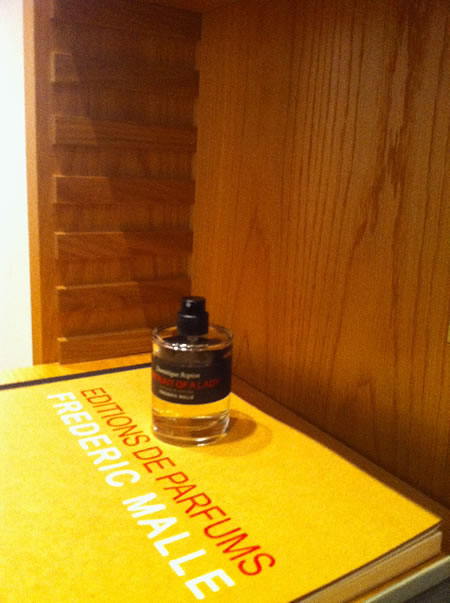 Boxed candle presentations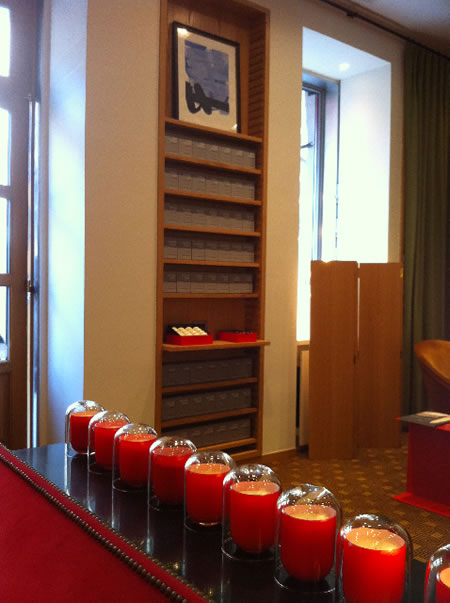 Perfume dispersion design boxes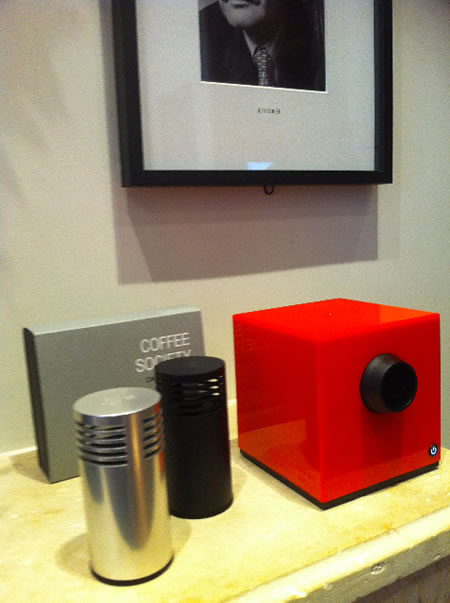 Soaps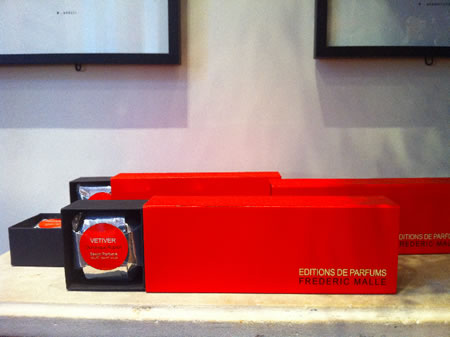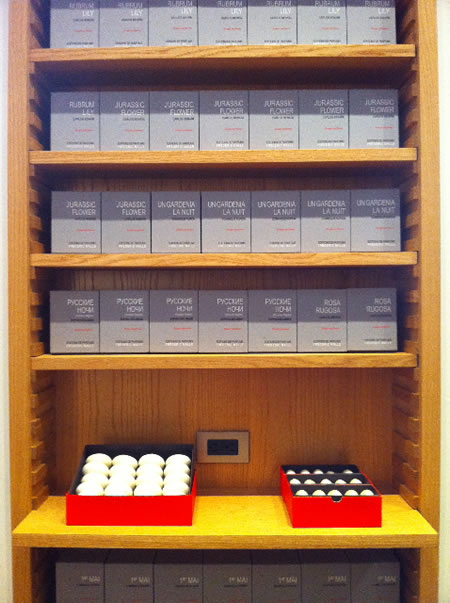 Signing treatments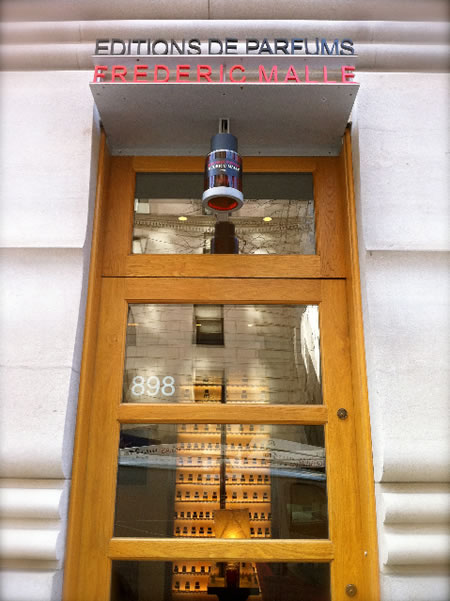 (Photography | Girvin)
The idea of scent – the gaseous, the mysterious, the molecular, the wafting – designing a portfolio space for this experience, it's something newly disciplined in the spirit of Malle's visioning. He combines a sophisticated Bauhaus influence with a kind of technical, scientific romance — gadgets and wonderment — stirred in asian touches, artful collections and the acknowledgment of his stars belies a holistic brand that is like no other.
To build a brand that is spiritually "un-copyable" might be staked as the premise — and the power — for his storied vision and efforts so far…
tim | Madison Avenue, off 72nd — NYC
GIRVIN'S EXPLORATIONS ON SCENT DESIGN:
The cloud and experience | http://bit.ly/fqHmEd
the reels:http://www.youtube.com/user/GIRVIN888
girvin blogs:
http://blog.girvin.com/
http://tim.girvin.com/Entries/index.php
girvin profiles and communities:
TED: http://www.ted.com/index.php/profiles/view/id/825
Behance: http://www.behance.net/GIRVIN-Branding
Flickr: http://www.flickr.com/photos/tgirvin/
Alltop network: http://my.alltop.com/TGirvin
Google: http://www.google.com/profiles/timgirvin
LinkedIn: http://www.linkedin.com/in/timgirvin
Facebook: http://www.facebook.com/tim.girvin
Facebook Page: http://www.facebook.com/girvindesign