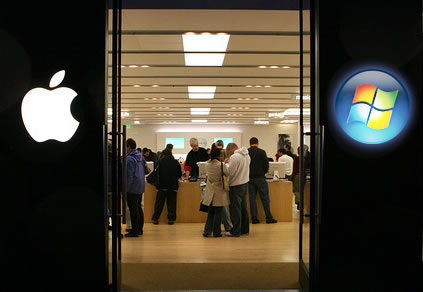 Image from TechFlash
Taking pictures of Microsoft's opening retail with iPhones.
Sometime back, a friend of mine offered to introduce me to the new leader of Microsoft retail. I won't mention either name, since it's pointless now — I never connected, either by phone, email or any other form of link — live or otherwise. Mostly because, as we learned later, the new leader wasn't really interested in developing any new relationships because he already had his own team, a group that he brought with him.
And so it goes. Trying to open a dialogue with someone who's tasked with an important mission — and trying to pitch that paramount perch, can surely be fraught with a bucket of cold water in challenges. Simply, you just might not ever get through, even though you're being "introduced" by a respected pillar in an organization.
I do that all the time. I reach for places that I'm not supposed to be reaching. That's actually the legacy of Girvin — the firm — over the last number of decades, reaching to the top to explore, continue to ignite curiosity (my own) and drive opportunity for client relationships, my teams and potentials in the future. I'd rather keep working on things that I've not worked on, then to continuously be pondering the same old. But in a way, you might say that it's all same old — since it's all coming back to brand, strategy, story, message and holistic visualization.
I just put together a gathering of all the blogs on Apple that I've written, in sending a note to Steve (Jobs). And I realize the power of that relationship, the time and the learnings that I've been exposed to, over time. I'm grateful for that. So when I went down to Apple for the first time, my connection was with Steve — directly. And perhaps that's part of the cultural implications of connections there — leadership ring, brand guidance and the hand at the helm. While I've got plenty of friends at Microsoft, connecting with them can be a challenge. Perhaps that's because I've written too much about Apple, and less about Microsoft. But an absence of interest in meeting me doesn't really mean much. Culturally, there are intimations that suggest how they manage relationships and resources, and how one might find exposure to Apple.
The straight out commentary of course is that Microsoft is shooting to continuously push the power of their brand over Apple. And the continuing boost to explore on that front really relates to how well they can share the cultish vibe of Microsoft — the community love of the brand — and the implications for their relationships. To push, of course, means looking at angles that are strategically more about replaying the notion of "we're better, you're not". Ballmer has evidenced the success of this strategy in this campaign, modeled by actress — Lauren — in the storytelling of actor / PC purchase / cheapness. According to Ballmer's positioning, it's working. PCs versus Macs, playing on the public's growing need for cost-effective computing in the midst of a global recession: "All of our research shows that our 'I'm a PC' ads – that talk dramatically about the price of Macintoshes – work quite effectively," Ballmer said during a Q&A session following his July 14 keynote speech. "We've gained market share quite effectively against Apple over the past six to nine months."
Hiring George Blankenship, the former real estate maven of Apple's ingenious strategy of global marketing and retail storytelling, is one move that might help them. Blankenship, who spent much of his career at Gap, is an expert in securing prime retail locations. A Microsoft representative confirmed that he's now working on real estate with Microsoft — but as a consultant, not as a full-time employee. The company declined to go into any detail on his role, but his experience stands to offer a significant benefit as Microsoft pushes into the retail market.
According to TechFlash founder, Todd Bishop, "Microsoft first revealed its retail ambitions in February, when it named former DreamWorks Animation and Wal-Mart executive David Porter its corporate vice president of retail stores. In the past, Microsoft executives have downplayed the notion that Microsoft is merely copying Apple's retail strategy. Earlier this week, however, Microsoft chief operating officer Kevin Turner (also a former Wal-Mart executive) said the company would be opening its first stores this fall — including some "right next door to Apple stores."
I'd discount that sense of comparative alignment — there are many commentaries out there that suggest that Microsoft is, again, following Apple far beyond the implications of strategy. And it shows. To compare, explore this reference, as well as this visualization, to understand the design language of Apple's retail concerns. The real challenge will come in the numbers. Apple's retail sales are more like the luxury imprint that's referenced in the latter blog link — at nearly $5,000.00 per square foot, that's right in keeping with the best day of a Louis Vuitton (during a good year) on 5th Avenue. That kind of retail magnetism will be sorely hard to beat.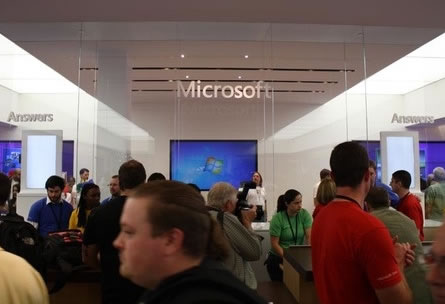 We'll see.
Speaking of seeing, from Gizmodo, here are some images (above and below) from their exploration to the Scottsdale opening. It's interesting to me, given the potential to knock one out of the ballpark on a uniquely Microsoft premise of holistic brand design, that they chose the path of flattery.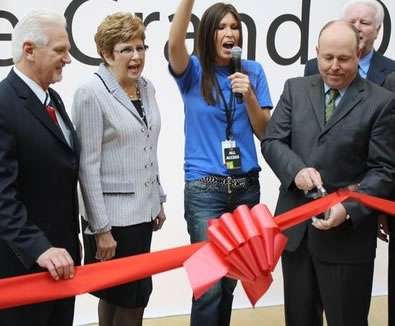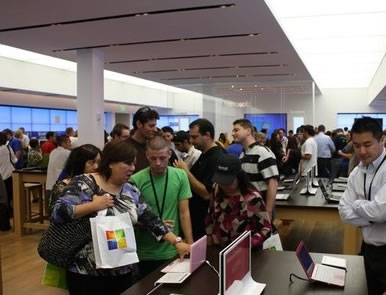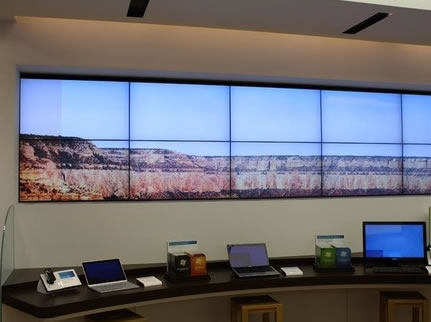 You can find more here.
I'm curious of course, about your thoughts — do you think this looks, feels, sounds like…
tsg
….
GIRVIN | E X P L O R I N G BRAND STORY | RETAIL
the work: https://www.girvin.com
the truth: https://tim.girvin.com/
the reels: http://www.youtube.com/user/GIRVIN888
the profiles:
TED: http://www.ted.com/index.php/profiles/view/id/825
Behance: http://www.behance.net/GIRVIN-Branding
Business Profiles: http://bit.ly/MtCTK
Flickr: http://www.flickr.com/photos/tgirvin/
Google: http://www.google.com/profiles/timgirvin
LinkedIn: http://www.linkedin.com/in/timgirvin
Facebook: http://www.facebook.com/people/Tim-Girvin/644114347
Twitter: http://twitter.com/tgirvin