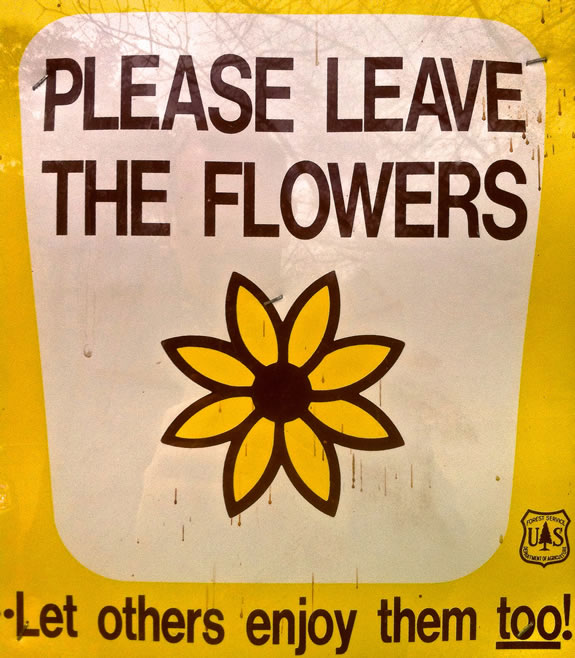 Drawing People
[in] with Flowers, the Flow
of Story in
the Craft of
Rendering Ideas
In my beginnings, I drew flowers — and sold them as art pieces and gifts; then, at Christmas, I did groupings of flowers, silkscreened and signed in limited editions of thousands. People collected them. The list grew and grew, so that Christmas time became days of work signing the full sized serigraphed prints. I'd go places, visiting recipients and find that the flower prints were the key art in office suites, Doctor's offices, clients, and friends' homes.
I was surprised how popular they were. Aside from their sheer graphical power, strikingly colored and profoundly saturated contrasts — they were simple treatments — brush-stroked renderings I still have parts of the run of every year during that period.
What I realized, in the end, was that aside from their "prettiness" it was the fact that they were of archetypal imagery. Everyone has a relationship to flowers — they, in their inherent symbolism spoke to the opening that each of us feel — we see a flower and its type, its coloration, each reflect and say something about who we are,
and when our
hearts first opened.
That patterning of the seed, the shoot, the stem, the bud, the efflorescence of blossom, the pistil and the stamen, the petal, the curling leaf — each part is symbolic, each tells a story and each reaches into our history, and the individual psychic place of memory and what we hold in our lives going forward. What we hold is everything; it's what we carry — and in the etymology of carrying, from the Latin relatus — it is our relationships, and the stories that we pass into our communities.
Later, I thought that the 18×24″ posters were too complicated to build, sign and distribute, [often me, carrying dozens, like a poster hanger to offices all around the town] so we created another version — a string of them, over the course of a couple of years.
Let us know if you'd like one.
Is it possible that flowers are really emblematic of flow?
Flow,
notes from
our past.
To flower is to flourish.
An offering like these,
to story, is a bridge to
the gesture to
the state
of flourishing.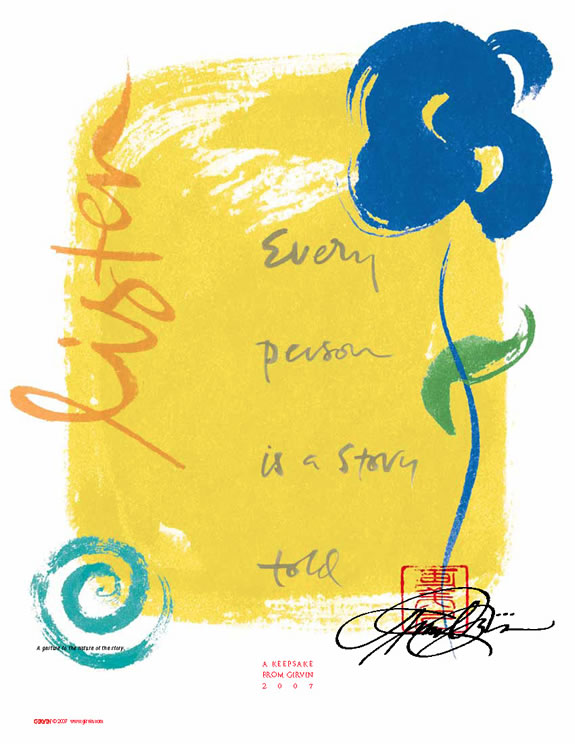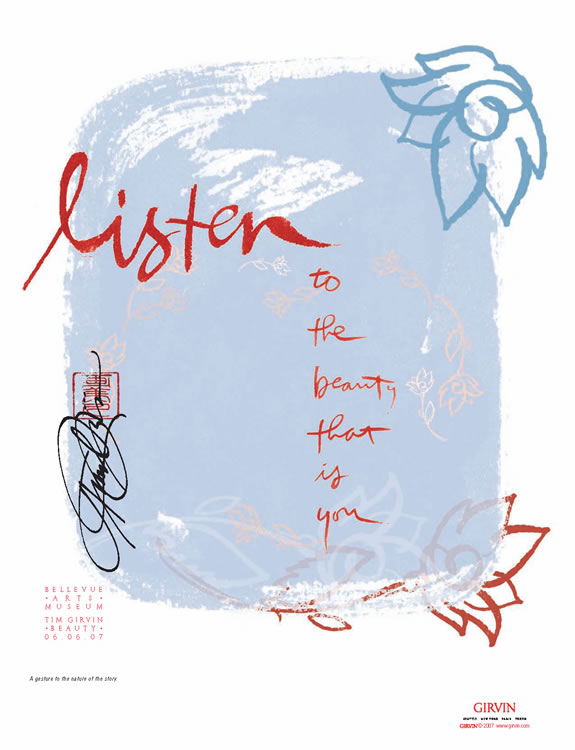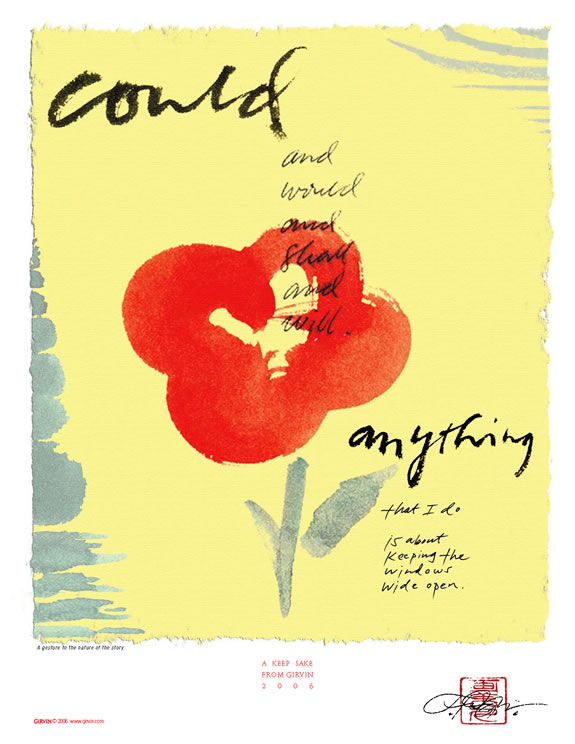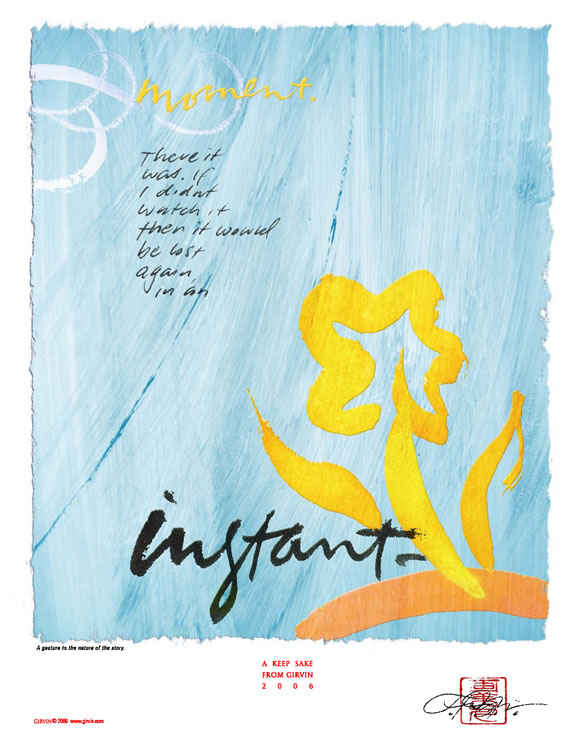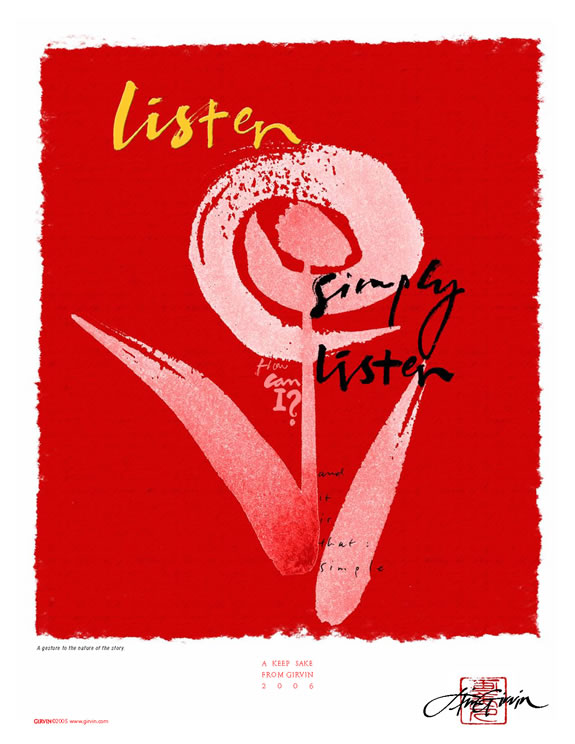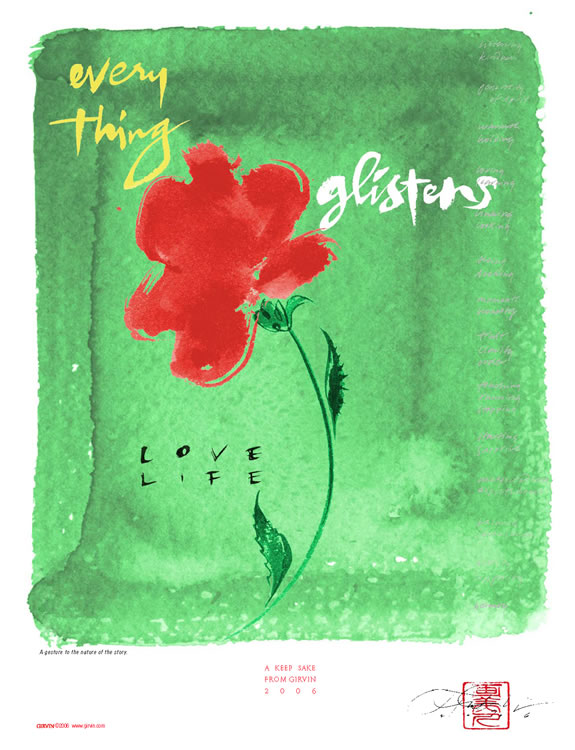 Explore
as you will,
and let us know
if you'd like one.
TIM | GIRVIN | DECATUR ISLAND STUDIOS
….
THE STRATEGY OF IMAGINATION +
HOLISTIC WELLNESS = PLACE
DESIGNING ENVIRONMENTS FOR HEALING + HEALTH:
PLACES | RETAIL | RESTAURANTS | SPAS | WELL CENTERS
wellness experience design, storytelling + brand = http://bit.ly/XIQ0vm
teams: New York City + San Francisco & Bay Area + Seattle | Tokyo