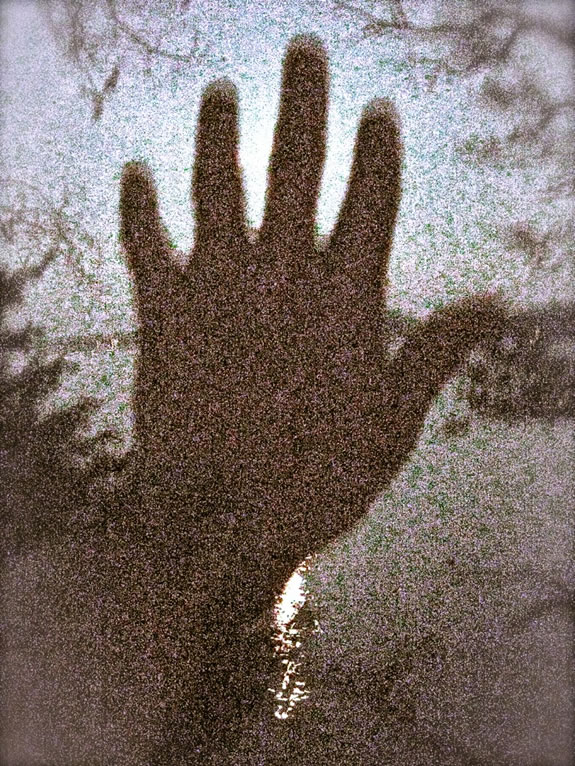 The Grace of Handwriting:
Soul Drawings
It is the physiological nature of our being that what the hand offers reaches back to the psychical current of the mind.
In the journey of drawing,
learning the way of The Seeing Hand,
I was studying the treasury of
master drawings gathered by Colin Eisler.
I picked up that book in HighSchool.
1975
What I noted in that work,
the gathering of drawings,
was the distinctiveness of each master,
his or her stylistic gravitas — something almost chromosomal in their lines, their seeing, their hand and the gestures of their renderings.
Writing, too, is a kind of drawing — in that it draws out from the soul and mindfulness of the person, and the electrical impulses of the eye to mind, the dreams and poetic evocations, the ideas, and finally that electrical jag from brain to shoulder, arm, wrist, finger tips and tool.
What I note in contacts with relationships, friends and clients, in a handwritten missive from me, dozens of people have
"thanked me for that handwritten letter."
It meant more.
Hand writing does mean more, since it's hand-touched.
Letters to one.
Letters to teams.
Letters to people.
The letter, made by hand, tells a different story.
The journey is more profound, because it's been touched.
And emotion is touched.
Touch more.
To today, a legacy in passage in the memorial services
of fashion maestro Oscar de la Renta,
a "forever restless" designer.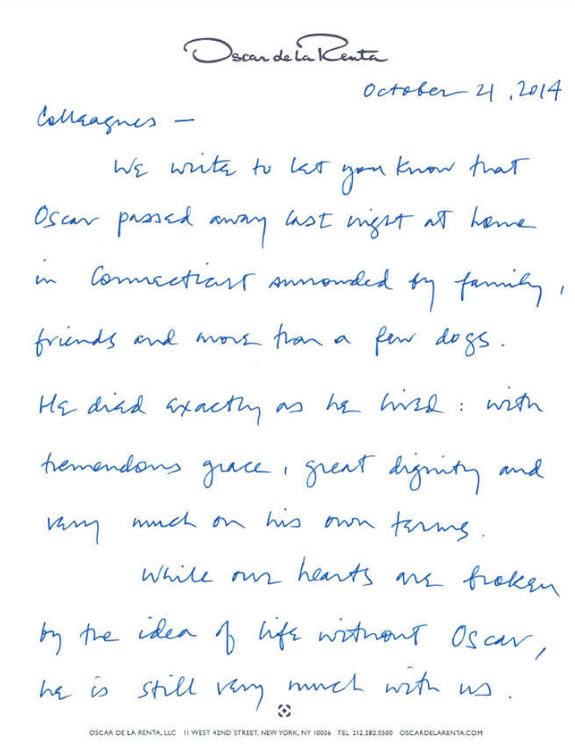 How was his passage
conveyed to those closest?
By hand.
The designer's stepdaughter Eliza Reed Bolen and her husband, Alex Bolen, released a handwritten tribute to Oscar de la Renta, saying, "He died exactly as he lived: with tremendous grace, great dignity and very much on his own terms. "May his soul R.I.P."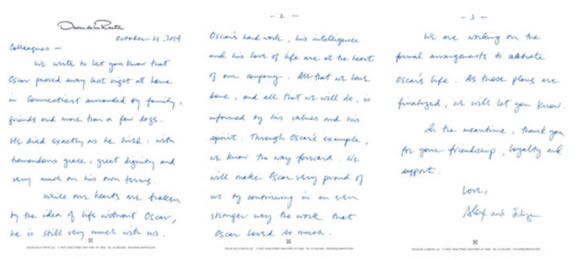 Grace, dignity and
emotionally compelling and captivating.
The point, as I've offered in
a range of earlier blogs,
is that the hand draws out wholly.
In my experience, working with hundreds of people,
I know that reading a handwritten note,
I can read into them.
Energy.
Character.
Fluency.
Clarity.
Balance.
Organization.


You go on
and make your way.
Watch what you write, and
the care with which you draw it out.
Like these signatures, in honor of Oscar de la Renta.
May his family find solace,
and may he rest in peace.
TIM | GIRVIN | Decatur Island Studios
….
THE STRATEGY OF RE–IMAGINING
HOSPITALITY & GUEST ENGAGEMENT
>DESIGNING ENVIRONMENTS FOR UNFORGETTABLE PLACES:
HOTELS |RESORTS | SPAS | RETAIL | RESTAURANTS |
SPAS + WELL CENTERS
Happiness experience design, storytelling + brand =