THE ALLEGORY OF THE WAVE WATCH, THE BOARD,
THE TREND AND THE CURL.
My first exposure to waves was when I was about 4 years old — my father was a Captain of Surgery, stationed at Fort Monmouth. We used to go to the Jersey shore — and Dad would run me down to the beach — with me on his shoulders and into the waves we'd go. He'd be submerged and I'd be above — supposedly — the breakers. What that actually consisted of was big waves, complete submersion, and lots of saltwater swallowing. And unforgettable memories of being with my Dad. But this taught me the great lessons of ocean surveillance — "never turn your back on the Sea."
I go back. As a teenager I used to run out far and deep to the breakers off the North Washington coast. The bigger concern was the sheer sub 40ºF. temperature. But these are long sand-dune expanses, and the rollers curl on vast sandy hillocks and deeper water dark-outs of sloping grades to the blacker depths of the ocean. Rips pull the paddler — whether a bobbing surfer, a finned swimmer or a drifting body boarder in a strictly north-south magnetism. And the waves keep coming.
I've started that again — surfing —
after stints in Hawaii, Kaua'i and Mau'i.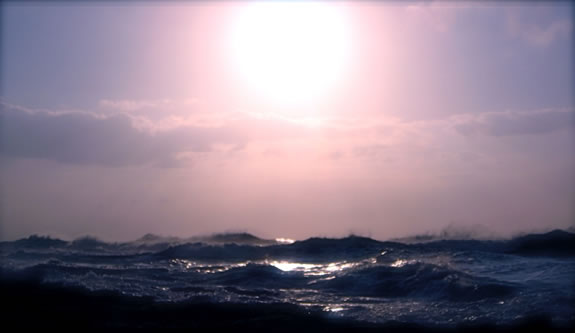 Back to the bone-chilling Washington Coast.
The rolling collison chaos of the waves and
the rough saline explosive slosh —
the reach-back of outward bound waves,
crashing on the incoming creates a wildly enticing metamorphosis.
The sheer scent: salt, sun, sand
and forest is sparklingly alive.
The key to the wave movement lies in
these Wanderer cards
that I'd drawn long back:
The
RHYTHM


Listening to the waves
A flowing quietude
Illusion
The
WATERSPOUT


Understanding integration
As above, so below
Evaporation
The
SWIMMER


Immersion in life
Finding the flow
Drowning
The
CHAOS


Embroiled in the storm
A cleansing recharge
Destruction of knowledge
AS A SURFER,
WAVE-RUNNER,
you need to watch the patterning,
note how the waves sequence
themselves in relationship to the shore.
Watch how they break — how long the curl?
It is at the moment — knowing the curl — that you can ride that wave for hundreds of feet, all froth and action, all salt and spray —
new things to be seen, in seaworthy scene.
It's the watch that counts
and the patience of your measure.
There is a moment to kick into the wave,
to carom out on the crest, ride the wave,
then another, that glide out to the next string of waves.
What that means to brand,
there is a rhythm to rightness, the moment when the curl is right, the song sings loud and that momentum will carry you long — closer to the shore.
The answer.
The new land.
Onwards,
your watch.
The waves.
Far out.
Closer in.
And then; on you.
Go: flow.
Tim | GIRVIN | Washington Coast
…..
G I R V I N | SOCIALITY + MEDIATION
DESIGNING BRAND STORYTELLING IN HYBRID MEDIA
http://bit.ly/sJ4IjO