ROUGH TRADE #2

The Sense of Scent in the Most Profound and Personal Encounter
(The second of two essays on unusual scent strategies)
The design of the scents of evocation and emulation, storytelling legendary experiences
It's been said that perfume is the ultimate sensate storytelling, for it reaches deep into memory and the psychic relation to experience. Once scented, the character of that cascade will never be forgotten.
Working in Paris, several years back, I was talking with some people about the character of scent and memory (and the implications to brand and experience design) — and the depth of fragranced experience in the most intimate human encounter; it's been noted that in all, perfume is a tool in the attracting of others, it's a philter, it's something magical. How it really works is unknown.
It might be suggested that the idea of "illustration" is one thing — perfumes that merely capture the gathered scent of an encounter; while others drift into the concept of evocations — the voice of the memory. Finally other solutions, literally, are hormonal effluence. And everyone's idea of what that would be shall be different.
To the articulation of the meaning, some are brazen, while other noses and perfume designers speak more gesturally. According to fragrance designer Killian Hennessy, who I met and chatted with at one of his launch events in NYC, there is an interest — in his clients — to "smell differently" and people want their own distinct perfume. Surely, each of already has our own scent — but application of more tinting can be an added expression of self in presence. In working with the American perfume purchaser, Killian notes that they are often overdosed with heavy scent stories — "they have a single strong scent…I am creating something darker." His treatments, like many scent makers, have stories connected with them — Killian's "Les Liaisons Dangereuses," speaks to "bodies slick with sweat, hot with the odors of sexual favors."
His site tells another less drastic story, "A fragrance inspired by Plum from Damascus, a delicate fruit with a smooth note redolent of an alcove inhabited by languid lovers." Interestingly, studying the listing of ingredients, the nature of the build of the cascade of notes, there's nothing there that might be distinctly linked to human content — instead, it's about evoking the spirit of a romantic dream liaison.
According to Softpedia, the idea of the sourcing of scents that slice deep into the animalic character of the urge, might be the most rare (even though many of these are rendered synthetically at present) "the most appreciated and expensive scents come from the most disgusting sources. Civet and musk come from the anal glands of civet cats or musk deer; castoreum comes from the gut of the beavers, while ambergris is the Sperm whale's vomit. In fact, all these smell foul when fresh, and even processed civet has a bloody smell. No wonder, some smart producers want to make a step ahead. In a world invaded by sex, the selling of sex, saliva, sweat and advertised ejaculation turn into favorite theme."
Killian's built an entire repertoire around this experience array — to that note, L'oeuvre Noire contains nine perfumes. There are layered perfumes inspired by the sensual voices of iris, marshmallow, narcotic implications, absinthe, rum, tobacco and honey, plum and the asiatic wood oudh. "There are two inspired by les paradis artificiels, by opium dens and absinthe. And there are two inspired by Parisian orgies. In each pair of perfumes, there is a soft perfume and a hard one," said Hennessy.
Cruel Intentions by Kilian is the harder "orgiastic" perfume, with the smell of oudh, coupled with castoreum is the main scent in Cruel Intentions by Kilian, and it was built "to smell like leather, urine, smoky tar and anus." But that description might be belied by the structure of the sequence, Cruel Intentions balances bergamot calabria oil, orange blossom oil, an accord of violet, centifolia rose absolute with wood notes of agar, indian papyrus, gaïac, haitian vetiver, sandalwood — with the base notes of styrax absolute, castoreum absolute, vanilla and musk. Still, these are voices, gathered, not replications — they layer and mix interpretations of a scented recollection and experience. And these are strong, aggressively stated collations.
There are a series of discussions about the nature of scent, sexuality and the human connection in Psychology Today, to the more psychic dimensions of how these intertwine. People like each other — or don't — because of their read of the scenting of them. But I'm less concerned with that positioning, than the art of how these experiences can be designed in the sensate connection — what fragranced art, mapped?
Osmoz, the olfactory site and reference resource has organized discussions around this proposition as well. Searching their site, there are a string of reviews and product analyses, comments by the membership, product launches and announcements, linked and noted above. The key to their commentary relates to the provocative positioning of perfume. It might be pointed out, going back even decades, there are implications of renewed intimacy, mystical encounters, women dallying forth, their own adventurers — men achieving new boldness. And looking back to more recent decades, Nicolas Olczyk notes "'Sexual' has always been a key theme with Calvin Klein. Controversy stirs. Obsession, the fragrance that inspired Secret Obsession, is an intense oriental." (And widely described as a sexualized vapor.) "Rumor has it that if it hadn't been called Obsession, the other idea for a name was Climax. Obsession also comes in a men's version. With their distinctive spicy-oriental trails, Obsession — and Obsession for Men — are still amongst the sultriest of scents." He continues to note the indices between marketing perfumes and the sexual character of their phrasing, "SEX. While porno-chic and glam-trash are so last millennium, the trend has in fact evolved rather than disappearing… And there's no way around it: sex still sells."
The personal link to the character of marketing the sexual draw and the nature of scented magnetism, Tom Ford, who I had the chance to connect with at the WWD | CEO Beauty Summit in Miami, speaks of story, conquest, sweaty captivation. But Tom lives that dream; his life and work are entirely wrapped in the cultivation of a strong sense of presence — physicality, in all manner, emboldens his brand. And that's his strategy — intellectual passion, detailed design, astonishingly calibrated scent structures — smoke trailed with an assertive sillage, a drift that lasts and lasts. These photographs, as well as the work of the Beckhams' scent marketing were done by Terry Richardson, a consistently controversial photographer, not dissimilar to Helmut Newton's legacy. The question, in studying the shoots, is what's real: "what's Terry's world, and what is the product that's actually being marketed?" They intertwine. And never mind — the profound link is that the story about Tom Ford scent is about the most profoundly personal connection between humans.
Nicolas continues, "But even their less overtly sexual scents, like ck one, had daring ad campaigns(particularly in the years 2002 – 2004)."
And the idea of having sex is clearly implied in the ad for the fragrance duo CKIN2U, in which the young woman grabs her companion's belt, leading to a elevator/stairway chase scene."
The idea of the intertwining of beauty and the sexualized depiction has long been fought over, fraught with publicized anguish and deceptive dangerous marketing strategy in the tactics of affront. But that creates conversation. People talk, stories are shared, the product is known. That's enterprise. Winning campaigns are frequently the most provocative — this voice screams the loudest; and the damning call for reformed positioning simply magnetizes the message. Win, lose and the next insult arrives on the scene — that cycle has been going for centuries. One might conjecture that the idea of dazzlement is the only way. Sex sells. And it crosses from scent to beauty — a note from Pete Born suggests François Nars embraces that strategy. Artist, perfectionist, makeup master, "his best-selling Orgasm blush, which he pointed out in his new 600-square-foot freestanding cosmetics boutique at 413 Bleecker Street in New York…"Sex sells, no matter what," Nars said with a laugh, while giving WWD a sneak peek at the new store…" Nars continued "I don't ask myself too many questions about whether something is too shocking." To his thinking, "And who doesn't want to have an orgasm? It's a beautiful thing." Nars too suggests the power of the Klein influence with whom he worked on Obsession print advertising and backstage runway shows — "popularizing pushing the envelope sexually in advertising. "A very sexual, loaded image worked for him so well, and he did it in such a great way, in a very sophisticated and elegant way."
Still, the idea of finding scents that live in the place of the sexually evocative isn't an obvious chemistry or an easy find. There has to be some digging into the actual construction of the sequence. Any perfume is a sequence — as the notes of essences pass through the interpretative mind. Some, like the team at "The Perfumed Court," organize their offerings on scent details and structures — selling decants of an complex range of perfumes sold as samples. So, in a query, a searcher might frame offerings that are "sexy animalics." And what would that yield?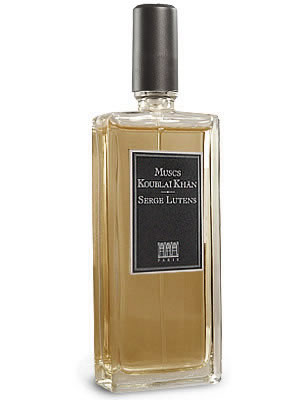 That test reveals three classics: Serge Lutens Muscs Koublaï Khän "this one smells of sweat & sex in the best way." I can only imagine. Lucky Scent (and it's their image above) notes a more complicated take — "Musk, highly evocative of the most extraordinary scents imaginable; China, precious gold, opium dens. Refinement, cruelty… senses complex in their contradictions. Muscs Koublaï Khän – a sensual, undulating aura. An animalesque scent."
Or Miller Harris' "L'Air de Rien" — "A slightly sweetened take on dirty animalic sexiness." And there's more below — to designed (and desired) inspiration.
Denyse Beaulieu notes, "Jane Birkin piqued the imagination of thousands when she sighed heavily throughout "Je t'aime, moi non plus", the Gainsbourg song that Brigitte Bardot had refused to sing and which the Vatican renounced as sinful. Her personality, her insouciance and her contradicting fashion sense, embracing tattered T-shirts alongside the Hermes bag which got named after her, made her an idol that contrary to most should be graced with a celebrity scent. And so it has: Lynn Harris, nose of Miller Harris, surrounded her aura with a bespoke which launched publicly to the delight of many." The link to the slinky and tattered sensuousness of Birkin underlines her own take of parfum. She hated it, as Dolly Jones noted in Vogue.
"I have never liked perfumes. I have always preferred to carry potpourri in my pocket. It was an interesting exercise in finding out what you don't like. All the things usually associated with heady, dark-haired women like hyacinth, tuberose and lily-of-the-valley made me vomit when they were enclosed in a bottle so this one is much more me – I wanted a little of my brother's hair, my father's pipe, floor polish, empty chest of drawers, old forgotten houses."
Birkin, 2006, Vogue

Chisholm Larsson
Or the classic register and early controversy, Guerlain's (1889) "Jicky" — the original & master of skank – Starts off all sweetness and light, but melts into your skin as a true wicked scent." That idea of the bridge between the nature of the animal and the feminine has been defined by some as "skank." Kindly indulge a definition. To Lisa Lawler's team notes, "your perfumes a little naughty? Classic on the top, but with a whole lot of skank underneath? Or maybe you just like the skank from the start to the finish. These are the best and most womanly in the skank series, all grown up and purring." Some classical etymologists call this word an "unattractive woman," from 1965, which might be derived from skag in this sense (1920s), which is of unknown origin. It could be a meaning of to "dance to reggae music" is 1976, but is probably not the same word, and also of unknown origin. Dictionary.com offers a lean on lasciviousness, the dance — rhythmically flailing — in a loose-limbed manner." So what's a skanky perfume? It's been suggested that these are the dirtiest (base, low, groveling physicality) fragrances — let's imagine.
These are:
• Christopher Brosius' Musk Reinvention — a slap of animality.
• Jean Desprez Bal a Versailles parfum "to recall decadent, candlelit ballroom dances past at Versailles palace, with powdered ladies exuding aristocratic perspiration – a combination of flowers and musk. Known as one of the world's most long-cherished and classically sensuous scent, it was invented by the design house of Jean Desprez in 1962."

• Montale Oud Cuir d'Arabie — Lucky calls it, "
a classy whip crackin' leather, a "pay attention to me" leather, a seductive and carnal perfume which demands a wearer with the personality to make it their own and then, look out world!
• Narciso Rodriguez Musc for Her — three pulsations: honeyed flower, cracked amber and roughened wood — all over sensual.
• Narcotic Venus, Nasomatto –"a quest for the overwhelming addictive intensity of female sexual power."

• Penhaligon's "Amaranthine" Eau de Parfum, designed by the master journeyer of scent alchemy Bertrand Duchaufour — structured, from the feminine opening, to depth and darkness. Scribed as "a corrupted floral oriental for those private moments when everything is anticipation. It opens with a dramatic flourish of spices and tropical green. This unsettling lick of drama is beautifully ambushed by an unctuous accord of jasmine and ylang-ylang, a heady bloom renowned for its aphrodisiac properties, and clove swathed in spices, tea, musk and the rounded beauty of tonka bean absolute." Lick, drama and ambush.
• Rochas Femme — to Basenotes triangulation, a structuring of peach and wood, finishing with musks, leathers and civet. Designed in 1944, by legend Edmond Roudnitska:
Top Notes
Peach, Plum, Sandalwood, Rosewood, Lemon, Rose
Base Notes
Patchouli, Musk, Amber, Civet, Leather

"The Party in Manhattan." Lucky calls this "a highly exclusive fragrance — reminiscent of the glamour of New York in the 1930s, now available for the first time in the United States. This fragrance transports the wearer to a time of soigné elegance – hushed corridors in grand hotels, the foyers of the theaters of Broadway, private parties filled decadence, including that most special event – the debut of a magnificent fragrance, its arrival celebrated with champagne, caviar and Cuban cigars by the captains of industry and the beautiful denizens of Park Avenue soirees." And the flourish, to finish — "citrus and spicy notes at the opening, hinting at the rich, slightly indolic floral heart of the Party, with jasmine, rose and ylang flirtatiously demanding our attention. As the fragrance develops and the musky carnality of the base is revealed, with mossy woods, patchouli and amber, the seduction is complete." A story, told — and who's been there, down those corridors? I have scented that place — and visualize that recollection.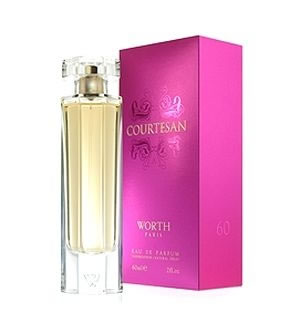 Worth "Courtesan" — designed by Pierre Bourdon, launched in 2006, an oriental vanilla — beginning with cinnamon, cardamom, clove, pineapple, red berries and bergamot — then layered with middle notes of orange blossom, magnolia, jasmine and rose; finishing darkly, the the density of the base notes in sandalwood, peach, raspberry, caramel, dark chocolate, cacao, amber, vanilla and musk. Feminine, but earthy.
And, to continue that search, the challenge becomes a multiplicity of interpretations — what, to sex, is the depth of the scent? Earth, fruit, flowers, woods, musks and others.
In an earlier set of notes on Christopher Brosius, his design sentiment as a nose, a builder of scent, is a capturing — and he drifts to the more sensual side of the equation, and reaches into the heart of the pulpy fragrances that hint of decay, leafed earth, root and disassembled flower, dust and leather, gunsmoke and flint, scraped metals and shaved wood, fire and a passionate search for answers and illustration in finding the heartfelt mystery of scent in memory. His memory becomes ours — shared. To that notion of illustration — capturing the visualization of the smoke of presence, a direct opening might be his rendering and collaboration with Alan Cumming.
This perfume, recently reformulated, comes to maleness exemplary — "Our "anti-celebrity" scent casts a new look at the classic world of men's fragrance bringing you a scent that is all about Sex, Scotch, Cigars and Scotland. Alan is Smart, Witty, Amusing, Versatile, and very Sexy – exactly like his scent. He also happens to be Scottish…" And, to the nature of collaboration, he built this with Alan, who structure this confusion of scents, "a number of seemingly strange and unrelated scents." That sequencing, Cumming selects: Bergamot, Black Pepper, Scotch Pine, Malt Whiskey, Cigar, Heather, Douglas Fir, Rubber, Worn Leather, Highland Mud, Burnt Rubber, Peat Fire and White Truffle.
"Although it was a challenge to fit them together into a fragrance that made sense, each accord was very important to Alan and spoke clearly of his history and the unique man he is," according to Brosius' notes on the build of the fragrance. It's all personal. And that, in this search, is the challenge. Everyone's scenting of this profundity of connection will be tinged with the sentiments of the moment.
Some design, reach right into the heat of the moment — the depth of the encounter — when the action happens. Denise Hamilton, LA Stories notes the story of perfumes that go beyond "sugar and spice and everything nice." In Carnal Charms — "According to sources in the fragrance industry hired to develop Lady Gaga's first fragrance, the pop star has requested the scent 'smell of blood and semen,'" reports Fashionista. Lady Gaga is known for cutting-edge style, but scents that evoke bodily fluids are old news."
She reflects, "Consider Sécrétions Magnifiques, a 2006 eau by Etat Libre d'Orange that features salty, metallic, medicinal, milky and decayed-white-florals-in-acoffin notes. Let's call it the "money shot" accord."
As she inquired of the nose, parfum mysterious maven, Etienne de Swardt, "the Baudelairean impresario behind Etat, how the idea for this perfume came about, he relayed the fragrance concept he gave perfumer Antoine Lie: "My brief was this pernicious idea of viral risk, which at times gives a mystical and transcendental dimension to sex. Suicide, love, confusion. When one does not know where to stand in between 'Protect me from what I want' and rushing for that raw desire, whatever the consequences…Welcome to your mammal's DNA." Lucky notes, Etat Libre d'Orange lives in the space of pushing boundaries — and speaking authentically to their passion (which might be a crazed passion at that).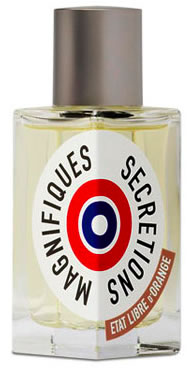 Lucky Scent
"And no scent is more original than Etat Libre d'Orange's bête noire, Secretions Magnifiques. An ode to sensual pleasure, to the rush of adrenalin, to tension and relief, this subversive perfume tricks you into smelling things you had never expected to smell in a perfume. The insinuating, saline sensuality of its iode-blood-milk accord is extraordinary. It is a perfume-chameleon: on some it will smell astoundingly animalic and on others it will be almost childlike in its softness. A love-it or hate-it fragrance if ever there was one, some consider this a masterpiece of modern perfumery."
Secretions Magnifiques Notes
Iode accord, adrenaline accord, blood accord, milk accord, iris, coconut, sandalwood and opoponax
W A R N I N G


WARNING… What you are about to experience may excite, provoke, entice and even stimulate. Etat Libre d'Orange creates perfume-as-art and therefore suffers from no moral restraint. Each piece can contain sexually suggestive imagery and concepts which are meant to challenge the limits of accepetability. These fragrances are not for the priggish or puritanical.
Etat Libre d'Orange's whole folio might be defined as having an "explicitly" leaning folio of fume.

See, to added reference — warnings noted — their Tom of Finland, for more.

Petit Mort
As he references, "Eroticism is a land of plenty — I have no ownership on sperm, sweat and saliva." And that idea, as Hamilton notes, spreads to other scents. For added investigation, there's the depth of the French word for orgasm — "Petit Mort" — an inspiration, a pinnacle. A perfume, built to match this cataclysm, has been created by Marc Atlan. This is a strikingly collaborative undertaking — tinged with the creative intelligence of Duchauford again, along with a supporting confederacy of artists and designers. Designboom overviews. They observe that "french-born creative director and design marc atlan has teamed up with perfumer bertrand duchaufour and kilian hennessy to create 'petite mort™ (parfum d'une femme)', his first fragrance produced as a limited edition of 100 bottles. aiming to create a pure and 'aphrodisiacally compelling' scent."
Plumbing the depths of sheer physicality and the fumes that go with it, this lowest note is a shout "of total animalistic release. To the launch — a "selection of renowned creative professionals ranging from architects to photographers were asked to contribute an artwork that represents their interpretation of the fragrance and concept."
That team gathers a constellation of creatives — fashion photographer Max Vadukul, graphic designers Antoine + Manuel, French designer Christian Ghion, and American artist Ellen Jong among others.

"Carnal Script, Page 31" 2011 Copyright ® Ellen Jong
Skank, indeed. "As humans," Denise Hamilton studies in her article, "we're both repelled and aroused by strong odors, so I thought I'd take an olfactory stroll through the soiled-knickers school of perfumery. In the Middle East, Africa and parts of Asia, perfumery using strong spices and pungent odors goes back millennia. Through the first half of the 20th century, Western perfumery also embraced strong notes—civet, musk, tobacco and white florals whose indolic notes hinted of decay and even feces. These notes were akin to the pinch of salt that enhances the sweetness of baked goods." But the concept of skankiness might be the sub-theme in recognized classics.

Jean Patou 1953
As she points out, historically, the rotten floral, roughed animal or the aged fruit isn't new. Jean Patou's "Joy" combines indoles with jasmine; Robert Piguet's "Bandit" reeks of smoke, leather and civet; Caron's "Narcisse Noir" whiffs "used panties," "Eau d'Hermès," Roudnitska's scented stroke, wisps of sweat and cumin.

Caron's Noir
Chandler Burr points out that classic scents, including those that are no longer in market play might beckon to other harsher expressions. Noses were bigger, perfumes were gutsily aggressive — "the midcentury classic Miss Dior almost "unwearable" by modern tastes. He and others believe its animalic notes are too off-putting for consumers weaned on today's pale aquatics and fruity florals."
I was thinking about the roughness of this state — the primality of its contemplation; to some, beautiful, others: ugly. Sexy ugly comes to mind — and bloggers note: "I categorize Benicio del Toro, Denis Leary, David Duchovny, Milla Jovovich and Uma Thurman as Sexy Ugly. When you pull apart the features of these individuals, they might not be attractive, but as a whole, a sum of their parts, it all works, and you find them quite attractive."
Abigail continues — "Annick Goutal Eau de Fier is Sexy Ugly. Eau de Fier (EdF) is a blend of some of the ugliest stuff in perfumery; the tarriest birch tar, rubber, smoky, smoky, smoky tea and some citrus and a touch of fruit (if you're looking for it). Eau de Fier is not conventionally pretty, nor is it perhaps acceptable for the office, if you work in a corporate suited-up environment, but I'm so attracted to it that I just can't keep my hands off the bottle." There's the cross over, the parfum profane, in which the beauty crosses the other side — from the light prettiness, to the dark — but in the delirium of the act and its evolving geography, that can be seen. The smoke, the tars, the roots — that which lies beneath, resinous humanity — this is the place that it lives.
There are scientific theories about the nature of attractiveness, the wafted aura of scent and the draw of one to another. Tinamarie Bernard, in her notes "Scent-uality and Aural Sex | Women's Dance With "The Beast." She notes that women are attracted to men that "smell good" whatever that might mean, or be interpreted to inclination. She references the "good smells" and the alternative attraction to the beast. That is to the darker side — an encounter that suggests a more bestial reference, as she intones "He smelled of garlic and fresh herbs and man-sweat, a working chef who loved to watch his patrons dine on his hearty creations. Beastly? You bet, and still I was tempted by his Chianti laced whispers. He spoke only to me at our cramped table, and came back more than once during our scrumptious meal. Was I satisfied? Was there anything else he could offer? Would I be staying for more? Innuendos stacked thicker than his accent, and I was totally turned on and disgusted by my reaction. By the time we left, I felt oddly like the sexiest woman on the planet, wooed by a funny looking creature with a golden tongue." Scent, sound, intention — herein, the mystery and the amalgam.
While in the past, it might be said that the nature of perfume was built more on deeper layering of intentions and experiences — in the present era, the idea of obvious intonations has become more the spoken telling of waft. According to FASTCo., a recent event at Parsons closed a session on scent with an black balloon explosion of "Sexy Time," a potent mix of chocolate, condoms, candles, post-coital bed sheets, sweat, nail polish, and lipstick–in short, the smell of a college student's dorm room…the climax (sorry) of an extraordinary day in which an international array of speakers gathered in a very fragrant auditorium at Parsons The New School for Design to explore the idea of using scent as a medium for design."
The key to any exploration of scent lies in the illustration of context: moment, place, light, materials, breeze, heat and how these form together to create the layering of how a fragrance memory is perceived. In an earlier note, I'd offered how I was lulled into a dreamy meditation of place in working with a certain woman in Paris. She and I were promoting business, traveling the city, working on engagements, presenting materials. Invariably there were two places of connection — one, her car; the other, her apartment. Her apartment was a girl's place — there were no men there; and the scent — all the layers of women was rife in the place. There were admixtures of perfume, incense, wine and cigarettes — and women. Beds, kitchen tables, the dining room, the fireplace, furs, waft from the streets, some green in old potted trees, plants, orchids. With some solid airing, it would be far lighter — but not so, it was dark and dense; and the deep blows of femininity notched the place. And the other place? Her car. This was even more complicated with layers — still, cigarettes, spilled perfume (Serge Lutens, incensed and doused, Feminité Du Bois — a plank of Atlas Cedarwood, black honey, wood rubbed with animal fat — sliced fruit, balms, spices, violets — all powdered with musk and incense).
Of course, in any greeting, there is the classical European kiss — cheek to cheek; this is the scent sampling. I can tell much by this reach — and with her, it was a sensing that gathered everything about the last hour, the last half day — and perhaps, the night before. European women smell differently — they choose less to the notion of flowered sugary fragrances, and draw deeply to more complex scents. Given the tradition — these are duskier, denser fragrances — and the making of perfume as an art is far more long running than that of the American legacy.
There are two points to process — one, the notion of perfume as being synced to the spirit of hormonal, or pheromonal chemistry. And this essay explores more the idea of conscious memory in olfaction — the voicing of that encounter as a semblance of a known connection to sex. In speaking with Mandy Aftel — she roots to the classical physicality — body notes, from her book, marked* in a footnote below. Explicit, these sentiments are.[1]
What of that? It could be animal, herbal, environmental, synthetic — but these recollections form the impression of a time, a moment, a play when these impressions aligned. Designing that — from the most basic, to the most obviously expressionist, is the nature of beauty — inhaled.
Beauty, chemistry, impression and intuition — all combined to create something marvel making and perhaps — climactically miraculous.
TIM
…..
THE STRATEGY OF SCENT + EXPERIENCE
Girvin Studies of Perfume & Place Making | http://bit.ly/fqHmEd
–––––––––––––––––
*[1]
Mandy Aftel: "The perfume of sex is a terrific topic. Specifically the essences that have historically been considered aphrodisiacs are the ones that smell like the hairy regions of the human body. real jasmine, with its fecal/floral aroma has played upon this dichotomy since perfume began. I touched on this topic in Essence and Alchemy. Here is some of what was in my book:
Still, there is no question that typically unmentionable bodily smells are the bedrock of olfactory arousal. With characteristicallyunflinching candor, Havelock Ellis classified these odors in increasing order of erotogenic effect: " The most important of these are: (1) the general skin odor, a faint, but agreeable, fragrance often detected on the skin even immediately after washing; (2) the smell of the hair and scalp; (3) the odor of breath; (4) the odor of the armpit; (5)the odor of the foot: (6) the perineal odor; (7) in men, the odor of preputial smegma; (8) in women, the odor of the mons veneris, that of vulvar smegma, that of vaginal mucus, and menstrual odor." (FN 6) A penchant for the last two, Ellis scandalously suggested, could be why some people are more attracted than others to giving oral sex.
No one brought this idea better to light than Henry Miller, who dared to break the code of silence about what Baudelaire called "the muskiness of fur"—that is, the seductive smell of a woman's genitals. "With the refinements that come from maturity the smells [of childhood] faded out, to be replaced by only one other distinctly memorable, distinctly pleasurable smell—the odor of the cunt. More particularly the odor that lingers on the fingers after playing with a woman, for if it has not been noticed before, this smell is more enjoyable, perhaps because it already carries the perfume of the past tense, than the odor of the cunt itself." (7)"