THE VOLCANIC IMPETUS.
ONCE IN MY LIFE, I'D TRIED TO BUILD A PLAN TO RUN [HIKE AND SUMMIT] THE VOLCANIC CIRCUIT ON JAVA, THE GREAT ISLAND OF INDONESIA —
TO HIKE THE SPINE OF
ONE OF THE GREATEST VOLCANIC ARRAYS IN THE WORLD,
THE SO-CALLED "RING OF FIRE."
I hiked a cluster of cinder-coned mounts on Bali,
and nearly reached the Summit of Merapi, with
the challenge of its completion was restricted by
the spirit guardian and spirits of
the mountain which, as well, was in active eruption.
When I was a kid — my deep memory of a favorite movie was "Krakatoa."
My follow-up fave — the closing scenes of Disney's "Swiss Family Robinson" — volcanoe's blasting. Early years of family vacationing lent themselves to adventures out to Montana, Wyoming, Yellowstone Park, stops at Thermopolis and other areas that fissured deep into the earth, water and that heated outcome — hot water and steam.
Traveling the forlorn grandeur of a set of astonishingly marvelous "plains" of Iceland, you learn to notice the strange steaming of rivers, mountain cracks and chasms, perpetually misted stream beds and the presence of
big white vaporous plumes and constant fog.
We walked into them, sought it out, went into them.
Hiked where we weren't supposed to.
"Don't even think about swimming there," was a repeated warning. It's way too hot.
And we meandered past the barriers
and gated pathways —
to simply see more.
I did the same as a kid — wandering around the touristic pathways to get closer to the interesting stuff. Colored water, bubbling mud baths, deep roiling, water-filled chasms.
"Hey, what are you doing over there?"
Me? "I got lost, sir…"
Back to the center of the earth —
and any gravity to that relationship,
starts here on the skin of the planet,
and drops straight to its core.
A gallery of steam, found.
Like a volcanologist
[another life skill I aspired to…]
I could smell it —
the cracked earth's seam, steam and sulphur —
in the air from miles back.
I think it's a design and business strategy as well — go where you want to go.
That's the only way you'll get there, anyway.
You have to start, take that step to get over there.
Even if it's forbidden.
G E Y S I R
I C E L A N D
S T E A M
Dawn A. Clark, AIA Leed AP at Geysir, Iceland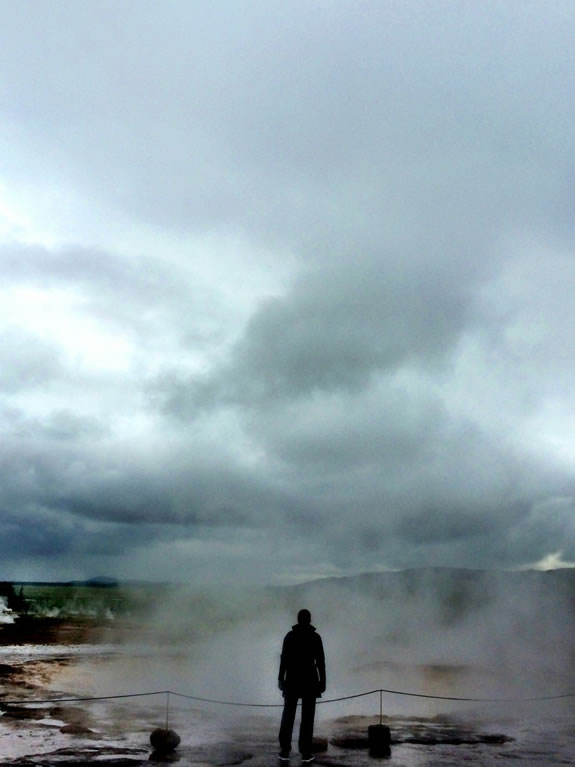 WHEN I THINK ABOUT IT, I'M REALLY LOOKING
FOR ALCHEMY —
the
change.
From something basic,
to something
newly made,
magically transformed.
Might be:
me.
–––
Tim | GIRVINSan Francisco, CA
—-
TOWARDS A MIST OF KNOWING:
Girvin Cloudmind | http://bit.ly/eToSYp
TEAM-BUILT STRATEGIC INNOVATION WORKSHOPS