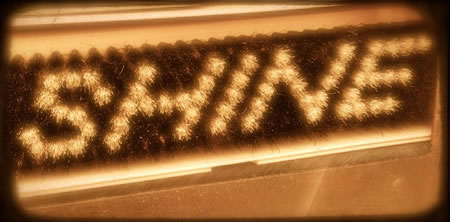 SHELF EPIPHANY, RETAIL DESIGN, BRAND STORYTELLING AND SHINING SURPRISES
–––––––––––––
I was talking to a client about the concept of the shine. When a product, the shelf on which it resides, the store in which it lives — shines — what is that like, that light?
Walking the street, I spied this installation — a shine brush in a window.
And it urged a meditation on the allegory of shining.
What is it? It's dreamy, it's mystical, it's magnetically compelling — it's unforgettable, it's magic. What can that mean in the context of brand, story and engagement?
Memory holds.
Shining is a good metaphor to reach, epiphany and connection with community.
And I thought about a conversation with Les Wexner — the key, "if people stop by your shop window, they might see something they like, a story is told, and they come in. Your story is coherent — people grasp it, you tell it well, they're entranced. Really, it's about watching, it's about care — it's about watching people that are visiting your store, your store front, your story front." What's the story that you tell? And most importantly, who cares?
The shop owner needs to care about who's there,
what are they looking at, and what are they buying?
The notion of shining is about light, the shining of discovering. At P&G we talked about the concept of shelf epiphany. When a customer approaches the shelf, what is the epiphany, the shining of the brand that engages the viewer
[and the buyer?]
It is about shining.
When you think about brands that shine —
what comes to mind?
TSG | OseanStudios
…..
G I R V I N | CrowdMind® LEADERSHIP AND
INNOVATION WORKSHOPS
CREATING STRATEGIES, PRODUCTS, IDEAS FOR CHANGE.
http://bit.ly/vfzyEU