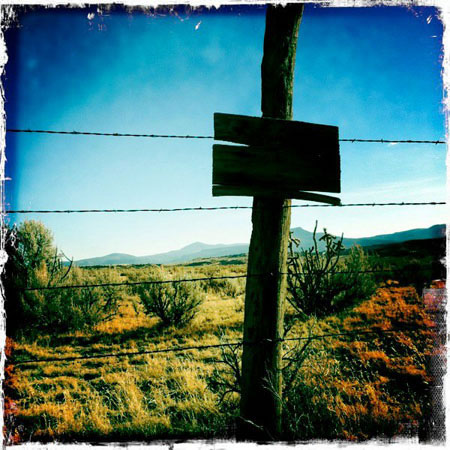 Rangelands, New Mexico — a long and blank expanse. Then there's a sign.
But it's presuming something:
you know where you're going.
I was transversing high desert rangelands, crossing the state, in a journey to a Monastery out in the desert.
On the way there, I saw a sign —
at the running of a far-off road, out the route of a road with no-end, on a with a view beyond to the mesa of the south.
I was struck by this sign, which seemed to be saying — "here: there's something to be seen."
But the sign was so old, there wasn't any writing — it was blank, long lost in the sun, wind, rain and snow out there;
remote and lonely — surrounded in the silent majesty of the distant pasture, mesas, desert and scrub lands.
I'm compelled by signs that have nothing to say. I seek them out. Signs of nothingness.
As I've pointed out, there is a story in a story — the teller, the listener and the retelling of the recanted tale. And there is a sign in a sign. There is the message of the sign, the way and place of a sign — and: a blank sign in an important place can say something as well — its very silence could be pointing in a direction.
You're here. You could be there.
You could be no where.
"You're looking at me like you think I know where to go. But you're the one looking at the sign —
the question would be:
where
do
you
want
to
go?

I'd like to go that way.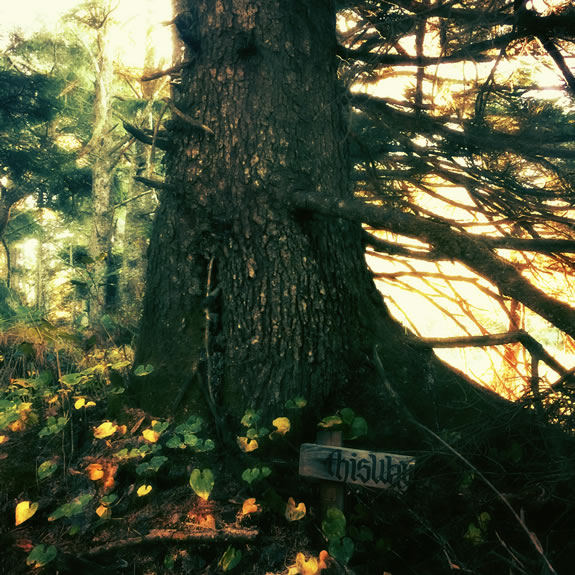 Or someplace quieter than here.
The point of the message might, as well, be interpreted as answering the question —

"what's here?"
Nothing is here. Oh yes, there is something, but you'll have to find it.
"it's not to be told, it's for you to see it, sign it, your self."
This sign points to what, for you?
Look out, there.
Seeing it, that was my recollection. And the apex of this telling would be — when you see a sign, there's more to it. Like a story, there's more to it.
t | while I was east of Ghost Ranch, NM
TIM | The Long Road
….
THE STRATEGY OF RE-IMAGINING
HOSPITALITY & GUEST ENGAGEMENT
DESIGNING ENVIRONMENTS FOR UNFORGETTABLE PLACES:
HOTELS |RESORTS | SPAS | RETAIL | RESTAURANTS |
SPAS + WELL CENTERS
Happiness experience design, storytelling + brand =
http://goo.gl/vZw2LV