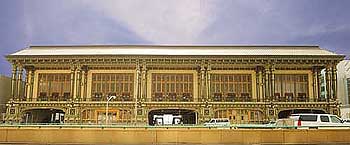 My first exposure to David Byrne was in college, in the 70s. How I relate to him is his ineffable curiosity. Frankly, since the 80s, I've probably only picked up a couple of his CDs, since that time. But it's the infectious exploration that's captivating. And Brian Eno. https://tim.girvin.com/?p=255.
That link to Eno, early on, was another catalyzing intrigue. I'd met Brian in Vancouver and Seattle — and watched his career, as well, with magnetic interest. When those two got together, it was transforming.
What it's about is the experience of sound in space. I'm fascinated by how sound plays in environments. Robert Bonniol, a friend of mine, has been working there — sound and production design — and dynamically exploring sound, space, performance: http://www.modestudios.com/.
As well, another friend, Martin Pazzani, former CEO and current Chairman of Elias Arts, leads another group of sound designers — that work in the space of sound production for space. http://www.eliasarts.com/.
Strangely, my exposure to the concept of sound in experience management is a kind of older tradition for me — Girvin has worked with Musak, AEI and branded Kidstar Radio for Bill Koenig, created Enso Sound Branding (for Musak). So I, we've, been around that space.
But there's something to exploring delicate sound in space — the sound of footsteps, a rankling fan distantly clanking, wind in the windows. All that is memorable to the context of sound, experienced in space. I hold those. I gather them.
Here are some samples that intrigue:
Stuart Dempster | Underground Overlays from the Cistern Chapel (samples on iTunes and http://www.soundflavor.com/)
The Fort Worden Cistern Dame Evelyn Glennie (with Fred Firth) at The Sugar Factory. (http://www.evelyn.co.uk/)
I'm interested in that idea of sound coming out of buildings, or out of spaces that are, perhaps, not intended for that application.
So there's this expansion in the legacy of Byrne's curiosity.
Per http://journal.davidbyrne.com/:
"Playing the Building, a 9,000-square-foot, interactive, site-specific installation by David Byrne, will transform the interior of the landmark Battery Maritime Building in Lower Manhattan into a massive sound sculpture that all visitors are invited to sit and "play." Byrne's project will consist of a retrofitted antique organ placed in the center of the building's cavernous second-floor gallery that will control a series of devices attached to its structural features—metal beams, plumbing, electrical conduits, and heating and water pipes. These machines will vibrate, strike, and blow across the building elements, triggering unique harmonics and producing finely tuned sounds. As Byrne explains, it is an elaborate system for "activating the sound-producing qualities that are inherent in all materials."
There's a lot more here: http://www.davidbyrne.com/
The added modeling here, is that I'm not entirely certain how David's involved. There are predecessors to the installation in NYC.
In Sweden, to 2005. But, according to the video (on the site), he "orchestrated" that, as well. Above, an image from that installation.
I'll have to get down there this week. On Tuesday, probably, since I'll be in the south part of the island.


Have you been there?
Playing the Building, presented by Creative Time, Battery Maritime Building, New York, NY (10 South Street at Whitehall Street), 31 May – 10 August 2008

tsg | decatur island
—-
Images from Byrne's site.