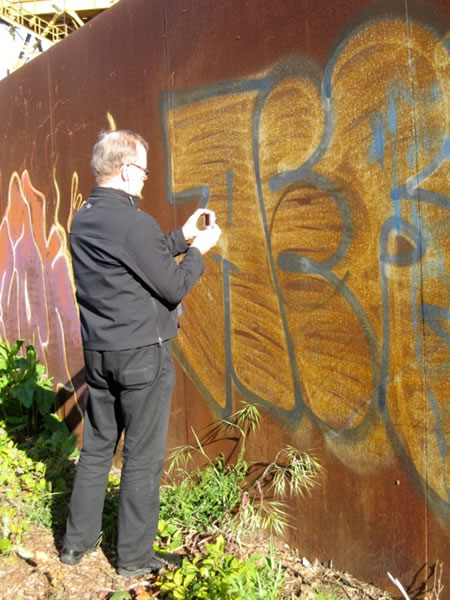 THERE IS A WORD AND A STRING OF LETTERFORMS; AND IN THE CONSTRUCT OF THE TWO, THERE IS MEANING IN THEIR BEING. CONTEXT AND WHAT THAT MEANS FOR A DESIGNER, A BRAND AND AN EXPERIENCER.
[Above] Tim Girvin shooting words, textures, materials | photo Dawn A. Clark
IN THE QUEST[IONING] OF THE CRAFT, your journey, what you're looking for, it can be, too, the quest for the use of meaning in the framing of design. That is: "what do you mean, what does this mean, and in meaning—who else is looking for it?"
Does anyone really care? Good question. It might be surmised that many simply look at words as a way to get somewhere, to find a pathway, to grasp explanation. For me, I look at words as layers of construct—there's a word and what it means now, and there's a word and what it meant 100 years ago, and there's a word and what it meant 1000 years ago and in its seed state, what it meant 5000 years ago. The thrust of language and its relationship to design means that a word can, in the power of its rendering be a simply grasped message. But it could be more—in context or out of contextual framing—in the simple: "really, what does that word mean?"
"We," for example.
That's us, it's the "we" of our crowd, it's our tribe. So in studying this old example of sign-painting, I'm thinking about the multiple brushstrokes as the "we-ness" of the composite, and it works together, in the disparate nature of its conglomerate expression as an illustration of
WE.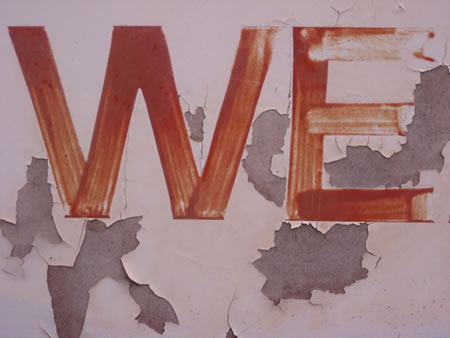 How appropriate.
D E S I G N E D
Yes, we designed signage.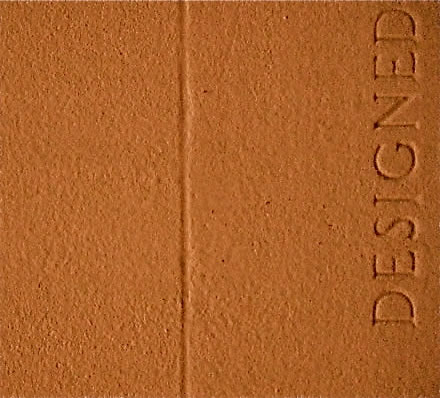 When I think of value.
And Valuables.
And we designed valuables.
I don't think about it this way. But seeing it this way made me wonder,
"for the person that created this, how is this 'valuable'"?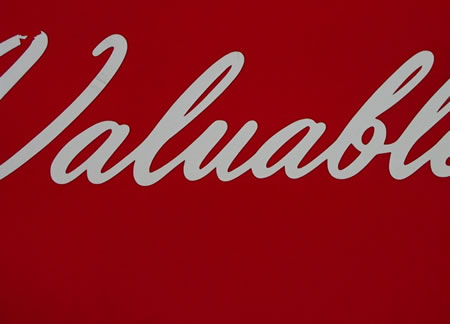 Seeing it in this context,
I think about the ARE in RARE. More so, this is an ancient word sound that could be, to some points of analysis, be placed in preChristian Syrian and Asia Minor—Hittite and Proto-Indo-European framings of "to separate," as in a chemical context.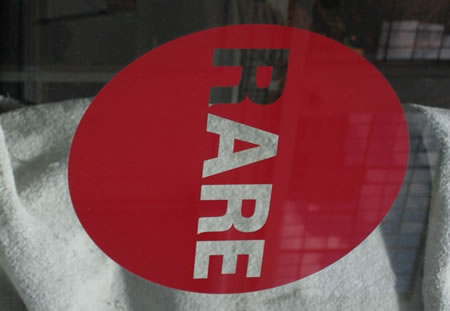 And yes, design valuables, that's what we produce.
All of us.
We make,
we produce.
We advance.
We move.
Forward.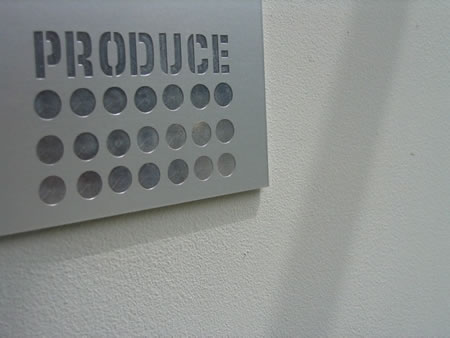 THE WORD OF THE MARK,
THE POWER OF THE WORD,
THE CONTEXT OF MEANING:
MARKED.
W O R D
M A R K, as a noun.
All Imagery except the first—
by GIRVIN, as meditations on alphabet, word, placement and context.
"That word, what's that mean?"
We stand for what?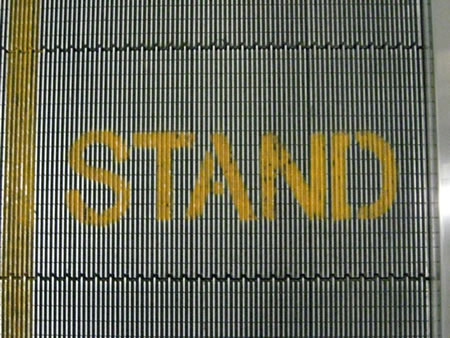 Words have their own meaning, momentum and memory—they start with a glance, but they can expand outwardly to flourish to more of a bigger ideal.
The visual interpretation lends a certain magic transformation.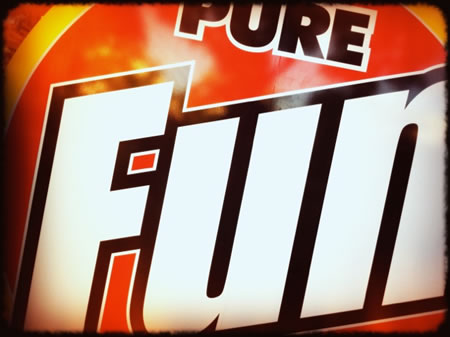 So that bump would be what? A push, a jolt, a nudge to the new?
That's what I was thinking.
Bump me.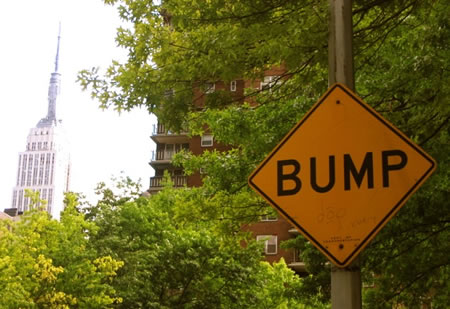 How's that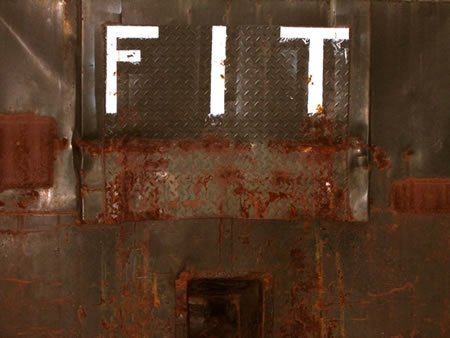 ?
I was chastised by a NYC police officer,
"like, what are you taking pictures of?"
"This subway is a secure location,"
she countered, when I told her I was shooting letterforms.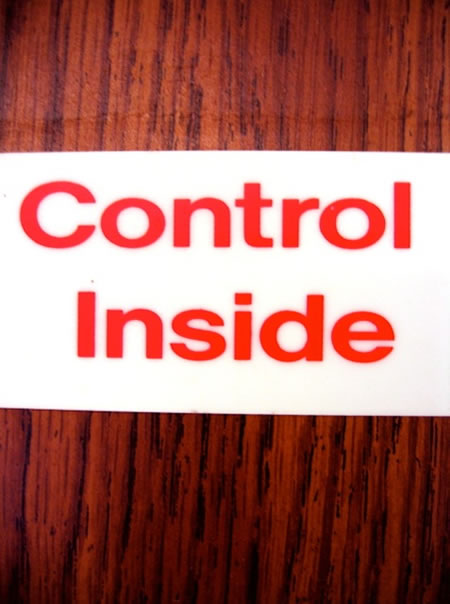 I was shooting signs, looking for the sign of the ideal.
What's the word, what are the letterforms,
and how do they work together?
Does the word work?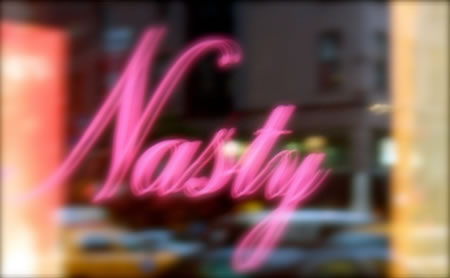 As an attitude held dear.
Nothing's right the way it is.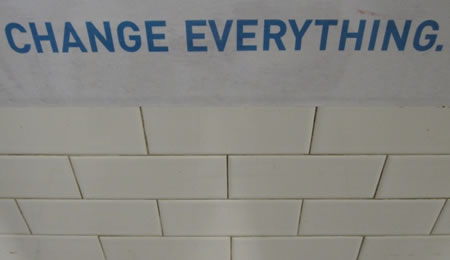 To "pierce," is the origin of thrill, and it's
a kind of disassembly to my take, this front.
Thrill spill[s]. But how would you design it?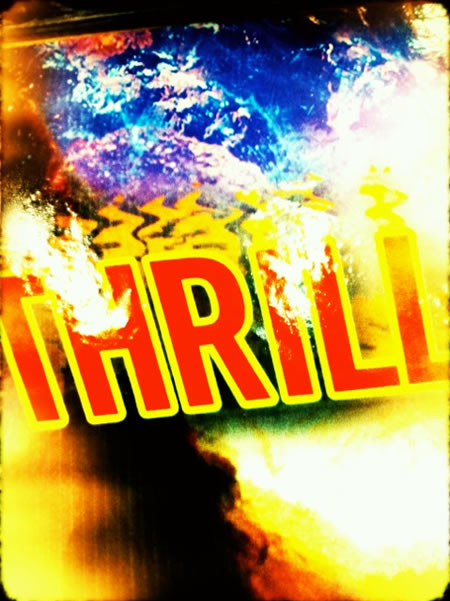 And aren't we all looking?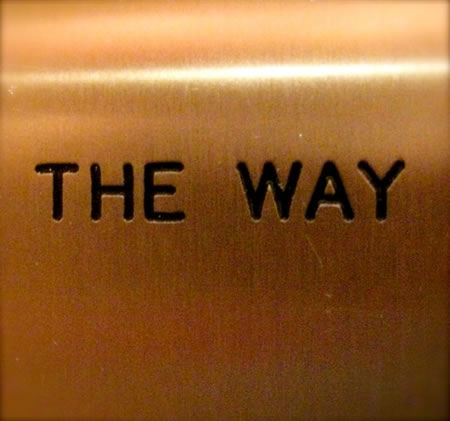 Glück.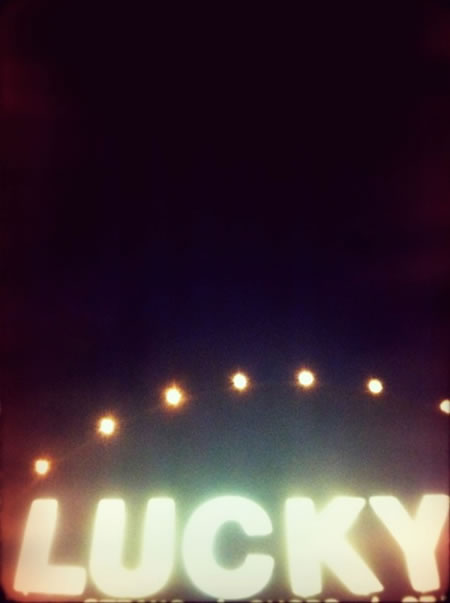 Step by step in the NYC Subway—the step is a patterning.
The stride, a mosaic of movement.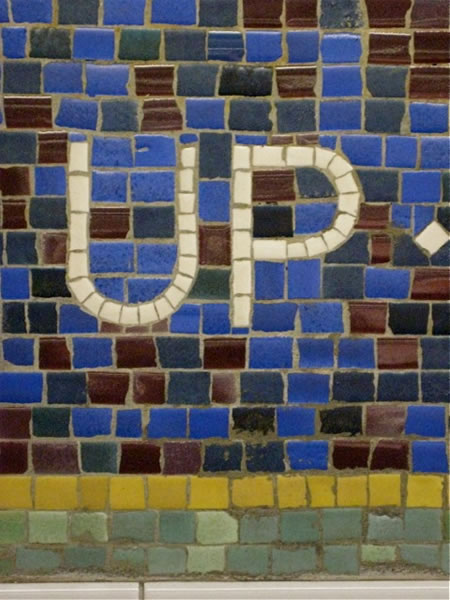 Scale counts.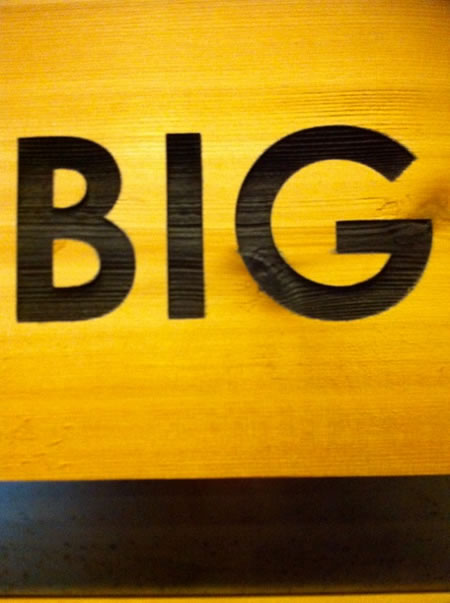 Rock Center? But when I think of "swell," I think of waves.
But to swell,
that's "thrilling,"
too.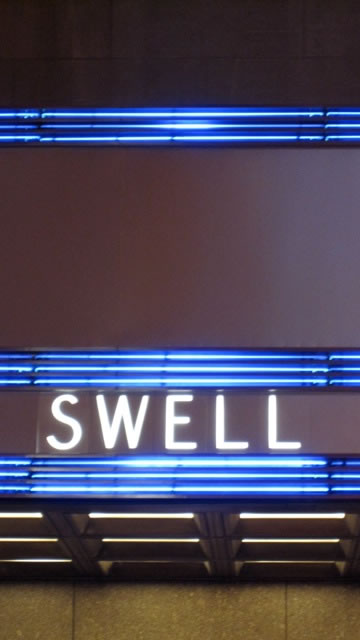 O L D
+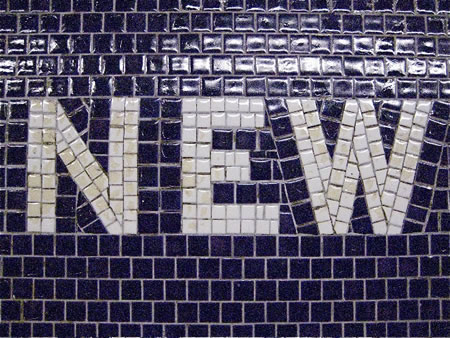 QUESTION: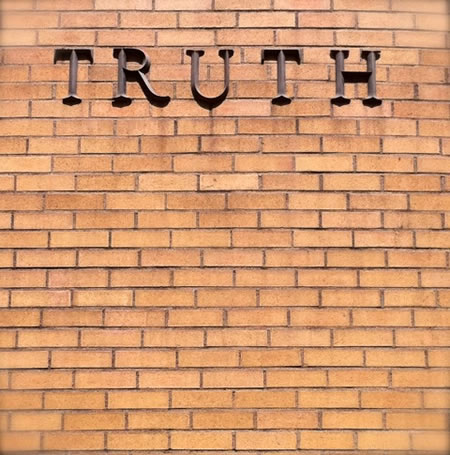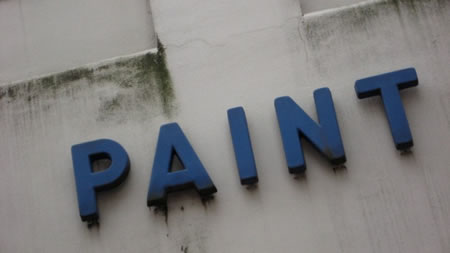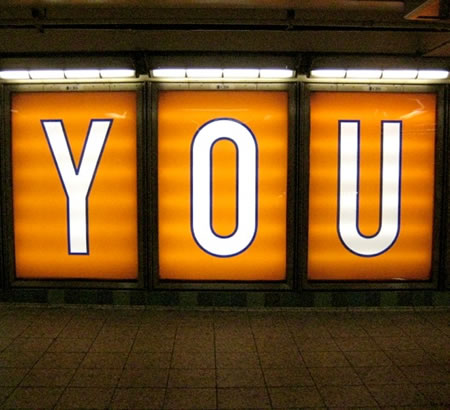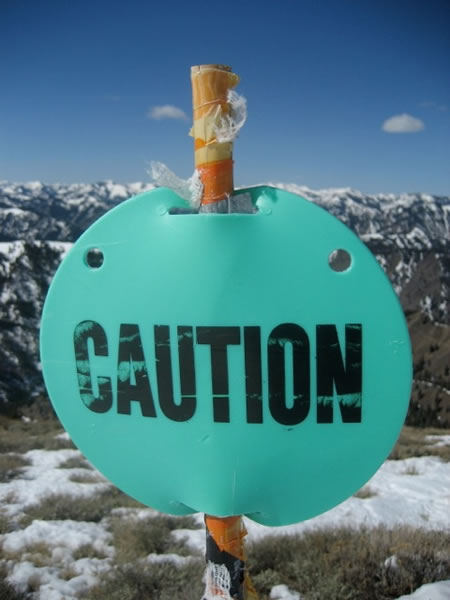 As a designer of parking garage and lot signage—now and then, it's not my favorite—I'm prone to wonder about that word, "exit" and the arrows that go along with it.
Still, this too, an ancient word: "go."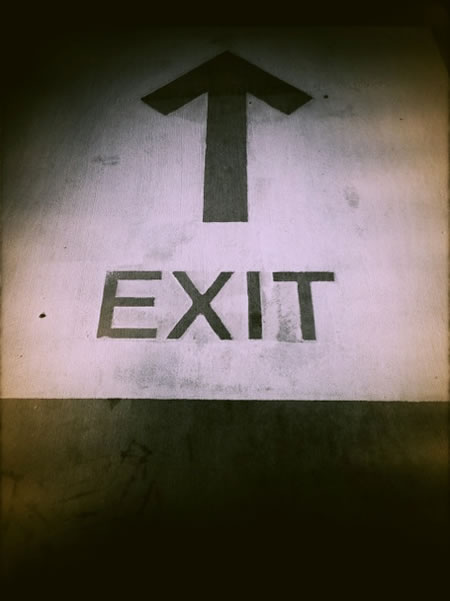 So these meditations are syncing up
the power of the word, as mark—we read, it makes a statement and how we react to the message and the context of the letterform frames our experience of it—
memory, meaning, momentum.
A word. It's a word. And it is a word—what do you mean with that word—then adding in distinction, a drawn distinguishing consideration, it becomes more, in the reading of the message. What are the words, what do they mean, how are they applied and where are they located?
Pole?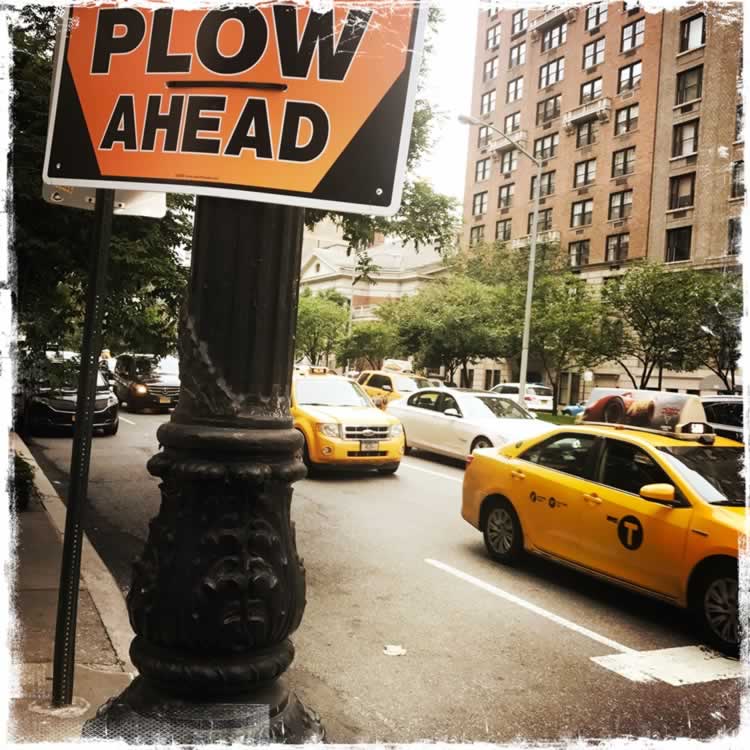 Concrete?
Glass?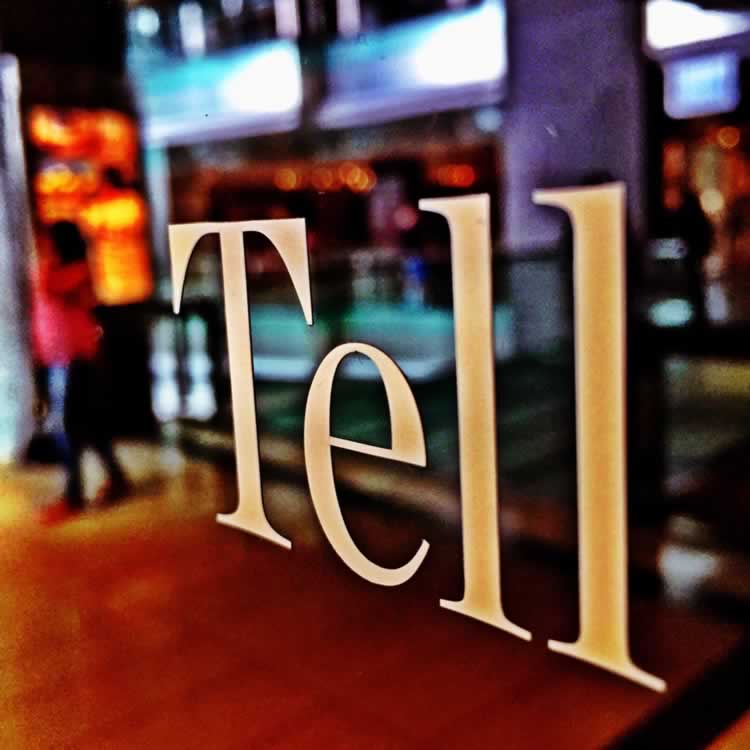 Quick print?
I find it interesting when a "sign" is suggesting "danger" amidst a lawless milieu,
speedy-printed on cheap, light-weight paper.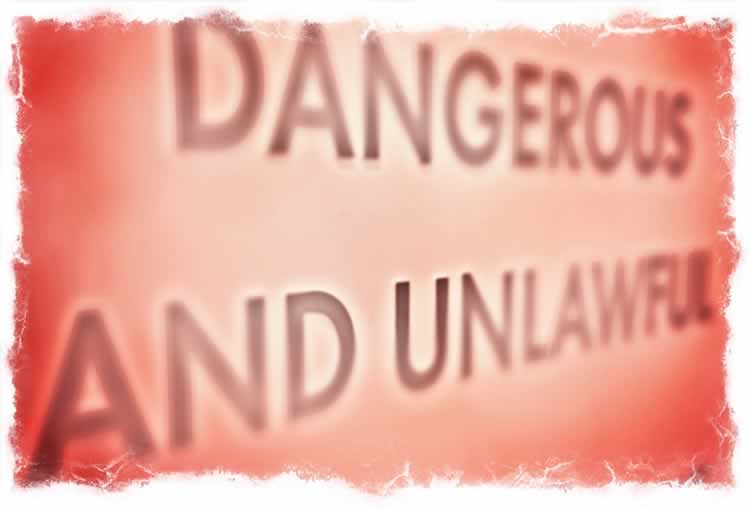 Drawn, there is more to be perceived. See more, know more.
S C E N E
S E E N
Even the slightest turn of line, the phrasing of the alphabetic sequence has more meaning, especially in how they are seen.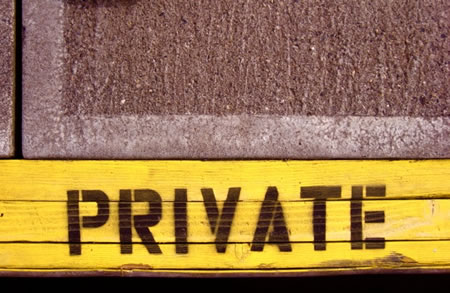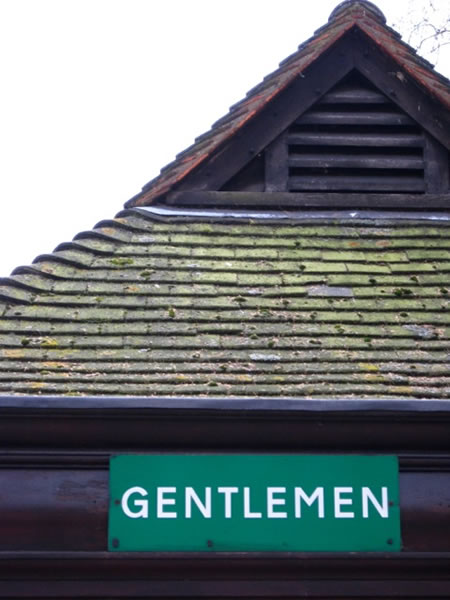 Design will always be rooted in perception.
And to perceive is to grasp. See and touch.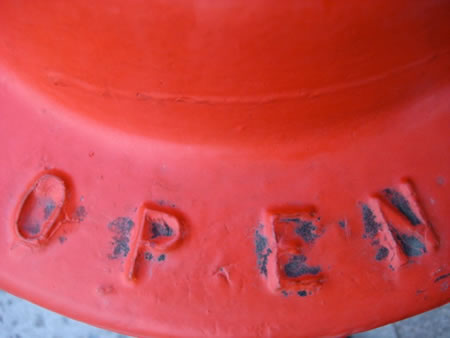 It's not only limited to the intentions of the designer, in the interpretation of challenge, but in the perceptive gathering of the viewer — the perceiver.
Explore more, to the breakout and use of the words: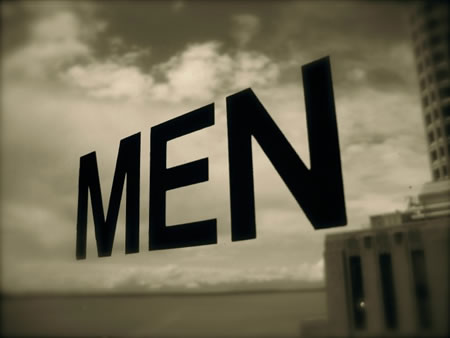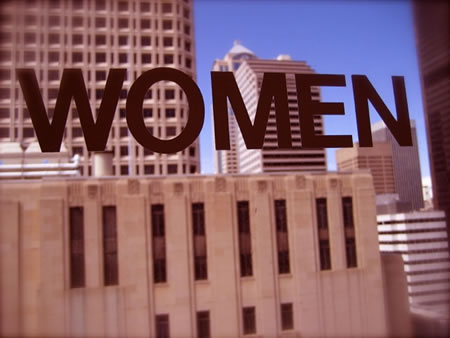 Pronunciation: Brit. /ˈwəːd mɑːk/
Etymology: < word n. + mark n. In sense 1 after trade-mark n.
THE D E F I N I T I O N and DISTINCTION
AND ITS USE, OVER TIME: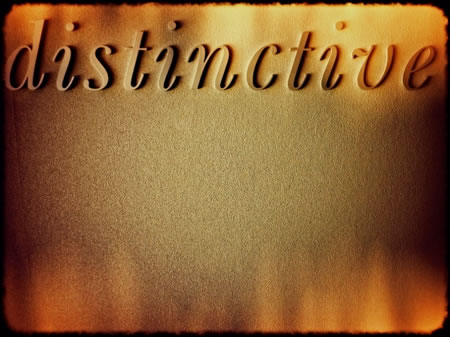 1.
A (real or invented) word used as a trade mark; a trade mark in the form of a word (as opposed to a design, a colour, etc.). Also: a word used in a distinctive style or font as the symbol of a company, institution, etc.
And what about "fire"?
I think about the conceptualization of application,
"really, how was this word made, or applied?" So that ask, the question, is about the alignment between word conception and visualization—"what is the font usage, what's the type, and how is is applied?"
So I look for words that show concept and context: aligned.
A dappled street rendering: stenciled.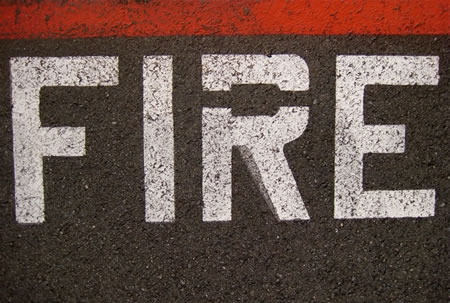 A silk-screen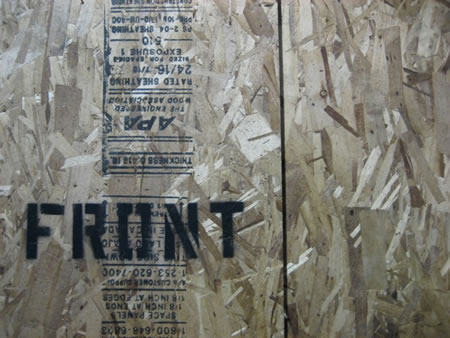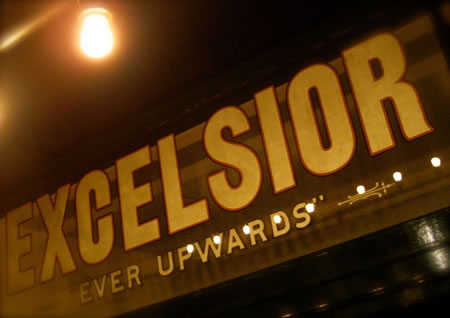 H I S T O R Y  O F  U S E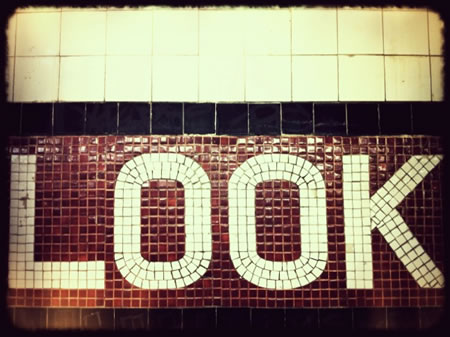 1902 Encycl. Brit. XXXIII. 387/1 The registration of 'word marks' was first provided for by the Trade Marks Act, 1883. In that statute, however, clause (d) read 'a fancy word or words not in common use'.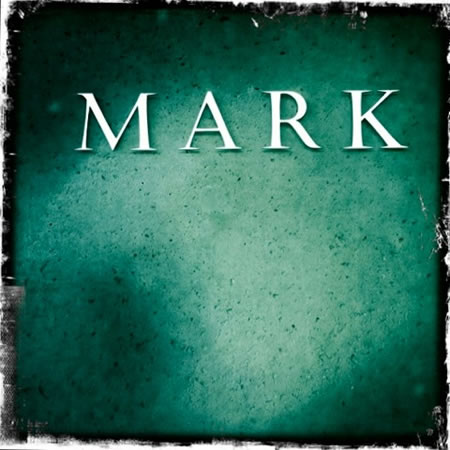 1920 Yale Law Jrnl. 29 306 There are different opinions as to the essence of the word-mark.
1976 Century of Trade Marks (Patent Office) i. 1/2 These were early instances of word marks, though usually in conventional form—for example, CATIM (Cati manu: from the hand of Cato), and OFALBIN (officina Albini: the workshop of Albinus)—whereas earlier marks had been almost invariably devices or ideographic symbols.
1992 Numismatist Mar. 298/1 An interesting article appeared recently in The Wall Street Journal. It had to do with a study of corporate logos, known in the jargon of the advertising world as 'wordmarks'.
2004 Wall St. Jrnl. (Central ed.) 11 Feb. a13 (advt.) The Bluetooth word mark and logos are owned by the Bluetooth SIG, Inc. and any use of such marks by Lexus is under license.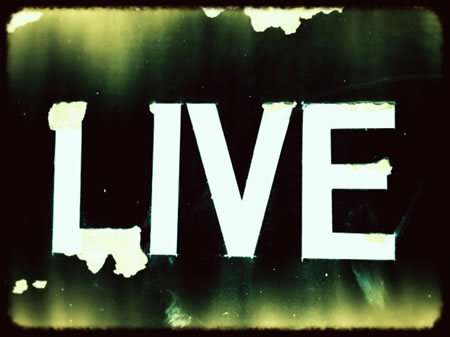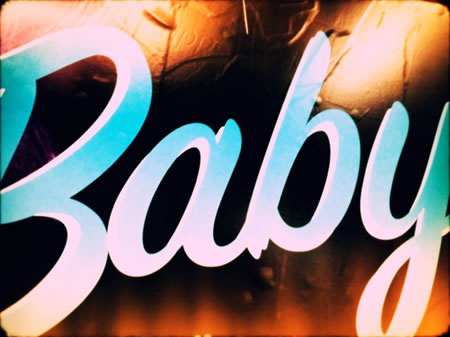 2.
Computing. A bit whose value indicates whether or not the character or location containing it is at one end of a word; a character containing such a bit.
1962
Brit. Patent 904,516 1/2 A plurality of words of variable length are stored in available locations in rows of the array, the length of each word being defined by a word mark positioned at the beginning and ending of each of said words.
1980
J. Frates Introd. Computer vi. 165 The storage location of the last piece of data will store a word mark in addition to the character to indicate to the computer that it has reached
the end of that particular item of data.
2006 IEEE Trans. Nucl. Sci. 53 2473/1 The other bits are used as follows:‥5 bits for the number of the logic set handling the hit, 4 bits for the number of the hit silicon strip, and 1 bit for a word mark.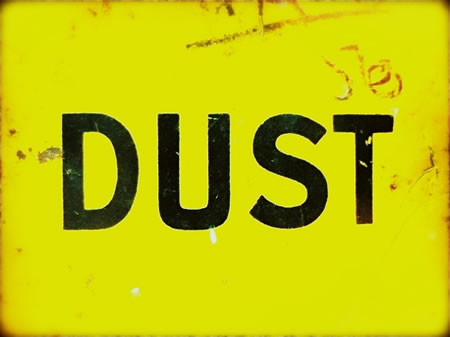 Presenting in a court of law, I used various typographic interpretations of content to affect the perception of the word. A criminal's name in an elegant font, shifted the jury's impression — rightly or wrongly so. Powerful, the variation in stroke.
LOOK AT A WORD—PLAINLY SO;
LOOK AT THE SAME WORD,
DIFFERENTLY DRAWN.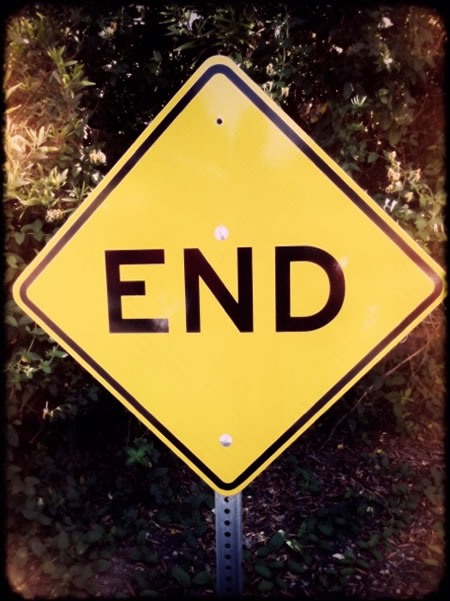 What happened?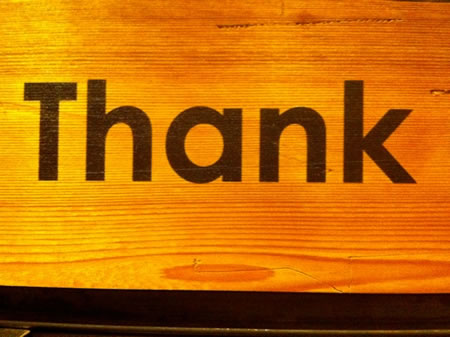 Presence, being present, presentation is everything, in the eye of the observer.
Tim
–––
MONSTER STRATEGY + MASSIVE ENTERTAINMENT=
ENCHANTMENT: BRAND STORYTELLING
GIRVIN | OSEAN
S T I C K
W I T H
I T .