http://www.newyorksocialdiary.com/social-diary/2007/saluting-tom-cruise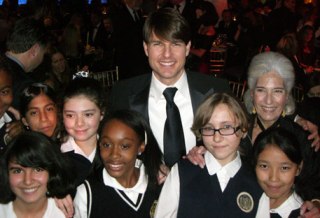 I'm not sure how I'd connected with your Diary — but somehow I got linked in, some years back.
Your little piece on Tom Cruise was happily familiar — and while there's been plenty of derision, over time, of Tom's flamboyant character, personal explorations and eccentricities, if you can call them anything, I've had the pleasure, too — of observing just the selfsame character that you note. Fabulous commitment, impassioned focus on the work — doing the best that can be done; pushing that edge of creative action — acting; and knowing that all that is purely evolutionary. And I respect that, having watched that evolution now, first hand, for decades. Top Gun, then virtually every other film he's been involved with, somehow I've been connected. Not sure exactly how that happened, but it's been an ongoing learning lesson. As a theatrical advertising designer, I've worked on creating the main title identities for many films — and first connected with Tom, as well as Jerry Bruckheimer, on Top Gun and shortly thereafter, Days of Thunder. Every Mission:Impossible, Legend…The Last Samurai, Born on…War of the…The Firm, Rain Man…Others. But doing that kind of work is always about listening for the story, what the connection to the essential character of the actor, and what telling will reach the audience in the most memorable way. For me, then, and even now — working for Tom, working on those films over the years, and the one time personal connection with him directly, gave me that sight in: passion, focus, willingness, perception, precision.
Wish that I could've been there at Cipriani's.
Heading to Manhattan on Sunday.
warmest | tsg
—-
Tim Girvin
Principal
GIRVIN
https://www.girvin.com
p. 206.674.7900 [direct]
c. 206.890.0621
f. 206.674.7909
Exploring creative integrations:
http://www.tim.girvin.com/
Strategy | Story | Name | Message | Identity | Environment | Print | Packaging | Interactive