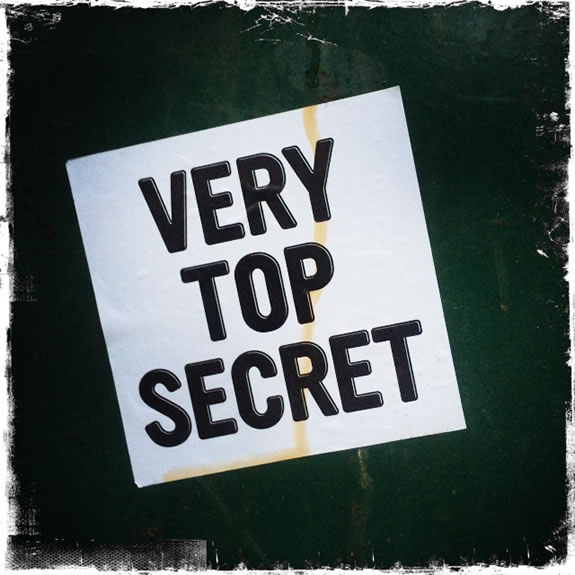 Brands That Survive on Stealth, Secrecy and Intrigue
I was sitting on a jet with a talkative neighbor, a US Marshal, who coincidentally spoke to me on the theories of the layering of police, detection and intelligence — I thought, "how intriguing."
And then wondered about those words that he used with such repetitive precision.
Why precise?
Because, to his take there is a clear definition of who does what — which case, where it happened, what is the nature of the crime, and which agency would govern those investigations.
He started with the White House and the U.S.Secret Service and criminal and protective issues related to the President and the defense of the White House.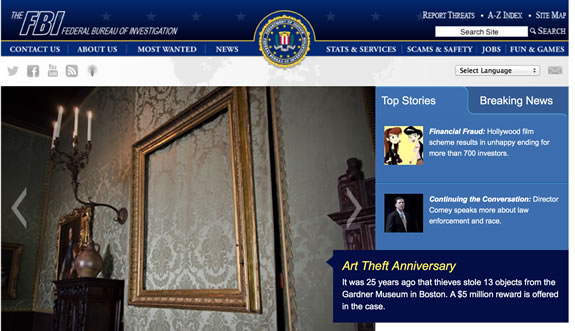 And then worked his way through the FBI, the US Marshal Service, the State Patrol, down to county and city police.
I'd never realized it was so complicated — let alone, coordinated. I listened to his role, his work, his storytelling and it made me curious — what do these brands actually look like — here and aboard.
Secret — what's that actually mean?
Like occult, which is hidden?
Actually, returning to my elementary school Latin studies, it's tied to "withdrawn, hidden, concealed, private."
But it's a bridged amalgam of a word in its original construct — "on one's own" (see se-) + cernere "separate" (see crisis).
Of all the governmental agencies I was interested in there was one that was the most compelling.
An earlier design history for me and design dreams of NASA [from an Eagle Scout award and travel to Cape Canaveral for the launch of Apollo 13]
I wished for a win to design for that agency.
But it made me wonder —
to these brands, these secreted, espionage and intelligence-focused agencies, what do they look like?
How do they brand themselves?
When you're secret, what does that
mean in how you present yourself?
What about undercover security — that dark and protective art — how do agencies in that marketspace project themselves?
What do they think their messaging should suggest?
It might be defined that they aggregate in two ways — one, to a kind of heraldic reference: shields and coats of arms, and two, a more modernist and technologically sophisticated visualization, and socially savvy manner. I looked at different agencies aligned with a secretive approach to their national protective defense — both older world and
newer country positionings.
The Israeli Intelligence branding is a composite visual — with an archaeological reference, composed with a more sophisticated website visualization —
and a reach to perspective applicants.
Looks cool.
Modern.
Approachable and
a reach to higher ideals.
M O S S A D

"Where no counsel is, the people fall, but in the multitude of counselors there is safety."(Proverbs XI:14)
Their site moves?
An older stylistic approach for
an agency founded in 1954,
KGB:
Komitet gosudarstvennoy bezopasnosti a.k.a. the KGB
KGB USSR
Комитет государственной безопасности
КГБ СССР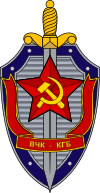 Loyalty to the party –
Loyalty to motherland
And what about the U.S?
A more conventional American design language:
United States Secret Service

Logo of the U.S. Secret Service

Flag of the U.S. Secret Service
And to my airplane's companion's commentary on protective service, and his job — their visualization would be almost old world, cowboys and badges as a signature representation.

The Egyptian Intelligence Agency combines ancient Egyptian symbolism
as the core of its branding.
General Intelligence Directorate (GID)
جهاز المخابرات العامة


Official emblem in the front of the headquarter in Cairo.
India's approach to branding intelligence
The National Security Council (NSC)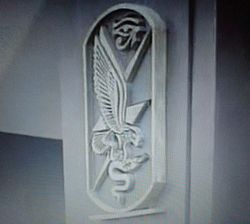 The French strategy for their branding visualization
links directly to the core French governmental identity
Direction générale de la sécurité intérieure

MI5 boasts the most modernistic approach to branding —
looks like a high tech firm.
Looking into the site,
the presumptions hold:
IF YOU SUSPECT IT, REPORT IT
Current UK threat level
SEVERE
Read more about threat levels >>
Canada?
Canadian governmental visualization —
corporate and appealing to
an emotionally captivating message in outreach.
And China?
A mission:
"the security of the state through effective measures against enemy agents, spies, and counter-revolutionary activities designed to sabotage or overthrow China's socialist system."
Ministry of State Security
国家安全部
Guójiā Ānquánbù

Agency overview
Jurisdiction

People's Republic of China
Headquarters
Beijing
Agency executive
Geng Huichang,
Minister of State Security
Parent agency
State Council
And then I thought about another group of agencies
this seat mate commented on —
private security — especially those that support governments.
I looked at a founding group, and one offspring brand.
Academi —
an elite security and
protective "training" organization,
and Blackwater.
And the outcomes
of their "training":
Interestingly, Blackwater is on Facebook.
With a relatively substantial "like" ratio.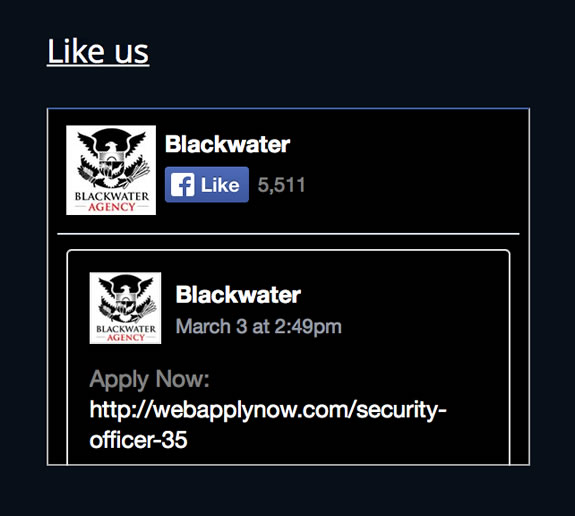 What's interesting about all of these is how an internal culture might be represented — MI5 has perhaps the most modern positioning — visually striking and appealing to new employees.
It looks…capable.
Other brands in the security and intelligence space appear either reaching back to ancient symbolic roots, or playing on a legacy
of the last several hundred years,
or a positioning that suggests a lineage decades back.
That might suggest how they're run.
MI5 and Mossad look present era.
Homeland Security?
About as compelling as the travel, through security,
to get to my flight,
along with my U.S.Marshal seat mate.
What that might imply is the idea that security shouldn't be "attractive" it should be responsibly repulsing.
I look into the meaning of the language around this whole business,
brands and high security and intelligence.
Security?
Etymologically, 2000 years ago —
"free from care."
Intrigue?
"To trick, cheat and deceive."
Intelligence?
From Latin, intelligentia,
"understanding, power of discerning, art, taste, skill."
I'm not seeing that.
Tim | OseanStudios
…..
G I R V I N | DESIGNING MOVIES
THEATRICAL BRANDING + ENTERTAINMENT
IMAGINATION: AND THE TOOLS TO MAKE IT HAPPEN
http://bit.ly/seAMZf