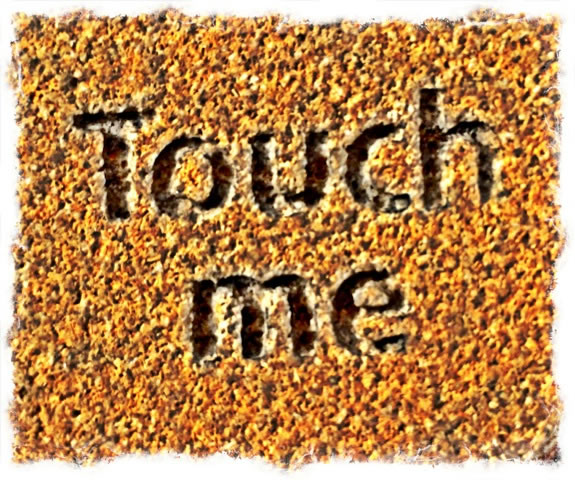 I LIKE TO BE TOUCHED.
And I like to touch.
Just one way to sense is to touch.
In having a conversation with one,
I find that a touch is a way to link to someone in a different way — it's a bond that will take the track of a discussion from one tack to another.
Touch — and the talk changes.
In the sensationalism of brand and environment, touch is less comprehended. People see things, but perhaps touch them less. But in the interim of touchpoints, there are sensations of scent and smelling, sight and seeing, hearing and the sound of place, taste and the mouthed sensations of integrated experience. We count intuition and feelingness, another sight, as a way of grasping context.
Hold your thoughts.
Hold your ideas.
Hold yourself.
And the more you hold yourself,
the more you can sense whole.
It will all be about that — holding.
How much can you hold?
I was walking along a path and I found that tiny message:
touch me.
I think about touch as an allegory for holism in thinking strategy for brands, their storytelling and experience design.
The more you touch, the more you know. And the more that you know, the more that you can be.
When I look for talent,
that is what I listen for.
"How important is,
and what do with,
touch —
when you think about
brand, strategy and design?"
I also look at their handwriting before I hire anyone.
For in the mind and hand, writing
tells everything.
Tim | Grand Canyon | Arizona
….
WEAVING BRANDSTORIES
CROWD MIND | EXPERIENCE DESIGN | MEMORY STRATEGY
http://bit.ly/Q1Pm6e