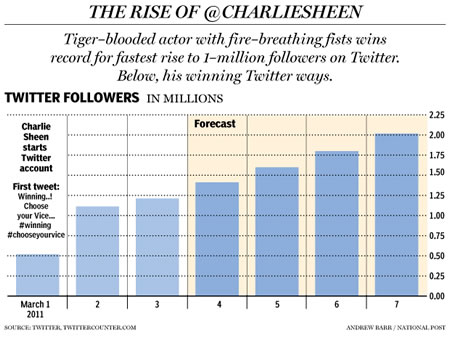 The rise of the stormtwister: which one are you following? Surely, it's changed, Charlie's tiger-blooded human branding keeps on surging.
But why?
Friend Robert Weitz pointed out, as he put it, the gladiatorial posting of winning wars of followers. Andrew Barr offers the infographic above, in his notations from the Post.
Rebecca Tucker offers some added insights, her assessments below, from last week. What's the draw, would be the question? While there are many that do follow, there are likely many more that ponder…?
Rebecca Tucker March 3, 2011 – 3:03 pm
"Tiger-blooded Charlie Sheen recently joined Twitter, and within the span of 24 hours has amassed more than one million followers, earning him a Guinness World Record. But before you jump on the #WINNING bandwagon, here are a five important thing to keep in mind:
1. Charlie Sheen is not going to follow you back. At time of writing, Sheen only follows 25 people: Among them, P. Diddy, Sylvester Stallone and the woman who runs the website HiTechMommy.com. Unless you are in some way similar to these people, it is unlikely Sheen will consider you worthy of his attention.
2. Charlie Sheen is #winning. His #winning strategy is to #chooseyourvice and #planbetter. It also helps that he has #tigerblood. Learn what these things mean before following Sheen on Twitter, or you will have no idea what's going on.
3. You will not learn anything by following Charlie Sheen. Aside from where to get #charliedogs.
4. Charlie Sheen is on a quest to win the #twitterwar. Following him will push him closer to victory. (Note: We have no clue what the Twitter War is, where it came from or who Sheen has waged it against/who has waged it against him.)
5. You will grow bored of Charlie Sheen's Twitter feed in less than a week. It took us less than a day."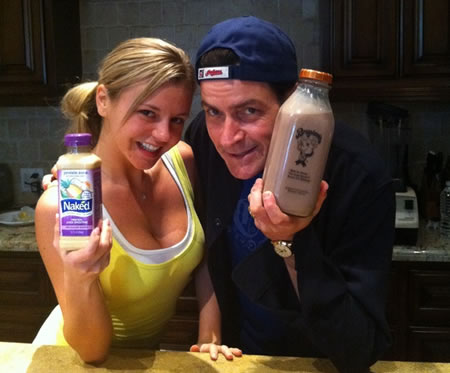 Twitpic endorsements and commentary, @
The issue, to the nature of the astonishing rise of Sheen's twitter presence, is peculiar — my take. But the sense of the swarm is challenging to predict – what's the story that What, to the nature the human branding initiative that suggests that Sheen's work / life / commentary are really interesting. It started simple: The first tweet consisted two invented hashtags (#winning and #chooseyourvice), with the above twitpic showing two beverage brands to contrive a visual pun. With his girlfriend, the porn star Bree Olson holding a provocatively suggestive Naked Juice and Sheen holding a more innocently disposed chocolate milk drink produced by a minuscule family-run California dairy: Broguiere's Farm Fresh Dairy — loved by diary aficionados. whose beverages are beloved by gourmands and earned Sheen praise from those in the know. The opening biographical tagging, "Unemployed Winner," founded on his "Winning" phrasing about his newly self-prescribed raving rockstar lifestyle.
There must be something I'm missing. But others, a million plus, are following the tigerblood word. I think about others that I've known, and worked with, in the dimensions of personal brand space — development of the human potential, brand ringing, story on story. And for Sheen, it's just that, the diminution of storytelling to the twittered ravings of the moment. Who cares, if there's a story to tell?

That story rolls, according to Susan Young, after "Charlie Sheen's rants to the media about his war on CBS and against "Two and a Half Men" creator Chuck Lorre, there's little doubt that the hit series is headed toward oblivion unless the producers opt to make some major changes." Where to go, what to happen then — a show that I've personally never gotten the funniness of.
Young continues, her analysis — "Sorry, Charlie. The actor may think he's the only guy who can fill the role of playboy Charlie Harper, but Sheen should remember that his own career got a jump-start when he took over for departing Michael J. Fox on "Spin City."
And booting Sheen from the hit sitcom may not mean the end of "Men." "CSI" survived the departure of William Petersen, and Simon Cowell's exit from "American Idol" hasn't hurt the ratings juggernaut. Plus, "The Office" is forging ahead despite star Steve Carell's upcoming exodus. "Men" just needs to find the right replacement and a fresh direction."
That stays on, to Roz Zurko's notes, "Charlie Sheen now has a radio station on Sirius dedicated to "All Things Charlie Sheen." Starting at 6am this morning this 24 hour radio station will broadcast nothing but what is going on with Charlie Sheen.
"The Sirius XM radio station, "Tiger Blood Radio" went live this morning and is broadcasting breaking news, facts, fall outs, and career implications of the Charlie Sheen controversy," according to Crunch Gear.
The key strategy will be "a crash course on every thing that Charlie Sheen has been up to as seen through the eyes of psychological angles, pop culture and celebrity angles.
This is just what America needs now, a place to tune into 24 hours a day to see what Charlie Sheen's next move is. You can listen to "All things Charlie Sheen" on Sirius channel 108 and XM channel 139."
Really?
Radio tweeting? The key, to my sense, might be aligned in the twitculture of daily, hourly, instantaneously twitched momentum.
One move, ripples to another — and if the readership is sufficiently captivated, the magnetism attracts like the compass needle to north. But who has the time?
Not me.
Tim
–––
EXPLORING BRANDS | TWITTERMENT | STRATEGY
the reels: http://www.youtube.com/user/GIRVIN888
girvin blogs:
http://blog.girvin.com/
https://tim.girvin.com/index.php
girvin profiles and communities:
TED: http://www.ted.com/index.php/profiles/view/id/825
Behance: http://www.behance.net/GIRVIN-Branding
Flickr: http://www.flickr.com/photos/tgirvin/
Google: http://www.google.com/profiles/timgirvin
LinkedIn: http://www.linkedin.com/in/timgirvin
Facebook: http://www.facebook.com/people/Tim-Girvin/644114347
Facebook Page: http://www.facebook.com/pages/Seattle-WA/GIRVIN/91069489624
Twitter: http://twitter.com/tgirvin