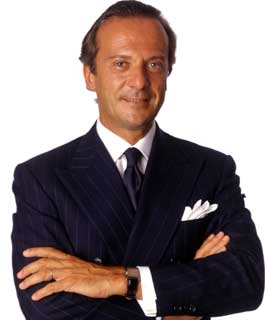 I am looking for truth. Looking at finding truth. Looking for businesses — and people — that are about truth fullness. That the story that they tell is a robust expression of the inherent character of who they are. And in exploring that premise, I came across Angeloni, the former CEO of Brioni. And I'm not saying that Angeloni's leadership of Brioni is necessarily about truthfulness in brand character, but — there's more to explore here.
Mr Angeloni became CEO of Brioni in 1990, at the time a relatively small company. His background, interestingly, is not luxury, or fahion. But under his leadership Brioni has developed into a corporate group, with 23 single brand name boutiques. Brioni's name has become synonymous with the highest standards of Italian lifestyle, including the promotion of various cultural and sporting activities as well as its long standing partnership with the James Bond franchise.
Mr Angeloni writes, as well, the living of the brand that he represented. His first book Boutonniére, Style in One's Lapel (1999) initiated his investigations on a variety of topics concerned with an elegant lifestyle. "The Art of Living Well" series beginning with Single Malt Whisky, an Italian Passion (2001) that was followed by Seducing the Senses, Spa Visions of a Bon Vivant (2003) and he is currently at work on a third book in the series. Not seen, yet.
He is also a leader in the promotion of the "Made in Italy" system, initially as President of Classico Italia (1995-98) and then of Ente Moda Italia (1997-2000). Today he is a permanent Member of Comitato Leonardo as well as a Member of AltaGamma.
One of the compelling characters of his brand vision is, or was, community — and building service related connections with customers. There are plenty of others in the retail trade that explore carefully cultivated relationships and the containment, the retaining of those connections. Hard to do. Easy to talk about. Angeloni references, for example, a global customer database he set up as CEO of Brioni where salespeople would constantly gather relevant information about clients from newspapers and personal interaction. The information was then used to form a strong and personal bond with the customer that hopefully resulted in a long-term relationship with ongoing significant sales.
He's defined a categorization of customers. "Old Money" is no longer relevant, as a framing descriptor — and the aspirational segment is "not loyal, doesn't understand value and is fragile in a recession." His demographic strategies, as well, removed the nouveau riche label from the 90 percent, or more, of the so-called "Super Rich" (typically defined as having at least $10 million, or $25 million and more). His Brioni positioning was, that by using the term, nouveau riche, the luxury industry was portraying their best customer as "ostentatiously unrefined – a glutton for luxury." Actually, in that instance, I might proffer that luxury, the very word, is all about a kind of gluttony, to the etymology of the last 700 years. Times change, in the use, however. It is tinted now with a differing shadow.
According to Angeloni's insights, "there is a new breed of luxury customer" who he calls the Modern Rich. The Modern Rich, Angeloni stated, are "inspirational" to both their compatriots and the Mass Affluent aspirators; and that they are "luxury's most relevant consumers;" and because they, for the most part, are self made, the values of their personal estates being non-inherited. These people, to Angeloni's considerations, are characterized by high self esteem and don't need to prove their self worth. He said these elite individuals want to learn, evolve and be challenged. They will make buying decisions less to the emotional, and more to the strategic gathering — it is, they are, thoughtful. Harrison, the research group, (now Intellisponse) has categorized these people, the Modern Rich, into several categories. Amusingly named, they are:
• Apprentices who have been Super Rich five years or less
• Journeymen, who have had great wealth for five to 14 years
• Masters who have been at the proverbial pinnacle of wealth for at least 14 years.
According to Angeloni's interpretation, the Modern Rich want authenticity through excellence in core products; value from quality and functionality; knowledge from useful, technical information, and "respect beyond service." This consumer "wants loyalty from the brand," which is the reflective character of the relationship – it's a shared ethos, shared value, a shared sense of intelligence. And, to the definitive connection with loyal customers, it's the benchmark.
Angeloni said the Modern Rich consumer does not want to be patronized, taken for granted or "educated and told what the glamourous is." This demographic "has his own glamour and ethics" and doesn't need them from the luxury brands he chooses to buy. IHT luxury reporter, Robb Young writes to this phenomenon — "Shoppers know what they want and, led by these confident, educated and eagle-eyed consumers, the fawning euphoria that greeted early arrivals like Gucci, Chanel and Cartier in Moscow (and other global trends in luxury movements) in the mid-1990s has turned to a more finicky kind of enthusiasm." Angeloni speaks to a wariness of labeling products as exclusive or bespoke, when they are not. Bernard Arnault and Tom Ford calls for ethical luxury, as a further defining character. It is, now, the time for truth. The time for connections with knowing, increasingly discerning clients that are looking for just that. The point of this lengthy review? Any brand is about a robust story of legacy and manufacture – as above – and, increasingly, real brands, with evolving and functioning relationships are about truth. People know. The Modern Rich consumer "does not want to be cheated," Angeloni concludes. Discernment defines.
And finally, with all the discussions about the Modern Rich, the Mass Affluent and any of the other categories of the luxury relationship, and more — to the other range of humanity — the thinking extends; it plays to other relationships, between the concept of the maker, the seller, the customer — it's about truth.
tsg | nyc