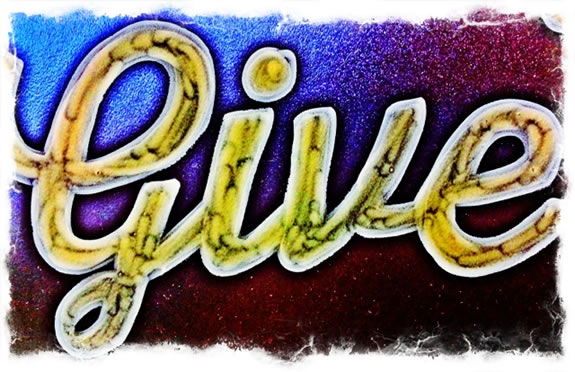 Brands that give, brands that don't.
I was studying this wall-bound piece of type, and contemplated the unassuming air of its drawing — nothing too formal — outlined then in-filled in a casual, if not happily energetic manner. In the emotionality of typography, the nuances of the curves, weight and context, a layering in reading and storytelling emerges — type, unto itself, tells a story, it shines an ideal.
I was thinking about giving —
what does
a typographic, lettered or calligraphic expression say,
as a story?
What does it give?
And then I returned to some relationships, some clients that are struggling to with the humanity of their orientation. These days, many enterprises are moving forward happily enough that they can, perhaps even for the first time, think about giving.
Others, like Whole Foods built their brand on that strategy of how to do better, make better, sell better and give more — for example — to offer a depth of holistic giving, that starts with a foundational principle of action and commitment, and flows outwardly to virtually everything that they're committed to — these are foundations to begin; philosophical stratum that begin at the heart of action, rolling outwards.
Walking the floor — to their retail experience, to the site —
I'm looking for answers:
how does giving relate to storytelling,
what in the manifest layers
of experience that will take me there?
The point might be:
how important — that spirit of gift, to giving?
The word giving, in gift, and is
a basic endowment of commitment in offering, a bestowing —
that giving, and gift, in the ancient webbing of words, is a habit.
And a habit will start at the heart —
you believe in it because you love it.
And everything comes back to that commitment.
You, your brand — you make, you create, you do — because you love.
And in that love, what layer of priority in that story?
Up front, or hidden?
Kroger,
more hidden — the core site becomes
a misted substrate,
a fogged brand?

Trader's, a remoter location
to find what's happening —
[jump away from home]?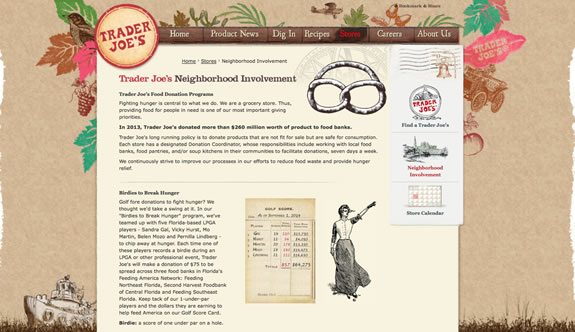 Safeway, a thematically aligned and assertive campaign strategy —
boom, bang, zoom — get into it, right up, but at a discrete location:

Whole Foods,
a foundational positioning that
starts in the beginning of why the brand was built.
Whole Foods. Whole Planet.

I can well imagine some commentary — like: "why these three?"
What about my store?
Good question, ask yourself.
That is the central inquiry —
what is your store, your story, and your gift?
What do you love,
in the beginning,
and in the end?
That's where we'd go.
Our question:
"Who
do
you
love
?"
Tim
GIRVIN ISLAND STUDIOS
…..
G I R V I N | BRANDS BASED ON GENIUS
BUILDING STRATEGY AROUND PEOPLE
http://bit.ly/1q5N9Lj