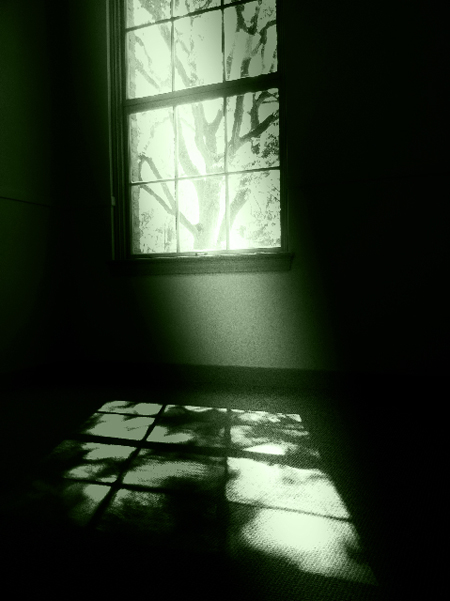 THE PORTALS TO SEEING
SOME ONE WAS TALKING TO ME ABOUT WINDOWS.
Actually, I was looking at old windows and wondering about what's been seen between the seer and the sight beyond. These were old windows — that were removed from houses. They were being sold as recycled objects. All showed time, wear and use; edges worn, some panes cracked — and I pondered, that now, as I lay them on the floor, concrete staring through, what would their character be? What could have been seen? What was on the inside, and what was on the outside? Who stood there, looking out; and looking in, what could be seen there?
I think of gardens. I think of flowers. I dream of the deep green of pine. I think of the rain — and the glints of sun, just the edge of glimmer and wet — on the sill. Crows call, and slip and drift. The gray light of Seattle's horizon, that softened character of color in the Northwest oysterlight.
How clean, the panes of seeing?
How worn, the story of their containment — the edges of the window seams?
What detail holds them in place?
I wonder about that, myself — what eyes, have I seen with?
And how worn, the edges of their visioning?
Many stories shall be told.
What to the window, for you?
t i m | black rock, I D A H O
–––
CREATING BRANDS THAT ARE LOVED
the reels:http://www.youtube.com/user/GIRVIN888
girvin blogs:
http://blog.girvin.com/
https://tim.girvin.com/index.php
girvin profiles and communities:
TED: http://www.ted.com/index.php/profiles/view/id/825
Behance: http://www.behance.net/GIRVIN-Branding
Flickr: http://www.flickr.com/photos/tgirvin/
Alltop network: http://my.alltop.com/TGirvin
Google: http://www.google.com/profiles/timgirvin
LinkedIn: http://www.linkedin.com/in/timgirvin
Facebook: http://www.facebook.com/tim.girvin
Facebook Page: http://www.facebook.com/girvindesign