What story, hi:story?
HISTOIRES DE PARFUMS | Blackbird Apothecary
––––––––––––––––––
What story, hi:story?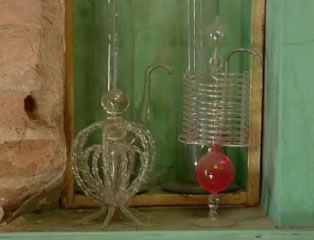 Antique Chemistry and distillation equipment, here and below from Girvin blog story: Farmaceutica Santa Maria Novella |
Girvin imagery
What is the context of history in scent? An answer — time: the legacies of perfume-making are intimately bundled in adventure [the historical discovery and finding of ingredients]; chemistry and science [understanding how they come together, how they can be mixed]; human physiology and psychology [how they are recalled in experience and memory, perceived in the sequence and progressively sensed, nose, mind + experience recollection and personal storytelling],
alchemy [how ingredients — flowers, plants, woods, roots, fungi and mosses, essential animal scent notations are transformed from one condition to another. Bearing in mind, as well, that the word: Alchemy comes from the medieval Arabic al-kimiya ["chemistry"] — and before, the more ancient Greek k h e m e i o a (meaning — "all the old, mysterious writings" of the Egyptians, noted 300 C.E. — K h e m i a, literally: "land of black earth, or Egypt."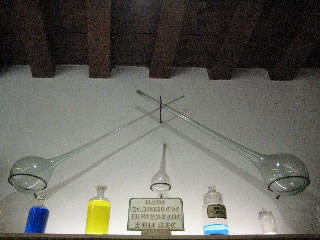 It could also be from the Greek k h y m a t o s [khein – "to pour"] "that which is poured out, or khymos — "juice or sap" — as derived from early pharmaceutical medicines, which were mostly plant infusions)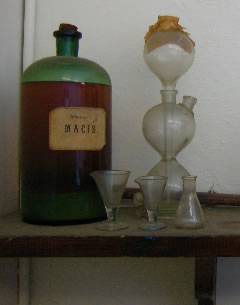 –––––––––––
Design and perfume?
Why is Tim Girvin so focused on how things smell?
I smell first, sight is second — coming into any place, I inhale the "spirit of the place." It's a bigger view, for me, than mere sight.
––––––––
The beauty of perfume reaches to two places — scholasticism and historical context, the layering of ingredients, alchemical legacies and the mystery of how people perceive the power of scent in the reflective of their own scenting memories. Still too, the foundations of perfume — and the tools of its manufacture, the tincturing and titration of essential ingredients, each with a "smell" – belie another condition, the place of the tools of fragrance in historical manufacture. Ancient smoke, unguents and oils, extracted essences that each, their own, have powerful stories — that transcend the ropes of time. And two — people hold the nature of scent as an essential facet of their memory.
I'm concerned with the holding of stories, and their implicit relatedness and reflectivity. People hold stories in mind and memory — one telling becomes another.
"I've smelled that, I remember it, but where, and how?"
The skill of the savorer of scent lies in the ability to examine the notes of a fragrance layering — what starts as an opening whiff — a glancing blow, then moves to a softening gesture or aural touch, and finally, the potency of — like music — the resonant base notes, that set the foundation of how the whole scent experience works. Anyone sitting near me, can attest to —
the held-out wrist, "smell this?"
And, following — "what do you think?"
Which might be, "how's that feel/smell?"
In my area, it's been pointed out that there are a firebomb arsenal of incendiary fragrances. And I've heard the oft-told remark, "what can he be possibly doing with all those bottles of parfum?"
The answer is entirely simple — smelling is an art, to learn how to smell, and to sort fragrances in their sequence, "you must practice…" The truth is — the only way to know anything — is to try, to explore, to experiment, to delve in.
To know more, you must explore and smell.
Reading and study tomes on perfume strategy, ingredients — like spices, woods and essential animalic philters, as well as the magical mystery tour of great perfumers — where they came from, how they were trained, their upbringing, their hi:stories — each attribute builds a certain lens, eccentric, cultivated or otherwise.
To everything, there is a story.
Expert smelling is like expert seeing.
You must practice both.
Smelling expertise is about being able to define what you're smelling.
Expert seeing presumes added in-sight to visioning experience.
To history and scent, comes this adept note from friend, Nicole Miller — foundress and inspiratrix of Blackbird.


HISTOIRES DE PARFUMS NOW At Blackbird

Histoires de Parfums was created in 2000 by ISIPCA trained perfumer, restaurant owner, and creative genius Gerald Ghislain, and is French perfume at its best. Most Histoires perfumes are designed to honor larger than life characters from throughout history, from the Marquis de Sade to Casanova, while others recreate specific eras or redefine signature perfume accords. Each perfume and its box are designed to create the appearance of books, resulting in one of the first complete library of scents. We've carefully hand picked a mix of our favorites from the line and this assortment, for both men and women, is available now at the Blackbird Apothecary. Some of these fragrances are available in both 60 ml and 120 ml sizes and for a complete selection, please visit our Histoires de Parfums page at www.blackbirdballard.com.

1826

1826 rides the line between classic and modern. It also rides the line between masculine and feminine, which is something we tend to enjoy. To break it down most simply, 1826 is woody and spicy but soft and sweet enough to be worn by either gender. Notes include bergamot, tangerine, white flowers, violet, cinnamon, ginger, patchouli, amber, incense, blond woods, white musk, vanilla, anis, amber

TUBÉREUSE 2 VIRGINALE

During the Renaissance it was absolutely forbidden for young ladies to walk into the gardens for one reason: the amazing, erotic power of tuberose. Tubereuse Virginale is the second perfume in Histoires de Parfums Tuberose Trilogy, and it is by far our favorite. It offers everything one would expect and desire from a tuberose fragrance, while sweetening the pot with a few unlikely additions that turn it from run-of-the-mill to outstanding.

AMBRE 114

Warm, spicey, and above-all oriental, Ambre 114 flawlessly recreates the sensation of burning traditional incense and resins from thousands of years ago. Named for the 114 spices that go into it, Ambre goes head-to-head with the countless other perfumes of its type (oriental-amber), but it appears to have studied all of their skills and mastered all of their weaknesses.

1740

A hit of bergamot at the top is like a window to the sunny sky outside, but you're only given a glimpse of this brightness and it slowly fades out completely. With liquor leather tones, labdanum, and patchouli, you're brought immediately into a smokey warm chamber that feels slightly claustrophobic, but you kind of like it.

1725

1725, created to honor the life of Casanova, really does something better than most of what we offer can: creates a clean and light perfume that still smells diverse, sophisticated and dynamic. It is a perfume from the classic category of aromatic fougere fragrances, but it takes that title and wears it in a way that we've never smelled done before. Very exceptional.

1969

Peach, chocolate, and coffee. These ingredients sound more fit for a dessert than a perfume. But in the case of 1969, a perfume created to reflect the liberated sentiments of the sexual revolution, said unusual notes come together to create something greater than the sum of its parts. 1969 is drop-dead beautiful.
This email was sent to girvin@girvin.com by info@blackbirdballard.com |
Blackbird | 2208 NW Market St. Suite 320 | Seattle | WA | 98107