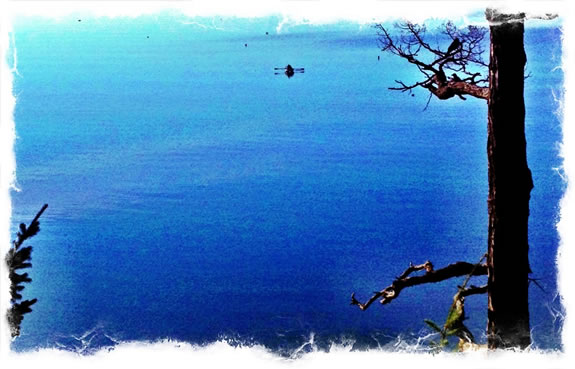 The journey out, and the journey back;
looking forward to where you've been.
I was rowing, and as I pull ahead, off the beach and into the choppy slipstream of the salted sea channel, out to the open oceans, I saw that I was rowing away from where I had been, and that I had my back to where I was going.
I ponder that journey in the light of day, what I know now, and what I have been.
In a manner, the patterning of work, and life, and play is about where you have been, where you are, and now, where you are going.
I was talking to a group of young designers and I asked about this sense of patterning. In the red threading of life, there are patterns that show themselves, points of flowering, moments of discovering, inspirational ahas, that are revelations that strike early and continue to spark and ignite flames of interest and investigation. Stoke them. And examine the origin of that efflorescence, and watch for its return. It comes back. It opens again.
In that journey, I asked of metaphor, in the symbolism of being,
and creating a stance of personal symbology.
What do you stand for?
What might be the symbol of you?
In the spirit of design and corporate identity,
isn't it so that the phrasing of corporate —
the body; identity —
the sameness, the oneness?
It becomes a design challenge
that is both the body,
and the one.
Your icon?
Would be,
what?
TIM | GIRVIN ISLAND STUDIOS
…..
G I R V I N | IN PURSUIT OF WOWNESS
INNOVATION WORKSHOPS
CREATING STRATEGIES, PRODUCTS,
IDEAS FOR CHANGE.
http://bit.ly/vfzyEU